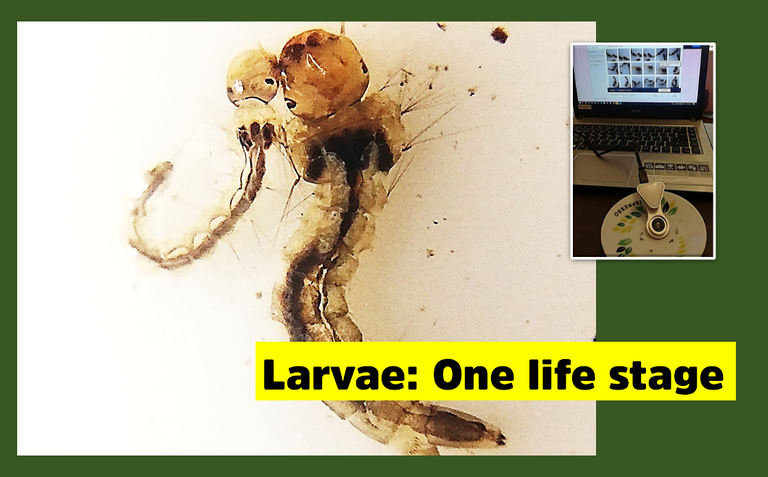 ---
Evolution has generated diverse living beings with the functioning and structures necessary to survive. As Charles Darwin said, he who does not have the aptitudes and capacities to survive environmental pressure simply disappears.
---
Today, while cleaning the plants I have in water, I observed the mosquito larvae swimming in them. We are afraid of them, because in their adult stage, these insects can cause us diseases or simply disturb our sleep or be bitten by a female.
---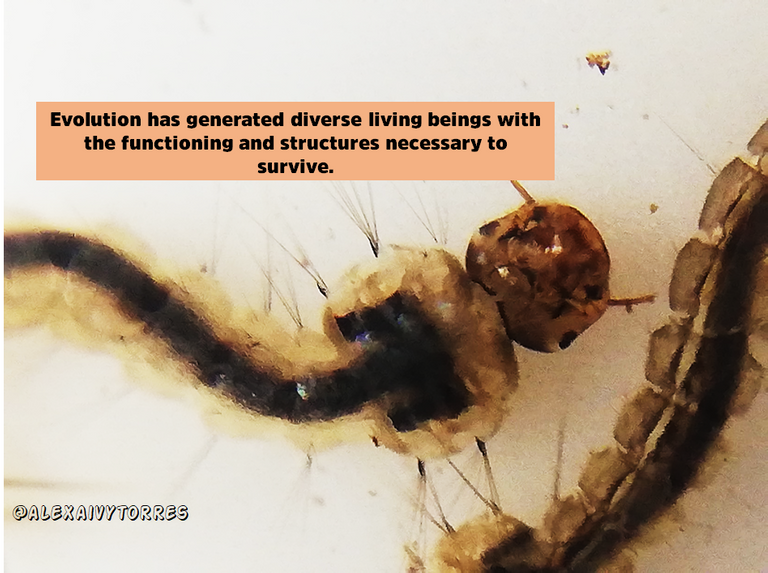 ---
Surely, like me, you have seen them moving in the water of a vase or stagnant water, but from our visual resolution capacity we lose the details. So, today I show you the images captured of some larvae and a pupa extracted from the water of a plant.
Plants somehow provide protection and nutrients for their early stages, and water is the effective medium for their locomotion during this stage. The plant itself may also benefit from the chemical elements that are released from its structure when it dies.
---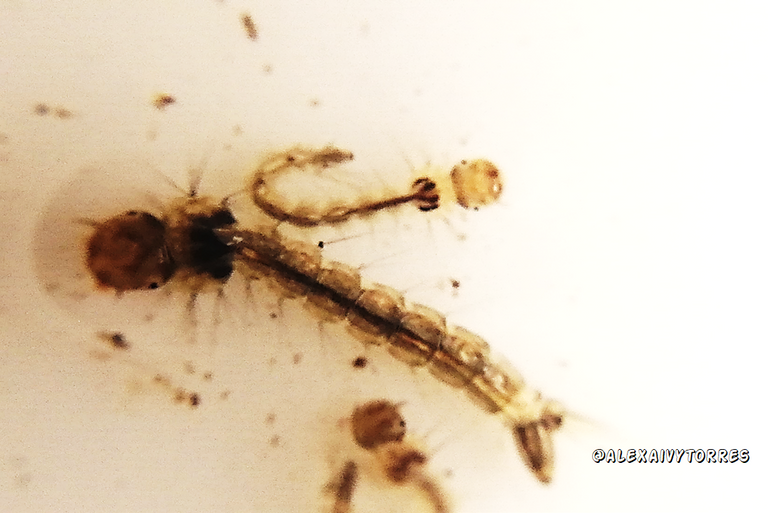 ---
Once the eggs are laid by the female, they last from 3 to 7 days to develop into larvae. This same larva goes through several levels from the initial larvae to those that have already developed into pupae. These larvae feed on the chemical substances generated by the plant. Once in pupa, the feeding process ceases and it is days away from becoming an adult mosquito.
---
Below, I detail the structure and some stages found in the larval stage:
---
Contrasting two larvae shows the difference in size, meaning that some are more recent than others. The younger ones are very active, with a more continuous movement, a situation that decreases in the last stage, which almost reaches the pupa.
---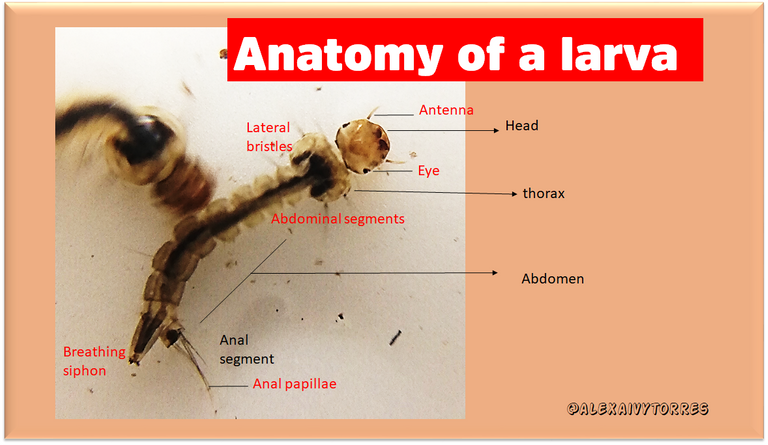 ---

---
In spite of the fact that, in the pupal stage, movement decreases considerably, they still move. No mosquitoes were found nearby to proceed to the description of the adult stage.
---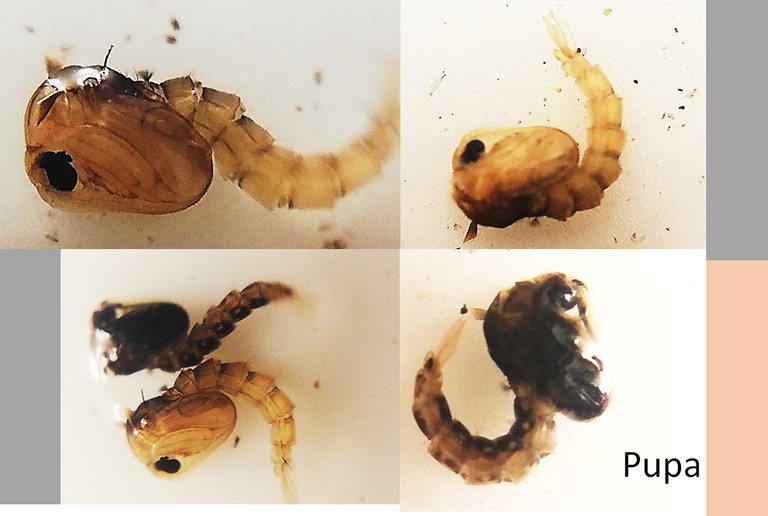 ---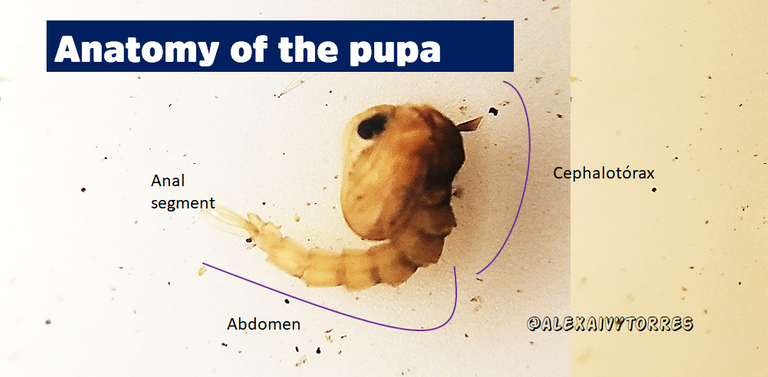 ---
Evolutionary reflections
---
Although we can determine these insects as disease vectors or a pest, they have generated a whole process of transformation that helps them to survive. Although it is true that insects are highly successful in subsistence, even the environment presents them with many pressures to which they are vulnerable, and that is why the female deposits thousands of eggs, since many do not even reach the adult stage, and consequently do not reproduce.
We must remember that species have a function in the ecosystem and that it is scientific knowledge that has classified it as "favorable or not"; however, they have only one objective engraved in their DNA, to reproduce and perpetuate themselves. Perhaps the imbalance generated by humanity itself has made us suffer the consequences.
---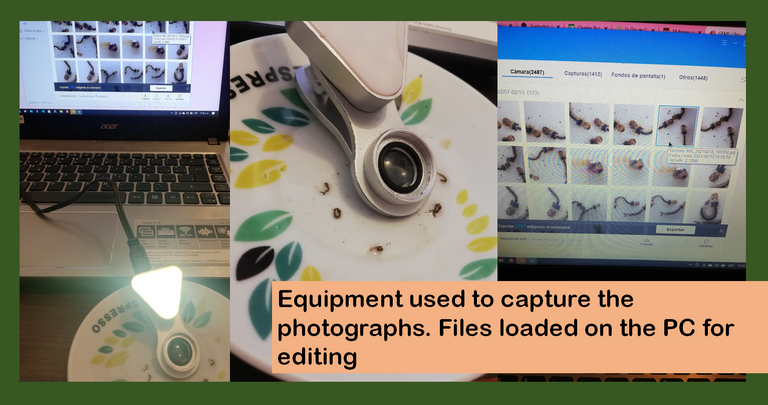 ---
The photographs belong to the author and were captured with macro lenses adapted to Leica camera of Huawei mobile device. Then edited in Microsoft Power point.
---
Thank you for reading
---
Supporting references
---
HICKMAN, C.P., ROBERTS, L.S. and LARSON, A. (1998). Comprehensive Principles of ZOOLOGY 11th edition. McGraw-Hill Publishers. Interamericana.
---