The Gull: A Rat with Wings, or an Ecological Asset?

Four Gulls Looking out to Sea, on Tobay Beach, NY, August, 2022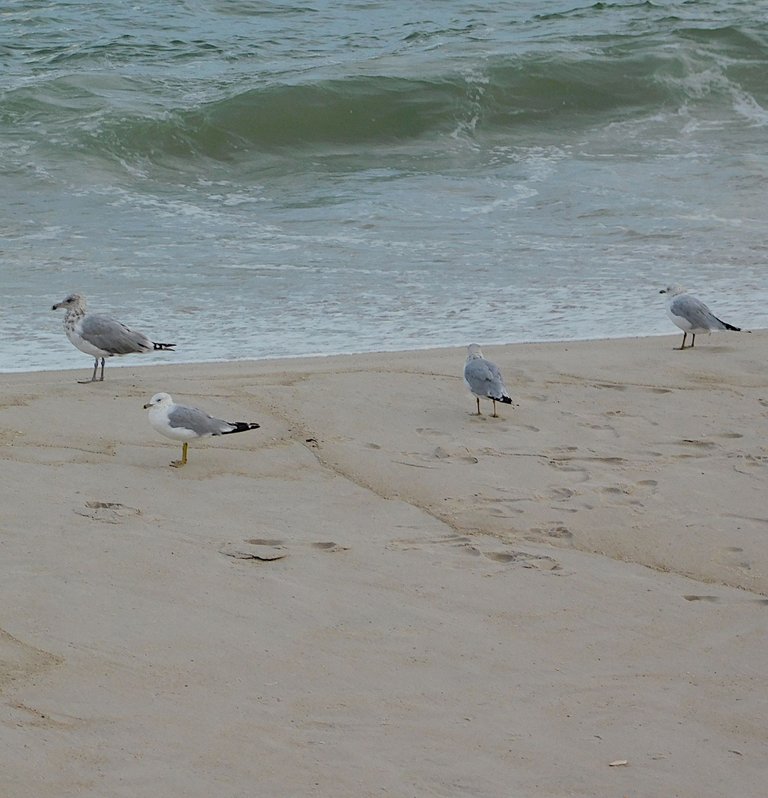 Image credit:@agmoore. There are many kinds of seagulls. On the South Shore of Long Island several species may be seen soaring overhead, fishing in the waves or picking at debris left behind by humans. The gulls were quite numerous on the day this picture was taken.
A local Long Island newspaper published an article (February, 2022) entitled, On the Wing: Don't Call Them 'Seagulls'. The article explains, that there is no such thing as a 'seagull'. There are gulls, many kinds of gulls (technically called Laridae) that are commonly called seagulls. One thing is for certain, the bird commonly known as a seagull has a bad reputation. Many people consider this bird to be a pest. Clips abound on Youtube that show the gull stealing food on the beach. Check out this link to a video by Emmasworld85
While gulls may not be true scavengers, they do scavenge opportunistically. The are omnivores. In the wild eat they crustaceans fish and insects. But they will eat anything they find, including carrion and garbage. I remember driving past the massive Fresh Kills garbage dump in Staten Island, NY, and watching a thick cloud of gulls flying overhead.
Garbage Truck in Hackensack Meadows NJ With Gulls Overhead (1973)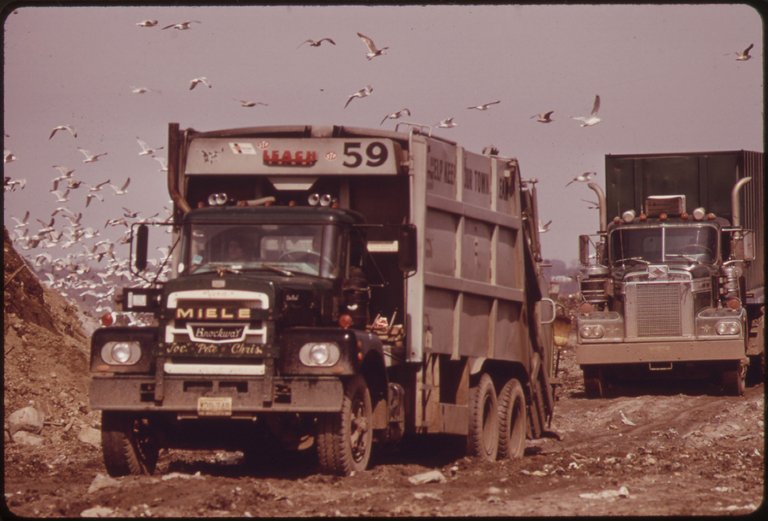 Credit: US EPA. Used under public domain license.
Gulls are Reservoirs of Disease
According to a 2021 article published in
BioOne
, "a total of 569 determined microbial morbidity and mortality events in larids (gulls) have been reported". These events impact animals in the sea and animals on land. They impact vertebrate and invertebrate. They impact humans. They even impact plants. Some larid species may be long-distance carriers of a variety of pathogens.
In 2019 a group of researchers from the University of Amsterdam began tracking gulls with electronic devices in order to determine their role in spreading pathogens. The focus is on "pathogen spill-over between wildlife and humans". Gulls are ideal subjects for such a study because of their urban habits. Risk maps for the spread of common, gull-associated pathogens were created: Salmonella, Campylobacter and Chlamydia
African Dwarf Frog: Also a Vector for Salmonella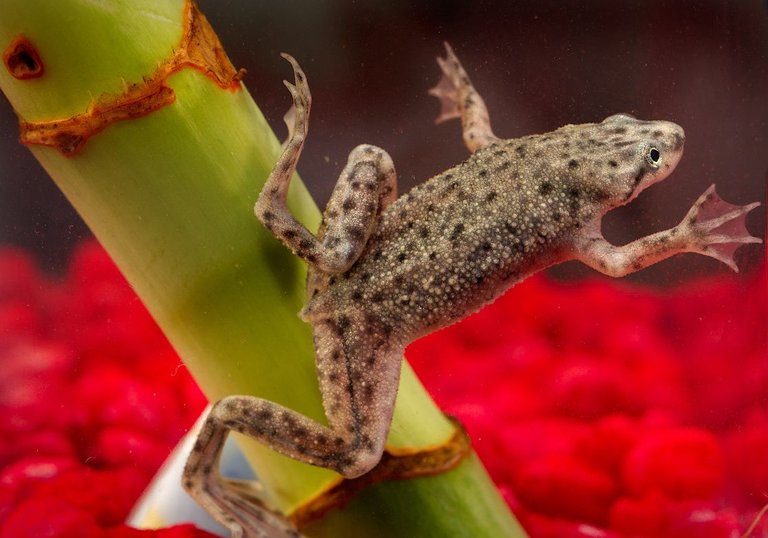 Image credit: U. S. CDC. Public domain.
According to an article in Nature which describes this study,"urban gulls threaten public health because they shed bacterial pathogens, antibiotic-resistant bacteria, and viruses." It is hoped that the tracking program, along with other "epidemiological approaches", may help to monitor and control the spread and evolution of zoonotic (spread from animals to human) diseases.

The Other Side of the Story
Food-stealing, garbage-scavenging, disease-harboring, rats with wings: who needs gulls? Pests, right?
There is another side of the story. As is true of all living things, gulls have a place in the ecosystem. More than simply embodying this basic principle of life on earth, gulls have positive functions. Because they are omnivores, they clean up a lot stuff we neglect. Carcasses, for example, may be food for gulls. Or garbage, as shown in the picture above. Most importantly, perhaps, they eat insects. They can be a gardener's or farmer's friend, a natural pesticide.They also eat mosquitoes, and sand flies that may pester us.
Miracle of the Gulls, Salt Lake City, Utah (1948)
In 1948, with the second crop that was planted in the newly founded Salt Lake Valley, a calamity of biblical proportions came from the sky. Legend has it that: crickets descended on the plants and threatened to devour the crop. Suddenly gulls appeared and began to feed upon the crickets. The gulls returned for several days to continue feasting. Because of their voracious appetites, according to the legend, the precious crop was saved and the future of the new settlement insured.
That's basically the way the Miracle of the Gulls is told in Mormon history. A more objective consideration of the 1948 cricket infestation might be found in this article, Mormons, Crickets, and Gulls: A New Look At An Old Story.
Because of the bird's service to the Mormon community a gull monument stands in front of The Salt Lake Assembly Hall in Temple Square, Salt Lake City.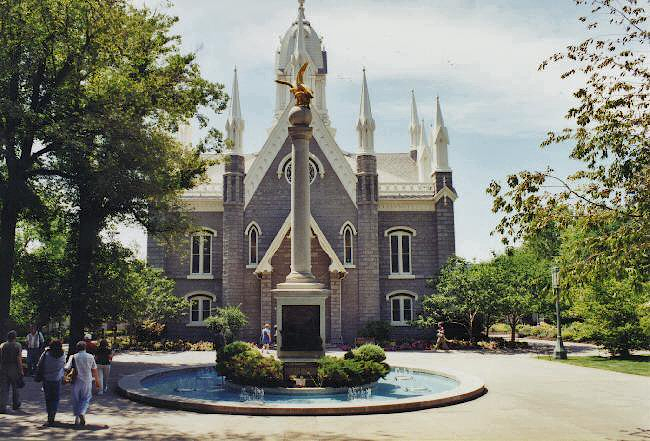 Credit: User:BigBen212. Sculptor Mahonri Young (1877-1957). Used under CC 3.0 license
Gulls on Long Island
I live on Long Island, NY. There were so many gulls in my recent visits to a South Shore beach that I was captivated. I tend to go in early evening when most people are gone and the beach is left to a few stragglers and the birds.
Map of Long Island



Credit: Timo Forchheim=Tzign. Used under CC 3.0 license.
Here are photos of varieties I saw. Some I tried to identify from pictures I found on the Internet. In addition to these, there were the terns (?) shown at the top of the blog.
California Gull, in its first winter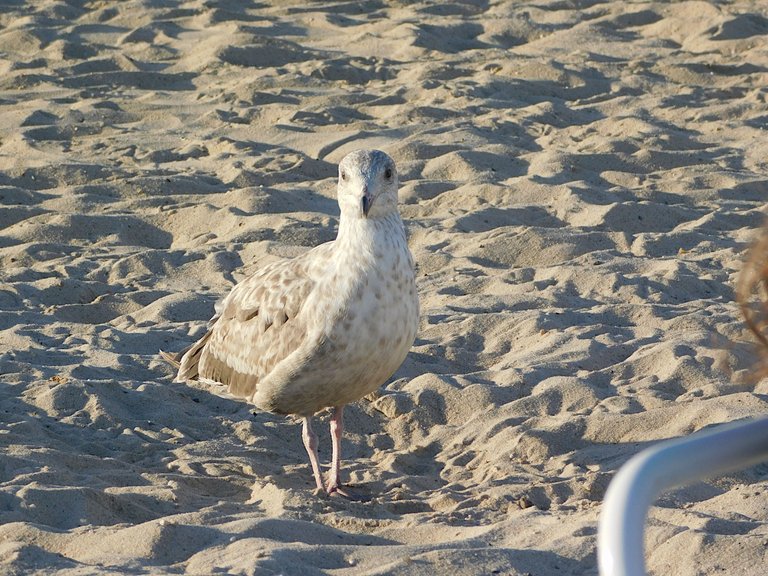 @agmoore
Bonaparte's Gull, breeding adult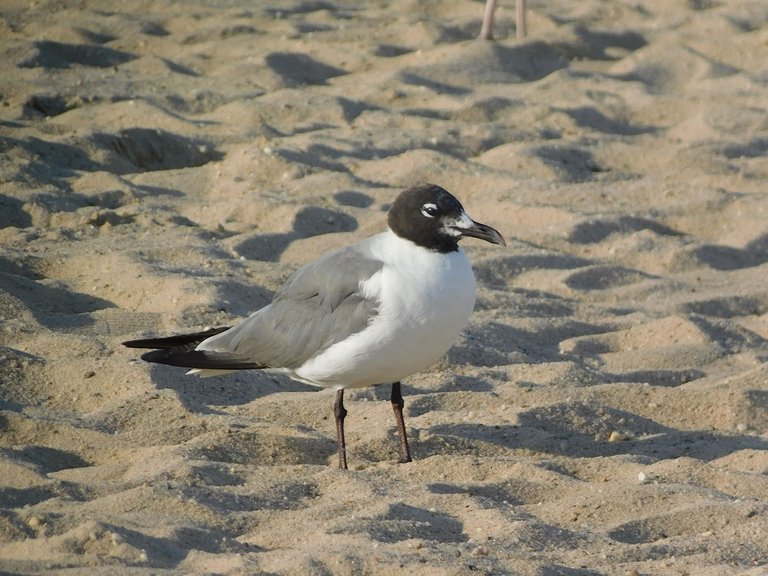 @agmoore
Great Black-backed Gull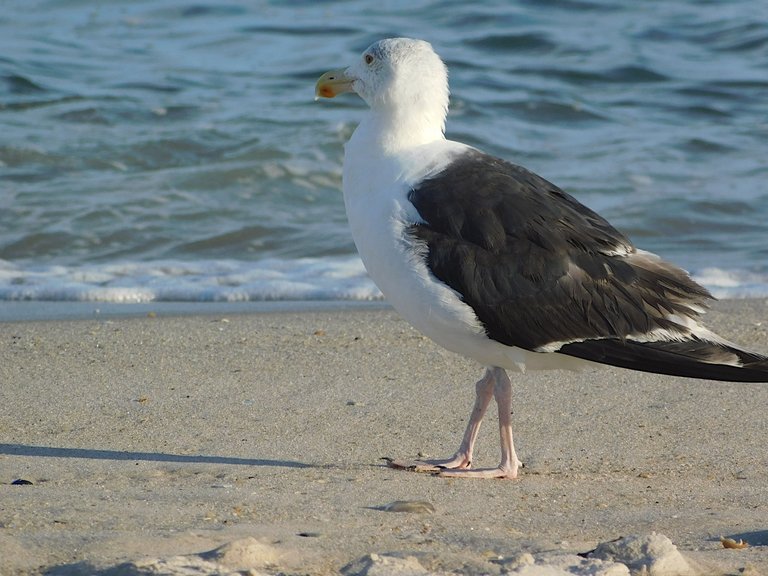 @agmoore
The Gull: Fun Facts
Seagulls use smells to navigate. Researchers from the Institute of Avian Research in Wilhelmshaven, the Max Planck Institute of Ornithology in Radolfzell and the University of Konstanz explored the possibility that birds use the sense of smell to find their way when they migrate. The gulls that were studied, lesser black-backed gulls, migrate down to Africa in winter.
Lesser Black-backed Gull in Flight

Credit: Charles J. Sharp. Used under CC 4.0 International license.
It is not certain whether the birds use earth's magnetic field to help them navigate. It is believed though that some species gauge the angle of the sun at sunset to help them. Additionally, it is believed that birds learn to recognize landmarks. As young birds follow older birds on this journey they learn to identify the same landmarks. (When I read this about theintergenerational learning of migratory gulls, I thought of the way early Polynesian travelers navigated across thousands of miles of ocean).
Gulls are really intelligent. It is suggested that these sometimes despised birds may be as smart as crows (corvids) and parrots. When challenged with the string-pull test, individual birds in Newfoundland (Canada) breeding colonies performed well. In the classic string-pull test, an animal figures out how to collect food by pulling a string.
Cooperative String Pulling, Dogs

Credit: Fiona Hitchman. Used under CC 4.0 license. In this experiment, dogs demonstrate level of cognitive ability by learning they can only get food if they cooperate in pulling the platform toward them. A study that compared wolves' cooperation to dogs' showed that the wolves cooperated more successfully.
Gulls watch human eyes. If we stare at them, they move away more quickly. If you want to scare a gull off, just stare at it.
Gull Sitting, Staring at Me

@agmoore

Gulls like food that humans have handled. This is considered a wildlife adaptation to urban living. If given a choice between food that has not been handled and food that has been handled, gulls choose the food the humans have touched.
Conclusion
I have discovered the beach recently because of my daughter. She loves the waves, the wind, the sand. In the past I thought of the beach as place that was sunny and crowded. I don't get along with the sun, and don't particularly like crowds. But my daughter taught me to go in the evening, to a local town beach. There, we find many more birds than people. It is because of these early evening visits that I have become interested in gulls. I hope the information in my blog today is interesting to readers. It was certainly fun to collect.

Sources:
Accent Bird: @muelli on LIL, the LMAC Gallery of Images
https://www.frisiacoasttrail.com/post/rats-with-wings-or-masters-of-the-sky
https://quoguewildliferefuge.org/news/gulls-of-long-island/
https://www.ctaudubon.org/2010/08/gulls-hawking-insects/
https://scienceappliance.org/2018/03/08/guide-to-gulls/
https://www.easthamptonstar.com/sports-villages/2022210/wing-dont-call-them-seagulls
https://www.ctaudubon.org/2010/08/gulls-hawking-insects/
https://scienceappliance.org/2018/03/08/guide-to-gulls/
https://en.wikipedia.org/wiki/Laridae
https://www.youtube.com/c/Emmasworld85
https://outlifeexpert.com/are-seagulls-scavengers/
https://en.wikipedia.org/wiki/Fresh_Kills_Landfill
https://bioone.org/journals/journal-of-vertebrate-biology/volume-70/issue-3/jvb.21009/Pathogenic-microorganisms-associated-with-gulls-and-terns-Laridae/10.25225/jvb.21009.full
https://www.nature.com/articles/s41598-019-46326-1
https://www.cdc.gov/mmwr/preview/mmwrhtml/mm5851a1.htm
https://livingalongsidewildlife.com/?p=3479
https://www.ldsliving.com/was-the-miracle-of-the-gulls-exaggerated-lds-historians-explain/s/88952
https://en.wikipedia.org/wiki/Salt_Lake_Assembly_Hall
https://ebird.org/species/calgul/US-CA-045
https://ebird.org/species/bongul
https://commons.wikimedia.org/w/index.php?search=ring-billed+gull&title=Special:MediaSearch&go=Go&type=image
https://www.icarus.mpg.de/30188/seagulls-navigation
https://www.tourmaui.com/blog/wayfinding-celestial-navigation/
https://bird-x.com/blog/seagulls-the-most-intelligent-and-resourceful-seabird-and-pest-bird/
https://www.sciencealert.com/seagulls-aren-t-stupid-some-can-solve-puzzles-like-parrots-and-corvids
https://www.pnas.org/doi/10.1073/pnas.1709027114
https://www.nrcs.usda.gov/wps/portal/nrcs/mt/newsroom/factsheets/nrcs144p2_057933/
https://phys.org/news/2020-09-gulls-attention-human-eyes.html
https://www.theguardian.com/environment/shortcuts/2019/aug/07/beware-risks-stare-seagulls-lead-to-love
https://www.sciencealert.com/you-re-not-imagining-it-seagulls-definitely-prefer-your-food
---
---