Golden Eagle, Aquila Chrysaetos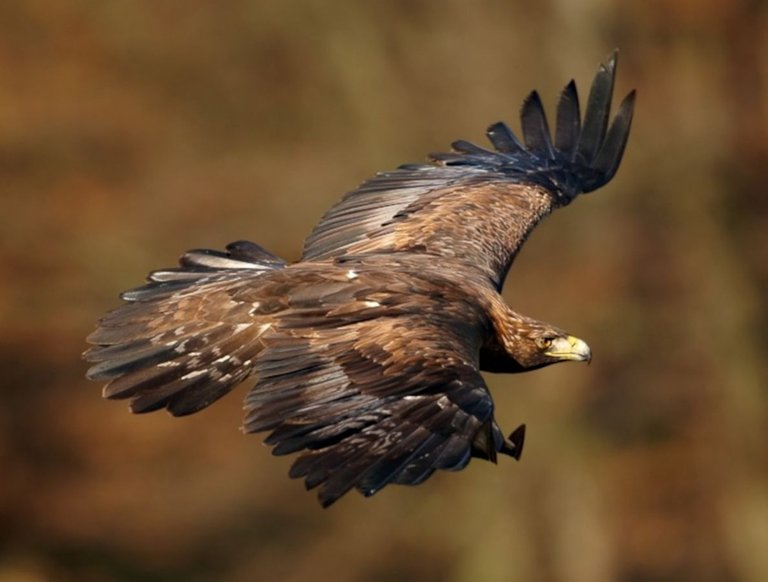 This picture of a golden eagle in flight was captured at Žďárské vrchy, CZ. The photo was snapped by Martin Mecnarowski (http://www.photomecan.eu/). Used under a CC 1.2 or later license.
The idea for a blog about raptors came to me while I was watching a video about golden eagles. Though this raptor is not endangered, its habitat has been drastically diminished by human activity. The golden eagle is the national animal of Germany, and yet today its presence in that country is limited essentially to the Alps.
Golden Eagle Global Distribution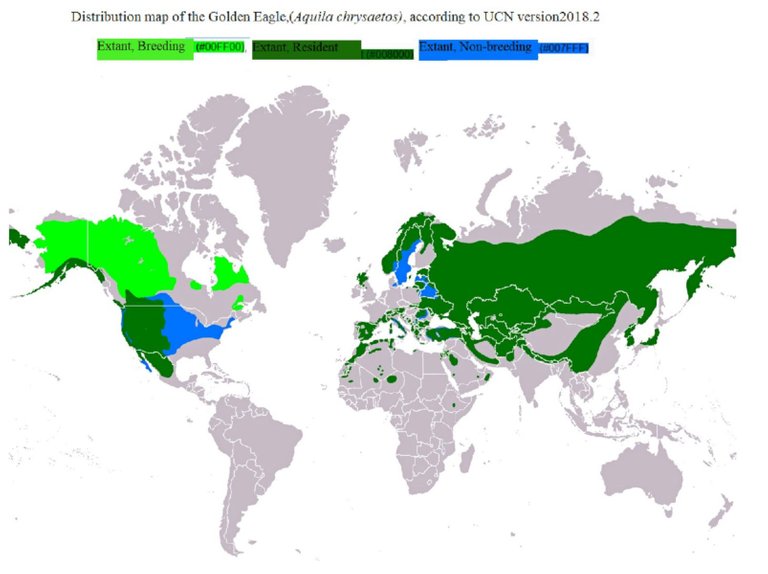 Image credit: SanoAK: Alexander Kürthy. Used under a CC 4.0 license.

According to a 2018 article in Biological Conservation, raptors as a class are more threatened than are birds in general. The article states that, globally, "Eighteen percent of raptors are threatened with extinction and 52% of raptors have declining global populations". Among raptors, Old World vultures are the most endangered.
Bearded Vulture, Gypaetus Barbatus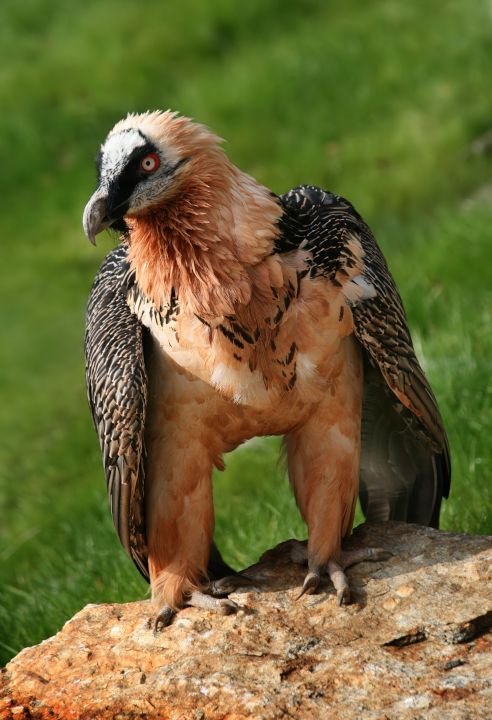 Image credit: Richard Bartz, Munich. AKA Makro Freak. Used under CC 2.5 license.
This Old World vulture is listed as near threatened by Birdlife International. The bird gets the name 'bearded' because vultures rarely have plumage on their faces. The Treehugger website attributes the bearded vulture's population decline to "Habitat loss, degradation, and human-raptor conflict."
The Andean Condor, pictured below, is listed as vulnerable on the 2021 Red List update. Loss of habitat, persecution and poisoning are given as reason for the population decline. The poisoning occurs when the vulture feeds on animal carcasses that have been coated with poison. Farmers do this to kill predators such as pumas, foxes and feral dogs. The condor's death is incidental.
Andean Condor Vulture Gryphus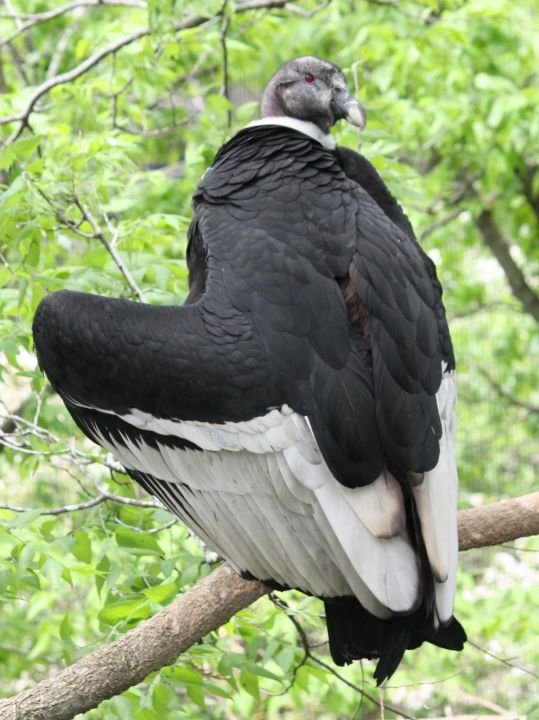 Image credit: Ltshears. Used under a CC 2.0 license.
Old World and New World Vultures
According to the Vulture Conservation Foundation, Old World vultures live in Africa, Asia and Europe. New World vultures live in North and South America. There are vultures on every continent except Antarctica and Australia. A major difference between the two types of vultures is the way they hunt. Old World vultures hunt by sight. New World vultures smell their prey.


The Role of Raptors in the Ecology
Raptors are considered an indicator species. Because they are predators at the top of the food chain, everything that happens below to endanger the environment impacts them. (Consider the poisoning of carcasses described above). According to the conservation site Hawkwatch, "Researching the population trends of raptors provides a cost-effective and efficient means to detecting environmental change."
Beaudouin's Snake Eagle, Circaetus Beaudoini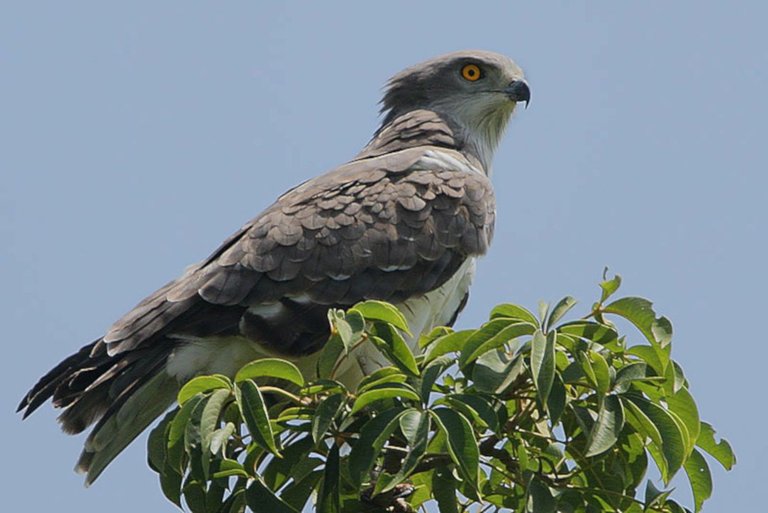 Image credit: Steve Garvie from Dunfermline, Fife, Scotland. Used in a CC 2.0 license. This raptor resides in the grasslands,savannas and some cultivated areas of Central Africa. It eats "snakes, lizards, birds, insects, and some small mammals such as rodents". When it spots prey on the ground, it swoops down from a perch. Sometimes the bird hunts from a hovering posture. Conservation status: vulnerable. Decline in population is attributed to habitat loss, hunting and poison. As is true of the Andean condor, this raptor is poisoned when it eats a carcass that has consumed poison. In this case, the poison is an insecticide, organochlorine, used on cotton fields. The raptors may also eat poisoned insects.


There are 557 raptor species in the world. An article in the journal Biological Conservation asserts that despite the ecological significance of these birds, and their vulnerability, there is no global synthesis of data about the threats raptors face and their conservation status.
Philippine Eagle, Pithecophaga Jefferyi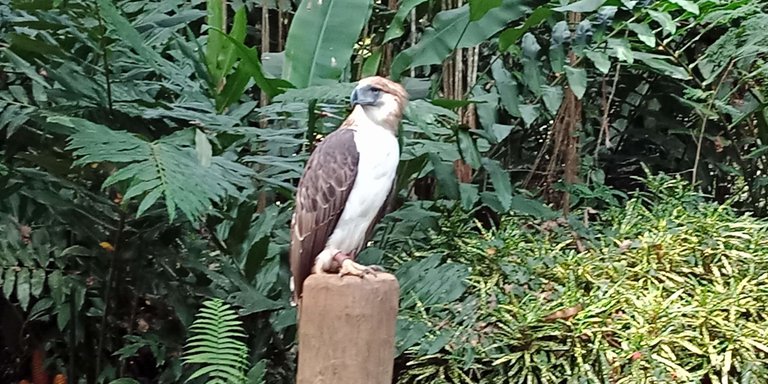 Picture credit: RoyKabanlit. Used under a CC 4.0 license.
This raptor is endemic to the Philippine islands. It is the national bird of the islands. Its status: critically endangered. In the Philippines, one can be given a 12-year jail sentence for killing a Philippine Eagle. The eagle is one of the world's largest birds of prey. According to the conservation website Edge of Existence,the Philippine Eagle was once called the Monkey-eating Eagle. However, recent evidence indicates that the raptor also preys upon other large animals, such as monitors and pigs. The bird is so rare, that it is difficult to come by a picture unless there is a museum model, or the animal is in captivity (as is the case with the bird pictured here. This bird resides at of Philippine Eagle Center in Davao, Philippines).

Raptors Play an Essential Role in the Environment
Besides their designation as an indicator species, raptors have specific roles to play in the environment. Some of these are described below:
Help Prevent the Spread of Disease (Vultures)
Vultures are nature's cleanup crew. By removing carrion from the environment, they prevent other animals, including humans, from coming into contact with pathogens. The vulture's gut has adapted to destroying pathogens that would be deadly in another animal.
Vulture Swooping on Dying Prey, Kenya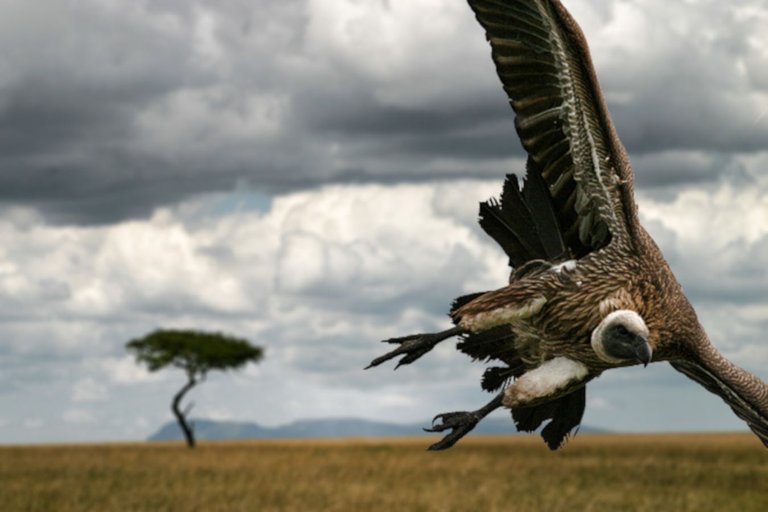 Attribution: http://www.dmitrimarkine.com. Used under a CC 3.0 license.
An article published in the online journal Biocompare explains that rather than being vectors for disease, vultures become an endpoint for pathogens. The authors of the article conclude that vultures "may actually help to prevent the spread of infectious diseases when they consume and remove decomposing carcasses from the environment".
Aid Decomposers (Vultures)
While vultures are not decomposers, they do break down carrion so decomposers can recycle this into rich organic material.
Control Pests Populations in Agriculture
According to Encyclopedia.com, the top invasive mammal pets worldwide are "rats, mice, cats, dogs, cattle, burros, horses, goats, hedgehogs, foxes, gray squirrels, coypus, pigs, possums, rabbits, deer, weasels, mink, and the mongoose". In some East African countries, rodent infestation has at times consumed as much as 80% of pre-harvest grain production. In the U. S., rodents consume between 5 and 15% of pre-harvest grain production. One method of controlling rodent populations is to encourage the presence of raptors. This can be done by offering convenient perching sites.
Secretary Bird, Sagittarius Serpentarius,Tanzania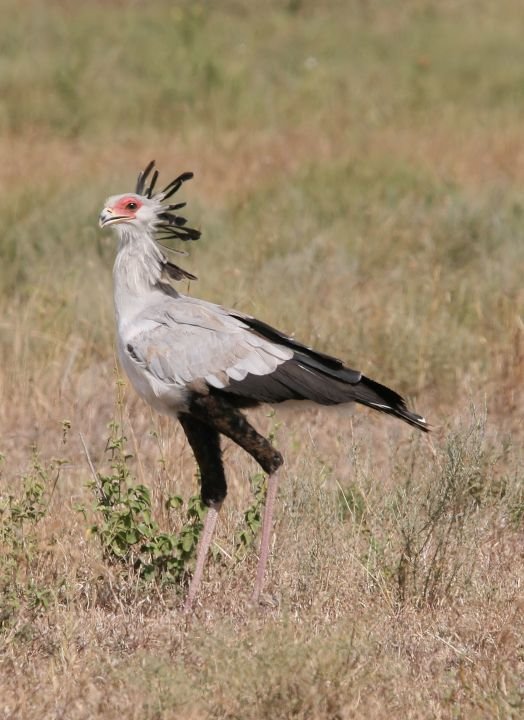 Image credit: Yoky. Used under CC license 1.0,2.0, 2.5, 3.0.
Secretary Birds excel at walking. It is estimated that they walk 12-18 miles a day. They are the tallest prey birds in the world, and have the longest legs. They hunt small animals, such as mice and snakes. The Secretary Bird uses its feet to kill. Its conservation status is vulnerable, largely due to loss of habitat. These raptors may be found in the savannas and grasslands of Sub-Saharan Africa. They make their nests in acacia trees.
Check Prairie Dog Populations, Which Are Reservoirs for Plague
Gunnison's Prairie Dog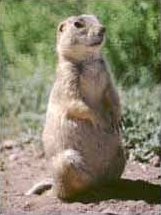 Image credit: U.S. National Park Service. Public domain. This species of prairie dog has been associated with transmitting plague to humans, although plague thrives in all prairie dog species.
Plague is endemic in the U.S. largely because of its presence in vector animals, most importantly, prairie dogs. Management of this population is viewed as one strategy to limit the spread of plague to humans. Contagion may occur either through direct contact with a contaminated animal, or fleas from that animal. It may also occur because of contact with a household pet that has come into close association with a plague-infected animal. While poison may be the go-to method of prairie dog control, this is not prairie dog specific and will likely affect other animals in the area, including raptors who feed on local animals. Conservationists suggest that encouraging the presence of raptors would effectively depress prairie dog populations, and thus indirectly limit the spread of plague.
Swainson's Hawk, Buteo Swainsoni, USA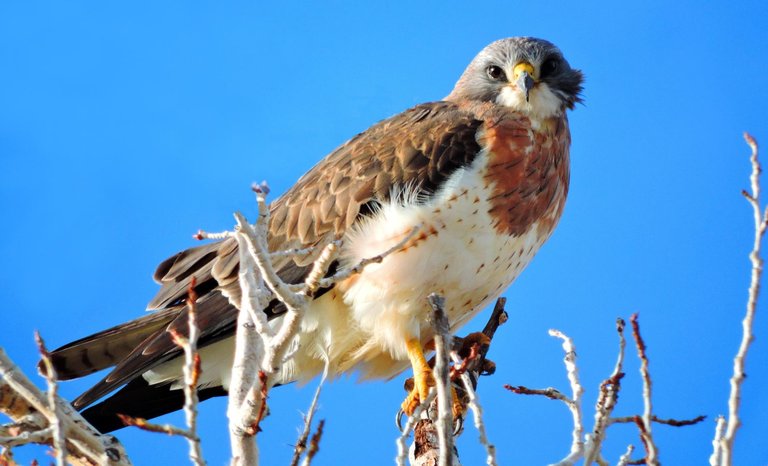 Image credit: Great Sand Dunes National Park and Preserve. Used under a CC 2.0 license.
This raptor spends its winters in Argentina and its summers in the Great Plains and West of North America. The bird is a social animal. Thousands of these raptors migrate together, one of the longest migrations of any American raptor.
Although not listed as threatened by the IUCN, the Hawk is listed as threatened by California Fish and Game. Its diet is small mammals, snakes and large insects. Prairie dogs are often on the menu.

Conclusion
The sight of a large raptor, soaring gracefully above the trees, is awe inspiring. While we may admire the beauty of these aerial hunters, we may not appreciate their significance to the equilibrium in the environment. Raptors as a group are under stress. Most of the stressors may be traced to human activity. Some of this environmental stress is unavoidable because of development and expansion of human habitats.
However, there are human activities that can and should be curbed. The use of poisons, as pest management, is a major threat to raptors. Deforestation, and subsequent loss of habitat has depressed raptor populations. And hunting, or persecution of raptors, further decreases their numbers. These are short-sighted practices that harm raptors. In the end, that harm extends to all of us.

Eastern Barn Owl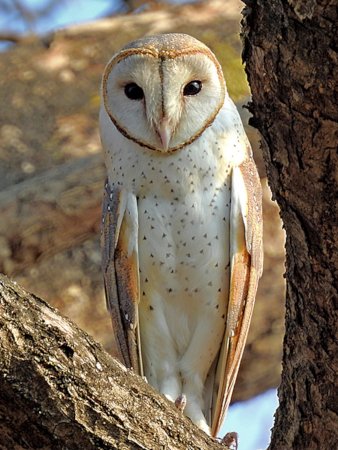 Image credit: Shantanu Kuveskar. Used under CC 4.0 license.

Selected Sources Used in Writing This Blog
1.
https://www.worldatlas.com/articles/what-is-the-national-bird-of-germany.html
2.
http://europeanraptors.org/golden-eagle/
3.
https://www.sciencedirect.com/science/article/pii/S0006320718305871
4.
https://waronwildlife.co.uk/2020/01/13/dead-and-dying-old-world-vultures/
5.
http://www.globalraptors.org/grin/SpeciesResults.asp?specID=8259
6.
https://www.treehugger.com/worlds-most-endangered-vulture-species-4863834
7.
https://www.birdlife.org/worldwide/news/red-list-update-plight-condor
8.
https://www.4vultures.org/vultures/
9.
https://hawkwatch.org/learn/why-raptors
10.
http://eagleencyclopedia.org/species/beaudouins_snake_eagle.html
11.
https://www.sciencedirect.com/science/article/pii/S0006320718305871
12.
http://www.edgeofexistence.org/species/philippine-eagle/
13.
https://www.biocompare.com/Life-Science-News/566899-Vultures-Could-Help-Prevent-Spread-of-Infectious-Diseases/
14.
https://nhpbs.org/natureworks/nwep11.htm
15.
https://www.encyclopedia.com/environment/encyclopedias-almanacs-transcripts-and-maps/mammals-and-humans-mammalian-invasives-and-pests
16.
https://extension.usu.edu/pests/ipm/files/pdfs/Raptors.pdf
17.
https://www.peregrinefund.org/explore-raptors-species/secretary-bird/secretarybird
18.
https://biologydictionary.net/secretary-bird/
19.
https://www.nikela.org/secretary-bird/
20.
https://academic.oup.com/jmammal/article/82/4/894/2372871
21.
https://agr.mt.gov/Portals/168/Documents/VertebratePests/PrairieDogManagement.pdf
22.
https://www.allaboutbirds.org/guide/Swainsons_Hawk/overview
23.
https://en.wikipedia.org/wiki/Swainson%27s_hawk
24.
https://gf.nd.gov/wildlife/id/raptors/swainsons-hawk
25.
https://intobirds.com/save-our-raptors-dont-use-rodenticide/
26.
https://news.mongabay.com/2020/05/projeto-harpia-saving-the-amazons-largest-raptor-for-more-than-20-years/
27.
https://web.stanford.edu/group/stanfordbirds/text/essays/Conservation_of_Raptors.html
28.
https://escholarship.org/content/qt5sf0565s/qt5sf0565s_noSplash_840b7d81821e02a813733c6ba6530c8c.pdf?t=ptb2fy
29.
https://animals.mom.com/why-are-birds-of-prey-important-to-ecology-12506035.html
30.
https://www.allaboutbirds.org/guide/Golden_Eagle/overview
31.
https://animaldiversity.org/accounts/Aquila_chrysaetos/
32.
http://animalia.bio/golden-eagle
33.
https://www.tandfonline.com/doi/full/10.1080/10871200802562372
34.
https://www.fws.gov/migratorybirds/pdf/management/golden-eagle-fact-sheet.pdf
35.
https://rainforests.mongabay.com/endangered/charts/birds-falcons.html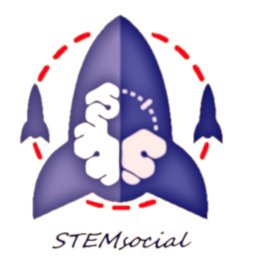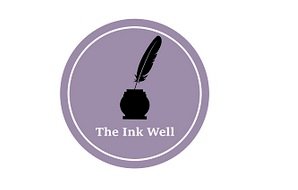 Thank you for reading my blog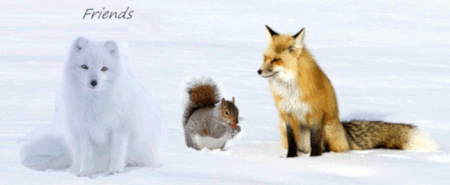 Hive on!