Mob of Banded Mongooses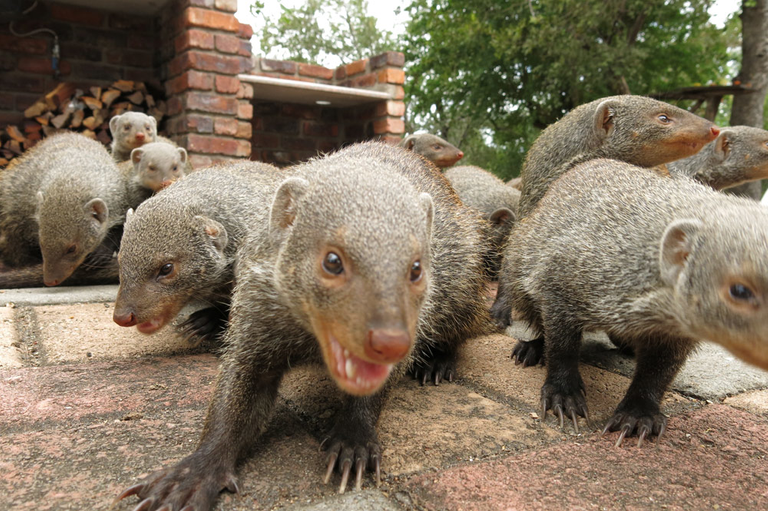 Image credit: Ryanvanhuyssteen. Used under CC 3.0 license. Taken at Ingwelala, Umbabat Nature Reserve, Mpumalanga, South Africa.
Many people are familiar with Jane Goodall's chimpanzee study. Goodall spent years observing the chimps, and with that experience enriched the world with an understanding of our close primate relatives. While there is no Goodall of the mongoose universe, there is The Banded Mongoose Research Project, which began in 1995 and is still ongoing. Much (though not all) of what I write here is derived from that project.
The mongoose makes for a very interesting study because it is such a highly social animal. It is a species in which cooperative rearing of the young takes place. One of the reasons this happens is because birthing, in the mongoose universe, is a synchronized event (called birth synchrony). All mongooses in a pack give birth at approximately the same time. There is, in essence, a group litter.
Mongooses at Dresden Zoo, With Apparent Juvenile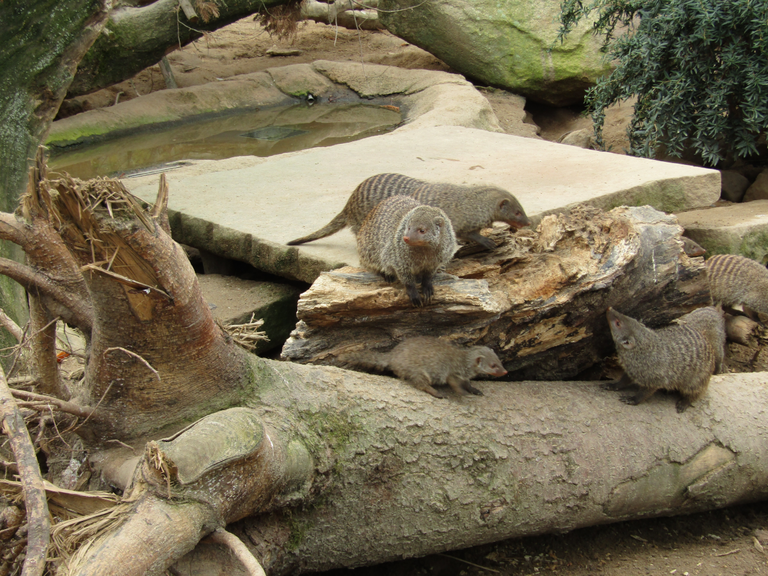 Image credit: Fiver, der Hellseher. Used under CC 4.0 license
Professor Michael Cant of the University of Exeter suggests that this group nurturing is in essence selfish. Since there is no way to distinguish one's infant from others (described as the veil of ignorance), all are cared for equally. Group birthing is insurance against infanticide, which is common among mongooses.
Female mongooses are apparently quite aggressive in securing the survival of their own offspring. Killing off the progeny of other females is one way to reduce competition.
If killing the offspring of competitors sounds extreme, read on. Dominant females go to even greater measures.
War to Improve Reproductive Success
Because the mongoose lives in a tight-knit social pack, mating opportunities are limited. In order to avoid excessive inbreeding, dominant females sometimes look outside the pack for mates. However, they don't go courting. They provoke war.
The video below shows one of these battles. The activity is quite gruesome and if you don't have a strong stomach you might not want to watch the whole thing. I didn't. Video by: BBC Earth

As the pack engages in war, with males predominating and suffering most of the deaths and injuries, the female that started the battle strays off. She looks for a male from the opposing force. She wants a mate. She wants to enrich the gene pool of her offspring, and this is one way to do it. All in service of her offspring's survival.
There are other mechanisms dominant females use to insure that their offspring will be favored. Since rearing of the young is communal and it is not possible to identify the offspring of individuals, all the young born at the same time will be protected. However, if a mongoose gives birth early, her offspring may be killed when she goes out to forage for food.
Banded Mongoose at the Entrance to a Den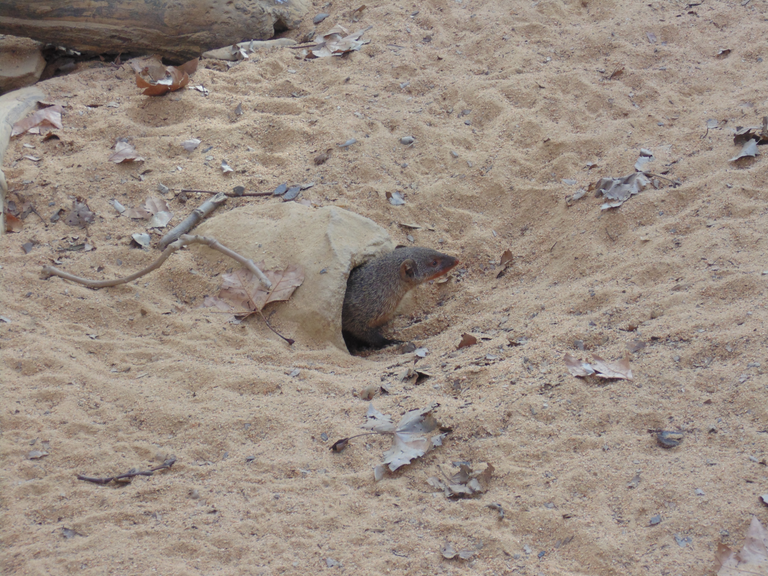 Image credit: Alistair Ian Spearing Ortiz. Used under CC 4.0 license
Likewise, if a pup is born after the group, it has diminished chances of survival because it will be smaller than the others and will not be able to compete as successfully.
Eviction
To further reduce competition for her offspring, a dominant female will force other females to leave the pack. An interesting aspect of these forced evictions is that usually family members are chosen. Researchers suggest that this makes sense. It seems an evicted family member does not resist as ferociously as a non member, and thus there is likely to be less damage inflicted during the struggle.
Sometimes males are targeted for eviction. New packs may be formed by evicted mongooses (that survive the struggle) or by mongooses that voluntarily disperse from the pack.
Banded Mongoose Pile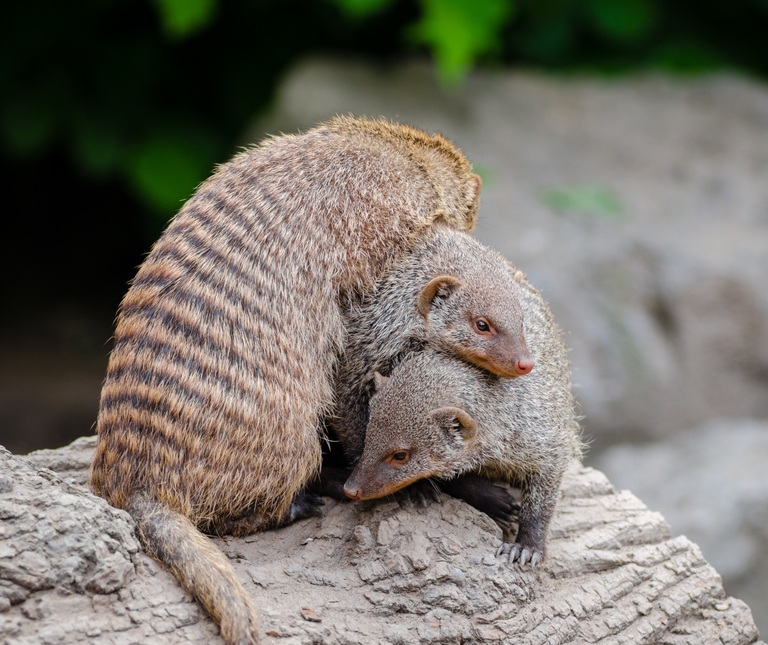 Image credit: Mathias Appel. Used under Public domain license.
Compensatory Nurturing
Communal birthing not only insures that all pups will receive equal opportunity to thrive. It also insures that the more vulnerable pups will receive compensatory care, in order to help them catch up with their peers.
In one study, a group of expectant female mongooses was divided into two groups. Half the mongooses were given less food during pregnancy. As a result the pups from these undernourished mothers were smaller. When it came to feeding the group litter, however, the collective mothers gave preferential care to the smaller pups until they were as large as their litter mates.
Banded Mongoose Nursing a Pup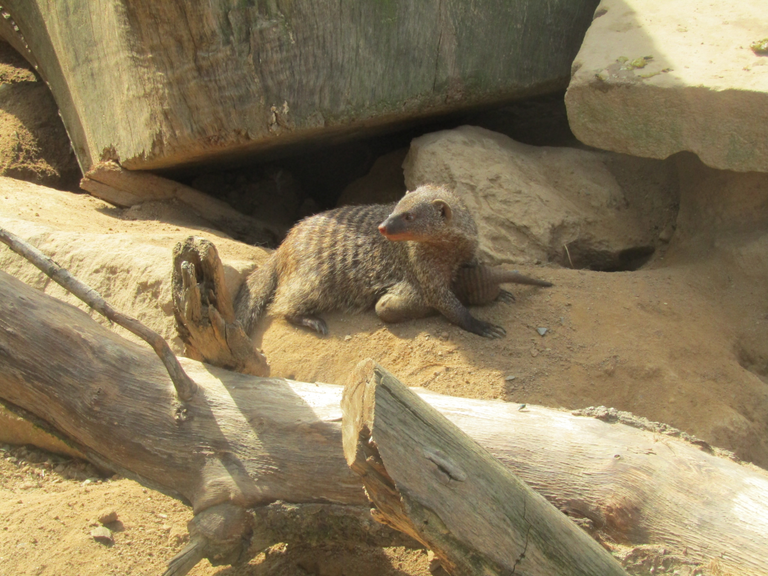 Image credit: Fiver, der Hellseher. Used under CC 4.0 License.
Exploitative Leadership Among Mongoose--And Humans
I began the blog with a question:
Do Mongoose and Human Leaders Have Anything in Common?
According to observers of mongoose and human behavior the answer is a resounding, Yes! In both species there is
exploitative leadership
.
Quoting from an article that appeared in the journal, Biological Sciences: "Our findings suggest that the decoupling of leaders from the costs that they incite amplifies the destructive nature of intergroup conflict." In both mongoose and human societies, leaders provoke war which wreaks havoc on others in their group, but from which the leaders derive benefit.
Banded Mongooses Play Fighting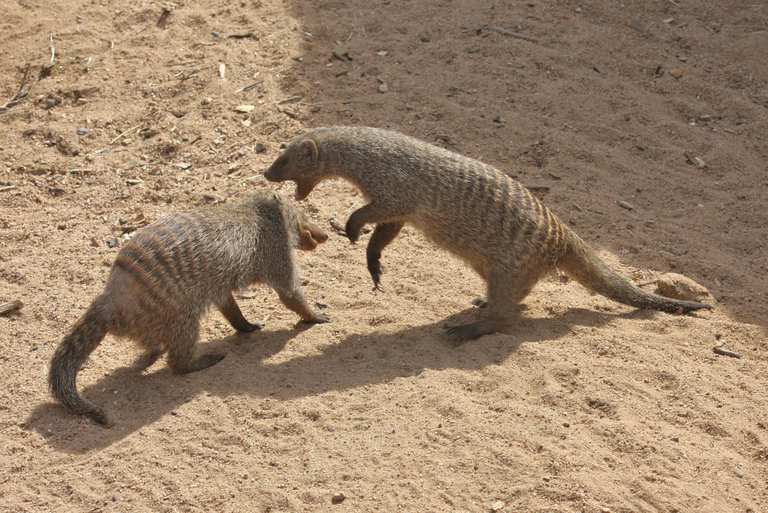 Image credit: Postdlf. Used under CC 3.0 license.
Quoting from another article that appeared in Smithsonian Magazine, biologist Michael Cant (associated with the Banded Mongoose Project) states: "A classic explanation for warfare in human societies is leadership by exploitative individuals who reap the benefits of conflict while avoiding the costs...In this study, we show that leadership of this kind can also explain the evolution of severe collective violence in certain animal societies."
I have tried to find other social species (vertebrates) in which this pattern of leadership exists, but so far have not been able to identify one. If any of my readers discover one, please let me know in the comments below.
More Information About the Fascinating Banded Mongoose
The banded mongoose is a close cousin of the meerkat. As a matter of fact, the word mongoose can also be used to describe a meerkat. However, the meerkat has
not been observed
to engage in exploitative leadership. As a matter of fact, this small mongoose has been described as
altruistic.
Meerkat Sentinel With Three Young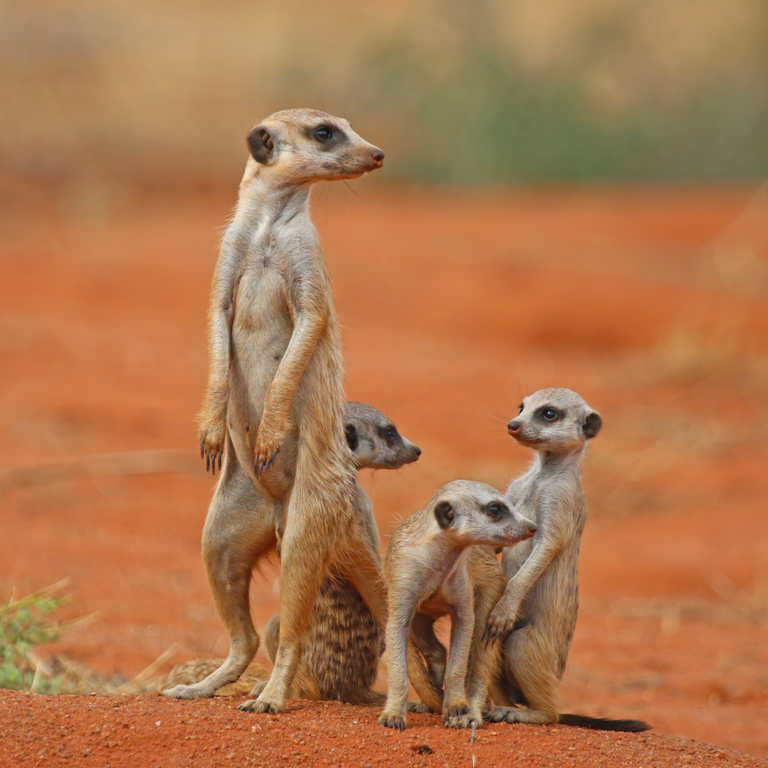 Image credit: Charles J. Sharp. Used under CC 4.0 license.
The banded mongoose is a member of the Herpestidae family. There are 34 mongoose species in this family.
Life Span, Litter Size and Frequency
Banded mongoose infants do not have good prospects of survival. Less than 50% make it to 3 months. However, adult banded mongooses live to about 10 in the wild, and in captivity may live to 17.
The banded mongoose may deliver four litters a year. Each litter may have between 2 and 10 pups. The pups are born blind.
Snake Predator
The banded mongoose is a snake hunter. The mongoose seems to have a hankering for snake meat and is quite skilled at attacking snakes that are venomous and large. Not only does the mongoose have an excellent hunting technique, but also has limited vulnerability to snake venom.
In this YouTube video by National Geographic, a mongoose attacks and vanquishes a cobra. If you are squeamish, do not watch:

Mutualistic Relationship With the Warthog
The banded mongoose and the warthog have a mutualistic relationship. The warthog has pests, such as mites and ticks that need to be cleaned off. The mongoose loves to eat these critters. Below is a picture of banded mongooses crawling over and grooming a reclining warthog.
Banded Mongooses Grooming a Warthog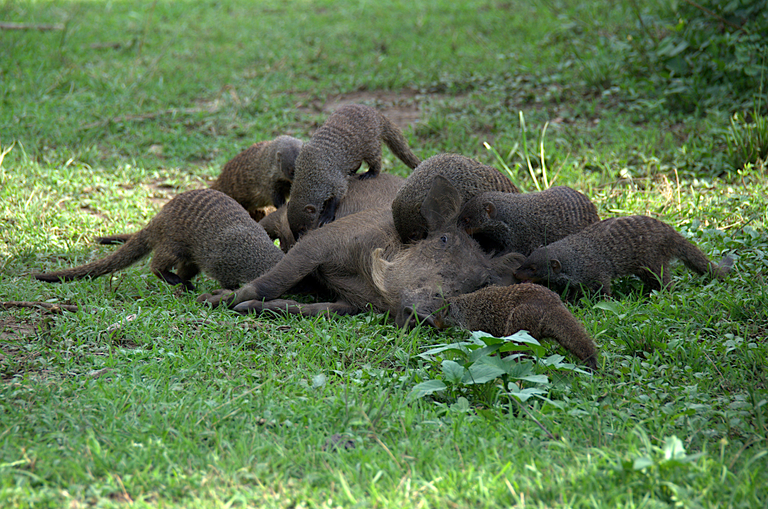 William Stephens. Used under CC 4.0 License.
In this YouTube video from BBC you can watch the warthog invite grooming from a mongoose pack:

Mongoose Bite is Dangerous
This last bit of information is about the mongoose, and not specifically the banded mongoose. According to Wikipedia, the mongoose is native to southern Europe, Asia and Africa. Although being bitten by a mongoose is a rare occurrence, it does happen. In this article from the Boston Medical Journal the mongoose bite is characterized as 'dangerous'. Besides the risk of rabies, there is also a risk of streptococcal infection, which can quickly lead to death if not treated properly. The woman describe in the article was in her kitchen when a mongoose attack occurred. She did die rather quickly because appropriate antibiotics were not administered.
Mongooses Breaking Eggs
A favorite meal for the mongoose is eggs. Apparently, egg-cracking technique is a skill passed down from parent to offspring. Some mongooses break eggs by biting them. Some break eggs by picking them up and smashing them against the ground or a rock. It seems the behavior is learned as a juvenile and is maintained throughout life.
This YouTube video by Steve Mcurrach shows the mongoose egg-cracking technique.

Conclusion
War is in the news these days. War is always with us it seems, somewhere in the world. When I read about mongoose warfare and exploitative leadership, I had to write a blog. Perhaps by considering the behavior of these mammals we might gain insight into our own natures. Maybe, maybe not. In any event, my research was interesting and I have enjoyed sharing what I learned with my readers.
Health and peace to all.

Sources
Accent GIF at the end of the blog derived from a fractal (Purple Moon) posted in the LMAC Image Gallery #LIL, by @redheadpei.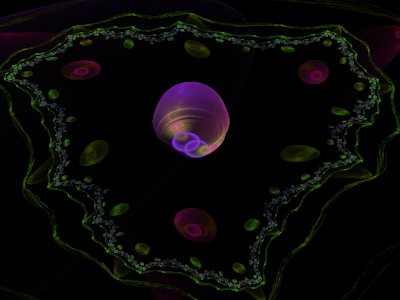 1.https://biologydictionary.net/mongoose/
2.https://www.livescience.com/52565-mongoose.html
3.https://newatlas.com/banded-mongoose-targets-female-family-4.for-eviction/49201/
5.https://phys.org/news/2017-11-female-mongooses-pups-rivals.html
6.https://phys.org/news/2017-04-banded-mongooses-family-members-eviction.html
7.https://www.smithsonianmag.com/smart-news/warmongering-female-mongooses-lead-their-groups-battle-mate-enemy-180976265/
8.https://www.scientificamerican.com/podcast/episode/mongooses-pile-on-warthogs-to-groom-them/
9.https://www.psychnewsdaily.com/mongooses-have-a-fair-society-because-moms-care-for-all-the-groups-pups-as-their-own/
10.https://pubmed.ncbi.nlm.nih.gov/16271972/
11.https://www.inverse.com/science/mongoose-war-tactics
12.https://www.ncbi.nlm.nih.gov/pmc/articles/PMC4543268/
13.https://lisbdnet.com/what-do-you-call-a-group-of-mongoose/#What_is_the_collective_noun_for_meerkats
14.https://www.vox.com/future-perfect/22585935/jane-goodall-chimpanzees-animal-intelligence-human-nature
15.http://socialisresearch.org/about-the-banded-mongoose-project/
16.https://phys.org/news/2019-06-meerkats-mongooses-cooperative-approach-pups.html
17.https://www.newscientist.com/article/2259280-female-banded-mongooses-start-wars-so-they-can-mate-with-rival-males/
18.https://www.science.org/content/article/scienceshot-why-mongoose-moms-synchronize-births
19.https://www.researchgate.net/publication/227677122_Eviction_and_dispersal_in_co-operatively_banded_mongoose_Mungos_mungo
20.https://www.pnas.org/doi/10.1073/pnas.2003745117
21.https://www.researchgate.net/publication/347469409_Exploitative_leaders_incite_intergroup_warfare_in_a_social_mammal
22.https://www.sciencedaily.com/releases/2013/02/130204220845.htm
23.https://nationalzoo.si.edu/animals/banded-mongoose
24.https://www.denverzoo.org/wp-content/uploads/2020/03/Banded_Mongoose.pdf
25.https://www.newscientist.com/article/mg15320642-500-science-mongooses-secret-is-to-copy-its-prey/
26.https://en.wikipedia.org/wiki/Mongoose