Locusts are mentioned in the Bible (Judeo-Christian) as one of the Ten Plagues of Egypt. This ancient scourge exists today on every continent, except Antarctica. However, locusts do not swarm with devastating ferocity on every continent. This agricultural threat affects the livelihood of at least 1/10 of the world's population. One swarm in East Africa this year consumed, in a single day, food that could have fed 35,000 people.
Locust Swarm, Western Sahara (1944)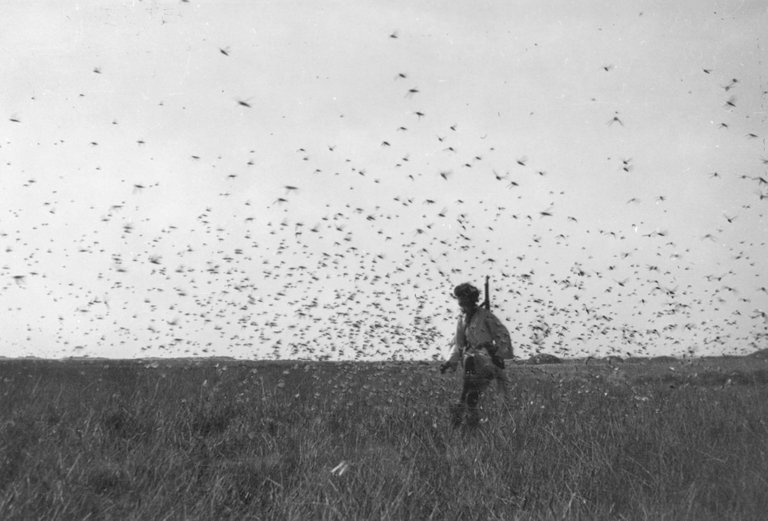 Image credit: Author, Universidad Autónoma de Madrid Eugenio. Source, Morales Agacino's Photographic Archive. Via Eugenio Morales Agacino's Virtual Exhibition. Used under a CC share-alike 3.0 license Spain.
In order to mitigate the damage of swarms, scientists are focusing on the evolution of locust behavior. What causes an anti-social, non-aggressive insect to morph into an aggressive, group-oriented menace? Not only is there a dramatic behavioral change in the insect, but the change comes about suddenly and also manifests in physical appearance.

Desert Locust, Gregarious (Social) Phase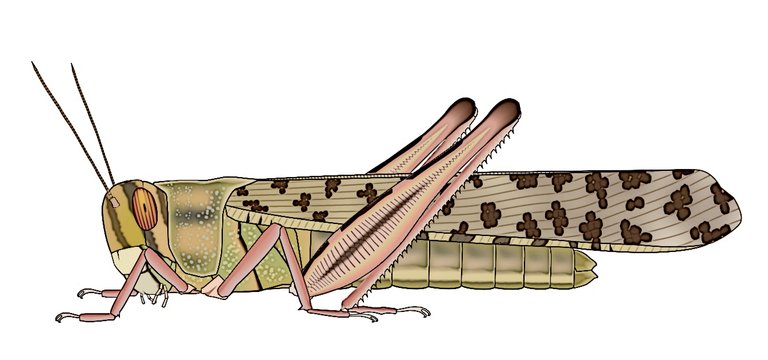 Image credit: DataBase Center for Life Science (DBCLS). CC4.0 license.
Desert Locust, Solitary (Anti-Social) Phase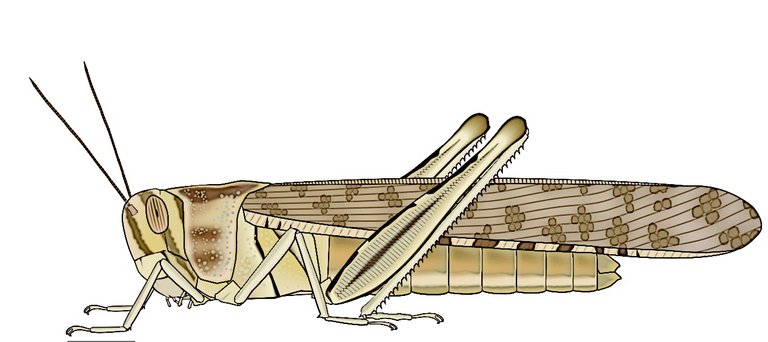 Image credit: DataBase Center for Life Science (DBCLS). CC4.0 license.
Desert locusts (Schistocerca gregaria) are among the most damaging in the world. Approximately 20% of the world's population, mostly in Africa and the Middle East, is affected by this locust species
Phenotypic Plasticity
The ability of an organism to change in response to environment is called phenotypic plasticity. This is considered an adaptive strategy. Responding to the environment is designed to increase the survival of the species. However, nature is rarely predictable . When the change is made in the insect's juvenile stage of development, success of the strategy is dependent upon the stability of the environment. If the adaptation is irreversible, and the environment changes, survival may be endangered rather than enhanced.

Snake Skeleton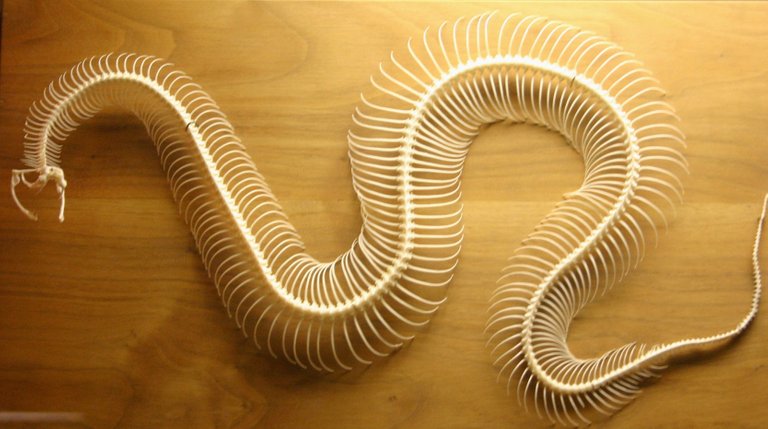 Image credit: dbking. Used under a CC 2.0 license
One animal that demonstrates at least one aspect of fixed phenotypic plasticity is the snake. The number of vertebrae an adult snake has is partly dependent upon the environment (mostly temperature) to which the snake was exposed as an embryo. Though a snake grows throughout its life, growth potential and therefor body size, is influenced by the number of vertebrae. Ultimately, the body size of a snake affects its food foraging success, since snakes swallow their prey whole. And, obviously the efficiency with which an animal forages for food affects its survivability. In this way, the phenotypic plasticity of an embryonic snake may affect the suvivability of the adult.
(Information on snake growth derived from Nature: Rethinking phenotypic plasticity and its consequences for individuals, populations and species)

While it is temperature that influences the number of vertebrae a snake may grow, in locusts the environmental trigger is population density. In locusts, there is a complex interaction between smell, touch and the insect's central nervous system. The proximity of other locusts sets off this interaction.
Once triggered, the central nervous system signals that massive doses of serotonin be released. Within hours of the seratonin infusion, solitary locusts become gregarious and join a swarm.


A Locust Depositing Eggs in Soil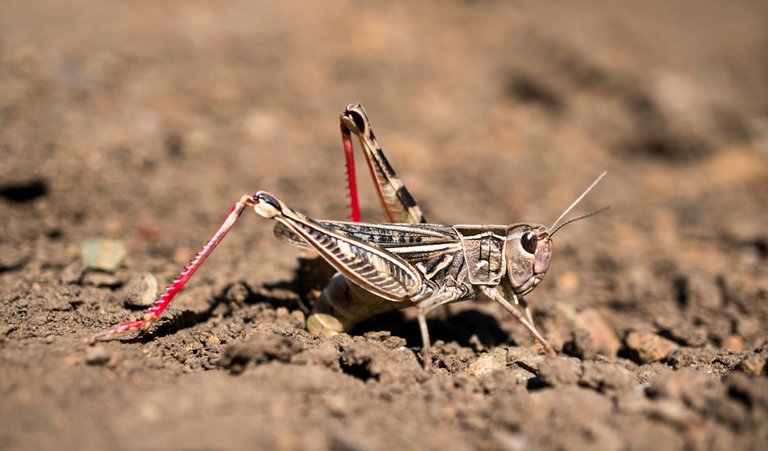 Image credit: Retro Lenses. Used under a CC 4.0 license
Sensory receptors on the hind legs of the locust are key to the seratonin release. When these receptors are stimulated by contact with another locust, the message is sent to the nervous system and the process of transformation to the gregarious state begins.
Spotted Bird Grasshopper (Schistocerca lineata)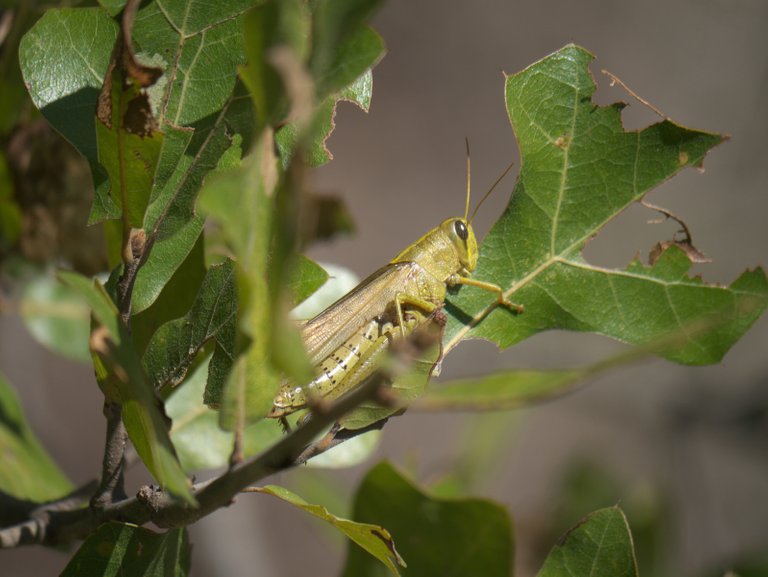 Image credit: xpda, Reference: Bugguide.net, Schistocerca lineata. Used under CC 4.0 license
Through a series of rearing experiments, Dr. Hojun Song, an entomologist at Texas A & M University, determined that some grasshopper species do not respond to population density by swarming. Some respond only by changing appearance. There is no behavioral effect. Some grasshopper species do not respond to crowding in either way: they neither change appearance nor behavior.
According to Dr. Song, the grasshopper species featured in the picture above, Schistocerca lineata, changes color when crowded but does not change behavior.

A Hopper Band (Locust Nymphs) in a Gregarious Phase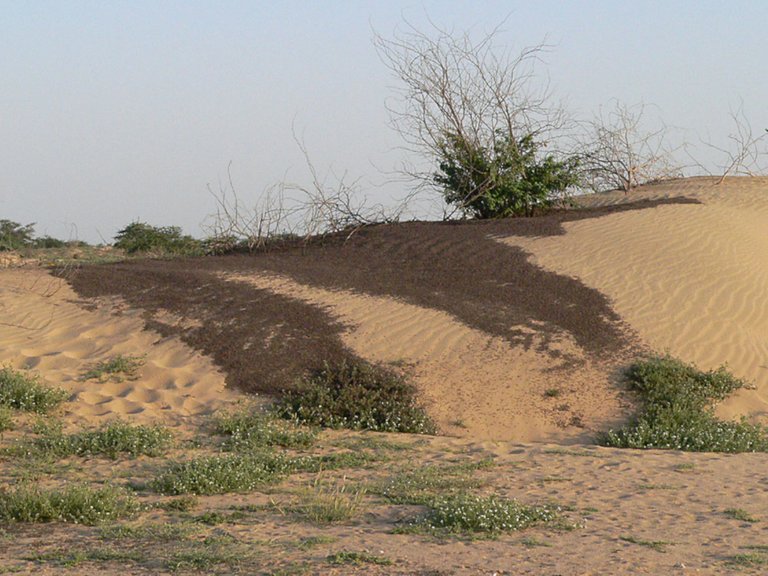 Image credit: ChriKo. CC license 4.0
Upon hatching from an egg, a locust emerges as a wingless nymph, a hopper. It can be gregarious or solitary. In the picture above, hoppers are swarming on the ground. Researchers in China are experimenting on nymphs to see if they can turn off the trigger that makes the insect gregarious. The research focuses on a hormone, JH (juvenile hormone) secreted by the hoppers. So far, the scientists have been able to make the nymphs more or less repulsive to each other by manipulating this juvenile hormone.
Cannibalism
Locusts are cannibals. This, it is believed, is why sedentary locusts stay away from each other. They don't want to be eaten. According to an article published by the University of Sydney, locusts in crowded circumstances, ..."become sociable and move away from locusts who approach them in order to avoid being eaten. But at the same time they are attracted to locusts moving away from them because of their general tendency to follow others".
Desert Locust Head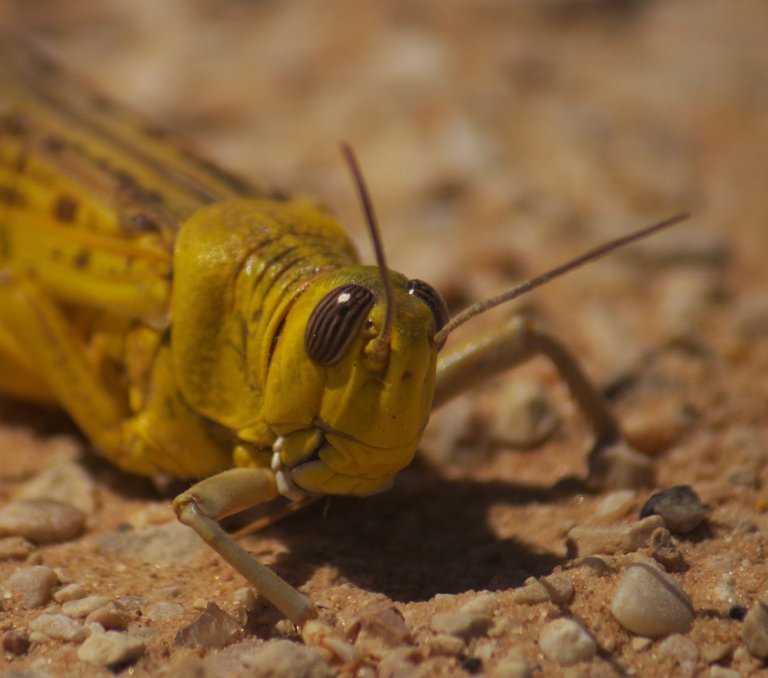 *Image credit: Adam Matan. Used under a CC 3.0 license
Another article, published in the World Economic Forum, explains that a locust is more likely to be eaten if another locust approaches head first. Hence, locusts align side by side in a swarm. "...any locust that is out of line with its neighbours will expose its vulnerable flank and face a greater chance of being cannibalised. By being in line, they will be safer – but will also help hold the swarm together."
Part of a Settled Swarm in Sudan, 2007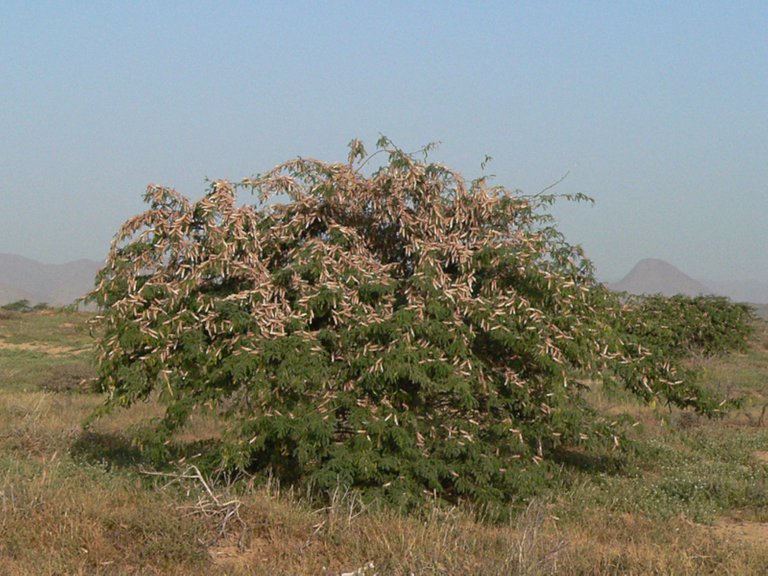 Image credit: ChriKo. Used under a CC 4.0 license
Phenotypic Plasticity in Humans
Most of us are familiar with a common form of human phenotypic plasticity: exercising for physical conditioning. We are also familiar with the intransigence of cancer cells. These cells, in humans and other animals, demonstrate phenotypic plasticity. An article in Science Direct explains how tumor cells adapt, "by migrating away from the primary site (Biddle et al., 2011), where they may utilise plasticity...to travel to and colonise distant tissues".
Another example of human phenotypic plasticity, was demonstrated in a rather novel experiment (Strategic Ejaculation in Reponse to Sperm-Competition Cues). This experiment showed that men who view women having multiple partners show an increase in sperm production.

Conclusion
Locusts are fascinating creatures, not only because of their economic and social importance, but also because they are ideal examples of phenotypic plasticity. The ability to adapt is essential to survival: "Plasticity is a universal property of living things". Whether it be a snake, a locust or a ghost crab, understanding these animals is a path to understanding life, and ourselves.
I hope readers found this article interesting and relevant to their lives.

Some Sources Used in Writing This Blog

Locust accent GIf derived from Pixabay, by Prawny
Snake Gif derived from image on Paint3D