You may know Ragnar Lothbrok thanks to codfish. I'm a big fan of the Vikings TV Show, and always wonder how they became so important and famous in European history, even reaching popular culture today. From time to time, you will find some post in Hive regarding a makeup inspired by Vikings or anything else related to them.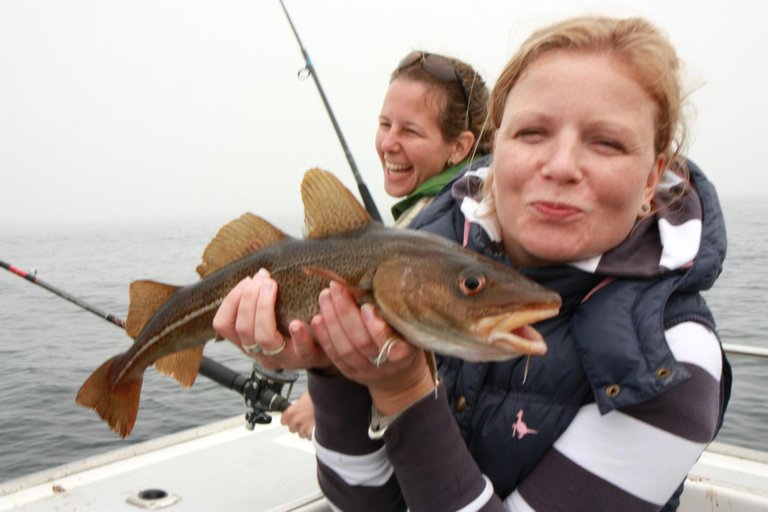 flickr
Recently, I found an interesting video on YouTube titled "How Cod Saved the Vikings". After watching the video, I understood that something so simple as a fish could be a crucial factor in the success of a civilization. Of course, there would be other factors involved in Vikings success 1000 years ago, nevertheless, the video shows enough arguments to say that Cod Fish could be one of the main reasons for it.
Although I am not an expert in history, medicine, or nutrition, I thought it was an interesting enough topic to write about. Something that has always caught my attention is topics about ancient civilizations and interesting facts about them.
Apparently, the Vikings acquired the habit of drying the meat of the cod they fished, in order to preserve it for a longer period of time during their sea travels. This would increase its protein content significantly. This dried cod meat could be split and eaten as if it were a cookie. In addition to its high protein content, it is a low-cost food that must have also reached the lower classes among the Vikings.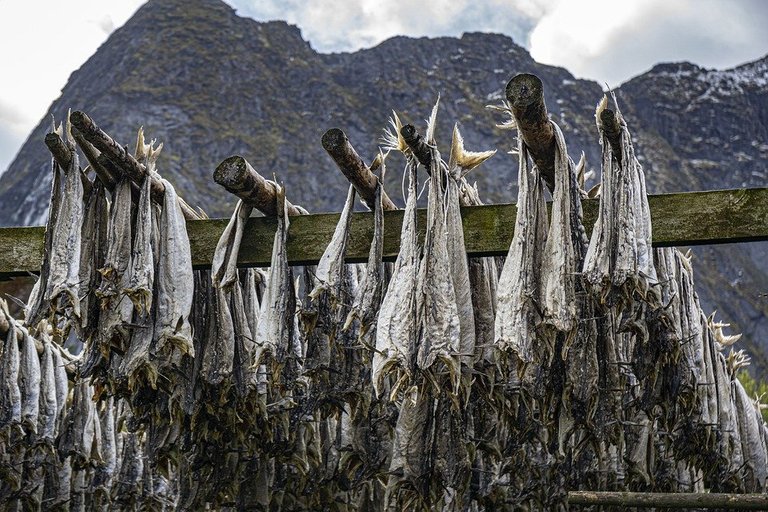 Pixabay
This habit would be acquired by the Vikings before or during the High Middle Ages, between 800 and 1000 AD. Right in those centuries, Vikings were beginning to have an important presence in Europe and ventured beyond, towards Iceland and America. That is why cod would be one of the main reasons for the Viking expansion at that time.
But it is not just about the protein content of cod. As we will see below, another significant factor would make the Vikings overcome the cold climate of Scandinavia.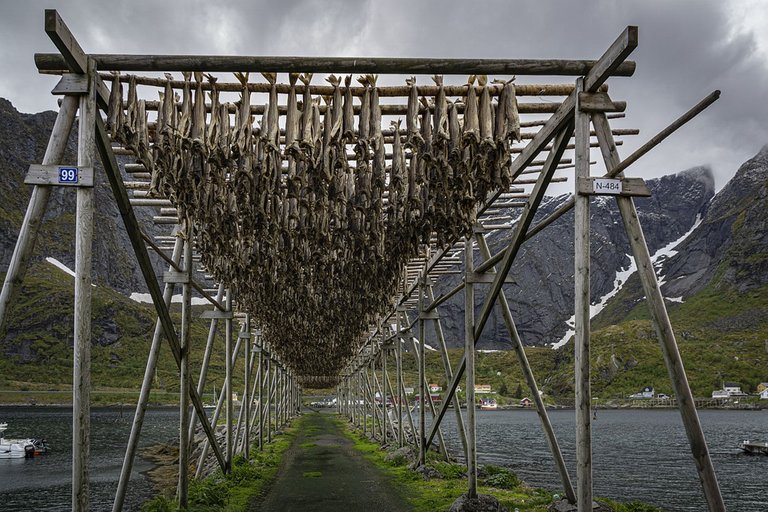 Pixabay
Interestingly, dried cod meat is not a very popular food in Scandinavia today, but it is popular in other countries in Europe, even in areas where cod is not found in the sea, such as Italy and Spain in the Mediterranean. Trade would have brought this fish to other areas of Europe about 1000 years ago, making other populations in Europe also benefit from this food.
I do not remember any mention of Cod Fish in the Vikings Series. On the other hand, the series shows us not only a civilization interested in raiding and conquest but also trade with other kingdoms.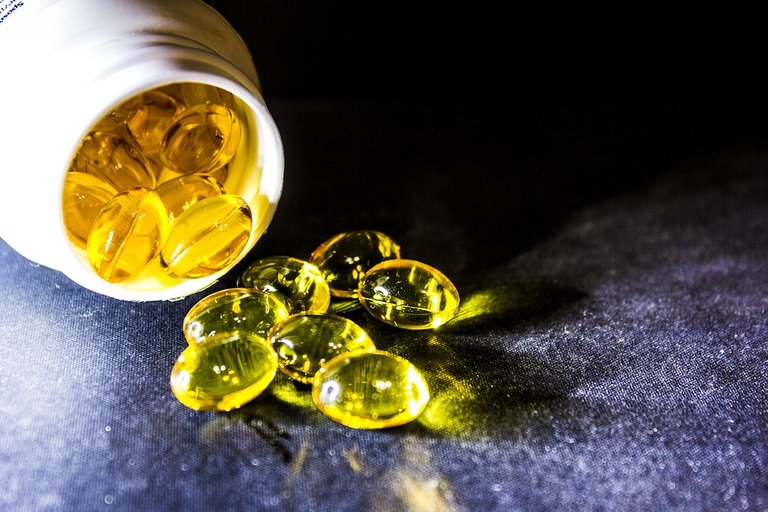 Pixabay
The Vikings probably were the first people to consume cod liver oil. They developed a method to extract this oil. In the past, it was unknown why cod liver oil had so many curative properties. As the video mentions, Vikings probably know about the benefits of Cod consumption, but not how much or why. When I was a kid, I remember it was common to give cod liver oil to children, I even tasted it a couple of times.
Cod is a fish that does not seem to put up much resistance to being fished, in comparison to other fishes. Besides, its distribution around Europe favored the Vikings, since the Atlantic Cod has a presence around Scandinavia coasts. You can detail this in the following map.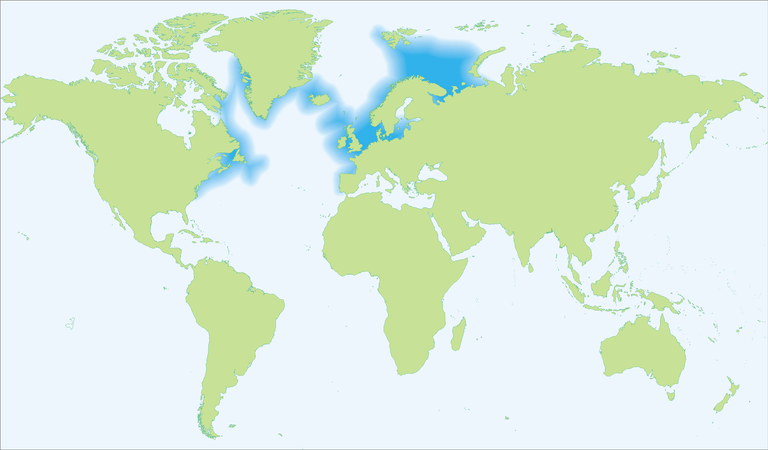 I, Aotearoa, CC BY-SA 3.0, via Wikimedia Commons
Viking families probably adopted the consumption of cod liver oil following the example of other families. They must have noticed that individuals who consumed this food had better health. This way of transmitting valuable knowledge is described as proto-science. It is interesting how different practices are adopted and preserved in the culture for their development.
On the other hand, one of the main reasons why cod plays an important role in terms of health is due to the lack of sunlight in the Nordic countries in the winter months.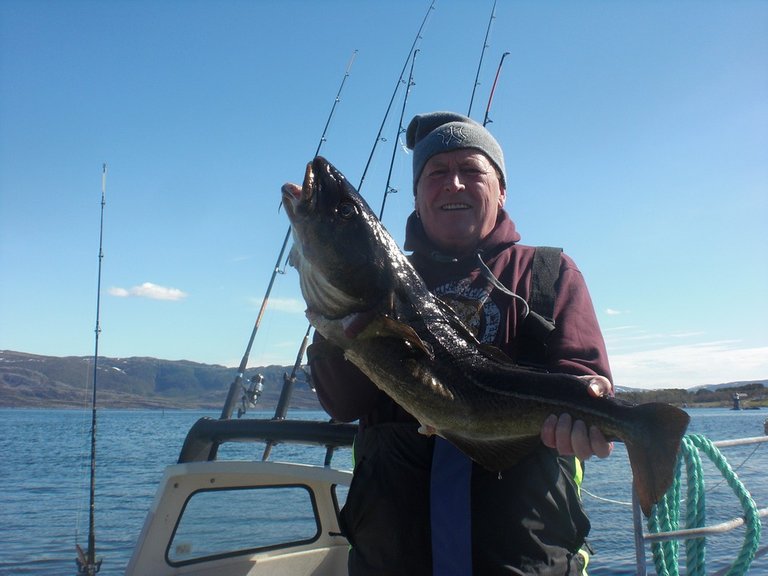 Pixabay
Rickets and Osteomalacia
Lack of sunlight means less vitamin D in the body, which is essential for absorbing calcium. The lower the amount of calcium, the weaker the bones. In medieval times, a disease called rickets, in which the bones are fragile was common in Europe.
If you have watched the series Vikings, you will know that one of its main characters (Ivar the Boneless) was born with deformities associated with the bones of his legs. This historical character might have suffered from some disease related to vitamin D deficiency, although it is not clear if "Boneless" was simply a nickname.
According to the information presented in the video, all areas above latitude 43° are susceptible to not receiving enough sunlight in the winter months. This is favorable for the appearance of Rickets in the population.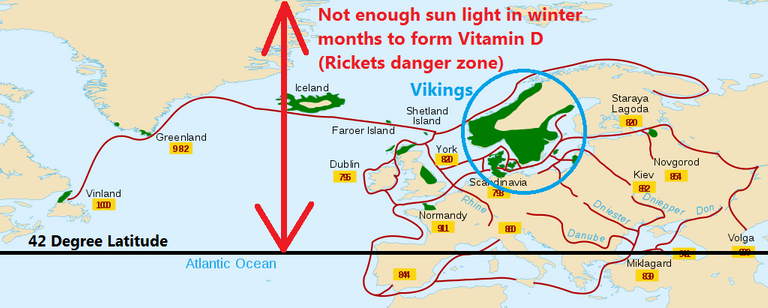 Edited using Paint. Pinpin, CC BY-SA 3.0, via Wikimedia Commons
You can see on the map that Viking's home (Scandinavia and Denmark) is very far from the 43° Latitude. They were more propitious to Rickets' disease than other cultures of Europe. However, they were known as strong and excellent warriors. They managed to sail across all of Europe, even settling in Iceland. And Cod may be one of the main reasons for this.
Another interesting fact mentioned in the video is that when they arrived in Greenland, Vikings seem to forget important things about their own culture, including cod liver oil consumption. The Greenland settlement did not last over the centuries, and the archeological remains found point to bone-related diseases.
The Vikings who arrived in Greenland did not have the scientific knowledge that we now have about the benefits of cod liver consumption. Whether or not this is the reason for the failure of the Greenland settlement, the lesson is that if you are going to abandon some aspect of your culture, think about the benefits it brought over the years.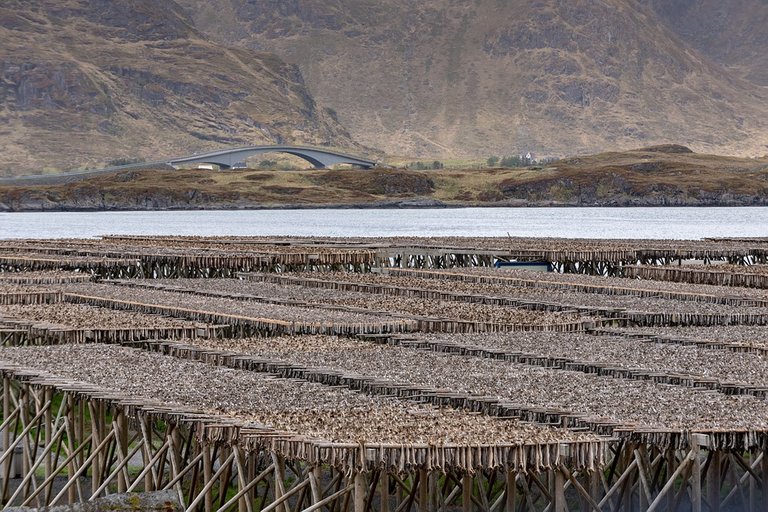 Pixabay
In conclusion, cod could be one of the main causes of the Viking Age. It gave the Vikings enough protein and vitamin D to stay strong and healthy in a hostile climate and poor quality land for farming. Certain practices such as the consumption of cod liver oil may have arisen spontaneously and were passed on to subsequent generations.
It would not be unreasonable to say that without cod, the Vikings could not have been as prominent as they were, as they would not have had a major source of protein and vitamin D that helped them perform well in the Scandinavian climate.
If we look at the map, apart from possible exceptions, there is no other civilization as far north that has been as successful as the Vikings. So if they had been less relevant in history, maybe today we wouldn't know about characters like Ragnar Lothbrok in a TV series.
---
Versión en Español del video: ¿Por qué el Bacalao salvó a los Vikingos?