This is by no means a scientific survey and is likely not representative of much, but I found it interesting. It is an ongoing poll about Covid vaccinations in Australia, by a crappy (popular and free - so I can read it) online news site, asking people how they feel now about their decisions.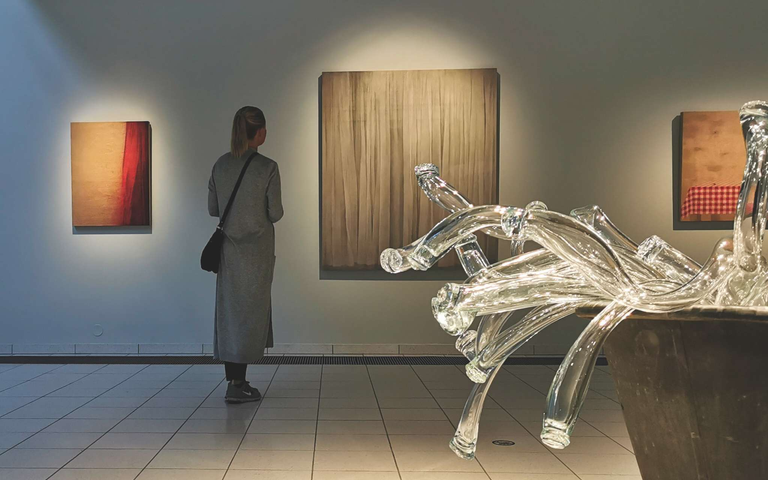 Now, I am in the "unvaccinated" part of the population, much to the chagrin of my wife, as it would have been easier if I had been vaccinated like over 90% of Finns. But, since I am a crazy conspiracy theorist that believed that getting vaccinated didn't stop the spread of Corona and most of the masks and measures taken in Finland did very little... I didn't get vaccinated. Now that we know that getting vaccinated didn't stop the spread, I feel somewhat vindicated, that what they were giving as reasons to get vaccinated, were largely nonsense.
But, what is interesting is this: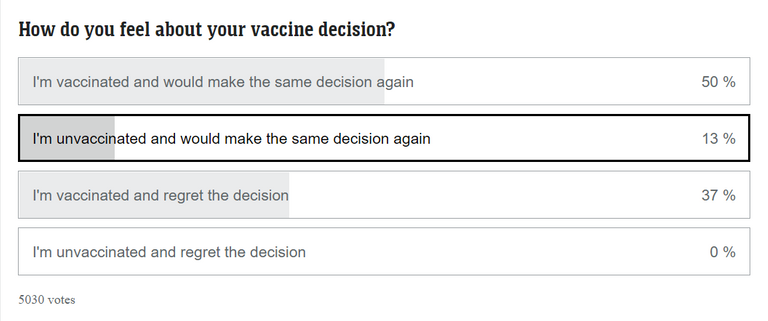 The poll has only been open for 30 minutes at the time of this sentence and there are 5000 answers taken on this question. Notice something? So far, out of about 800 people, not one of the unvaccinated regrets their decision and I would assume, that it isn't because they all managed to not get Corona, as it was everywhere.
Yet, 37% regret their decision and this could be because they were in the group that didn't get it (or didn't know they got it - remember, no symptoms doesn't mean no Corona), but there is this.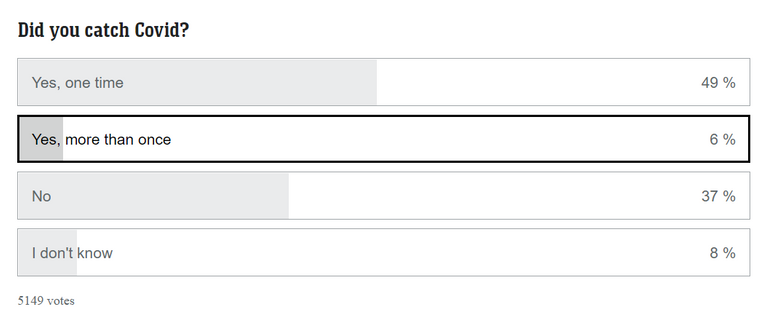 While 37% claim they didn't get it, if all the people who regret, regret because they didn't get it, that would also mean that all of the unvaccinated did get it. I am guessing there is some overlap. But, these numbers tell something too, because if you notice, there are some little things with the numbers that are a bit misleading.
We can work with a base of 100 people.
Out of 100 people, 13 didn't get vaccinated and 87 did. Out of the 87, we can see how many shots they had.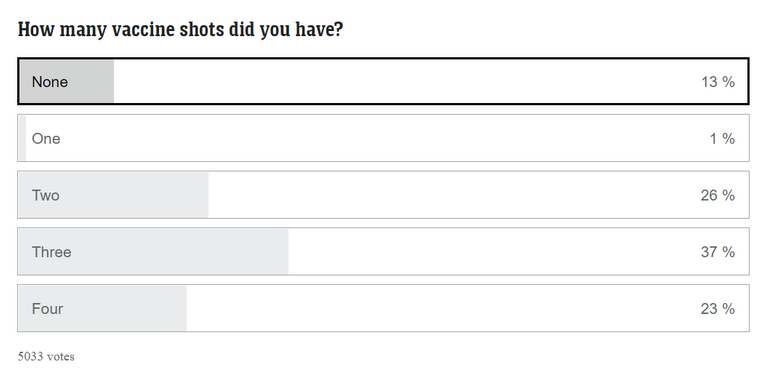 But, when we look back at the "regrets" results, there is a bit of funny business.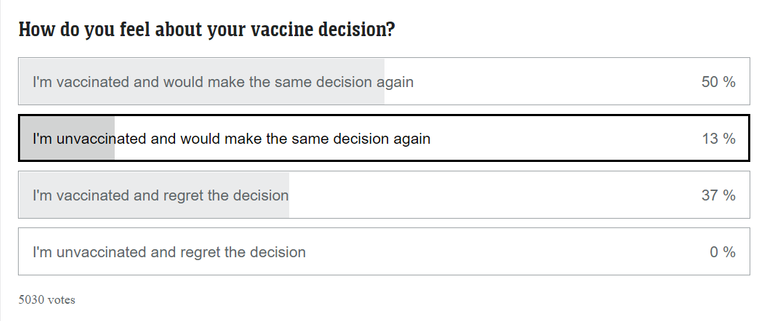 Out of our 100 base, 13 are happy and none have regrets.
But, we aren't working on the same scale any more, so we have to do some extra work to know how many are happy and how many have regrets for having their shots, because, these numbers shouldn't add up to 100, as they are now comparing using 2 different bases.
No vaccination has 13 people.
Vaccinated has 87.
50% of people who are vaccinated are happy with their decision, which is 43.5 people.
and you know what that means?
50% are not happy!
Not 37%
They way they are presenting the number excludes 11 people out of the 87 (25%) of the answers from the "not happy" category. pushed out to 5000 respondents, that 550 of the "not happy" responses omitted from the presentation and what this actually means is, that out of 5000 respondents, 650 are unvaccinated and happy with their decision and 2175 are vaccinated and not. That is 56%, more than half if given the decision again, wouldn't get vaccinated.
That is massive, because before, 87% of the total population, got vaccinated.
This would mean that with a do-over knowing what we know now, only 44% would get the vaccination.
This might be an oversight in the math, poor survey design or intentionally misleading, but it takes away a lot of the impact of the results, doesn't it?
And just to prove my point in bad design, I am checking back to see what happens and the latest with almost 8000 votes sees 1% increase in "unvaccinated" and a corresponding 1% decrease in "regret the decision" to be vaccinated.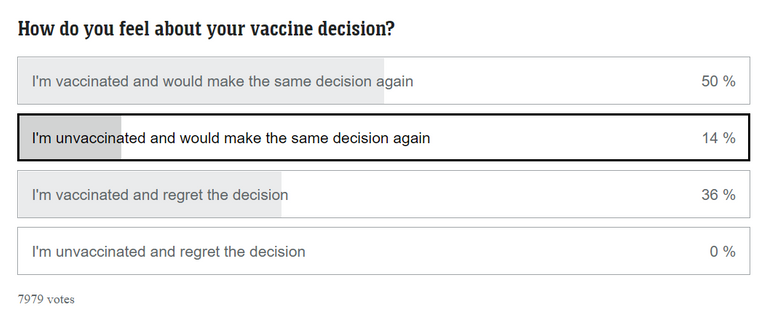 These things are not correlated, one should not affect the other. The only thing that can affect the regret or not is changes to people saying they regret or not, but as we can see, the "do it again" crowd numbers has remained static.
Math aside, there are also some obvious problems with this kind of survey, as obviously, being unvaccinated and happily living today, means there is a survivor bias. But, there is also bias in reporting on the regrets, because when people buy-into something like this, they are more likely to double-down on their decision, because it is too late to do anything else. There is no reversal of a vaccination - it is done. Because of this, I would suspect that if we could get an accurate reading on the "regret" situation, I suspect that there would be more regrets, more buyer's remorse.
And this whole debacle has been a "buyer's journey", where all kinds of mechanisms were used in order to convince people to get vaccinated, and it was very affective. Even now, the campaign continues, where even though it has recently been said that Pfizer didn't even test for transmission potential, they are saying that it is normal. So, if the vaccination didn't knowingly stop transmission, why were healthcare workers forced to get vaccinated to "protect" their patients, when they can carry and spread. How come only the vaccinated could fly, when they were transmitting it in the same way as the unvaccinated?
How come all of those dangerous unvaccinated people were arrested?
And in Australia, what about all of those people getting fined for being out of their curfew, collecting in too large groups, crossing borders to visit relatives?
I was watching House of the Dragon with my wife tonight and a great line was delivered by Mysaria in regards to the power of the King.
There is no power, but what the people allow you to take.
- Mysaria
And to close off at around 10,000 responses: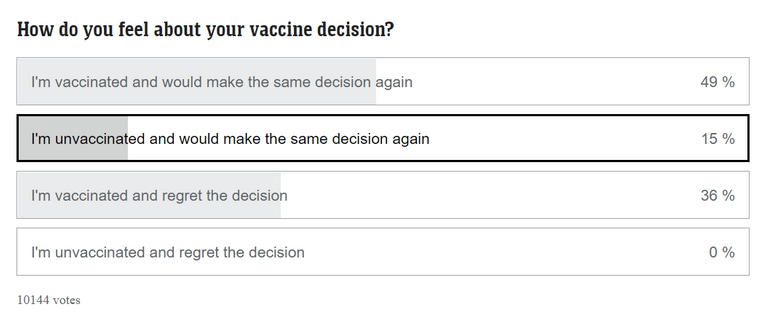 Regrets.
They can only ever be after the fact, but even hindsight isn't 20/20.
And by the way, this post isn't about vaccination, it is about information collection and distribution, how we perceive things, and how we are misled and influenced by what we are fed.
Taraz
[ Gen1: Hive ]