As an officially recognised, bona fide and genuine old fucker dinosaur I'm fortunate enough to be able to refer to the good old days, times past that were dramatically different to the current society and environment we live in today; I don't quite remember fire being invented but I miss those good old days days and, as a fellow who seeks simplicity, I long for those easy-going, unrushed days where one wasn't bombarded with choice, societal noise and media propaganda which I believe can skew ones thought and actions quite easily. I remember the days of yore fondly - That day the wheel was invented especially. Ah yeah, good times, good times.
You know the days I mean right?
The days when people didn't have to take a photo of their food before they ate it. When gaming meant board games and playing outside with the neighbour-kids and there was only one type of corn flakes on the shelf at the supermarket, not one hundred. Ah yes, the days when people actually made eye contact, counted-back change at the shop and when milk came from cows not almonds and oats and we didn't desire to possess everything under the sun right now. Also...The days before we all had mobile phones.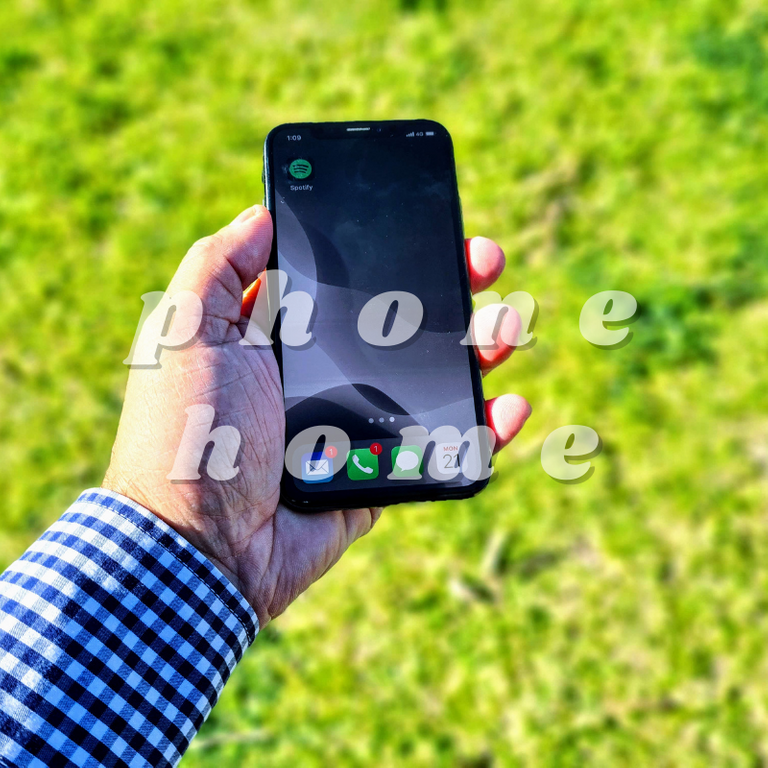 My work iphone. When I took this I was considering tossing it into the lake. Through sheer force of will I refrained. I still hate it though. #iphonerubbish
---
Phone reliance
I have two mobile phones, one of those idiotic iPhones given me by work and my own Samsung S20. Both go almost everywhere with me between working hours, 9-5 weekdays, and I just carry my personal phone at other times. I hate having to carry both phones but am happy to keep my personal phone private rather than using it for business so accept the inconvenience - It means I can leave my work phone home when not working as well. Oh glory!
Over the last several weeks I've become increasingly reluctant to carry my personal phone though. It's always with me, when I move about the house, nip down to the corner shop for snacks, mow the lawn, go shooting, people-watching at cafés, hiking...It doesn't come into the shower with me though...Or does it? [Most of you will never know. 😆]
The point is that it's rarely outside of arms reach and whilst it's convenient I find it somewhat annoying also.
What's important and what needs googlising
Is anything so pressing or immediate that it has to be dealt with right then and there? I mean, can the person that says, hey bro what the fuck's up, on a text message to me not wait an hour for a reply? Nuttin brah, just hangin' out. I mean come on right? Yes, there's things that may be time-critical but not all certainly...And besides, we used to go without mobile phones completely not that long ago so...Yeah, I'm sick of taking it with me.
I'll concede that it's handy to instantaneously get the answer to anything I want to know by googlising things on the phone...You know, the really important stuff we have to know immediately like:
How many segments in a mandarin or how does one milk an almond when it has no boobs. Real mission-critical information like that which having a phone and the internet in one's pocket can answer at all times but, I wonder, could we do without it though?
Phone home - A G-dog experiment
A few weeks ago I decided to start leaving my phone home more often on purpose. I say more often but in truth I never usually left it home at all. I have been lately though.
It feels odd to be out without my phone, a feeling that endured for a week or so. I felt disconnected, kept patting down my pockets to make sure it was there and not left at a café somewhere then realising it was at home. Ah yeah, that's right, I'm doing an experiment, I'd think until eventually I stopped worrying about the phone altogether.
I had a few moments of, what if I need to know the atomic number of Gadolinium Lanthanide on the Periodic Table of Elements [Atomic number 64] or the gestation period of a Crowned lemur [124 days]. But through sheer force of will I got over it the more I left my phone home. I actually came to like it - Not Lemur gestation periods, being phoneless.
I felt a little liberated through not having my phone and also a little more self-reliant. I couldn't instantaneously find things out with a few taps, call for help, get directions or numbers...I had to think things out, to plan my trip or whatever I was doing and make sure I was prepared.
It's been about a month now and I take the opportunity to leave my phone home as often as I can and leave it on my home-office desk when at home a lot more rather than carrying it around everywhere. It feels pretty good to break that feeling of reliance upon the device to be honest and I find I'm connecting more with whatever I'm doing rather than looking at my phone all the time. People still reach me when they need to, I still respond and life goes on without googlising what's in fake boobs and why they feel so real in the hand.
No justification
I've got no real justification for having to have my phone with me all the time although I know a lot of people would find some. I'm fortunate that I'm not on social media, other than hive, and I use my laptop for that mostly. I keep my friends group small and stay away from drama so tend not to get pulled into lengthy phone-message threads about who did what to whom. I just don't fucking care for drama.
I don't play those stupid fucking games on my phone, or any at all, do not use it for watching videos or reading the news...Although I use it for Spotify. That's the one possible thing I could use as a justification if I chose to, I love my music, but in truth I can go without for a few hours and enjoy the peace and quiet instead right? It's not a compelling enough reason for me to take my phone everywhere I go.
During the week I was speaking to the owner of a café I frequent who had heard about schools providing sleeping rooms for the students as they were spending so much time on their phones, all night instead of sleeping, that they were unable to stay awake during the day. Hmm, does anyone see a problem with this? I sure do; Many problems actually.
It's probably difficult for anyone under 35 years old to remember life without a phone in one's hand all the time...But it used to happen, trust me...People didn't need to have a computer in their pocket all their time and actually managed to survive. Miraculous.
---
I'll be honest and say I'd be happy to roll back the clock to before the internet and mobile phones as it seemed so much simpler back then. Yeah, I know we'd miss out on things but only because we know they exist. You can't miss what you don't know about right?
Imagine 50 years in the future from now, 2071...We don't know what we don't know right? So we can't miss it. Who knows, in the future we might all love the fact the government and corporations control our every move and that they injected us with nanomite-tech back in 2021 so they can record our every thought and movement - But maybe we'll long for those simpler days from the past like I do now? I'll be dead in 2071 of course, so I won't care. I guess a lot of you will be too, or you'll be dinosaurs like I am now.
So tell me folks, could you leave your phone home more often and if not why? What's your justification? Do you wish things were simpler and would you roll the clock back a little if you had the power to do so? Are you addicted to your phone and can't spend a moment without it? Do you splash your private life all over social media, play games or attach your feeling of self-worth to what model of phone you have? Tell me in the comments below, I'd love to hear your thoughts.
---
Design and create your ideal life, don't live it by default - Tomorrow isn't promised so be humble and kind
Discord: galenkp#9209