Sustainable Fashion made in Portugal - A NIKIN documentary [40 Min]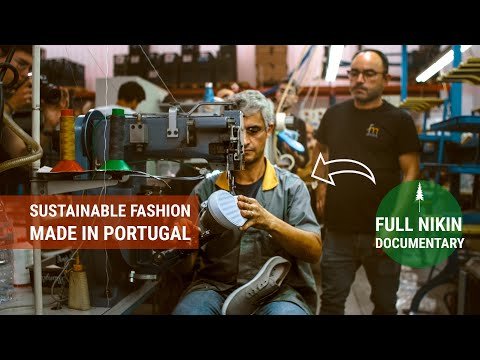 ---
We have visited the manufacturers of NIKIN products in Portugal!
I have captured this on camera and cut a 40 min documentary from it.
Sustainable Fashion made in Portugal - A NIKIN documentary
00:00 Introduction
01:15 Tarefas Coloridas - Shirts, Hoodies, Pyjama's, Pants
04:55 Embroidery
05:38 Screen Printing
06:37 Malhinhas - Knitting Factrory
10:18 Tetriberica - Shirts, Masks
14:38 Minority Denim - Natural Dyeing
16:39 J.F. Almeida - Towels
21:56 F&M industria de calcado - Shoes, Slippers
28:44 Etigui - Hangtags
32:54 Vermis - Corduroy Jacket, Shirts
37:37 Conclusion
38:52 Outro
On Monday a week ago, it was time to go. The lucky chosen ones from the Production and Marketing teams, who had landed in sunny Porto the day before, set off for the first factory. The distribution to two cars was not very spectacular, analogous to the offices in Lenzburg, they remained loyal to their team. Malicious tongues claim that the products team kept getting lost. In fact, they arrived too late at the first factory: apparently there are two villages with the same name near Porto, both of which also have a street with the same name. What a start!
Day 1: The most diverse producer
First we visited Pedro outside Porto. He is one of the largest producers of ours in Portugal. In his sprawling factory on a hill at the edge of the village, he makes TreeShirts, hoodies, sweaters and pants for us. He wins us over with his open and welcoming nature, as well as the quality of the whole manufacturing process. In the video you can see what the factory looks like from the inside.
Day 3: Dyeing clothes with coffee and onions
Lively we started the third day in the car of the "Lenzburger Schenkelklopfer". That was the name of Team Marketing in Porto. The product team, on the other hand, couldn't come up with a team name. "Probably too busy getting lost," said Social Media Manager Patrick with a wink. As we do every day, we visited several manufacturers. Among them was a factory that dyes products with organic material like onions or coffee. NIKIN founder Robin was enthusiastic: "Of course, this is exactly the kind of manufacturer that suits us."
Days 4 and 5: Shoes, hangtags and goodbye, Porto!
The last few days were all about TreeShoes and hangtags. The latter are the cardboard cards with a barcode that our producers attach to the clothes. They are also made at Porto in a small factory. Our vegan TreeShoes are made just 20 minutes away at another producer. Certain steps in the making of the shoe are still handmade, which was great to see!
Conclusion of our visit in Porto: it's worth it! Personal contacts create understanding, simplify processes and inspire new designs and methods. In addition, we can say with a clear conscience: our manufacturers meet our standards and share our values.
SHOP - https://www.nikinclothing.com/YouTube
Instagram - https://instagram.com/nikinclothing/
Facebook - https://www.facebook.com/nikinclothing/
DIRECTOR & PRODUCER
IVAN SCHNOZ (https://www.isnz.ch/)
CO – DIRECTOR
ROBIN GNEHM
PATRICK SCHERZ
MODERATOR
ROBIN GNEHM
INTRO-MODERATOR
LUCA OBRIST
NIKIN CREW
PRISCILA DO VALI MARQUARDT
PATRICK KUNZ
PATRICK SCHERZ
LUCA OBRIST
ROBIN GNEHM
IVAN SCHNOZ
FACTORIES
TAREFAS COLORIDAS - PEDRO MESQUITA
MALHINHAS - CARLOS FERREIRA
TETRIBERICA - JOAQUIM MOREIRA
J.F. ALMEIDA - SARA COSTA & JOSÉ AFONSO LEITÃO DUARTE
MINORITY DENIM - GEORGE COSTA
F&M INDUSTRIA DE CALCADO - ISABELLE RIBEIRO
ETIGUI - RITA TEIXEIRA
VERMIS - JOSE LIMA
THANKS TO OUR PARTNERS FOR HAVING US AND THE INSPIRATIONAL CONVERSATIONS.
WE ARE LOOKING FORWARD TO AN ONGOING COLLABORATION AND A MORE SUSTAINABLE FASHION INDUSTRY.
Disclaimer
This is no financial advice. Everything written is my opinion only and you should do your own research. Investing in Bitcoin and other cryptos, lending, DeFi, liquidity mining are high risk investments. You could lose everything, only invest what you can afford.
Bear in mind that some of the links in this post are affiliate links and if you go through them to make a purchase I will earn a commission. Keep in mind that I link these companies and their products because of their quality and not because of the commission I receive from your purchases. The decision is yours, and whether or not you decide to buy something is completely up to you.
Youtube: https://goo.gl/rQaiFV
Instagram: https://www.instagram.com/isnz.ch/
Facebook: https://www.facebook.com/perfspots
Website: http://isnz.ch/
CRYPTO RECOMMENDATIONS
LENDING SERVICE
Here i get interest on my crypto assets:
http://bit.ly/btc_defi (free 30$ with this ref.link or code "442675")
It is a service i trust now for more than 3 years, it is reliable and the most transparent way to reinvest Cryptos and get interest. The best part: Decentralized and anchored on the native Bitcoin Blockchain! (Let me know if you have any questions.)
Here i buy bitcoin: http://bit.ly/btc_buy
Best cryptobrowser: https://bit.ly/fastest_browser
Travel
Where i book hotels: https://bit.ly/riohotel
Where i book the cheapest flights: https://goo.gl/HRhxoy
Credit card with best commissions for travels: http://bit.ly/travelcreditcard
Editing software: http://bit.ly/editing_software
---
▶️ DTube
---
---