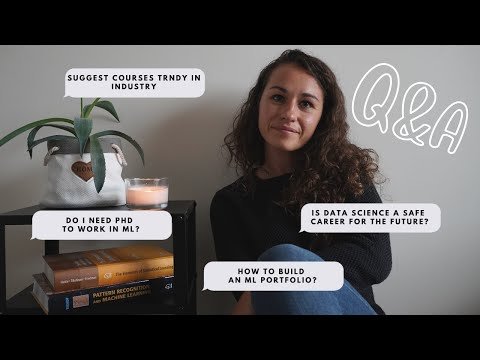 ---
Answering your most FAQ that you have dropped in either one of my social media accounts!
00:20 In which programming language do you work?
01:06 Which bachelors did you do to become a Machine Learning Engineer / Data Scientist?
01:33 What do you actually do at work?
01:51 How did you get into the position that you are currently at?
02:35 Have you ever worked as a Computer Vision Engineer? If not, why?
03:09 Where can I practice Machine Learning?
03:26 Python or R. Why?
04:00 Can you recommend a book for Computer Vision? I only know the basics.
04:18 Do you think a career in Data Science / Machine Learning is safe in the future?
04:46 How long did it take you to learn Data Science?
05:20 Can you work in Data Science / Machine Learning without a Computer Science degree or PhD?
05:45 How to become a good programmer?
05:55 Do you freelance or do you have a rock-solid job?
06:14 Do you work with the statistics provided by your Instagram account?
06:40 Tips for non-tech people that are getting into Data Science?
07:36 Do you need to know frontend to deploy Machine Learning models?
07:43 How do you do Machine Learning with a programming language other than python? Is it easier?
08:16 How many hours per day do you spend coding?
08:36 How do you get a job without having a portfolio?
09:18 Do you think some companies confuse the Data Scientist with Machine Learning Engineer profile?
09:47 Is Machine Learning a solo job in a company or do you need a team?
10:15 Any good course that you did during bachelors or masters?
10:30 What excites you the most?
10:53 If taking a self-learning path... what kind of math should one expect?
11:15 Which was the first programming language that you learned?
11:20 How can I build a portfolio for Data Science or Machine Learning?
11:56 Is it possible to switch back between Computer Vision and Machine Learning?
12:13 Do you prefer start-ups, small agencies or tech giants?
12:39 At what age did you start coding?
12:46 Suggest courses trending in industry.
13:04 Do you consider yourself a Data Scientist?
13:45 Why did you move from Machine Learning to Data Science?
14:03 Have you ever felt that you don't know what you are doing?
14:41 What is the most beautiful thing you've learned throughout your career?
---
▶️ DTube