You gazed at the moon and fell in the gutter - Thomas Fuller
😀😀 Ever happened to you? It almost did in my case ... several times when I went out clicking under moonlight. Though not gutters, I fell down ravines couple of times and got some scratches on my a$$!!😀
That does not deter me from taking photos of things in moonlight. It is actually quite exciting to be able to photograph owls in moonlight...
One of my dreams had been to photograph an owl against a full moon.. Well, I did not get a full moon but did get this shot..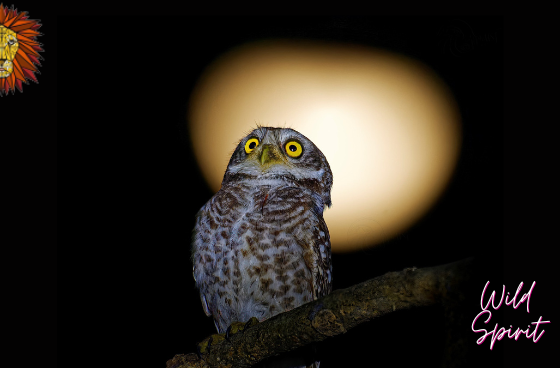 Heavenly halo! 😀 Owl posing against the moon
I love the majestic and severe expression and the pose of this spotted owlet as it poses with the moon forming a halo 😀
As luck would have it, I got two owlets with the moon in one frame in the next few minutes. Owlets are curious creatures and another owlet came to investigate what the clicking noise was all about!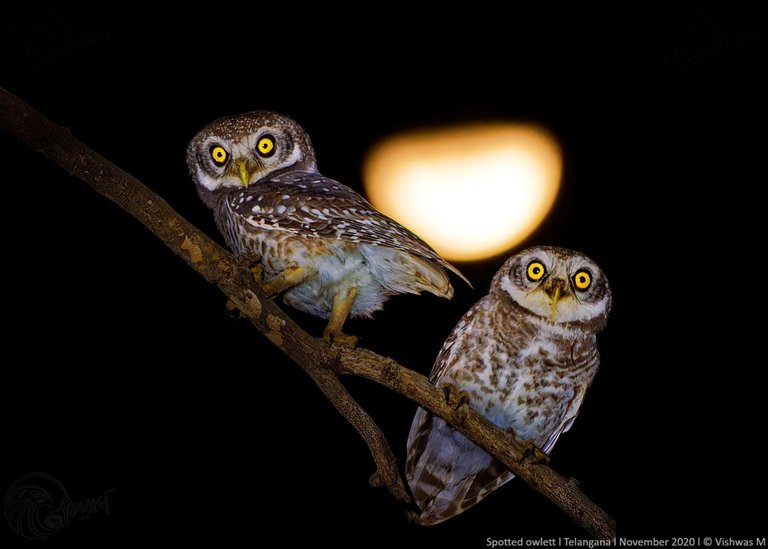 Even more amazing was a shot I got of a mottled wood owl under the moon. The owl was actually in a very thick tree canopy and the only way I could see it clearly was through an opening in the canopy. As luck would have it, I had the moon, partially obscured by silhouettes of branches and moonbeams shining through a light fog...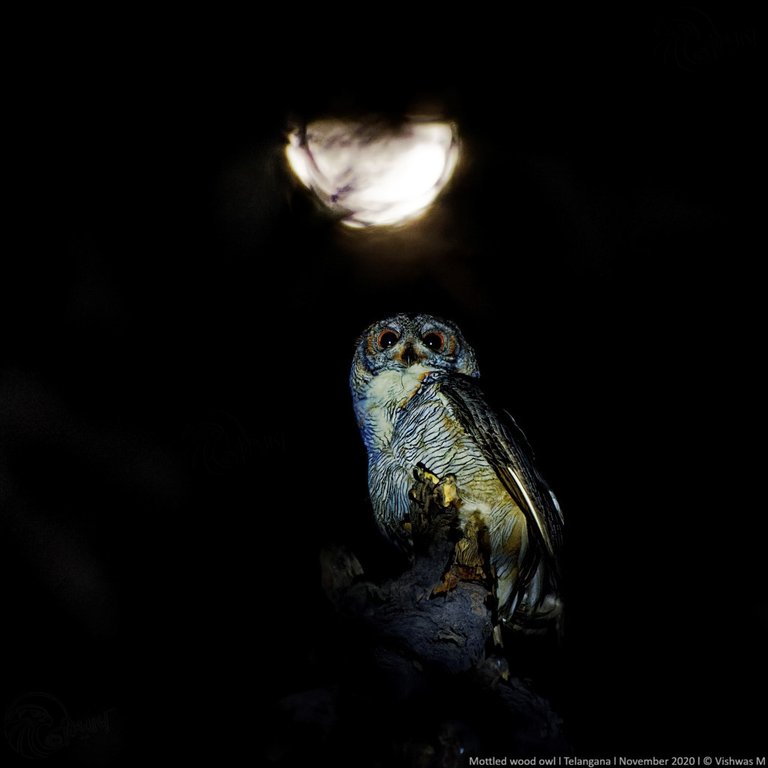 Moonbeams and me
Another lovely click I got when the moon was out was this colorful barn owl. The moon was, unfortunately behind me and could not be in the frame but it enabled me to spot this beauty and cast a soft glow that helped for getting the picture without absurdly high ISO levels.

Moonlit beauty
It has been very hard for me to try and capture live subjects by moonlight. Apart from the dangers of roaming around on rough terrain at night, getting the photographic parameters right has been a long learning experience for me as a self taught photographer. I would have loved to photograph these living subjects solely using only moonlight as light source but they never sit still long enough for a long exposure so I had to use a torch light to supplement the light. I do NOT use FLASH and light the subject without throwing direct light in their eyes. This has to be done in a few brief seconds before the bird gets alert and flies away...
I am sure there are many experts in our #photographylovers community who have a lot more experience on the subject. If some experts can kindly provide some pointers and share experiences of photographing in the moonlight, it will be very helpful for me and perhaps other enthusiasts too.
Last but not the least, how can I complete a post about photography in the moonlight without a shot of the moon itself. Here is one of the shots I took...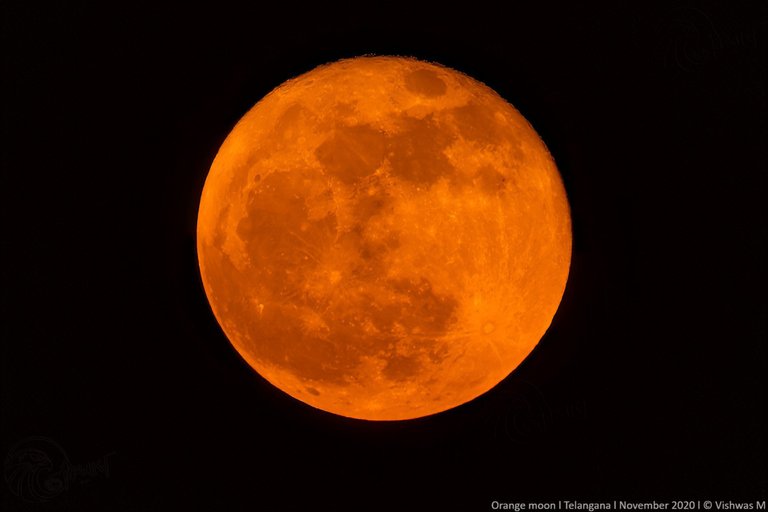 Orange moon
Orange moon is usually seen when the moon is near horizon and atmosphere is dusty. It looks spectacular and has many myths, folklore and symbolisms associated with it. I was stunned when I saw it, like a huge orange fruit in the sky, the first time and read about it. Some of the myths are quite interesting but that is a subject of another post I guess...😀
Finally, I must mention the technology that allows this type of photography even for amateurs. It is semi-professional DSLR cameras like the Nikon D500 that produce amazing results even at high ISOs like 12500 ISO and of course some processing software like Lightroom that allows processing raw images to bring out sharp details even in low light images without actually enhancing the noise.
I hope you enjoyed the pictures of the moonlight madness..
Please comment freely and let me know your opinion. I will try to bring many different types of wildlife photos/macro/Astro posts to the community. Feedback and comments are welcome,. I am still learning many techniques and always value feedback from experts in this community.
Have a nice day everyone. Cheers!