Seen a cute fox pup face the world by stepping out of the den? It is quite an experience..
Though I have been seeing foxes around in grasslands when I go out for wildlife photography, I had not seen a den so far.
From the way the fox mother was roaming around in a pattern focusing on a specific area, it was easy to guess the general area of the den. However finding the actual den was all together a different matter.
A fox's den is just a hole in the ground. A series of interconnected holes for that matter. A den can have more than one entrances and exits.
I did, finally manage to find the den, which was a hole at the edge of grass-line of an inclined slope.
A friend had seen some activity near that hole but I was unsure if there were actually pups inside the den. So, I sat patiently waiting and praying for a glimpse of a fox or a fox pup.
I was indeed lucky because a bold pup decided to venture out ....
As I gazed through my lens at the den entrance, a cute pup stuck it's head out !!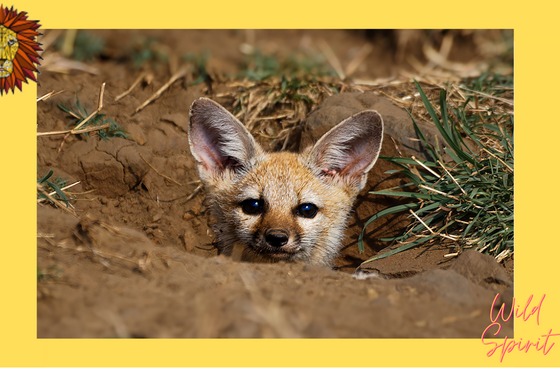 Hello World..
It was almost as if it was saying Hello World... I remembered the first ever 'C' program I had written when I was a teen - It printed out 'Hello World'...😀 With that first simple code, most of us had ventured into the world of programming.
This pup, unsure of the outside world but very curious about it, stuck it's head out and gazed straight at me. I could only squeeze of couple of shots with my camera when it dived back into the den...
I was sure though that it's curiosity will overcome fear. So I waited patiently for some more time.
Sure enough, in about 15 mins, the pup stuck it's head out again and came out a bit too...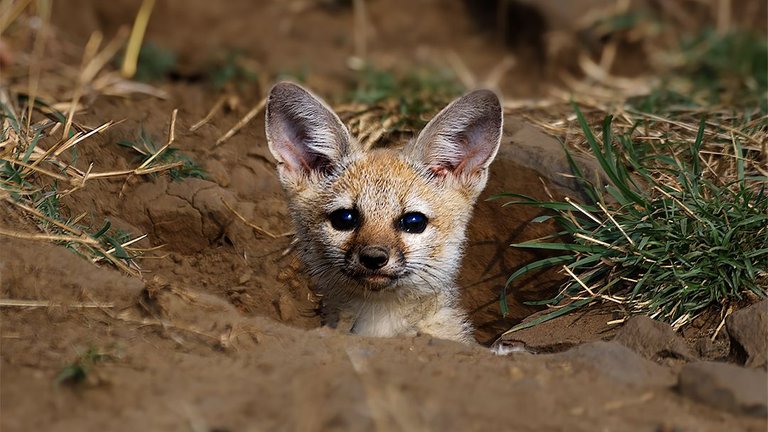 Getting bolder...
I avoided firing off too many shots with my camera. The shutter sound may sound scary. Patience is the key. I kept reminding myself...
That approach certainly helped. The pup glanced several times at the location where I was partially hidden but was not unduly alarmed. It ducked its head in the den once or twice but gained confidence ...
Then, as if saying 'Here - I will pose for your camera", it came out of the den and posed at the den entrance. I could not have asked for a better picture..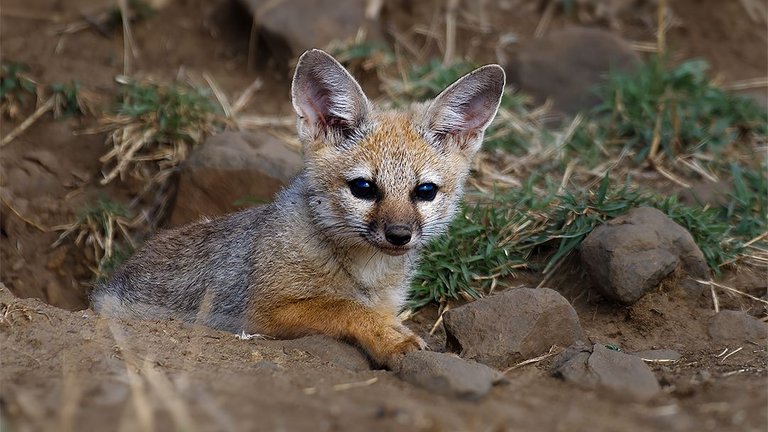 Here - let me pose for a picture...
While the cub was facing the world boldly thus, an anxious fox mother was keeping a watch at the den, on me and the cub from a distance...

The anxious mother...
I was doing nothing that would alarm or harm the cub and I was not close to the den either. In spite of that, the fox mother kept her eye at me as well as the den. Anxiety was written on her face. I think it was more to do with the dangers the pup might encounter out of the den... I too, was worried about the same. The pup could be quite vulnerable out in the open like that.
However, neither the fox mother, nor I need have worried about the pup. Savvy by instinct in survival tactics, the cub dived into a patch of thick grass as soon as it sensed any movement of any kind (even a shadow of a bird floating overhead...)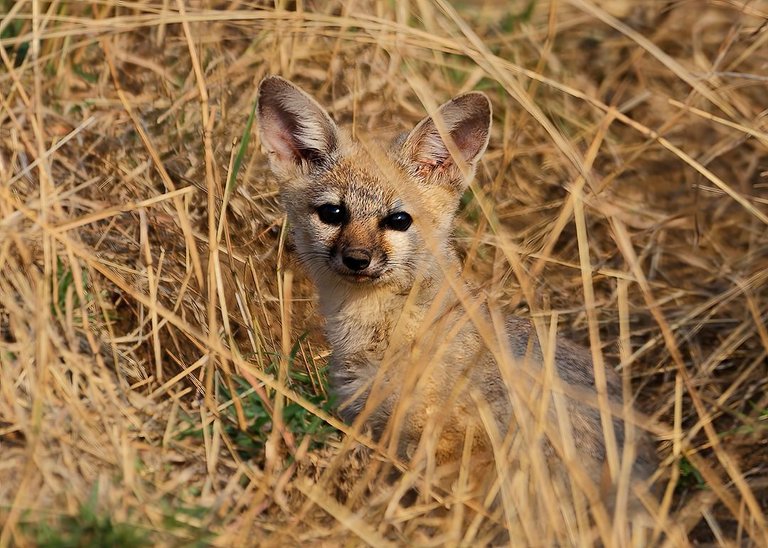 "Don't worry mom- I know how to hide in grass"
I did not want to disrupt the pups foray outside the den or worry it's mother too much. So, I silently bid goodbye to the cute pup and withdrew from the location.
I enjoyed the encounter very much. It is special to be able to see such things in the wild which we can usually watch only on Discovery or Animal planet channels...
I used following settings on my D500 Nikon + 200-500 Nikkor lens
Support: Handheld since I was crouching low in grass
Shutter : 1/500s I expected the subject to be fairly slow so a lower shutter speed works and also allows me to use lower ISO though the evening light was low
Aperture: 5.6
ISO:100 Low ISO possible due to low shutter speed. No noise to worry about in the picture
What do you think ? Do you think it was worth it? Have you attempted or would you attempt anything like this in photography? If so, please share your experience in comments.
Please comment freely and let me know your opinion. I will try to bring many different types of wildlife photos/macro/Astro posts to the community. Feedback and comments are welcome,. I am still learning many techniques and always value feedback from experts in this community.
Have a nice day everyone. Cheers!