Sometimes I drink water just to surprise my lever!!😀😀
Don't we all joke like that about water? Well - we can afford to but there are 700 million people in 46 countries in the world that suffer from water scarcity!
So, I look at water - whenever I go out in nature, and capture the beauty of drops with my Macro lens. In the hopes that, looking at the images, I and others will remember that -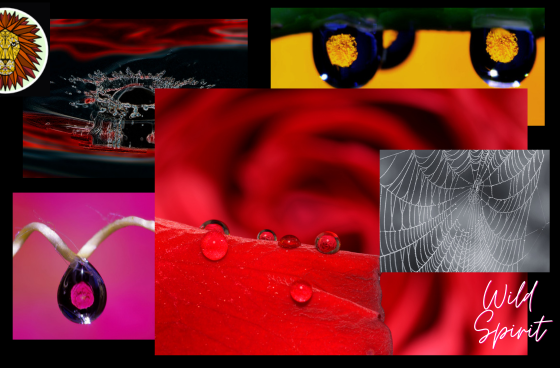 Every drop of water is important!
I started noticing the beauty of water drops when I did not even have a macro lens. I vividly remember that, on a foggy morning - when I was out looking for raptors roosting, I almost walked into this lovely little necklace of dew drops on spider web...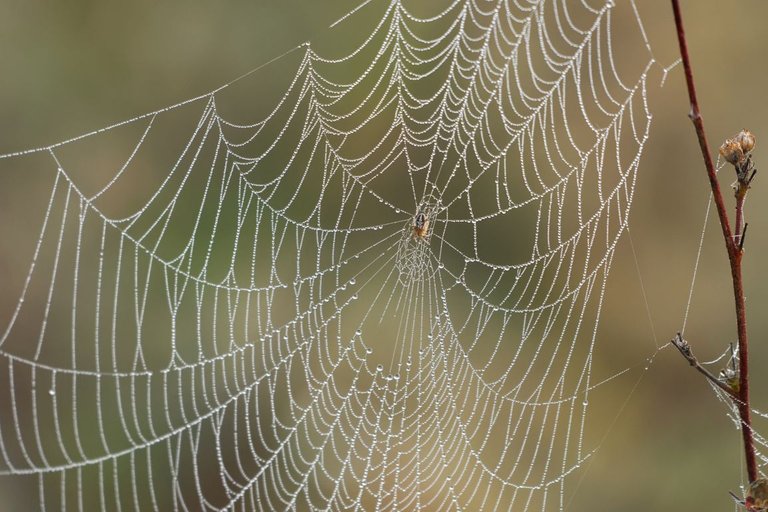 Unfortunately, I had a 200-500mm lens on my camera and there was no way I could capture a macro of this beautiful net . So - I stepped away - almost 50-70 feet and managed to focus on this web with my 200-500 lens somehow and took the shot. 😀
After getting the macro lens though, I started looking at water drops in a totally new way.
I found that there is a beautiful world of objects around that is visible in water drop images!
It is fun to walk around in the garden with a macro lens after a rain shower. Drops of water hang on branches and refract flowers and leaves around them...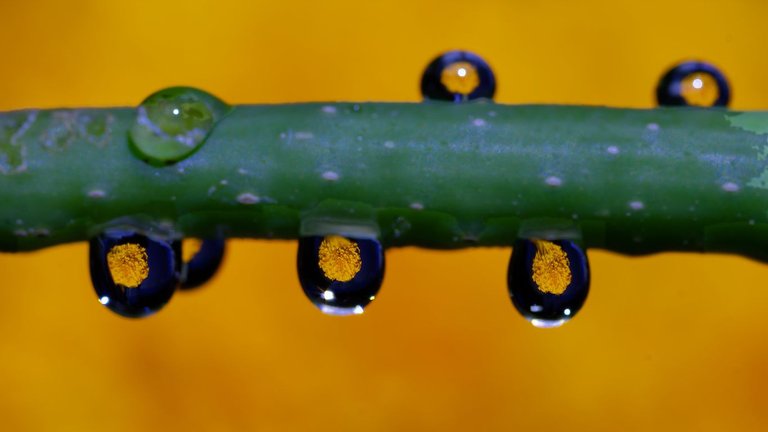 The trick is to get a composition such that the flower behind is refracted in the water drop on a branch in front. The very shallow depth of macro lens makes an excellent bokeh background of the flower while the flower itself is visible clearly in multiple images through refraction in water drops...
Lovely - isn't it?
Sometimes the water drop and the vine on which it hangs is so lovely that it almost looks like a beautiful pendant designed by nature!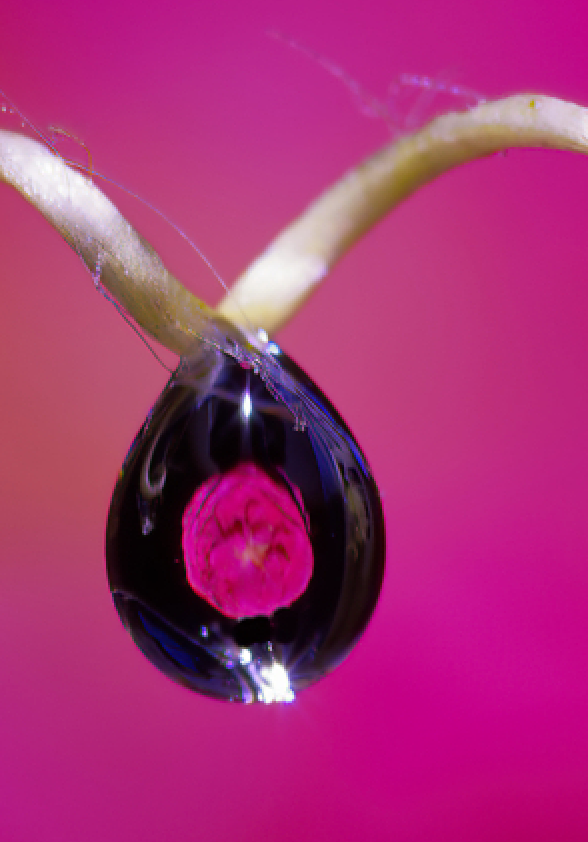 After seeing this image, my wife is after me to get a pendant like this made with precious stones!! 😀 I keep telling her that is is practically impossible to replicate beauty of nature and also - I can not afford it unless I become a HIVE BILLIONNAIRE! 😂
Even splashing water drop in a rain puddle sometimes gives beautiful images if we can manage to freeze the action..
I happened to be near a neon sign reflecting red and black in a puddle of water when the rain was still lightly falling. Drops splashing in the puddle had all kinds of red hues. So after clicking hundreds of frames on rapid fire mode, I got this one - which looks like a lovely crown!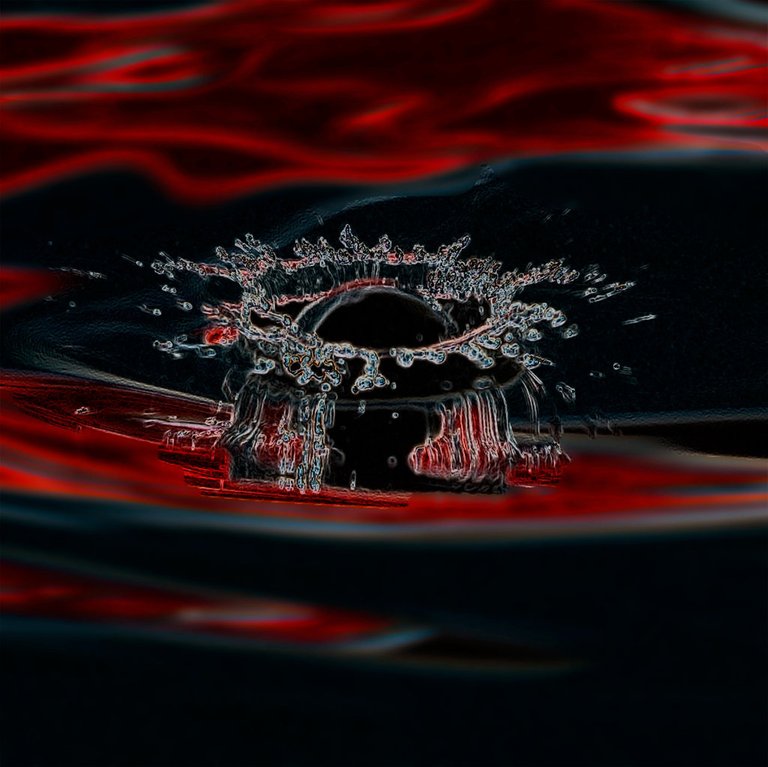 It almost looks like some AI art- doesn't it?
The best image I like out of the many that I captured in rain is this one of raindrops on roses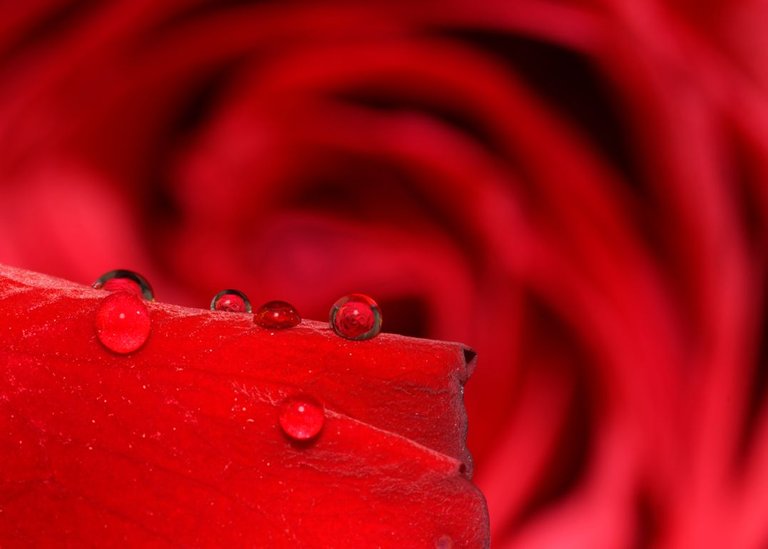 I just love the way the complex rose shape is perfectly refracted in the water drop. This closeup crop shows it ...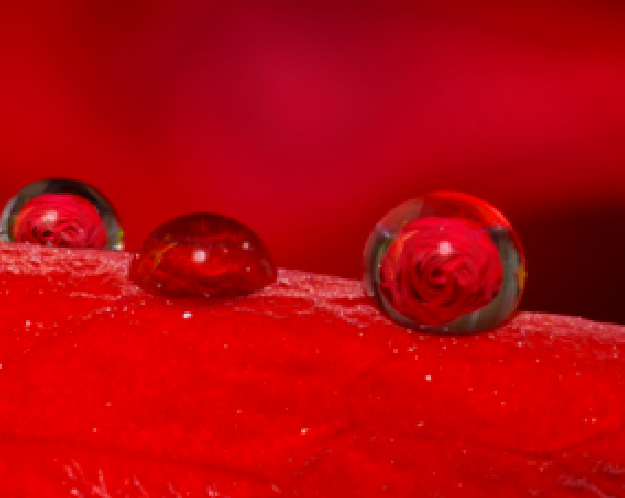 Perhaps we can use this image for a romantic Valentine's day card? 😀 Let me know if you have a girlfriend and would like to use the image!😂
Hope you all enjoyed these images.
I would love to hear your own views on this. What do you think ? Do you think it was worth it? Have you attempted or would you attempt anything like this in photography?
Please comment freely and let me know your opinion. I will try to bring many different types of wildlife photos/macro/Astro posts to the community. Feedback and comments are welcome,. I am still learning many techniques and always value feedback from experts in this community.
Have a nice day everyone. Cheers!