Assassin bug [Eng/Esp]
In one of the many adventures I do every day in my backyard, I noticed something orange on a leaf which quickly caught my attention, when I approached, I found this little friend, although let's say that small compared to other insects is not, but it was striking for the way it was, it really had an air of hunting and later in the photographs we will see that was exactly what he was doing.
En una de las tantas aventuras que realizo a diario al patio de mi casa, me percaté de algo anaranjado en una hoja lo cual rápidamente llamó mi atención, al acercarme, me encuentro con este pequeño amigo, aunque digamos que pequeño a comparación con otros insectos no es, pero sí se me hizo llamativo por la forma en la que se encontraba, realmente tenía un aire de estar cazando y más adelante en las fotografías comprobaremos que era exactamente lo que hacía.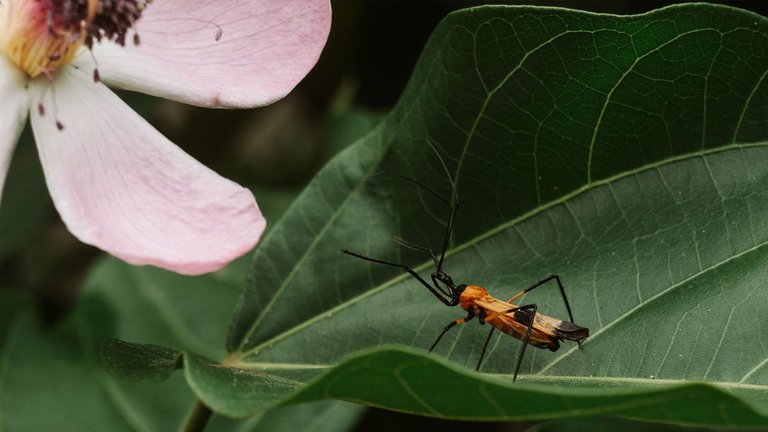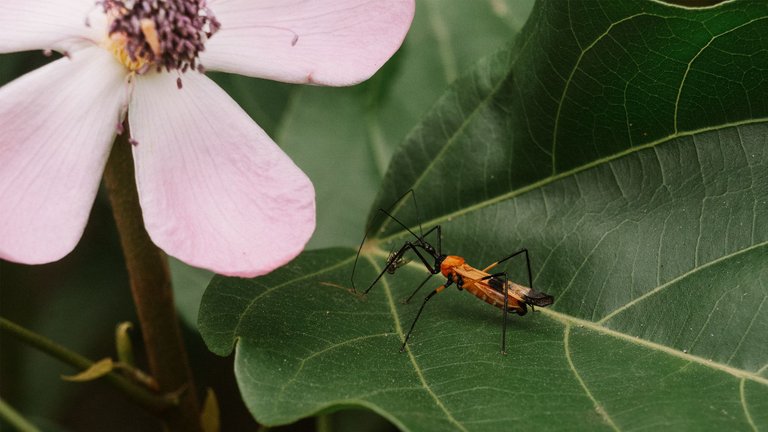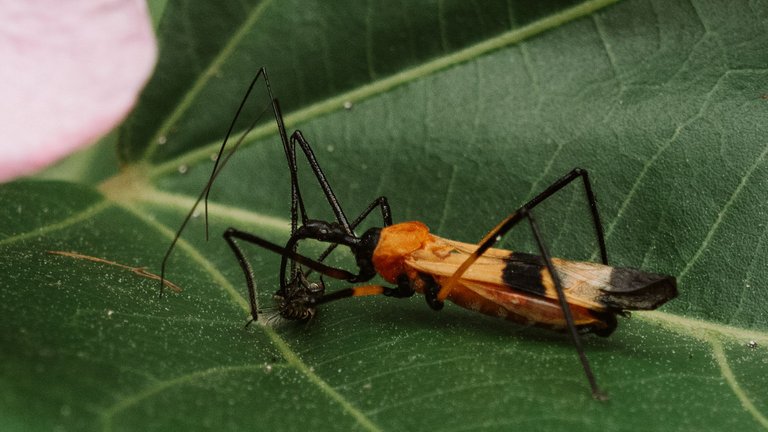 His tactic seemed very curious to me, because I saw him approaching some flowers where some flies were flying, he extended his legs as if he was asking for something and from one moment to another, he caught a fly, honestly I have no idea if he has some kind of scent or something that allows flies to feel attracted to the insect, because it was really so easy for him to catch them that he ended up eating several and even leaving some around him.
Su táctica me parecía muy curiosa, porque lo veía acercarse hasta unas flores donde estaban volando algunas moscas, extendía sus patas como si estuviese pidiendo algo y de un momento a otro, atrapaba a una mosca, honestamente no tengo idea si tiene alguna especie de aroma o algo lo que permita que las moscas se sientan atraídos por el insecto, porque de verdad le era tan fácil atraparlas que terminó comiendo varias y dejando incluso algunas a su alrededor.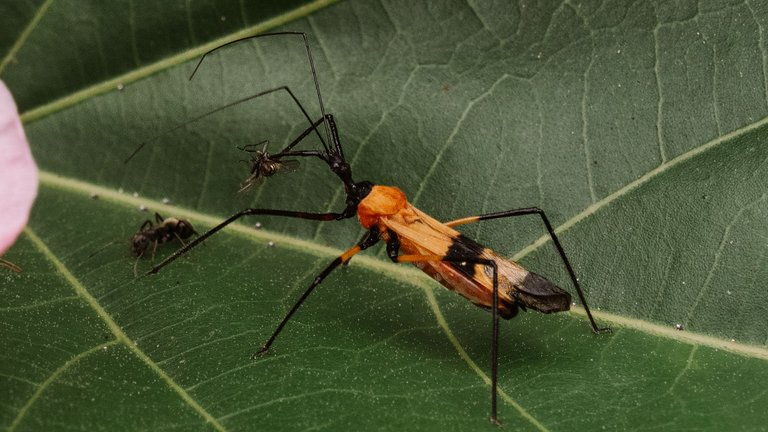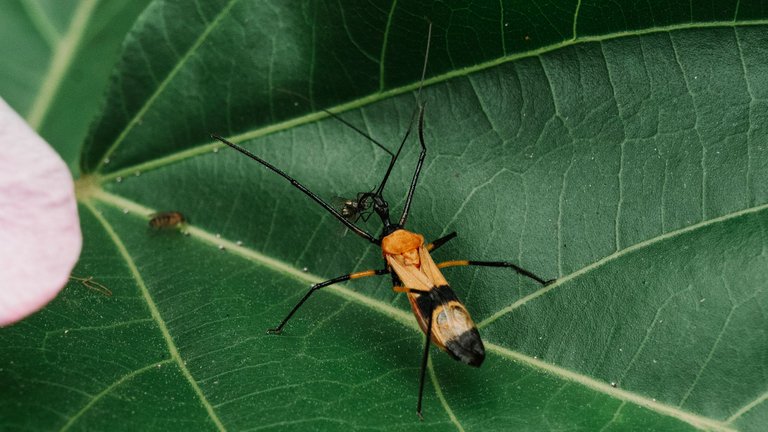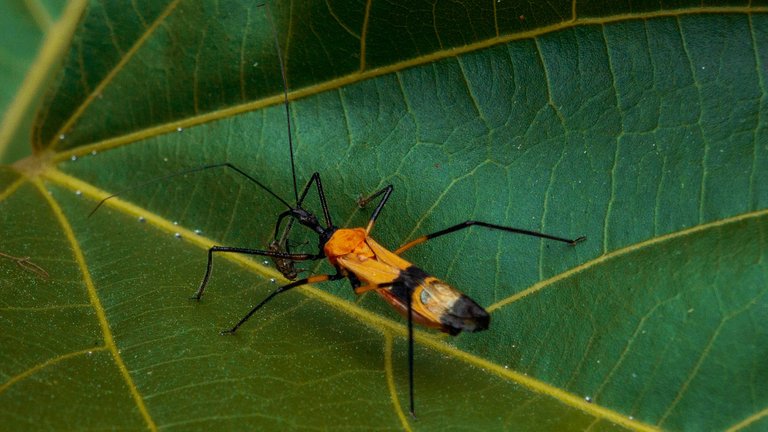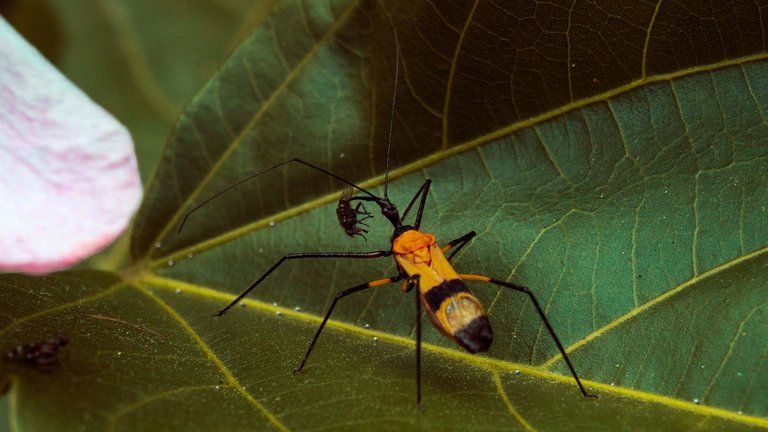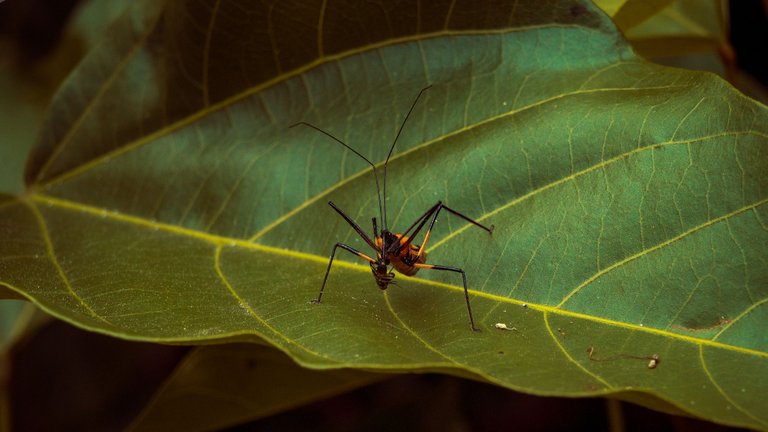 Ah, I forgot to comment that this insect has the word "Killer" in its name, it is known as "assassin bug" because it is an insect hunter and it already makes a lot of sense, because the way it moved and the speed with which it caught its prey was really something I had not seen in other insects, not even in spiders that are usually very assertive at the time of hunting. Undoubtedly, nature never ceases to amaze, this assassin bug is a way to keep some insect pests under control, but it can also kill for pleasure, something curious and shady at the same time.
Ah, olvidaba comentar que este insecto en su nombre tiene la palabra "Asesina" se le conoce como "chinche asesina" porque es un cazador de insectos y ya tiene mucho sentido, porque la manera en que se movía y la rapidez con la que atrapaba a sus presas realmente era algo que no había visto en otros insectos, ni siquiera en las arañas que suelen ser muy asertivas en el momento de cazar. Sin dudas, la naturaleza nunca deja de sorprender, esta chinche asesina es una forma de mantener algunas plagas de insectos bajo orden, pero también puede matar por placer, algo curioso y turbio al mismo tiempo.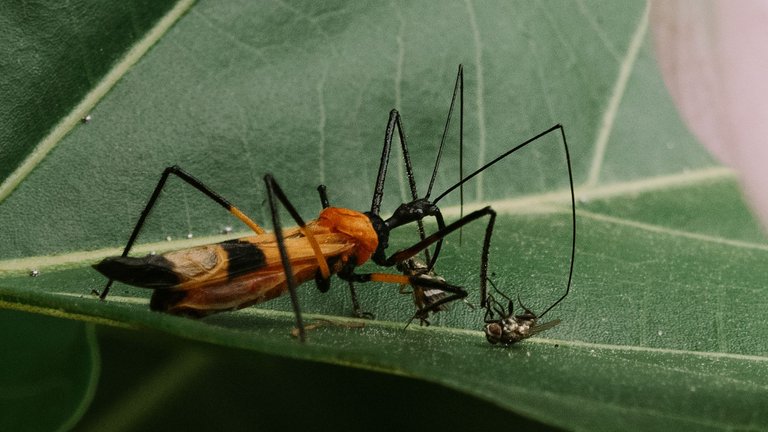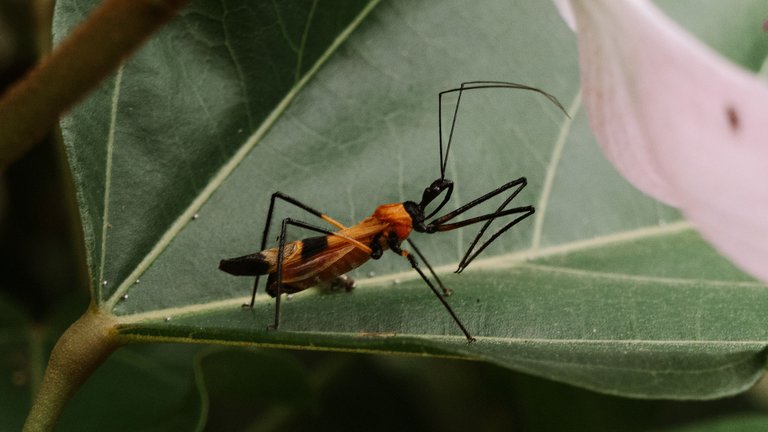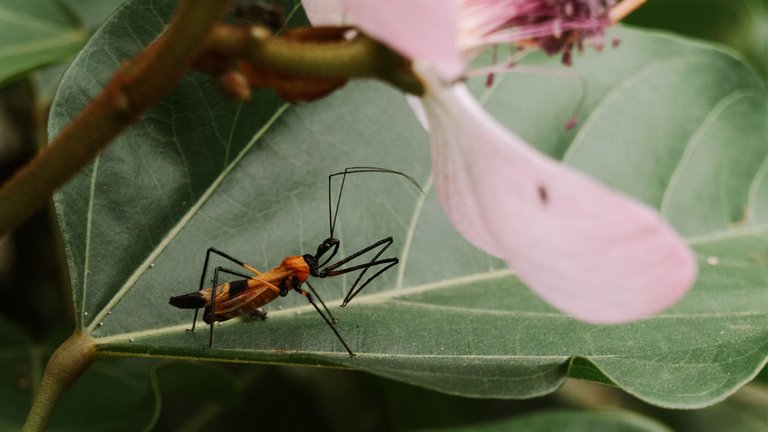 Have you ever seen this insect before? If so, you can leave it for me in the comments, I'll be happy to read it. Thanks so much for making it this far for another day, I hope you're feeling great, Happy day!
¿Alguna vez habían visto este insecto? Si es así, pueden dejármelo en los comentarios, estaré encantado de leerlos. Muchas gracias por llegar hasta aquí un día más, espero se encuentren genial. ¡Feliz día!



Todos los derechos reservados / All rights reserved by @Naitreart.
Cámara utilizada: Sony Alpha 3000
Objetivo Sony: 18-55mm

Camera used: Sony Alpha 3000
Sony Lens: 18-55mm

---
---