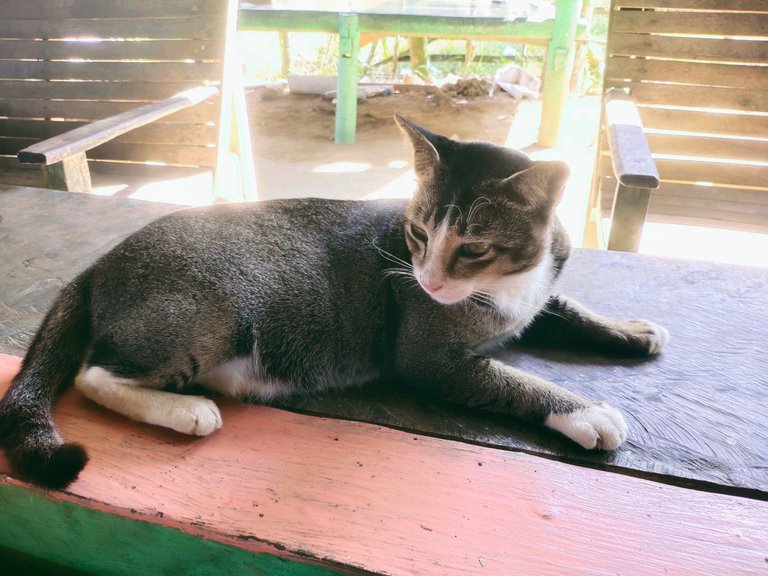 This afternoon I visited my friend's coffee shop which is not far from where I live. Since I haven't done art in a long time, I took the time to meet my friends there. I went around 4 pm there. After arriving there I sat with my friend while enjoying a cup of hot coffee and chatting with my friend. When it's cool to sit back and talk with my friends. Suddenly a male cat came and sat beside me. I'm so confused about this cat why it seems like he's already familiar with me.
Tadi sore saya berkunjung ke kedai kopi teman saya yang tidak jauh dari tempat saya tinggal. Berhubung saya sudah lama tidak keseni jadi saya menyempatkan waktu untuk bertemu teman-teman saya disana. Saya pergi sekitar jam 4 sore kesana. Setelah sampai disana saya duduk dengan teman saya sambil menikmati secangkir kopi panas dan ngobrol dengan teman saya. Saat lagi asik duduk santai bercerita dengan teman saya. Tiba-tiba datang seekor kucing jantan langsung duduk di samping saya. Saya jadi bingung dengan kucing ini kenapa seperti sudah akrab saja dia dengan ku.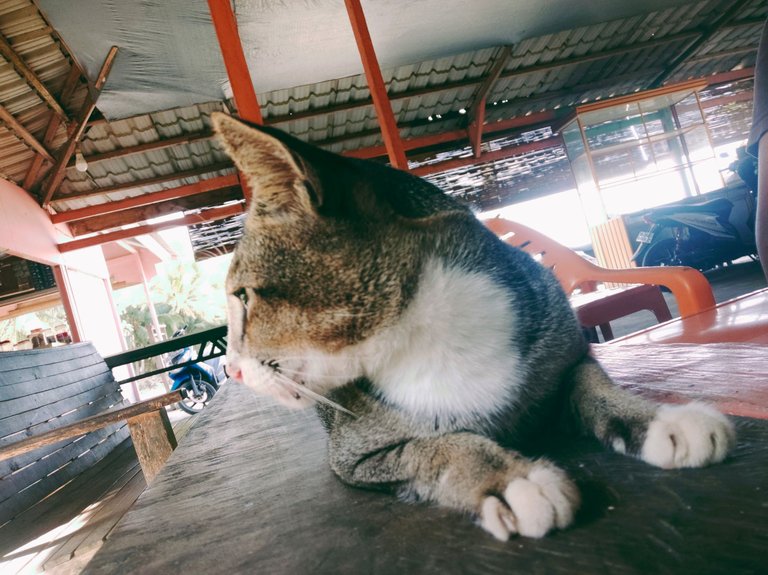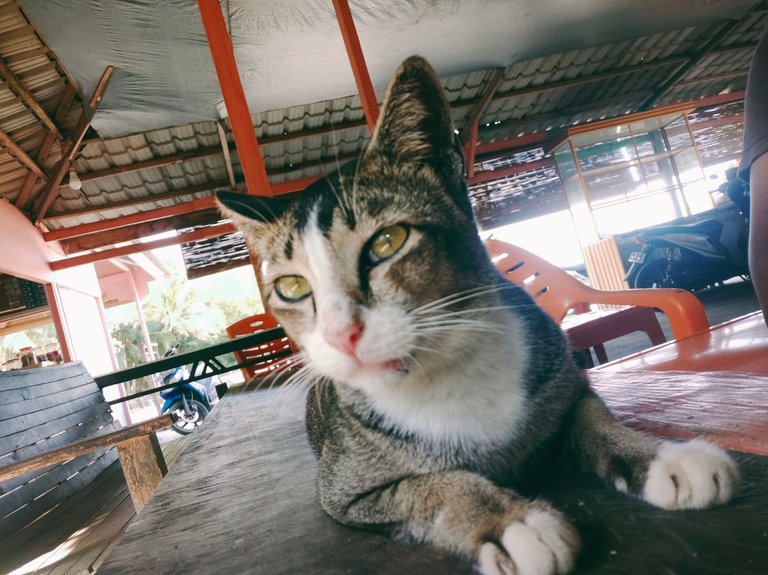 This cat is very healthy and clean even though this is just an ordinary cat who lives in my friend's coffee shop. I asked my friend is this cat yours? He answered yes. I ask again is he really tame like this with new people? My friend said no, this cat is not tame to everyone, only people he feels comfortable with, he is tame. I was so flattered by my friend's answer. How could this cat not suddenly come and not next to where I was sitting. This cat doesn't bother me he just sleeps beside me quietly.
Kucing ini sangat sehat dan bersih padahal ini hanya kucing biasa yang tinggal di kedai kopi teman saya. Saya bertanya kepada teman saya apa kucing ini punya kamu ? Dia menjawab iya. Saya bertanya lagi apa dia memang jinak seperti ini dengan orang baru? Teman saya menjawab tidak, kucing ini tidak jinak ke semua orang hanya orang-orang yang dia anggap nyaman saja dia jinak. Saya jadi tersanjung dengan jawaban teman saya. Bagaimana tidak kucing ini tiba-tiba datang dan tidak di sebelah tempat saya duduk. Kucing ini tidak menggangu saya dia hanya tidur di samping saya dengan tenang saja.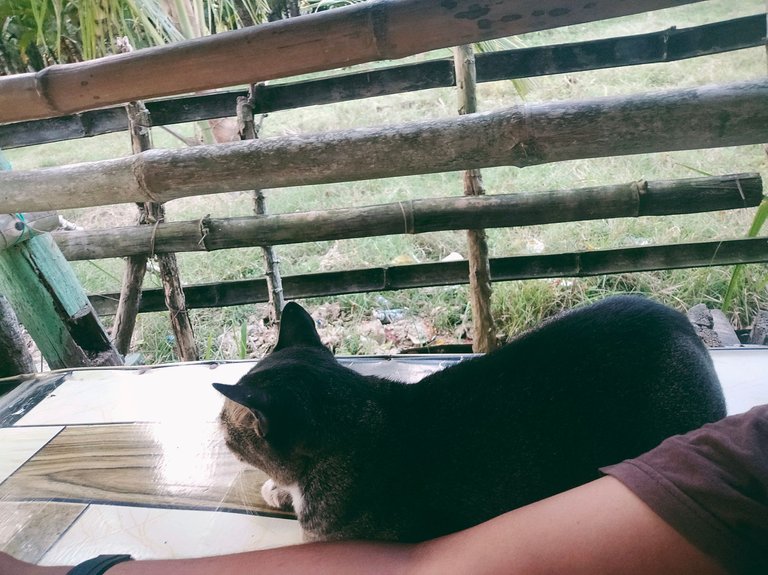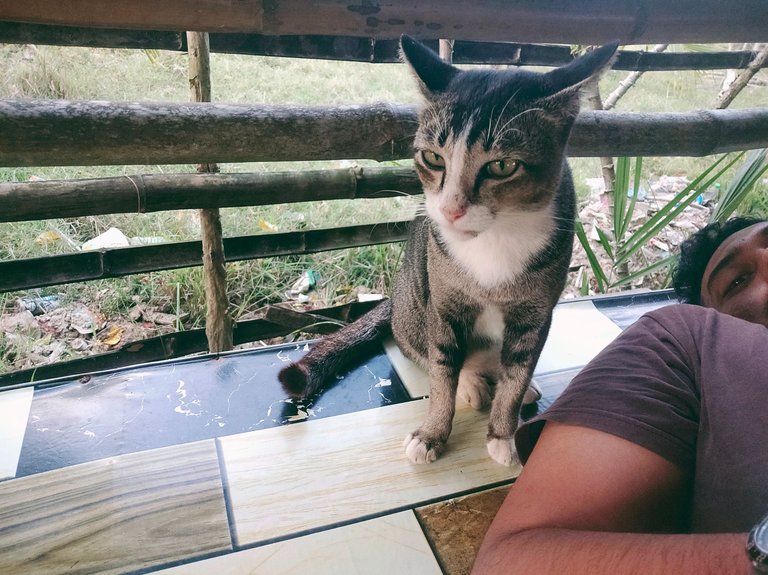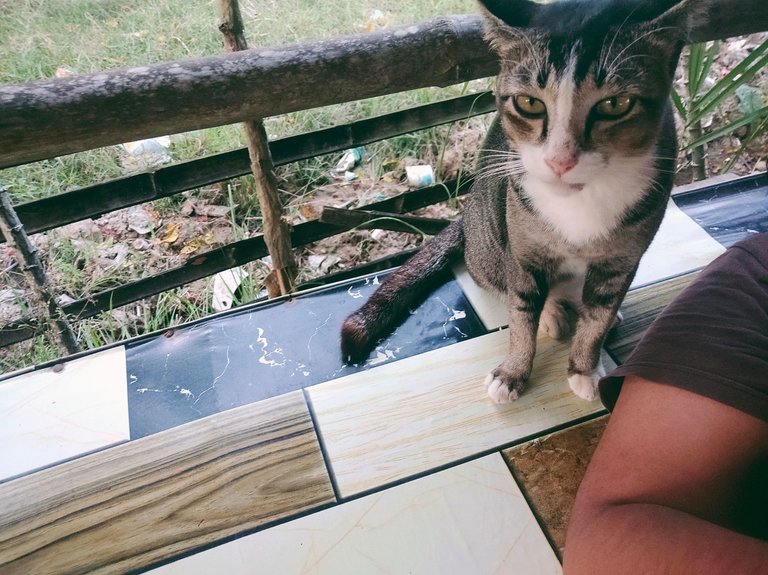 After sitting with my friend for about an hour we chatted. Then I moved to the side of my friend's shop because there was an empty hut that could be used to sleep there. When I headed to the hut, the cat from earlier also followed me. While walking I smiled to myself and asked why this cat was also following me. When I arrived at the cottage I was sleeping while playing on my smartphone. This cat also sleeps beside me even beside my hand. This cat seems comfortable with me. This cat just looked at me then I rubbed his head gently this cat he didn't move. This is the first time I've met a cat as tame as this and it's even familiar to me. I laughed to myself at this cat's behavior. A truly rare moment that I just came across. While looking at this cat sleeping on the side, I also fell asleep myself. There were about 30 minutes I fell asleep. Waking up from sleep this cat is also still beside my arm. When I saw this cat I smiled to myself again. Maybe this cat has become my new friend today. The beautiful moment of meeting humans and cats could be this close.
Setelah duduk dengan teman saya sekitar satu jam kami ngobrol. Lalu saya pindah ke samping kedai teman saya karena ada pondok kosong yang bisa digunakan untuk tidur disana. Saat saya menuju ke pondok itu, kucing yang tadi juga mengikuti ku. Sambil berjalan saya tersenyum sendiri dan bertanya kenapa kucing ini juga mengikuti ku. Saat sudah sampai di pondok saya tidur sambilan main smartphone saya. Kucing ini juga ikut tidur di samping saya bahkan disamping tangan saya. Sepertinya kucing ini nyaman dengan ku. Kucing ini hanya menatapku lalu saya mengusap kepalanya dengan lembut kucing ini dia tidak bergerak. Baru kali ini saya bertemu dengan kucing sejinak ini bahkan sudah langsung akrab dengan ku. Saya tertawa sendiri melihat tingkah kucing ini. Momen yang benar-benar langka yang baru saya temui. Sambil melihat-lihat kucing ini yang tidur di samping, saya juga ketiduran sendiri. Ada sekitar 30menit saya tertidur. Bangun dari tidur kucing ini juga masih di samping lengan saya. Saat melihat kucing ini saya kembali tersenyum sendiri. Mungkin kucing ini sudah jadi teman baru saya pada hari ini. Momen yang indah pertemuan manusia dan kucing bisa jadi sedekat ini.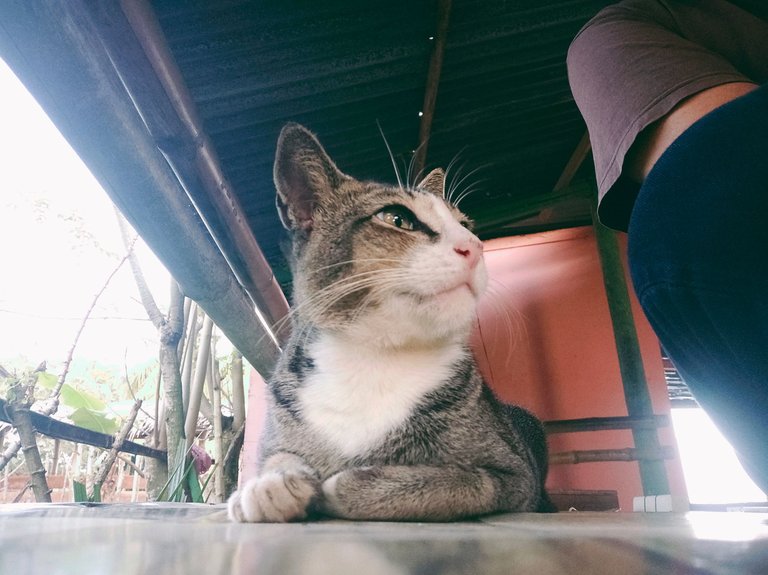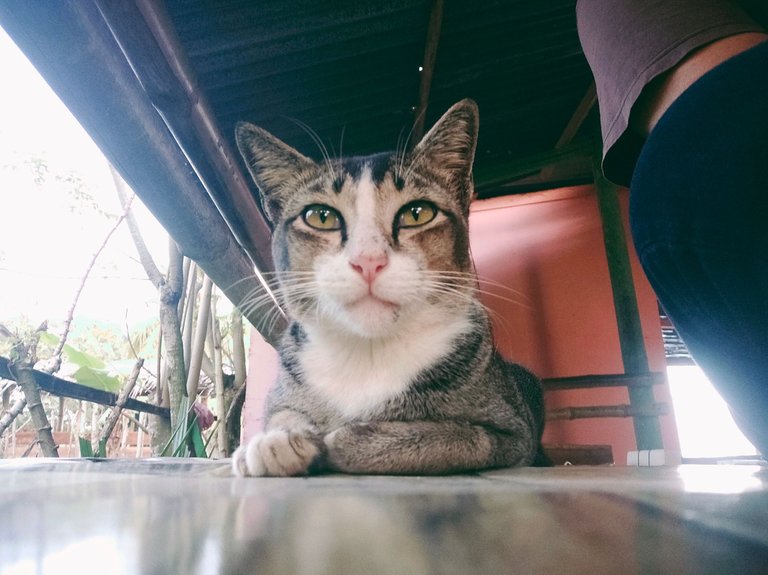 After waking up from sleep I sat for a while this cat was still beside me. Then I took my phone to open the camera again to capture my moment with this cat. Let's call it LEMAN maybe this is a good name for a cat or my new friend. After sitting for a while I rushed to go home. I will never forget this rare moment when a human met a cat. When I was about to go home this cat followed me to the side of the road. I am very happy today to meet this cat. If there is time I will come back here again to meet my friend and also this cat as my new friend. I hope you who read this post enjoy my story today. See you again in the next post.
Setelah bangun dari tidur saya duduk sebentar kucing ini juga masih disamping saya. Lalu saya mengambil ponsel saya untuk membuka kamera lagi untuk mengabadikan momen saya dengan kucing ini. Sebut saja namanya LEMAN mungkin ini nama yang bagus untuk kucing atau teman baru saya. Setelah duduk sebentar saya bergegas untuk pulang kerumah. Saya tidak akan lupa dengan momen langka ini momen pertemuan seorang manusia dengan kucing. Saat saya mau berangkat pulang kucing ini mengikuti ku sampai ke pinggir jalan. Saya sangat senang hari ini bisa bertemu dengan kucing ini. Kalau ada waktu saya akan kembali lagi kesini untuk menjupai teman saya dan juga kucing ini sebagai teman baru saya. Semoga kalian yang membaca postingan ini menikmati cerita saya hari ini. Sampai bertemu kembali di postingan selanjutnya.
unique experience