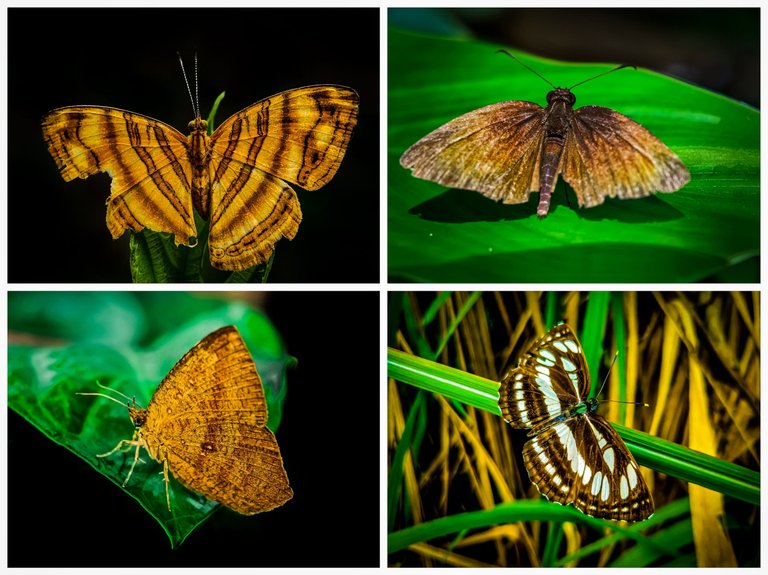 This morning I went back to hunting insects in the forest and coincidentally today I managed to capture some photos of medium-sized butterfly species. The butterfly itself has a variety of sizes that are classified as large, medium and small. Small butterflies are common in grassy areas and often fly below the chest height of an adult.
Esta mañana volví a cazar insectos en el bosque y casualmente hoy logré capturar varias fotos de especies de mariposas de tamaño mediano. Las mariposas en sí tienen varios tamaños que se clasifican en grandes, medianas y pequeñas. Las mariposas pequeñas son comunes en las áreas cubiertas de hierba y, a menudo, vuelan por debajo de la altura del pecho de los adultos.
Meanwhile, medium and large sized butterflies will be easy to find standing on a leaf in a slightly shady location and flying higher than small butterflies. In this post I want to share several species of medium-sized butterflies, including the "Common Sailor" (Neptis hylas). a species of nymphalid butterfly that is easily found in India and Southeast Asia.
Mientras tanto, las mariposas de tamaño mediano y grande se encontrarán de pie sobre una hoja en un lugar ligeramente sombreado y volando más alto que las mariposas pequeñas. En este post quiero compartir varias especies de mariposas medianas, una de ellas es la "Marinera Común" (Neptis hylas). una especie de mariposa nymphalid que se encuentra fácilmente en la India y el sudeste asiático.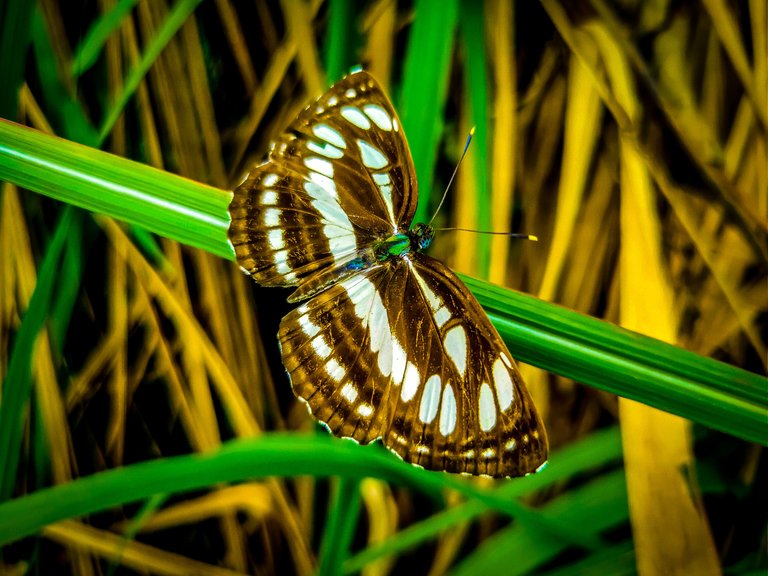 Then there is the beautiful yellow or slightly orange butterfly, she is Ariadne merione from the Nymphalidae family. Unfortunately, one of the three photos of this butterfly has a slightly damaged wing. This happens often and we will find butterflies with damaged or severed wings when we hunt for insects in the forest.
Luego está la hermosa mariposa amarilla o ligeramente anaranjada, ella es Ariadne merione de la familia Nymphalidae. Desafortunadamente, una de las tres fotos de esta mariposa tiene un ala ligeramente dañada. Esto sucede a menudo y encontraremos mariposas con las alas dañadas o cortadas cuando cazamos insectos en el bosque.
The causes can be various, such as hitting or maybe the butterfly wants to be preyed upon by other types of insects and fortunately only part of the wing is damaged, of course it doesn't kill the butterfly. Only if it is badly damaged can it disturb the butterfly while it is flying.
Puede haber varias razones, una de las cuales podría ser que esta mariposa fue presa de otro tipo de insecto y afortunadamente solo se dañó una parte del ala, por supuesto que no mató a la mariposa. Solo si está muy dañado puede interferir con el vuelo de la mariposa.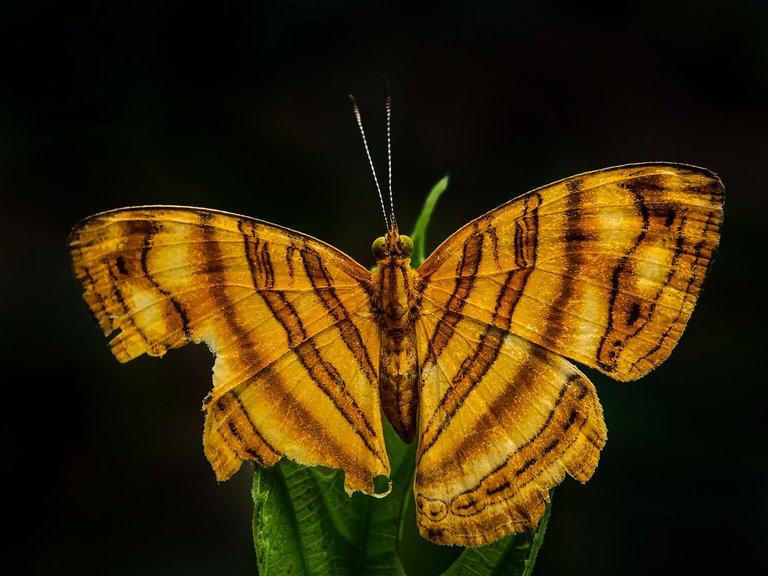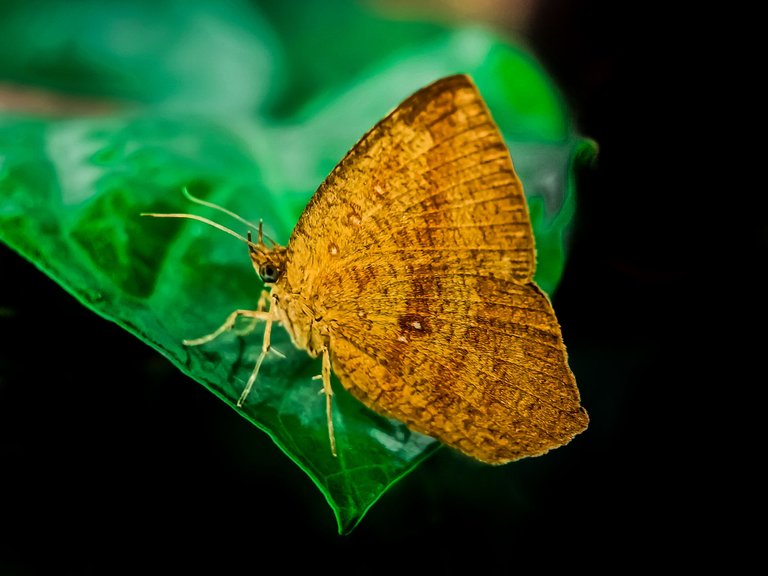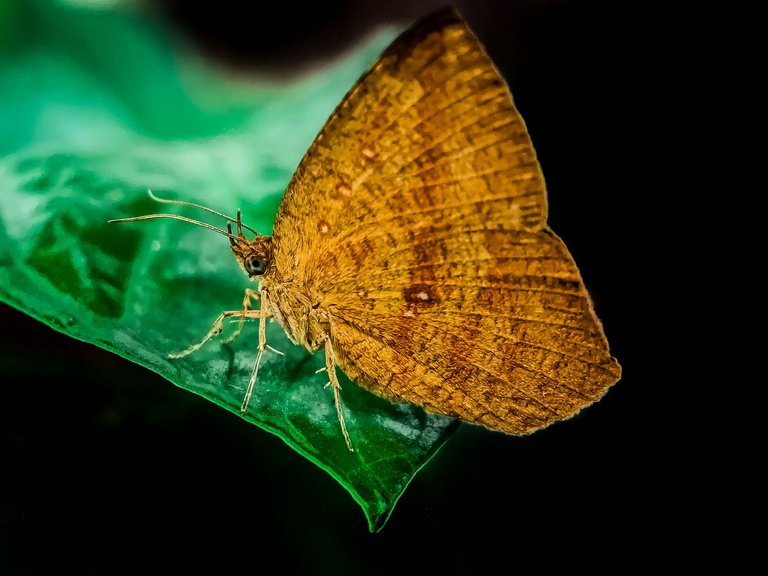 And the last is the genus of grass skippers from the Hesperiidae family. This butterfly with the scientific name Iambrix has an ordinary brown and dark brown color which at first glance looks like black if we see it from afar.
And in the photo below it can be seen that this butterfly has a very dark brown color. Even the two eyeballs were barely visible and without the slightest mixture of other colors.
Y el último es el género de las mariposas patrón de la familia Hesperiidae. Esta mariposa de nombre científico Iambrix tiene un color marrón o marrón oscuro que a simple vista parece negro si la miramos de lejos. Y en la foto de abajo se puede ver que esta mariposa tiene un color marrón muy oscuro. Incluso los dos globos oculares eran apenas visibles y sin la menor mezcla de otros colores.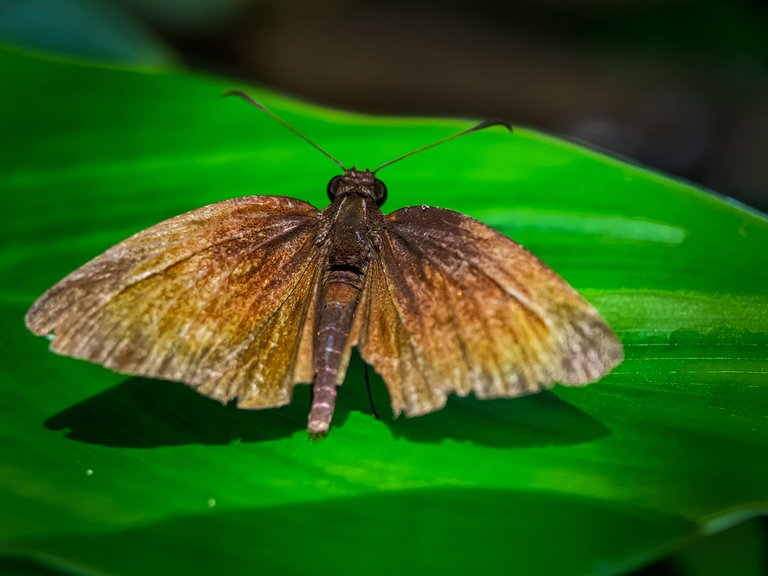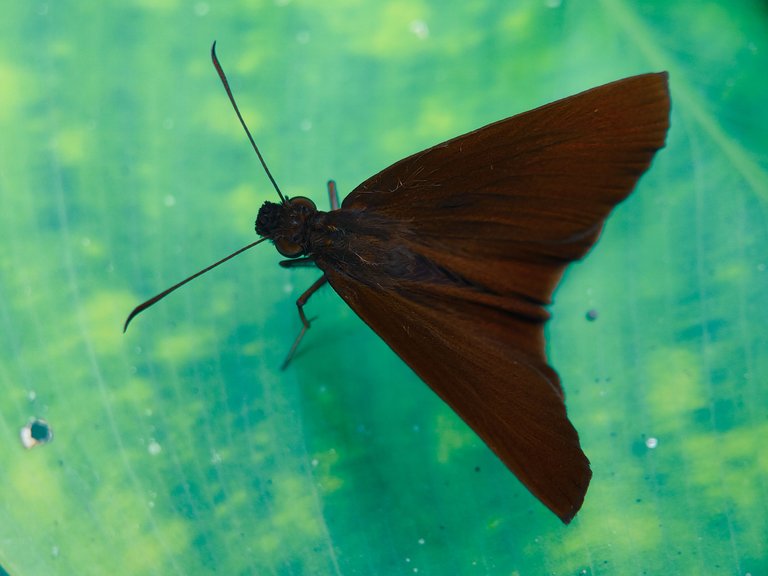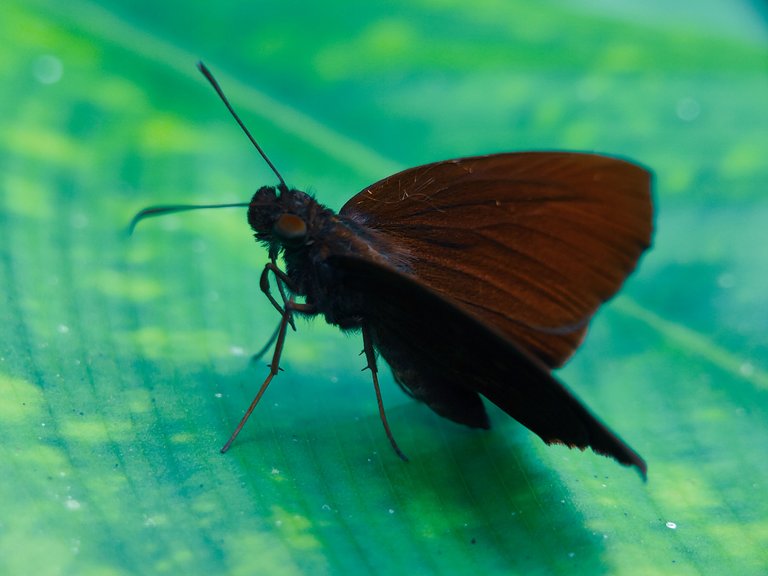 | Camera | Realme 3 Pro + Macro Lens |
| --- | --- |
| Category | Insect Photography |
| Processed | Lightroom |
| Location | Uteun Rubieh |