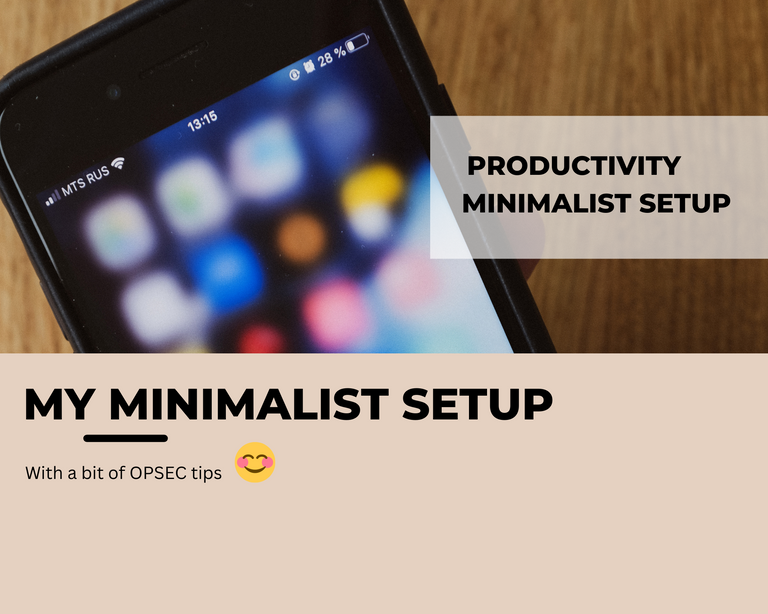 A somewhat minimalist approach to technology
Recently, I've been sharing a lot about data and OPSEC (Operation Security). In layman terms, OPSEC basically helps to secure yourself from potential threats. OPSEC isn't only for companies, VIPs or journalists and whistleblowers, as an individual, you actually need one because you never know what could happen to you. If you're interested to know some possible scenarios, read my Do you care about your data?. Now, assuming that many of us here own some sort of cryptocurrency, a decent/good OPSEC is needed. You don't want somebody stealing your crypto, right?
Okay Mac but what does OPSEC have to do with a productivity setup?
Well, one simple thing in OPSEC is to have a differentiation system. By that, it means, it's always best to differentiate between your personal vs online vs work device. You can start grouping personal & online vs study/work. If your work is online then, personal vs study/work. My OPSEC isn't some kind of paranoid somebody out there to get me ; I used to but now I just have a very simple one which is to differentiate devices and user login that I use for either crypto and my personal matters. One of the benefit of differentiating device is that I somehow act the way the set up is build.
These days I use my samsung a10s that was once fell into water and now turned into my productivity phone. Today, I was working on setting it up fully and now it has transformed into a minimalist productivity setup. It has everything I need from todo list, focus timer app, content management, editing apps, encrypted email and managers.
So, here are my top 5 apps that you can try if you want to increase your productivity but stay minimal.
Bitwarden
Do you manage so many accounts and keep forgetting your password? Are you changing your password frequently? Bitwarden is a freemium open source password management service available across multiple operating systems. It does the job, minimalistic, but still secure. If you are someone who likes cluttered user interfaces, bitwarden isn't really for you but if you like something seamless, minimalistic and useful, it's 100% for you.
Todoist
Have you tried so many to-do lists but never actually committed? Todoist has an intuitive design that lets you keep on track while not necessarily annoying. A lot of people swear by it including myself who has tried many but kept failing to actually check the list. It also has a simple interface and available cross platform that you can also sync with your work devices.
Forest
Do you need an app to motivate you while doing something? Do you find it difficult to focus? With a gamified system in forest, you can easily boost your productivity while actually planting trees. A lot of people use this app including myself. I love how I can also use the white noise and it sets my mind to focus on my work/study without actually being tempted to open other apps.
Music Streaming of your choice
Since I prefer no ads and no bullshit streaming, soundcloud is my go-to app when I need music while trying to study/work. There are a lot of good undiscovered artists that actually are more decent to listen to than mainstream music.
Notes
I simply use samsung notes that's already default from the phone. I actually have an evernote set up using tusk on my laptop but I prefer my phone to have less applications.
In the past, my phone was extremely cluttered until I set it up to be just a few categories like you see below. I also use the phone strictly for productive related activities and there's no entertainment in the phone except youtube that's already installed by default. I know not everyone is able to afford two phones but if you are a professional, I am pretty sure you understand how important it is to separate personal vs professional life. I had many cases where my friends would send me some work/study related stuff and then apologize later and similar things happened to at least a few people I know.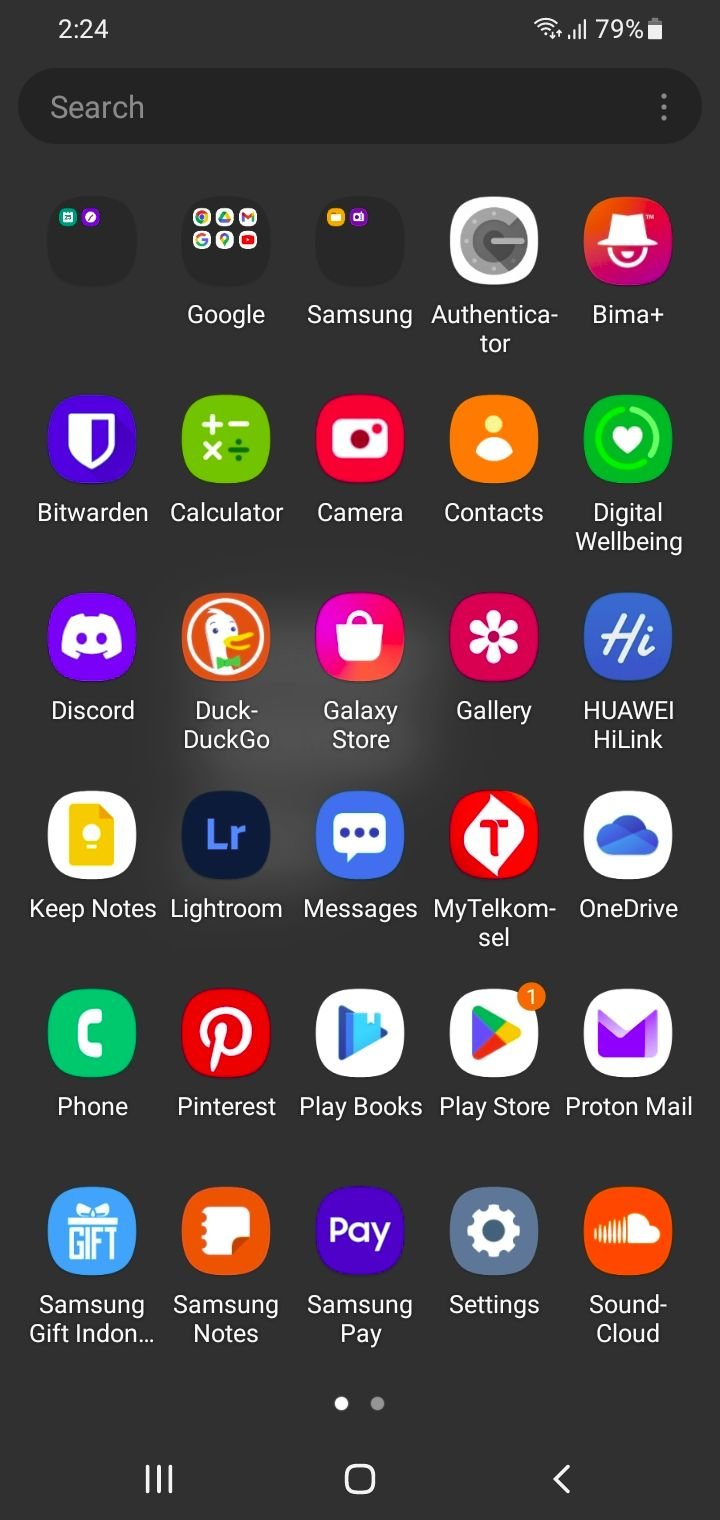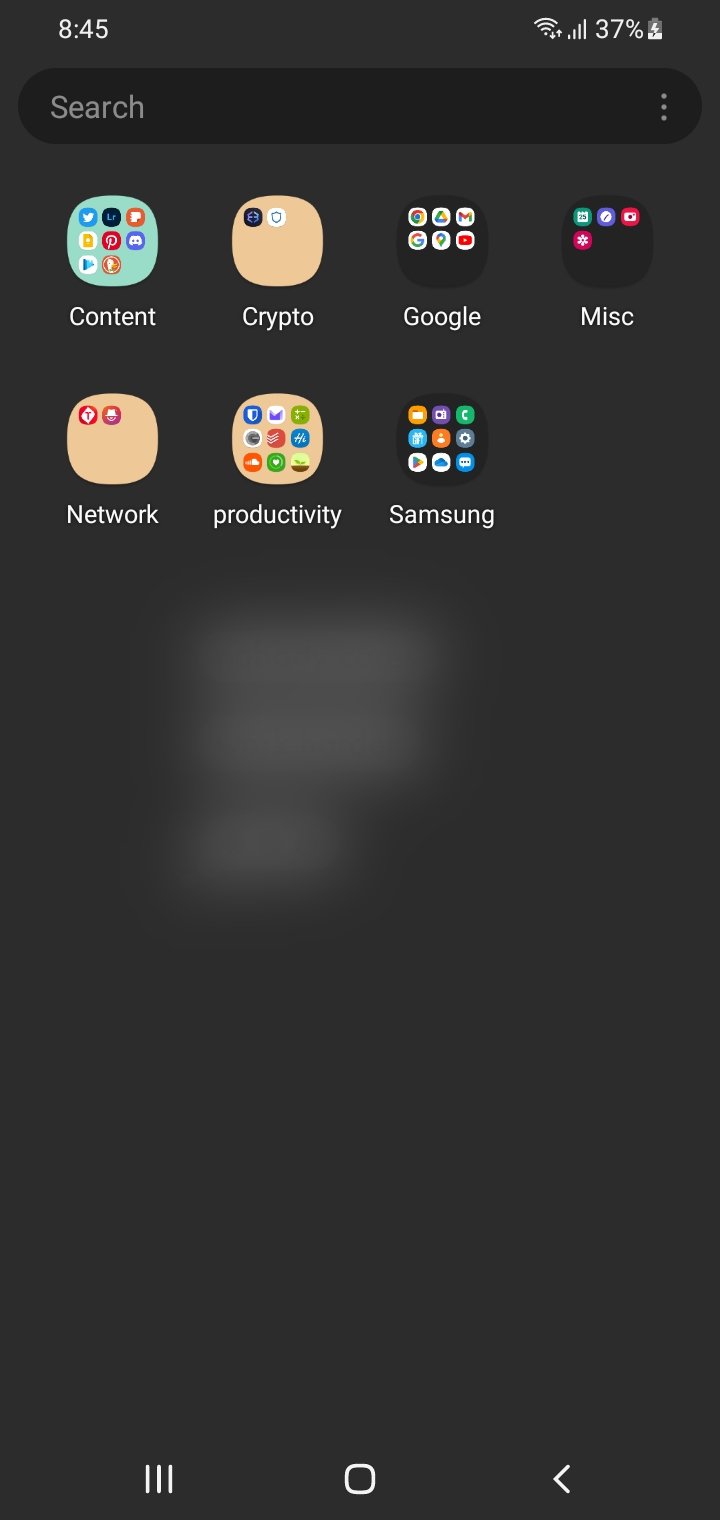 Now bonus,
When it comes to cryptocurrency having a dedicated device could help minimize unwanted threats. If you're the type of person who browses the internet raw(without any protection), it could be a danger not to mention, If you mix your personal life with it. You can click on malicious links from a phone/pop up ads that are spread from your friends group chat etc and then you can get infected with malware or even worse, mobile ransomware. Somehow, it could also end up affecting your crypto like the hacks that's often going on through telegram. So, when it comes to a dedicated setup, you can customize it based on what you need followed by the kind of protection you want to have.
illustration and mockup template by jilnoalio created with canva under free licensing terms; emoji by twemoji, pictures by readymade via pexel on canva.

Don't hesitate to upvote for more content like this ! You can also support me on Buymeberries!

---
𝘔𝘢𝘤 𝘪𝘴 𝘢 𝘴𝘦𝘭𝘧-𝘦𝘮𝘱𝘭𝘰𝘺𝘦𝘥 𝘯𝘪𝘯𝘫𝘢. 𝘈 𝘵𝘺𝘱𝘪𝘤𝘢𝘭 𝘪𝘯𝘵𝘳𝘰𝘷𝘦𝘳𝘵 𝘪𝘯 𝘭𝘰𝘷𝘦 𝘸𝘪𝘵𝘩 𝘭𝘪𝘵𝘦𝘳𝘢𝘵𝘶𝘳𝘦, 𝘣𝘰𝘰𝘬𝘴, 𝘵𝘦𝘤𝘩𝘯𝘰𝘭𝘰𝘨𝘺 𝘢𝘯𝘥 𝘱𝘩𝘪𝘭𝘰𝘴𝘰𝘱𝘩𝘺. 𝘛𝘩𝘪𝘴 𝘪𝘴 𝘩𝘦𝘳 𝘱𝘦𝘳𝘴𝘰𝘯𝘢𝘭 𝘣𝘭𝘰𝘨 𝘵𝘩𝘢𝘵 𝘤𝘰𝘷𝘦𝘳𝘴 𝘩𝘦𝘳 𝘫𝘰𝘶𝘳𝘯𝘦𝘺 𝘥𝘦𝘭𝘷𝘪𝘯𝘨 𝘪𝘯𝘵𝘰 𝘱𝘩𝘰𝘵𝘰𝘨𝘳𝘢𝘱𝘩𝘺, 𝘵𝘳𝘢𝘷𝘦𝘭, 𝘯𝘰𝘰𝘵𝘳𝘰𝘱𝘪𝘤𝘴, 𝘱𝘳𝘰𝘥𝘶𝘤𝘵𝘪𝘷𝘪𝘵𝘺, 𝘮𝘪𝘯𝘪𝘮𝘢𝘭𝘪𝘴𝘵 𝘭𝘪𝘧𝘦𝘴𝘵𝘺𝘭𝘦, 𝘤𝘺𝘣𝘦𝘳𝘴𝘦𝘤𝘶𝘳𝘪𝘵𝘺, 𝘢𝘯𝘥 𝘭𝘢𝘯𝘨𝘶𝘢𝘨𝘦𝘴. 𝘐𝘯 𝘩𝘦𝘳 𝘧𝘳𝘦𝘦 𝘵𝘪𝘮𝘦, 𝘴𝘩𝘦 𝘦𝘯𝘫𝘰𝘺𝘴 𝘭𝘦𝘢𝘳𝘯𝘪𝘯𝘨 𝘷𝘢𝘳𝘪𝘰𝘶𝘴 𝘵𝘩𝘪𝘯𝘨𝘴. 𝘐𝘧 𝘺𝘰𝘶 𝘭𝘪𝘬𝘦 𝘩𝘦𝘳 𝘤𝘰𝘯𝘵𝘦𝘯𝘵, 𝘥𝘰𝘯'𝘵 𝘩𝘦𝘴𝘪𝘵𝘢𝘵𝘦 𝘵𝘰 𝘶𝘱𝘷𝘰𝘵𝘦, 𝘭𝘦𝘢𝘷𝘦 𝘢 𝘤𝘰𝘮𝘮𝘦𝘯𝘵 𝘰𝘳 𝘢 𝘧𝘦𝘦𝘥𝘣𝘢𝘤𝘬. 𝘈 𝘳𝘦-𝘣𝘭𝘰𝘨 𝘪𝘴 𝘢𝘭𝘴𝘰 𝘢𝘱𝘱𝘳𝘦𝘤𝘪𝘢𝘵𝘦𝘥.