Hmm, so what have I been listening to this week? I missed three tune Tuesday last week, hosted by @ablaze, and it's nice to join in to support the project, especially as a music lover!
This week I'm sharing three tunes that simply floated into my radar this week. Funnily enough they are all connected in some way by science, which is pretty cool in itself.
The first one is by Nick Cave, called the Higgs Boson Blues. I'm a huge Nick Cave fan and I'm always shocked when people don't know him. This came up because I was reading @lemouth 's post about the hadron collider. It's a bluesy melody of dejection that just grabs me every time. What it has to do with the Higgs Boson particle is anyone's guess - perhaps a bit of nihilism and the road dust of creation making human suffering insignificant in the face of it. I think Cave said it was about spiritual collapse. The song ends with Miley Cyrus face down in a pool - he said he's got nothing against her, but the kids were hugging her at Madame Tussauds and not Elizabeth Taylor, which had some impact on him. Graciously, he said to think of her face down on a lilo.
Next was Go! from the album The Race for Space by British alternative group Public Service Broadcasting, using sound samples from the British Film Institute. It tracks the story of the American and Soviet space race from 1957–1972 and is fascinaating as a concept album. There's a couple of tracks I'm not that keen on (one gets a bit funky for me) but I love this one.
And the final song this week that tops off the very loose 'science' theme is by British folk musician, Martha Tilston. I love everything she does and caught her at a festival once. She has a beautiful voice but her lyrics and songs really appeal to me too. Being married to a scientist, this one appealed to me when I first heard it. If you follow my blog at all you'll know why the lyrics appeal to me, at least in part!
gonna get self sufficient
gonna strip right back down
gonna grow our own food
without the wrappin' or the crappin'
gonna get back to the land
gonna have free range children
gonna let them be what they will be
gonna build somewhere to put your telescope
tell me do you think there is anybody out there?
And have they seen us?
you say you don't know but you can show me Venus
Finishing with this incredible shot of space. It blows my mind how BIG this is. Impossibly so, and impossibly beautiful at the same time. It was taken in 1995 and they are called the Pillars of Creation. They are huge columns of interstellar gas and dust in the Eagle Nebula, in the Serpens constellation over 6000 light years from earth. The tips of the columns are stars - they're literally new stars being created and it's also eroded by the light of recently formed stars. The hubs pointed to the end of one and said our whole galaxy would fit there. Freaking huge and humbling and powerful.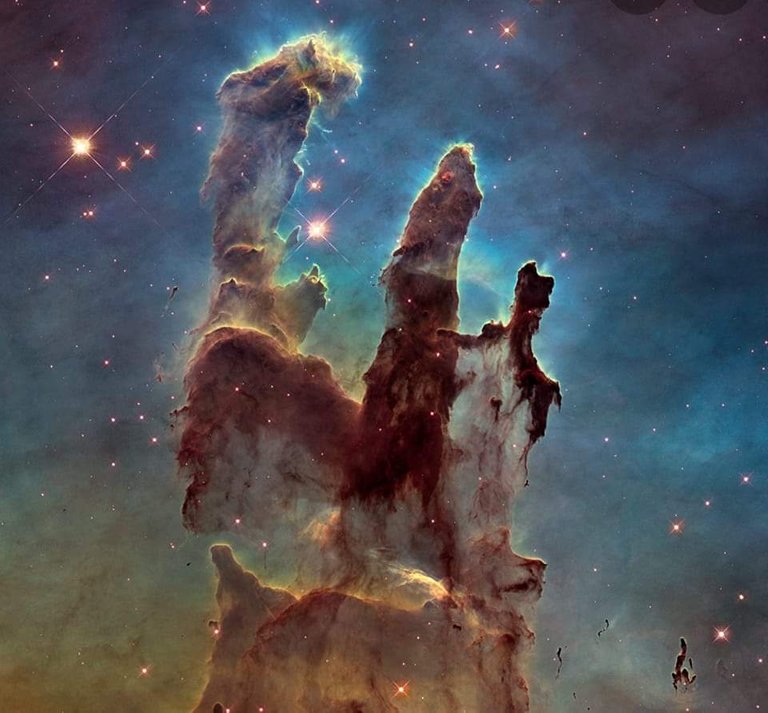 Have you got a sciencey tune to share below as a comment? Have you posted your three tunes for #threetunetuesday? I'll try to get to you through the week, we're off camping now in freezing weather. Wish us luck!
With Love,

Are you on HIVE yet? Earn for writing! Referral link for FREE account here