Hola, Hi, Saludos, Hello, Greetings :D
Español:
Algunas personas en diferentes sitios me han preguntado sobre esta música, por que y como la hago.
Les he respondido lo que he dicho aquí también: estoy preparando un material donde pueda explicarle con detalles pero de forma rápida y simple como funciona la síntesis modular, que es la música generativa y que cosas se pueden hacer.
English:
People in different places have asked me about this music, why and how I make it.
I have answered what I've said here as well: I'm preparing a material where I will explain in detail but in a quick and simple way, how modular synthesis works, what generative music is and what things may be done.
---
No hablaremos hoy de técnicas de síntesis modular pero si hablaremos resumidamente de música generativa y algunas cosas que se pueden hacer con ella😁
música generativa es un concepto usado por Brian Eno a finales de los años 70 para describir un tipo de música que busca crear experiencias o ambientes auditivos de forma automática e infinita, mientras se va convirtiendo/cambiando/modulando a si misma.
Es decir, es música "infinita" creada por un sistema mecánico, análogo o digital que siempre genera variaciones en ella misma, es música que intenta crear o imitar paisajes y ambientes, de forma auditiva aunque Tambien puede ser de forma visual :D
Digo infinita de forma subjetiva porque la idea es que pueda ser autoproducida infinitamente pero eso no puede ser ya que requeriría energía infinita para mantener prendida la maquina por siempre y eso por ahora no se puede hacer
Today we're not gonna talk about modular synthesis techniques but we will briefly talk about generative music and some things that can be done with it😁
Generative music is a concept used by Brian Eno in the late 70's to describe a type of music that seeks to create experiences or sound environments in an automatic and infinite way, ever-changing it self forever.
In other words, it's "infinite" music created by a mechanical, analog or digital system that generates variations in itself, this music tries to create or imitate landscapes and environments, in an audible way, although it can also be in a visual way: D
I said infinite in subjective form, because ideally, we need the sounds being forever self-produced but that cannot happen because it would require infinite energy to keep the machine on forever, and that, by this times, cannot be done.
---
Lo que hago en el video que esta allá arriba no es exactamente música generativa ya que yo decidí los acordes que hacen el bajo y su armonización, se puede identificar ya que se repite siempre igual y esto hace que no sea exactamente música generativa.
---
Pero lo que si hice fue usar el juego de la vida para crear una melodía generativa (min 1:38)
Esta melodía es creada automáticamente por una parte del sintetizador que me permite usar "el juego de la vida" como generador de notas musicales.
What I do in the video up there is not exactly generative music because I decided myself the chords for the bassline and its harmonization, it can be identified because it's always repeating the same and this cannot be exactly music generative.
---
But what I certain did was using the game of life to create a generative melody (min 1:38)
This melody is created automatically by a part of the synthesizer that allows me to use "the game of life" as a generator of musical notes.
---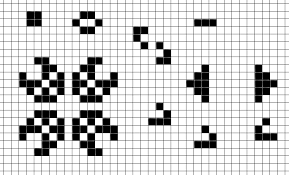 ---
El juego de la vida(no, no hablo de la serie ni del juego de mesa de Hasbro con el mismo nombre)
Hablo de un concepto computacional/matemático que puede servir para imitar la evolución natural de las células en una cuadricula, Es decir, mediante un conjunto de reglas matemáticas, esta célula evoluciona su generación y se reproduce o muere en la siguiente casilla, lo que permite crear un patron de "células" que yo uso para autogenerar notas musicales, ya que en cada generación de células, el patron evoluciona.
The game of life (no, I'm not talking about the series or the Hasbro board game with the same name)
I'm talking about a computational / mathematical concept that can be used to imitate the natural evolution of cells in a grid, I mean, by order of some mathematical rules, this cell evolves its generation and reproduces or dies in the next square, this allows to create a "cells" pattern that I used to self-generate musical notes since in each generation of cells, the pattern evolves.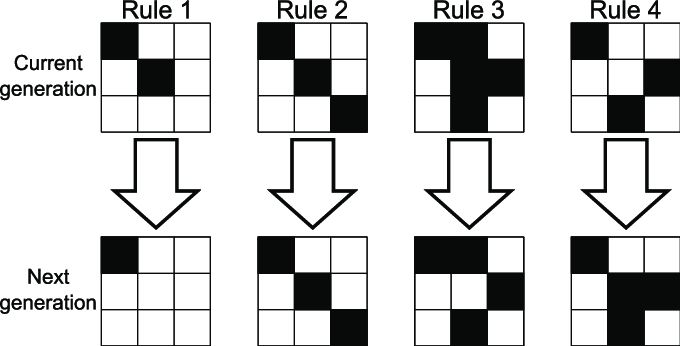 ---
El sintetizador completo, esta sincronizado con una señal de clock(reloj) que le dice a cada sonido cuando comenzar, y el modulo que contiene el juego de la vida esta conectado Tambien, cada pulso del reloj, es un paso adelante en la cuadricula de tiempo y una nueva generación de células.
a cada célula de la cuadricula se le asigna una nota musical y una position en el tiempo de reproduction, cuando llega el tiempo de ser reproducida, esta célula acciona su nota musical correspondiente, obviamente como el patron va cambiando infinitamente, es una melodía generativa.
The complete synthesizer is synchronized with a clock signal that tells each sound when to start, and the module containing the game of life is also connected. each trig of the clock is a step ahead in time and a new generation of cells.
Each cell of the grid is assigned to a musical note and a position in the reproduction time, when it is time to be reproduced, this cell triggers its corresponding musical note, obviously as the pattern changes infinitely, it is a generative melody.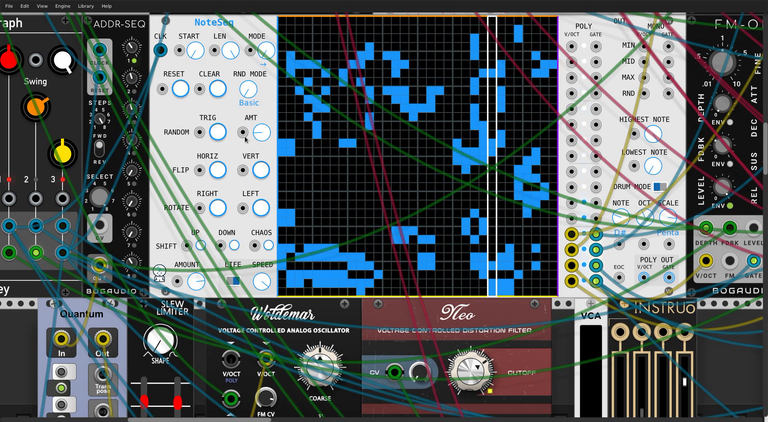 ---
En el minuto 1:38 reinicio las generaciones, se aprecia mejor la evolución de las células en el juego de la vida.
By the 1:38 minute I restart the cells generations so you can spot the evolving of the cells in the game of life
---
Los otros sonidos se generan infinitamente tambien pero yo los manipulo con mi controlador MIDI, de la misma forma que he explicado en mis anteriores post(mapeando parametros)
Algo mas parecido al concepto original de musica generativa es lo que hago en un Post que hice hace un tiempo
En el sentido en el que todas las notas musicales y sonidos que suenan, se autogeneran pero yo sigo moviendo algunas pocas cosas
Pronto subire tambien algo de musica 100% generativa sintetizada sin mi interaccion directa con las perillas
Sin nada mas que decir, espero que hayas disfrutado esta publicacion y tu opinion es bienvenida❤️
The other sounds are generated forever as well but I manipulate them with my MIDI controller, in the same way that I have explained in my previous post (mapping parameters)
Something more similar to the original concept of generative music is what I do in a Post I did a while ago
I mean, all the musical notes and sounds that sound are self-generated but I keep moving a few things
Soon, I will also upload some 100% generative synthesized music without my direct interaction with the knobs.
Without anything else to say, I hope you have enjoyed this publication, your opinion is welcome❤️
---