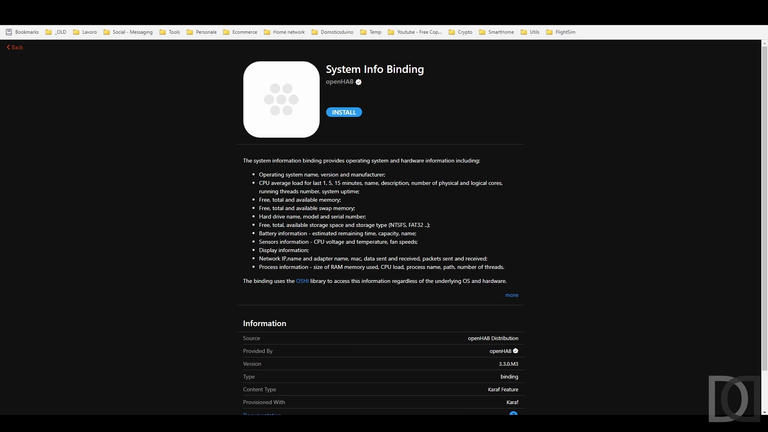 Fifty-second chapter related to my migration from OpenHAB 2.5 to OpenHAB 3
Last step before declaring the migration to OpenHAB 3 completed.
I will install the System Info Binding to show in OpenHAB the system information about the raspberrypi 4.
In particular, in this video I configure the binding, thing, equipment and points to receive the system information of the raspberry in OpenHAB, which we will subsequently display on the various UI.
This video does not presume to be a tutorial, but simply a step by step of what has been done to achieve the goal. I hope that it will help someone.
Enjoy your viewing
***********************************
Cinquantaduesimo capitolo relativo alla mia migrazione da OpenHAB 2.5 ad OpenHAB 3
Ultimo step prima di dichiarare terminata la migrazione ad OpenHAB 3.
Installiamo il System Info binding per visualizzare in OpenHAB le informazioni di sistema relative al Raspberrypi 4.
In particolare in questo video configuriamo binding, things, equipment e point per ricevere in OpenHAB le informazioni di sistema del raspberry, che successivamente visualizzeremo sulle diverse interfacce grafiche.
Questo video non ha la presunzione di essere un tutorial, ma semplicemente uno step by step di quanto fatto per raggiungere l'obiettivo. La speranza è che possa essere d'aiuto a qualcuno.
Buona visione
Video e foto di mia proprietà
My own video and photos