The most dangerous robot in the world (EN -CAST) El robot más peligroso del mundo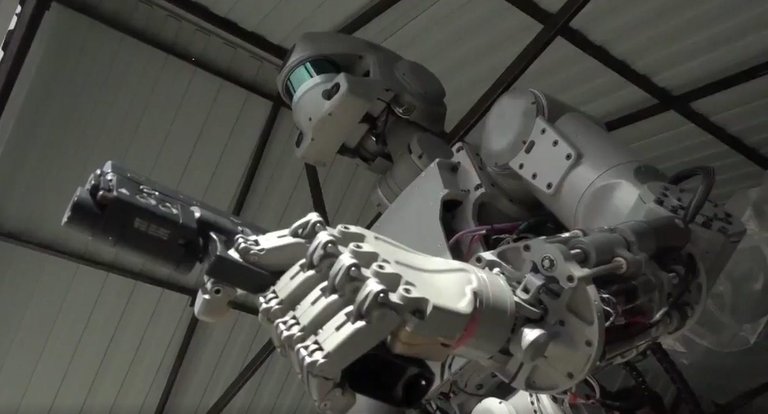 Souce
In the previous publication I have shown you a peaceful robot that serves to take care of good plants and get food, but not all robots have that purpose, at the end of January in Russia, what may be the robot was put into service The most dangerous in the world, equipped with artificial intelligence, the Uranus 9 are equipped, among other weapons, with a 30-millimeter cannon, a machine gun and 4 anti-tank missiles.
En la anterior publicación les he mostrado de un robot pacífico que sirve para cuidar las plantas buenas y conseguir alimentos, pero no todos los robots tienen esa finalidad, a finales del mes de enero en Rusia, se ponía en servicio el que quizás sea el robot más peligroso del mundo, dotado de inteligencia artificial los Urano 9, están equipados entre otras armas con un cañón de 30 milímetros, una ametralladora y 4 misiles antitanque.
---
---
It is manufactured by the legendary kalashnikov company, the same one that produces the ak-47s and has been created literally to eliminate the presence of troops on the battlefield, in addition to eliminating troops the Uranus 9 is intended for reconnaissance, fire support and destruction of tanks, it is capable of hitting targets at a distance of up to 5 kilometers during the day and 3 km at night, weighs 12 tons and is considered the best combat robot for all the characteristics it has.
Está fabricado por la legendaria empresa kalashnikov, la misma que produce los ak-47 y han sido creado literalmente para eliminar la presencia de tropas en el campo de batalla, además de eliminar tropas el Urano 9 está destinado al reconocimiento, apoyo de fuego y destrucción de tanques, es capaz de alcanzar objetivos a una distancia de hasta 5 kilómetros durante el día y de 3 km durante la noche, pesa 12 toneladas y está considerado como el mejor robot de combate por todas las características que reúne.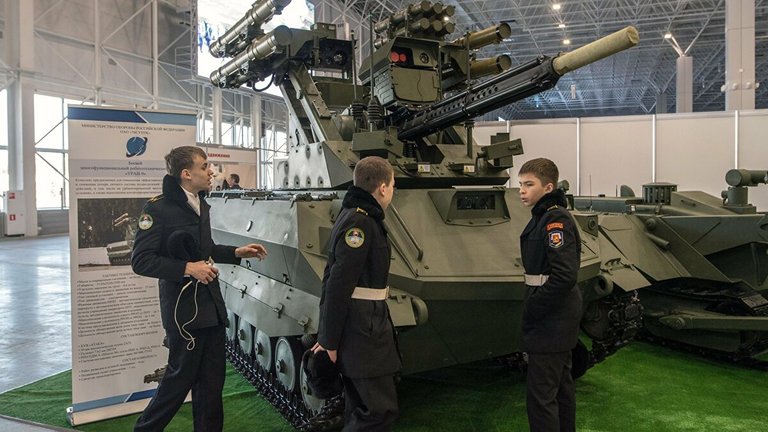 Souce
Uranus 9 has a more peaceful little brother Uranus 6 destined to clear mines, clear roads and construction tasks, the latter robot has been used by Russian sappers in Syria and the North Caucasus.
El Urano 9 tiene un hermanito más pacífico el Urano 6 destinado a eliminar minas, despejar caminos y tareas de construcción, este último robot ha sido utilizado por zapadores rusos en siria y en el norte del Cáucaso.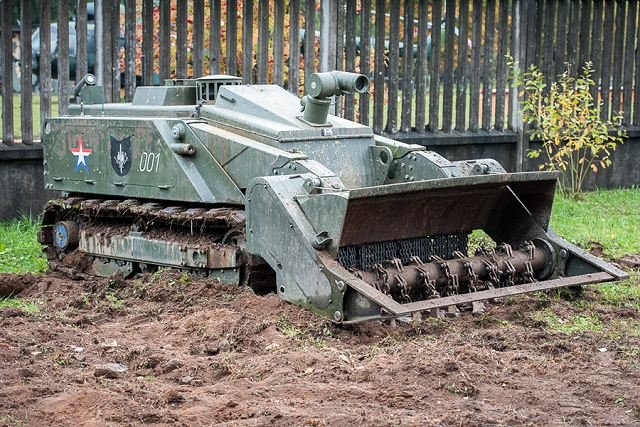 Souce
At this point I have to explain the three types of robots that exist, because I see that there is a lot of confusion in the media and they mix concepts in a somewhat chaotic way, first of all there are remote-controlled robots, by means of a remote control such as For example, this Russian robot Fedor, which is controlled by a human operator, currently these robots are the most numerous that exist.
Llegado este punto les tengo que explicar los tres tipos de robots que existen, porque veo que hay mucha confusión en los medios de comunicación y mezclan conceptos de forma un poco caótica, en primer lugar existen los robots teledirigidos, por medio de un control remoto como, por ejemplo este robot ruso Fedor que está controlado por un operador humano actualmente estos robots son los más numerosos que existen.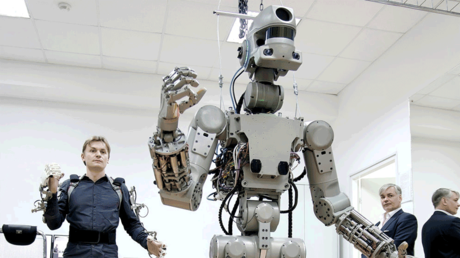 Souce
Second, we have robots manned by humans, in science fiction they are like those that appear in the Matrix saga or Evangelion, but in real life at the moment there are no such metal giants, what we have are those Exoskeletons that serve to that soldiers can carry more equipment or in the very near future will help people who suffer from some kind of paralysis to walk again.
En segundo lugar tenemos los robots tripulados por humanos, en la ciencia ficción son como los que aparecen en la saga Matrix o en Evangelion, pero en la vida real de momento no existen esos gigantes de metal, lo que tenemos son esos Exoesqueletos que sirven para que los soldados pueden cargar con más equipo o en un futuro muy próximo servirán para que las personas que sufran algún tipo de parálisis puedan volver a caminar.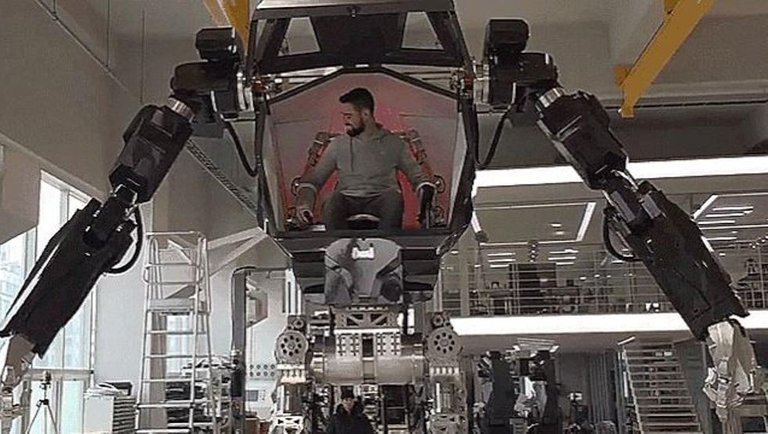 Souce
In the previous two types there is always a human mind controlling the actions, but the third type, they are completely autonomous and are directed by an artificial intelligence, it would be like those that appear in the Terminator movie saga, Uranus 9 would be one of the most lethal of this type, it must be clarified that artificial intelligences are always subject to programming carried out by humans, but this in practice is not a guarantee of anything and not only because human beings have shown how terribly and cruel they can be, but because if the AI ​​programming is not done correctly we could find ourselves in serious trouble.
En los dos tipos anteriores hay siempre una mente humana controlando las acciones, pero el tercer tipo, son los completamente autónomos y están dirigidos por una inteligencia artificial, sería como los que aparecen en la saga de película Terminator, Urano 9 serían de los más letales de este tipo, hay que aclarar que las inteligencias artificiales siempre están sujetas a una programación realizada por humanos, pero esto en la práctica no es garantía de nada y no sólo porque el ser humano ha demostrado lo terriblemente y cruel que puede llegar a ser, sino porque si la programación de la IA no se hace correctamente podríamos encontrarnos en un serio problema.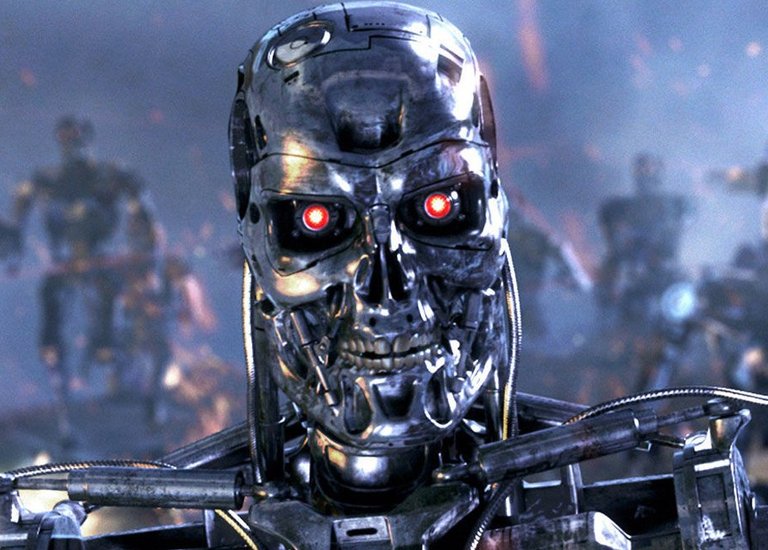 Souce
---
---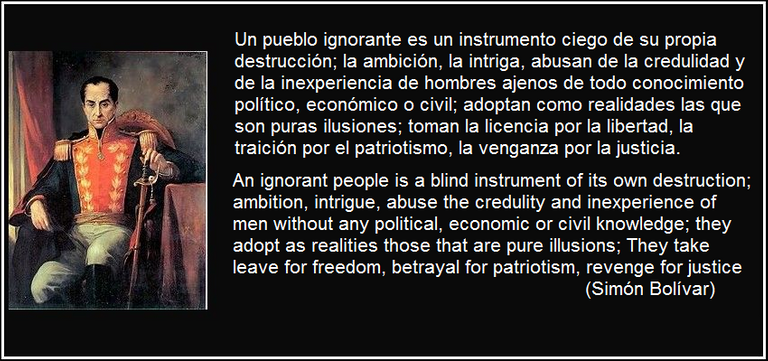 ---
---
Thank you for visiting my blog. If you like posts about
#science
,
#planet
,
#politics
,
#rights
#crypto
,
#traveling
and discovering secrets and beauties of the
#universe
, feel free to Follow me as these are the topics I write about the most. Have a wonderful day and stay on this great platform :) :)
Gracias por visitar mi blog. Si te gustan las publicaciones sobre
#ciencia
,
#planeta
,
#politica
,
#derechos
#crypto
,
#traveling
y descubriendo secretos y bellezas del
#universo
, siéntete libre de seguirme, ya que estos son los temas sobre los que más escribo. ¡Tenga un día maravilloso y siga en esta gran plataforma :) :)