Hello everyone and welcome back to my blog.
Today I bring you to discover Ginkgo Biloba, a plant which is considered a real living fossil, as it is the only species representative of a family and order that dates back to the Mesozoic era: Ginkgoales.
It is a very interesting species from a pharmaceutical point of view and, in this post, I will try to give a complete picture of its botany and tell you what its main uses and potential risks have been throughout the history of man.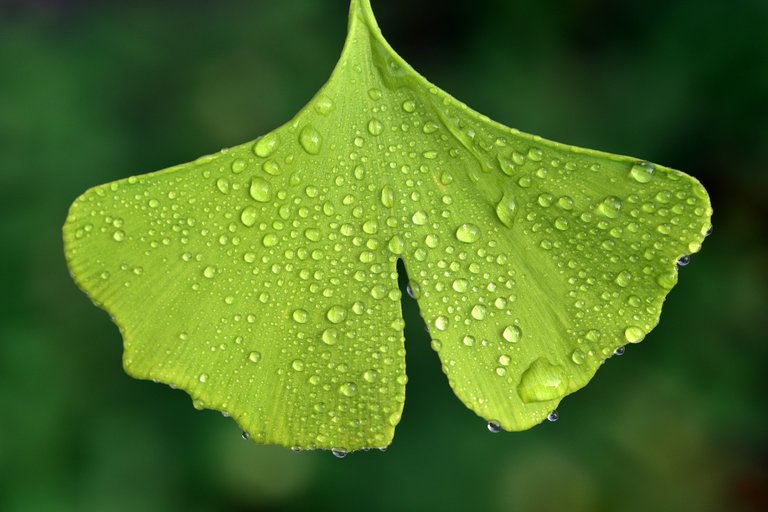 Photo by Ulrike Leone from Pixabay
History and habitat
In the East, this plant has always been grown near temples, as it is considered a sacred tree. In Europe, however, interest in Ginkgo biloba was born only recently and, in fact, it is not present in the European Official Pharmacopoeia.
It is a plant native to Korea, China and Japan that was introduced to Europe as an ornamental plant in the mid-18th century.
Ginkgo biloba seeds and leaves have been used as a traditional herbal remedy for thousands of years, and its leaf extract has been consumed as a botanical dietary supplement for decades.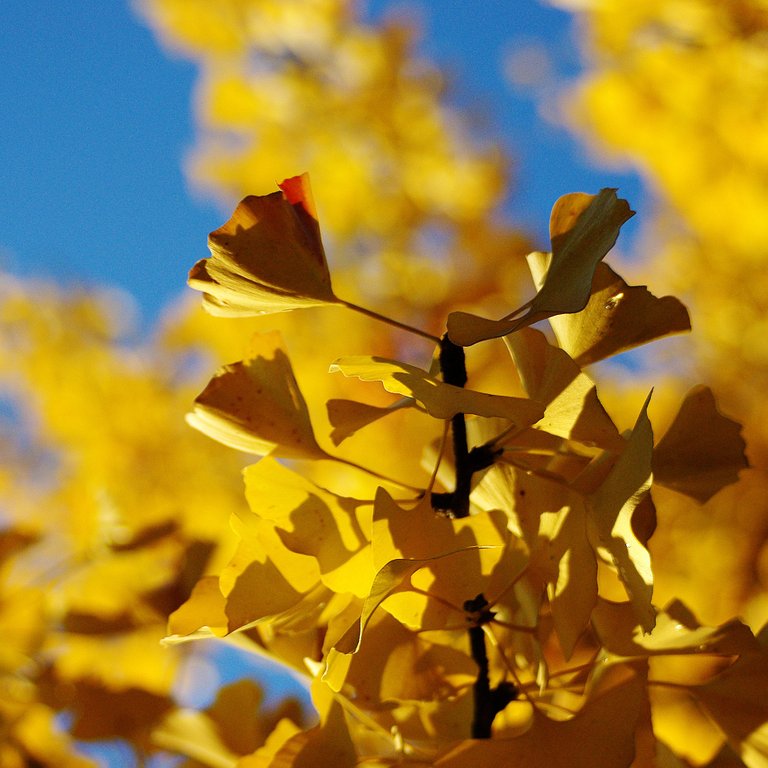 Photo by Ralph Klein from Pixabay
Botany
Gingko biloba is a tree and can reach up to 40 meters in height, with a trunk of 1 meter in diameter.
The leaves of this species are very characteristic, they have a fan shape and a free rib. In addition, in autumn they turn a very intense yellow color. What most distinguishes the leaves of Ginkgo biloba is their polymorphism: they can be dissected, bilobed or whole. The petiole has bundles of conductive tissue that divide in its upper part and then in the leaf limb dichotomously. The leaves are the part used for pharmaceutical purposes, that is the drug.
The buds from which the leaves originate also form the reproductive part. The male specimens have microsporophylls with pollen sacs, while the female specimens have isolated ovules or in pairs, inserted in a foliar peduncle.
The fruits of Ginkgo biloba are fleshy and yellow-brown in color, very similar to plums. They are edible, but when fully ripe they become unpleasant odor because they contain butyric acid.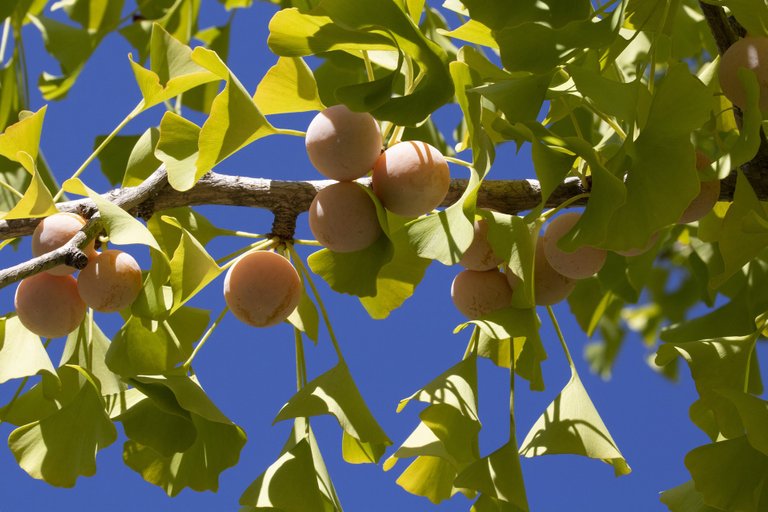 Photo by HeungSoon from Pixabay
Chemistry
From a chemical point of view, the main constituents of Gingko biloba are:
Flavonic glycosides: quercetin, kaempferol, luteolin;
Diflavones: Ginkgetin, bilobetin;
Diterpenes: Gingkolides A, B, C, M, J;
Gingkgolic acids;
Anthocyanosides.
Therefore, it's a species rich in components of various kinds, and it's not easy to determine the precise quantity of each of them. In fact, depending on the cultivation conditions, such as humidity, temperature, air and water quality, it has been seen that the percentages can change very significantly.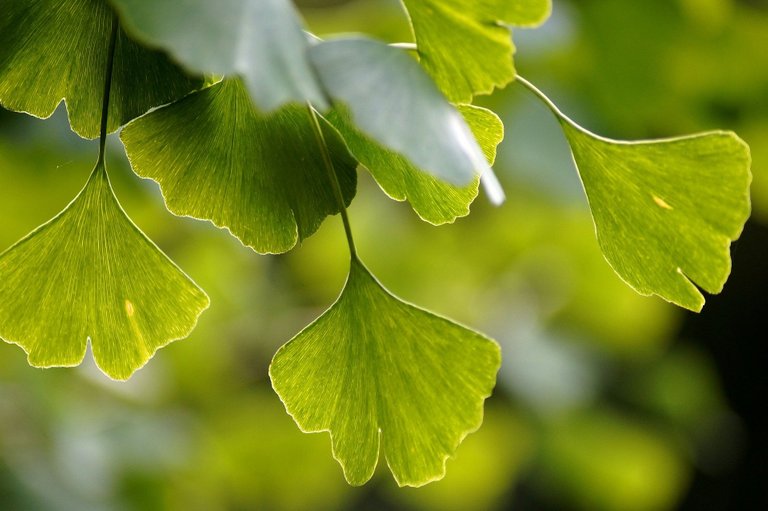 Photo by Marzena P. from Pixabay
Properties and uses
Gingko biloba is one of the most studied plants in the pharmaceutical industry. This is because:
Flavonoids are real free radical scavengers, ie they behave like scavengers by reducing the concentration of free radicals and removing them from the cells;
Glycosides and terpenes decrease permeability and increase the tone of the wall of small vessels such as capillaries and venules.
For these two reasons, Gingko leaves are used in peripheral circulation disorders of the limbs and in cerebral circulatory insufficiency. The fields of application include obliterating arteriopathies of the lower limbs, Raynaud's disease, memory loss, dizziness, migraine, tinnitus, ...
But that's not all, since gingkolide B is considered an important antagonist of PAF (platelet activating factor), a cellular mediator involved in the processes of platelet aggregation, thrombus formation and inflammatory reactions. For this reason, gingkolide B can be used in asthma because it has a protective effect in PAF-induced bronchoconstriction.
In the end, the plant is also used in the cosmetic industry to make firming creams for cellulite blemishes.

Photo by Niek Verlaan from Pixabay
Side Effects and Toxicity
Like all herbal remedies, or remedies for human health derived from plant species, even Gingko biloba is not free from toxicity. In fact, we must remember that the term "natural product" is not synonymous with unconditional safety, but it all depends on concentration and acute or chronic intake.
We must also remember that Gingko biloba is one of the best-selling botanical food supplements in the world. For this reason, concerns have been raised about the potential health risks to the general population due to widespread human exposure.
In particular, the fruits of Gingko biloba have a stinging action on the skin, due to the presence of ginkgolic acid, and by ingestion they cause digestive, respiratory and circulatory disorders.
The seeds of this species contain a toxin called 4-O-methylpyridoxine, which is believed to be responsible for numerous food poisoning in China and Japan. Symptoms of intoxication are convulsions, loss of consciousness and death, especially in children.
Regarding to chronic use, it is important to consider the possibility of allergies as gingkolic acids are powerful contact allergens.
Finally, the National Toxicology Program conducted 2-year gavage studies on a Ginkgo biloba leaf extract and concluded that there was clear evidence of carcinogenic activity of this extract in mice based on an increased incidence of hepatocellular carcinoma and hepatoblastoma.
Recently, Ginkgo biloba leaf extract was classified as a possible human carcinogen (Group 2B) by the International Agency for Research on Cancer (AIRC).
I hope this article on Gingko biloba was interesting for you.
If you like the world of plants and pharmaceutical botany, I leave you with the other posts I wrote in the past on the subject:
Cocaine: a panoramic view - Cocaina: una visione panoramica
Licorice - Liquirizia
Hypericum - Iperico
Aloe
Essential oils of plants - Gli oli essenziali delle piante
Cannabis
Plants as a source of active pharmaceutical ingredients - Le piante come fonte di principi attivi farmaceutici
Thanks for reading this far.
See you next time,
Delilha
---
ITA
Ciao a tutti e bentornati sul mio Blog.
Oggi vi porto alla scoperta del Ginkgo Biloba, una pianta considerata un vero e proprio fossile vivente, in quanto è l'unica specie rappresentante di una famiglia e di un ordine che risale all'era mesozoica: Ginkgoales.
Si tratta di una specie molto interessante sotto il profilo farmaceutico e, in questo post, cercherò di dare un quadro completo sulla sua botanica e di raccontarvi quali sono stati, nel corso della storia dell'uomo, gli utilizzi principali e i potenziali rischi.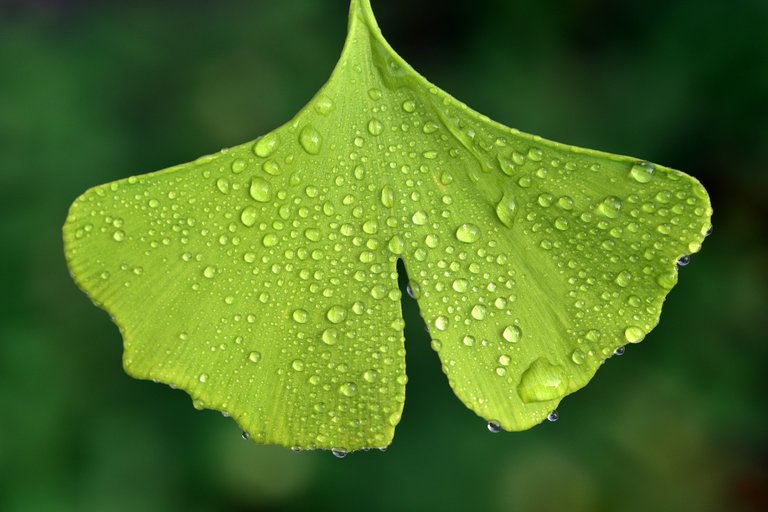 Foto di Ulrike Leone da Pixabay
Storia e habitat
In Oriente la pianta è stata sempre coltivata in prossimità dei templi, in quanto è considerata un albero sacro. In Europa, invece, l'interesse nei confronti del Ginkgo biloba è nato solo di recente e, infatti, non è presente nella Farmacopea Ufficiale Europea.
Si tratta di una pianta originaria di Corea, Cina e Giappone che è stata introdotta in Europa come pianta ornamentale verso la metà del XVIII secolo.
I semi e le foglie di ginkgo biloba sono stati usati come rimedio erboristico tradizionale per migliaia di anni e il suo estratto di foglie è stato consumato come integratore alimentare botanico per decenni.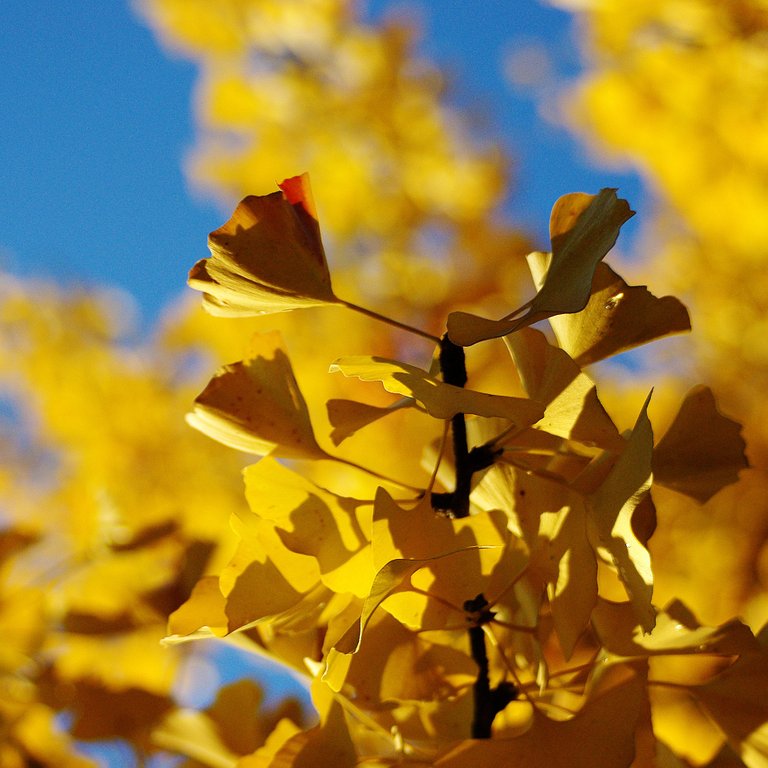 Foto di Ralph Klein da Pixabay
Botanica
Il Gingko biloba è un vero e proprio albero e può raggiungere anche 40 metri di altezza, con un tronco di 1 metro di diametro.
Le foglie di questa specie sono molto caratteristiche, hanno forma di ventaglio e una nervatura libera. Inoltre, in autunno si dipingono di un colore giallo molto intenso. Ciò che contraddistingue maggiormente le foglie del Ginkgo biloba è il loro polimorfismo: possono essere sezionate, bilobate o intere. Il picciolo presenta dei fasci di tessuto conduttore che si dividono nella sua parte superiore e poi nel lembo fogliare dicotomicamente. Le foglie sono la parte impiegata a fini farmaceutici, ovvero la droga.
Le gemme da cui originano le foglie formano anche la parte riproduttiva. Gli esemplari maschili presentano dei microsporofilli con le sacche polliniche, mentre gli esemplari femminili hanno ovuli isolati o a coppie, inseriti in un peduncolo fogliare.
I frutti del Ginkgo biloba sono carnosi e di colore giallo-bruno, molto simili alle prugne. Essi sono commestibili, ma a completa maturazione diventano di odore sgradevole perché contengono acido butirrico.
Chimica
Dal punto di vista chimico, i costituenti principali del Gingko biloba sono:
Glicosidi flavonici: quercitina, kaempferolo, luteolina;
Diflavoni: Ginkgetina, bilobetina;
Diterpeni: Gingkolidi A, B, C, M, J;
Acidi gingkgolici;
Antocianosidi.
Si tratta, dunque, di una specie ricca di componenti di varia natura, e non è facile determinare a priori la quantità precisa di ognuno di essi. Infatti, a seconda delle condizioni di coltivazione, come umidità, temperatura, qualità dell'aria e dell'acqua, si è visto che le percentuali possono mutare molto significativamente.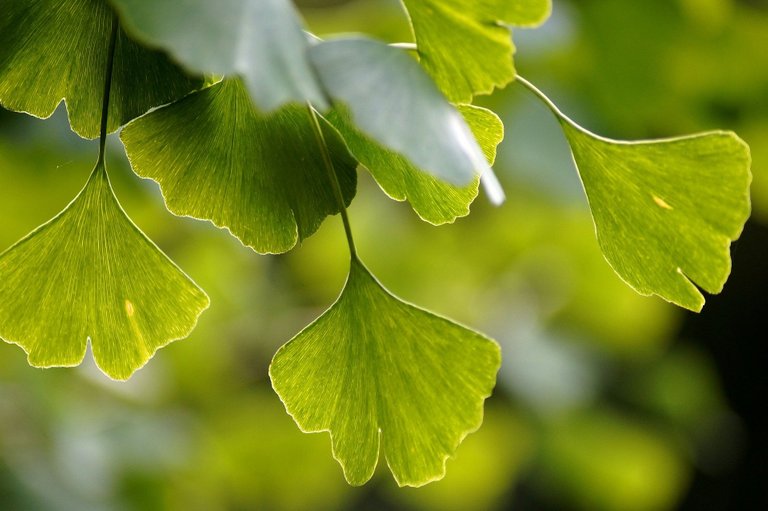 Foto di Marzena P. da Pixabay
Proprietà e utilizzi
Il Gingko biloba è una delle piante più oggetto di interesse da parte dell'industria del farmaco. Questo perché:
I flavonoidi sono dei veri e propri scavenger dei radicali liberi, ovvero si comportano come degli spazzini riducendo la concentrazione di radicali liberi e rimuovendoli dal mezzo in cui si trovano;
I glicosidi e i terpeni diminuiscono la permeabilità e aumentano il tono della parete dei piccoli vasi come capillari e venule.
Per questi due motivi, le foglie del Gingko vengono utilizzate nei disturbi della circolazione periferica degli arti e nell'insufficienza circolatoria cerebrale. I campi di applicazione comprendono arteriopatie obliteranti degli arti inferiori, malattia di Raynaud, perdita di memoria, vertigini, emicrania, tinniti, …
Ma non è finita qui, poiché il gingkolide B è ritenuto un importante antagonista del PAF (platelet activating factor), un mediatore cellulare implicato nei processi di aggregazione piastrinica, formazione di trombi e reazioni infiammatorie. Per questo motivo, il gingkolide B può essere impiegato nell'asma perché svolge un effetto protettivo nella broncocostrizione indotta dal PAF.
Infine, la pianta viene utilizzata anche in campo cosmetico per realizzare di creme rassodanti per gli inestetismi della cellulite.

Foto di Niek Verlaan da Pixabay
Effetti collaterali e tossicità
Come tutti i fitoterapici, ovvero i rimedi per la salute dell'uomo derivati da specie vegetali, anche il Gingko biloba non è esente da tossicità. Infatti, dobbiamo ricordare che la dicitura "prodotto naturale" non è sinonimo di sicurezza incondizionata, ma tutto dipende dalla concentrazione e dall'assunzione acuta o cronica.
Dobbiamo anche ricordare che il Gingko biloba è uno degli integratori alimentari botanici più venduti in tutto il mondo. Per questo motivo, sono state sollevate preoccupazioni sui potenziali rischi per la salute della popolazione generale a causa della diffusa esposizione umana.
In particolare, i frutti del Gingko biloba hanno un'azione urticante sulla pelle, per la presenza di acido ginkgolico e altre sostanze fenoliche tossiche, mentre per ingestione provocano disturbi agli apparati digerente, respiratorio e circolatorio.
I semi di questa specie contengono una tossina chiamata 4-O-metilpiridossina, ritenuta responsabile di numerose intossicazioni alimentari in Cina e Giappone. I sintomi dell'intossicazione sono convulsioni, perdita di coscienza e morte, in modo particolare nei bambini.
Per quanto riguarda l'uso cronico è importante considerare la possibilità di allergie in quanto gli acidi gingkolici sono potenti allergeni da contatto.
Infine, il National Toxicology Program ha condotto studi con sonda gastrica di 2 anni su un estratto di foglie di Ginkgo biloba e ha concluso che c'era una chiara evidenza di attività cancerogena di questo estratto nei topi sulla base di una maggiore incidenza di carcinoma epatocellulare ed epatoblastoma.
Recentemente, l'estratto di foglie di Ginkgo biloba è stato classificato come possibile cancerogeno per l'uomo (Gruppo 2B) dall'Agenzia internazionale per la ricerca sul cancro (AIRC).
Spero che questo articolo sul Gingko biloba sia stato interessante per voi.
Se vi piace il mondo delle piante e della botanica farmaceutica, allego gli altri post che ho scritto in passato sul tema:
Cocaine: a panoramic view - Cocaina: una visione panoramica
Licorice - Liquirizia
Hypericum - Iperico
Aloe
Essential oils of plants - Gli oli essenziali delle piante
Cannabis
Plants as a source of active pharmaceutical ingredients - Le piante come fonte di principi attivi farmaceutici
Grazie per aver letto fino a qui.
Alla prossima,
Delilha
---
Sources – Fonti:
Ginkgo biloba for the treatment of tinnitus - F. Q. Kramer, A. Ortigoza
Review of Ginkgo biloba-induced toxicity, from experimental studies to human case reports - N. Mei, X. Guo, Z. Ren, D. Kobayashi, K. Wada, L. Guo
Ginkgo biloba Extract in Vascular Protection: Molecular Mechanisms and Clinical Applications - J. Tian, Y. Liu, K. Chen
"Botanica, chimica e farmacologia delle piante officinali" – F. Capasso
---