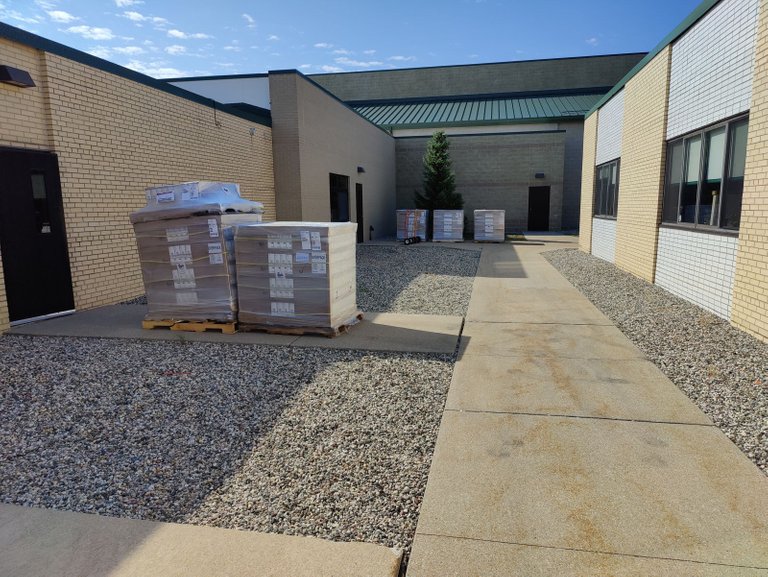 ---
Yesterday was the first day of students in the public school district where I work and to say I have been slammed would be an understatement. If you are looking at the photo above, you might be wondering what that is. With less than a week to go before school started, we took delivery of 700 Dell 3100 Chromebooks.
Chromebooks that needed to be unboxed, inventoried, enrolled, and distributed to students in less than a week. I think @iikrypticsii would be the first to tell you he was more than a little worried that the responsibility of doing all that was going to fall solely on him. Lucky for us, we were able to get some volunteers in to help out.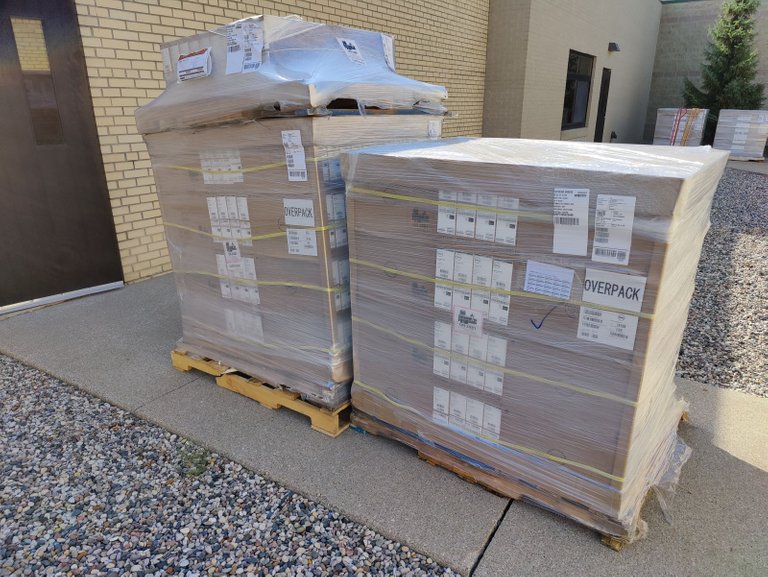 ---
This is actually the largest quantity of Chromebooks we have ever received at one time. I think before this the biggest number was 400, so almost double our old record. It was thanks to the FCC (I guess they are good for something) that we got these Chromebooks. They have a federal grant program that awarded us 100% of the funds to pay for these devices.
---
After they were delivered on Tuesday of last week, we lined up some student helpers to move them all into the Media Center (library) outside my office. They completed the job in a couple of hours and I was really happy to get them out of the elements as it eventually started raining later that day.
Last Thursday at 9:00, I had five staff workers show up and about the same number of students to start the process of getting these machines ready to go. As I was taking care of other issues in the district, I gave them pretty much full autonomy to get things done.
The students focused on unboxing and the staff workers focused on inventory, enrollment, and distribution of the machines to the classrooms.
It took the students a good six or seven hours to unbox all of the machines. They did take a lunch break in the middle and their pace slowed down a little bit after the first couple of hours. I noticed that they were a bit more leisurely about how they opened the boxes. I don't really blame them though. There was a point where I helped out and opened about fifty of the boxes myself. Lead by example and all of that...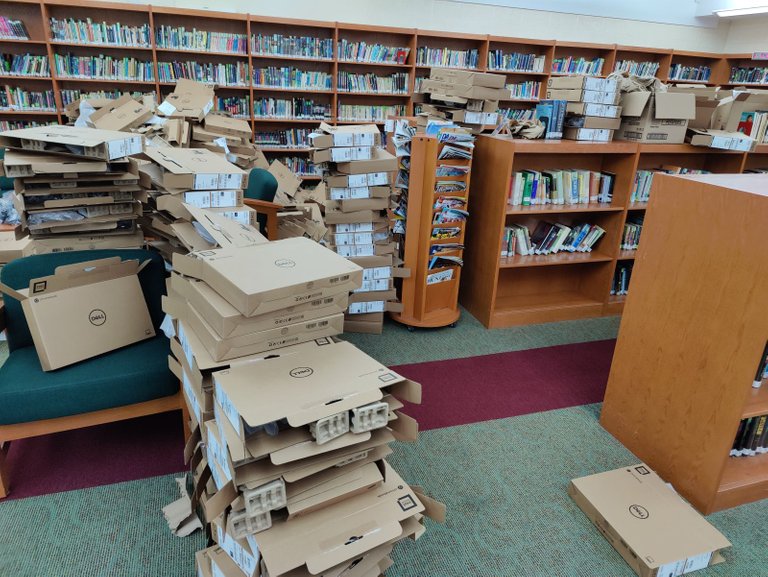 ---
This is the aftermath of the chaos. I had asked that a custodian come part way through the day to help clear things out, but they must have not gotten the message, so it left a pretty daunting pile for them to tackle at the end of the day.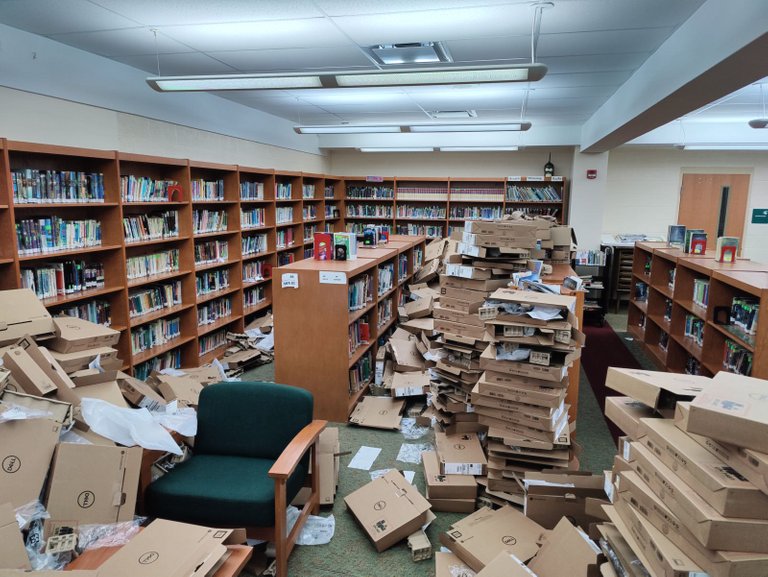 ---
Some of the students did stay to help bag up the trash and load it up for the custodians. Meanwhile, the staff workers kept working until 5 that night to get the Chromebooks setup and delivered. I think 100 Chromebooks per hour is a pretty decent pace, they really busted their butts to get this done.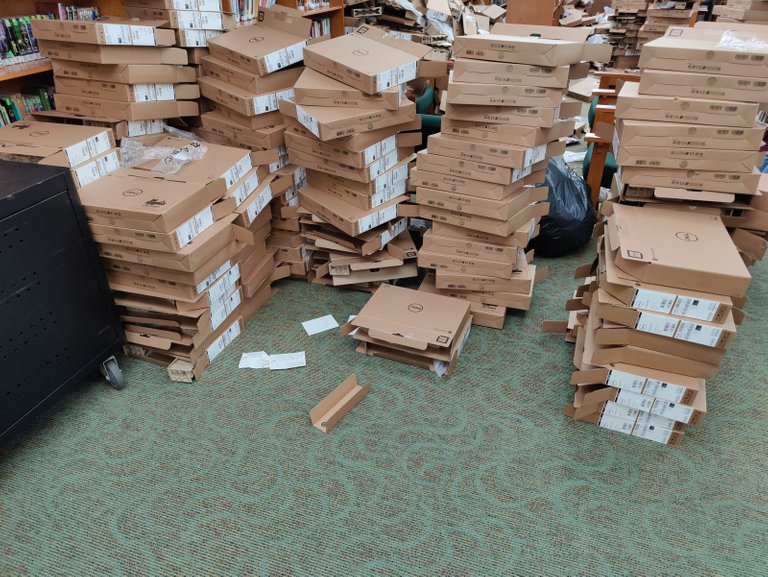 ---
Looking at these pictures, it really reminds you just how much waste goes into packaging. The funny thing is, I am sure they have spent hours on this to minimize the waste, but it still feels like a ton. Especially when you see all of that cardboard piled up.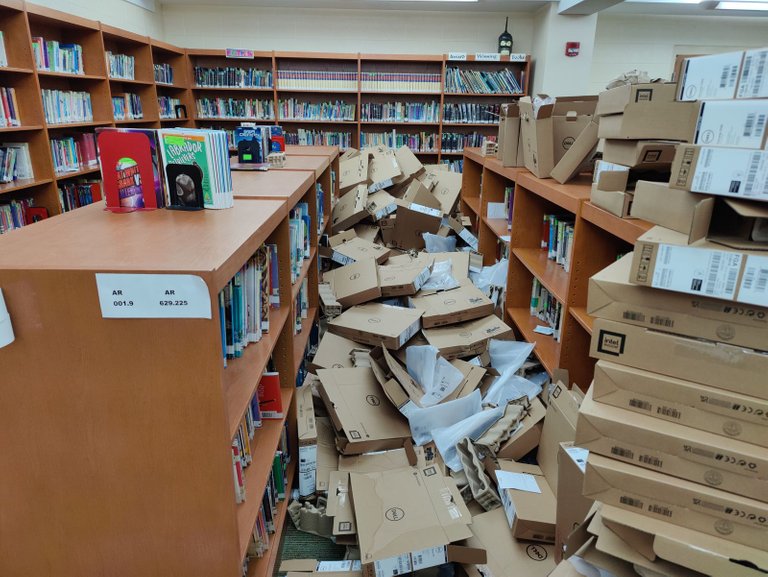 ---
I have a feeling we probably filled all of the dumpsters out in the parking lot to the brim. Actually, I think they ran out of room because when I came back in on Friday morning there were still some bags and boxes stacked up that needed to be taken out. Chances are they just gave up because they were out of room and decided to wait until after the dumpsters got emptied.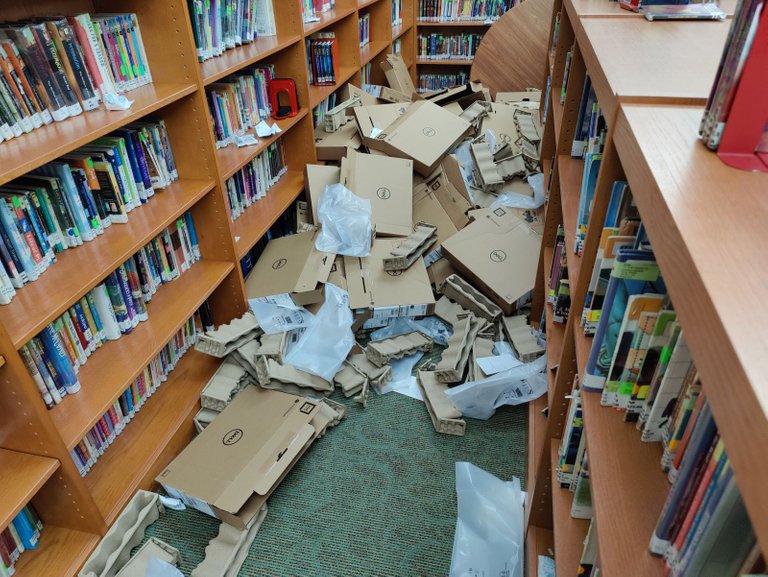 ---
As I said at the top, yesterday was the first day of school and all of our high school and middle school students were met with brand new shiny Chromebooks on their first day of class. What an accomplishment that we were able to have the ready to go and waiting for the students in just a couple of days time.
Now we see how many students manage to damage them within the first week. The good news is, we retrieved a lot of displays from our old models and we will be using those as spares since they are pretty universal. Broken screens are probably the most common "break/fix" repair that we have to deal with.
I am hoping we can make it at least a month before we have to deal with one of those, but I have my doubts. I've seen what these kids do to the machines and how they treat them. One year I got a Chromebook back that looked like it had been run over by a car. It was sad.
---
---

---
All pictures/screenshots taken by myself or @mrsbozz unless otherwise sourced