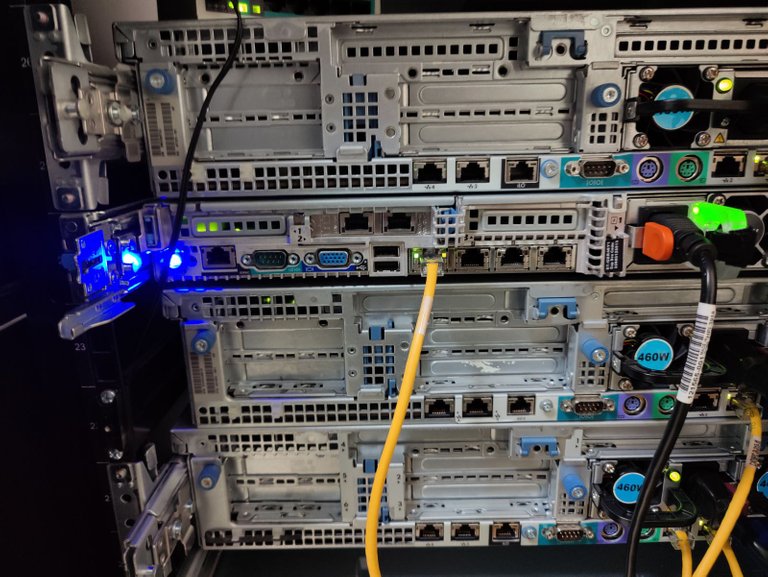 ---
I remember a long long time ago I signed up for my first Google account. In fact, I think I moved my business over to Google Workspace (it wasn't called that then) before I ever created my own personal gmail account.
Google used to have some pretty liberal policies when it came to things like storage space and things like that. As a "Google Apps for Education" (that's what it was called), my users had access to unlimited storage space.
Likewise, if you were the owner of a Pixel phone, you had unlimited storage for all of your photos and videos taken from that phone in the Google cloud. I am still a pretty big fan of the Google Pixel phones. There is a good chance I will purchase a 7 as my next phone. The only reason I am using a OnePlus phone right now is because the latest model of Pixel wasn't available last time I upgraded.
Unfortunately, we all probably know that Google has since back-tracked on those generous storage offerings.
Due to that fact, I recently signed up for a Google One account.
Now, I know what you are probably thinking... Why would I want to give more money to company that already has so much. On top of that they sell my data and information. I don't disagree with you, but the fact is they are going to do that stuff anyway. I don't honestly expect any modicum of privacy these days. We were just talking about that last night in the @brofund Discord chat.
With that in mind, I went all in on Google One.
Actually, for $25 a year, it is one of the best deals out there I think.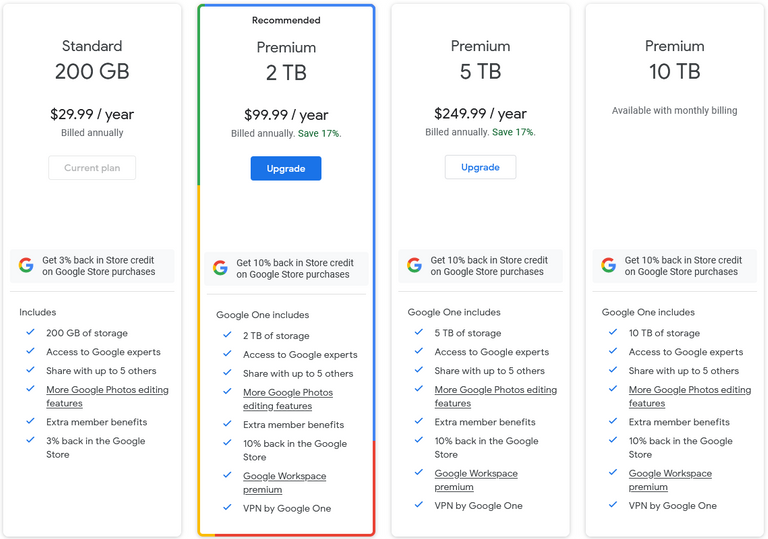 ---
If you are looking at the chart above, I am currently enrolled in the standard plan. It's only $30 per year and it gives me a lot of benefits.
One of the coolest things about the plan is you can share the plan with up to five other people. This gives everyone you care about a lot of benefits. I have my main account enrolled, my secondary account enrolled, and then @mrsbozz's account enrolled. I still have two "licenses" available that I am not even using. I share them with my friends and family on a temporary basis when they need something.
Besides the extra storage space which quite honestly would be enough on its own, they have been adding additional features.
Bard is Googles new AI assistant. I got an email the other day that I can sign up for the wait list for Bard. Hopefully they have the bugs worked out from when they first launched it and ended up being a laughing stock due to the blatant errors it made.
You might notice for the higher tiers they just released VPN by Google One. While I already pay for a subscription to NORD, I am definitely going to keep my eye on this one. If anything the upgrade to 2 TB kind of makes the $70 extra per year worth it. For now though I am happy to keep the standard plan.
It's likely I wouldn't think about upgrading until I start running out of space.
What really has me excited about Google One is that fourth bullet point.
The fact that they introduced all of the cool photo editing tools that they are advertising on the new Pixel phone to Google One subscribers is pretty awesome.
I'm looking forward to digging in and playing around with it. Keep your eye out in the future for a post dedicated solely to that.
I really can't wait to see what Google adds next for One subscribers. Even if they jacked the price up to $50 per year, I think it would still be worth it.
---
---

---
All pictures/screenshots taken by myself or @mrsbozz unless otherwise sourced