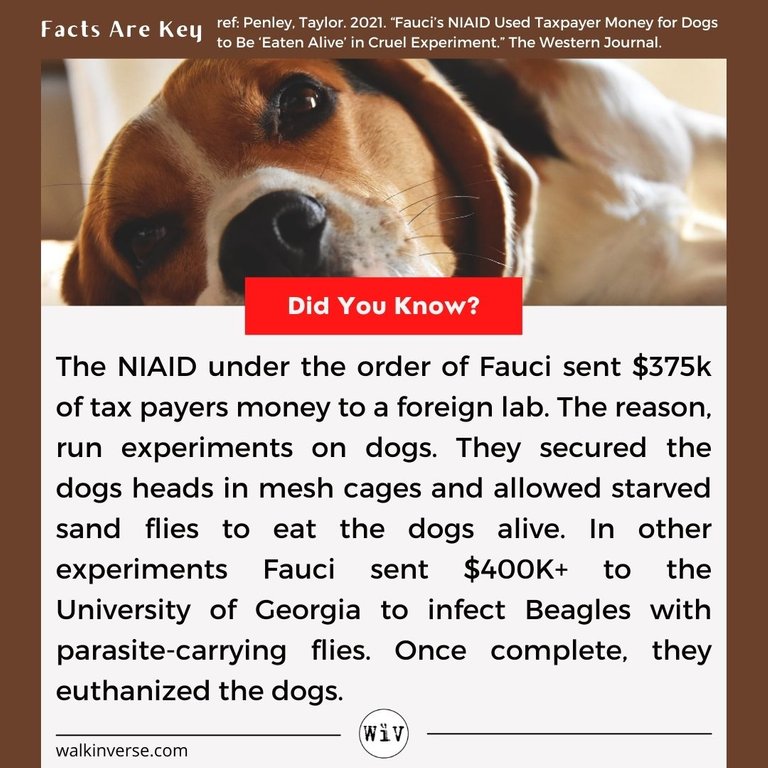 These acts of evil will only end when we, the people, end them. These murders will never cease until each one of us say no more, no compliance, no tolerance. If we continue submission, each one of us will die on our knees as enslaved people. We all have a choice to make, and I made mine. I will stand with anyone who stands for freedom. Let's all stand and end this nightmare once and for all.
Cite
Penley, Taylor. 2021. "Fauci's NIAID Used Taxpayer Money for Dogs to Be 'Eaten Alive' in Cruel Experiment." The Western Journal. September 2, 2021. https://www.westernjournal.com/faucis-niaid-used-taxpayer-money-dogs-eaten-alive-cruel-experiment/.
---
If you like this post please give it an upvote.
If you have thoughts or comments please drop one below.
If you enjoyed it, please re-blog and share for others to read.
I have been de-platformed for my commentary and political post on the mainstream channels, you can view more of my work at walkinverse where you will find a little bit of everything: commentary, podcast, poems and fiction stories. To help support my work, please sign up for my newsletter. If you enjoy what I write consider a membership and get access to all my e-books and e-reports in PDF, Kindle or mobi formats.