After a certain gap from my first introductory post, I am back to the Hiveblog. In reality I was not sure what to begin with after my introduction and after thinking for a while I decided to write about my time span in the professional world. The reason I have selected this particular topic is that in the later period I will be demonstrating on the type of work I do, the problems I deal with and my overall working environment. Even though it may seem irrelevant to the reader / audience, I promise to put up something interesting, technical and informative subjects. Also I will be sharing my professional persona that I have developed throughout the time which is essential for the working world. To begin with, I would once again share a same picture from my initial post which was taken at my workplace.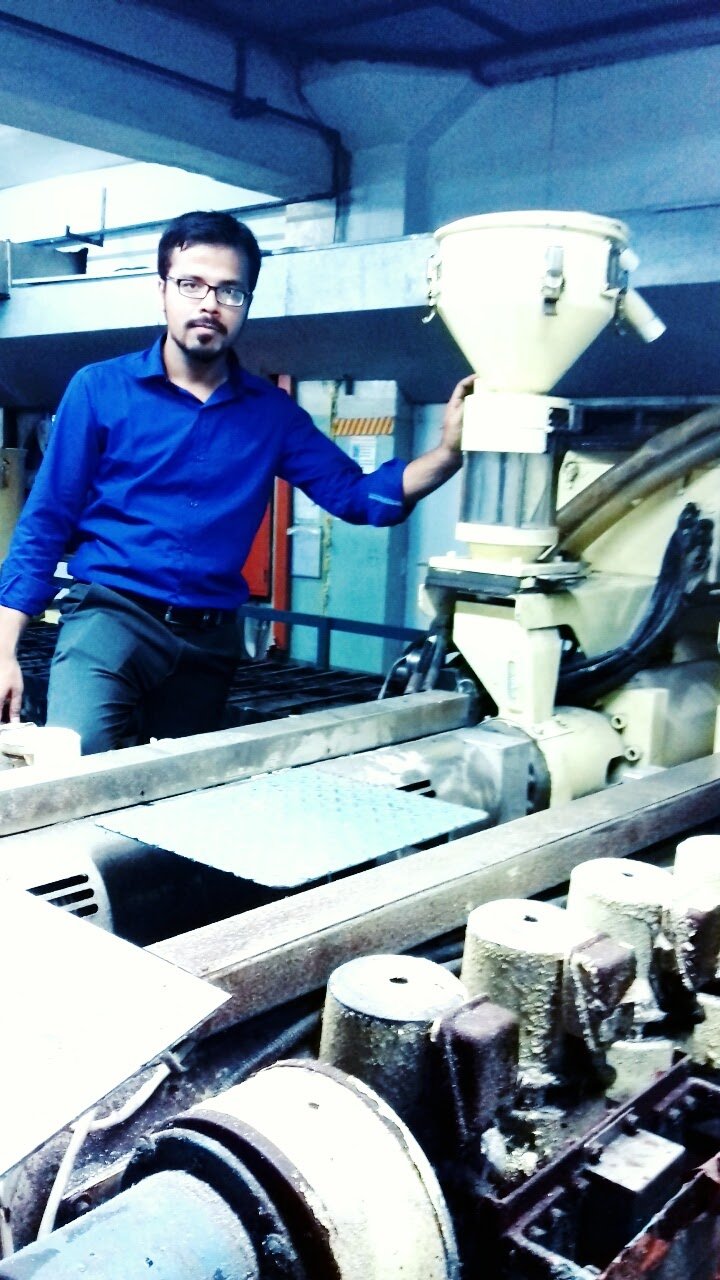 This picture was taken after successfully troubleshooting the Injection Phylon (IP) machine used for making phylon sole for shoes.
Needless to say, I am currently working as maintenance in-charge in a shoe manufacturing company where I am enjoined with the responsibility of machine breakdown maintenance and technical support. The above mentioned machine is used only for making IP sole apart from that there is dedicated machine used for making Polyurethane (PU) sole, Rubber sole and Ethylene-Vinyl Acetate (EVA) sole. The types of shoes we manufacture are particularly casual, sports, safety shoes and other customized specialized shoes on demand. We work in partnership with some of the major European and American brands mentionable Decathlon, Walmart, Vans, Puma, Marks, etc. Our company is a South Korean based (Youngone Corporation), biggest shoe manufacturing company in Bangladesh. Apart from the shoe factories, the group also incorporates garments and textile industries.

The pictures are of sole molding machine used for phylon, EVA, rubber sole, respectively. (Molding is just one part of the whole manufacturing process)
However, before coming to the consumer goods manufacturing company I have initially worked in an engineering service providing company (Automation Engineering & Controls Ltd). It was purely an engineering company providing services like 11KV substation supply, medium and low voltage component supply, and up to 11KV electrical installation. I was assigned for pursuing projects works, supervising and commissioning installation. Although this job was more relevant to my field of study but due to the annoyance of achieving monthly sales target and frequent travelling to sites, I had to shift to more convenient factory based job. Fortunately, my current job is due to the blessing of professional network that I have created at this engineering firm. It was a service provided to my current employer, and I was able to utilize the opportunity to become an employee from third party service provider. That's the way it goes, you keep building your professional network and exploit your current opportunities to look forward and try for something better in the coming days.