You ARE an African
Let me tell you a fact, that you may or may not like. You are an African. Yes, it's a fact. There are no alternative facts 😊. Why I am saying this? Let me explain. I am a geologist. Human evolution is something of my expertise (I should say, mostly a hobby). Fact is I can teach Human Evolution in any university of the world quite easily. So, with that said, lets lay out the evidence.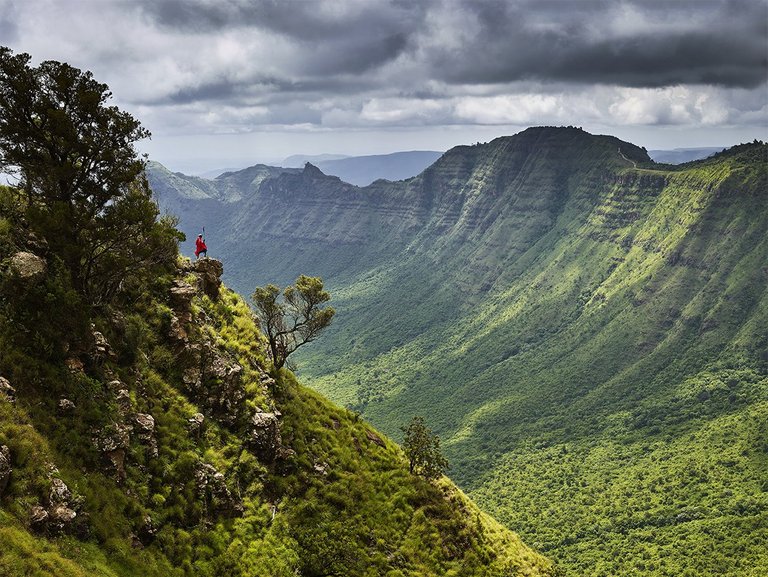 Source
That picture above is from a book review published in Nature. I wish some of you write in Nature someday (one individual to be precise, you know who you are). The book review is not that important to our immediate discussion, but the picture is. It is a picture of a Samburu Warrior, who is looking over the Rift Valley in Kenya. He stands sentinel over the valley which is considered the cradle of human civilization. Yes, Lara Croft can be right sometimes, at least partially. Although there has been recent discovery of 300,000 years old human remains in
Morocco
and 190,000-120,000 year old human remains "Out of Africa" in
Misliya Cave, Israel
; it is generally considered the East African Rift Valley is where "human" beings originated from. I personally do not worry about the precision of the date.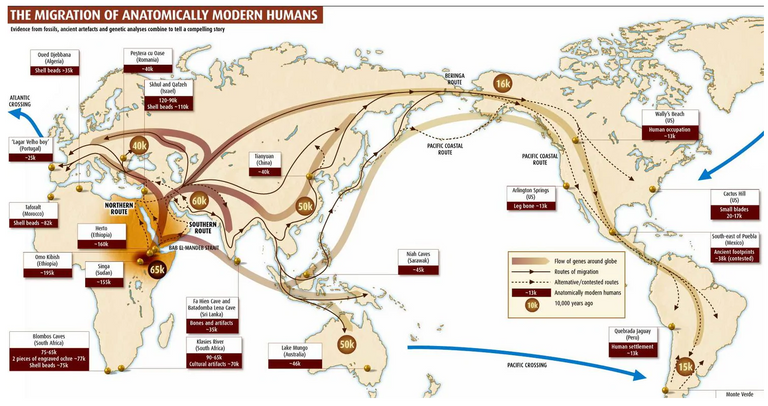 Source
Following up on the next map, which is still the most widely accepted map in term general dates and path the human migration took, several key elements will be clear. Human beings evolved around the East African Rift Valley, in Kenya, Uganda & Tanzania. The fossil record from both caves and lake beds are quite definitive. This is about 60-65 thousand years back. From Africa, the migrated to Middle East first and then progressively towards Indian Peninsula around 50K years back. Europe around 40K years. Across the SE Asia to Australia around 50 – 45K years. Through Siberia, crossing the Bering Strait to North American during the last Ice Age around 15 K years back. Why Ice Age was important you ask?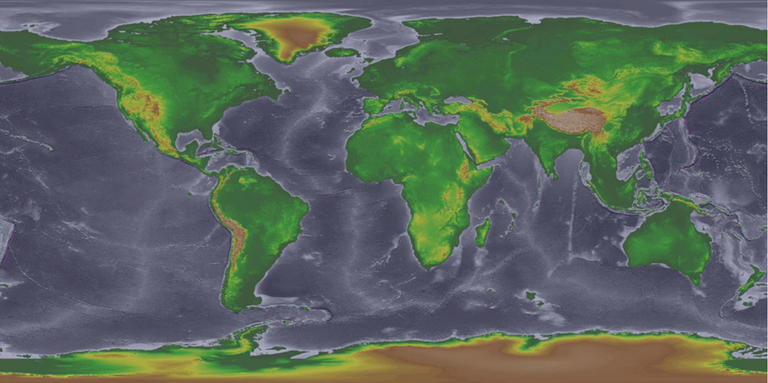 Source
According to the map above, the sea level was about 400 ft lower compared to present. With huge amount of ice trapped in the polar ice caps and mountain and continental glaciers, majority of the continental shelf was exposed. Meaning people can walk across Bering Strait and you can basically walk from India to the Malaysian-Indonesian archipelago all the way to Australia quite easily. Our ancestors may require small water crossings, but they could be accomplished using simple boats and navigation.
Bottomline
Yes, you are basically an African, a black man. So am I. No disrespect to any modern, historical or religious figures, but the following are facts as well.
Have you heard that Jesus was a black man? You better believe it.
How about Muhammad. Yep, African.
Krishna? Yep, if we consider him historic (I do, I think he was one of the best political strategist), then yes.
Gautam? You guessed it… African.
Let's move to modern times. How about the Orange guy? Yeah, he too! He doesn't have enough brain matter to get it. His IQ level is sub-human, buy hey it can't be his fault, its mostly his gene! But don't worry about it. He is a Black Man, as per his ancestry! 😉