Warm greetings all. 🙏 💚
For several weeks now I've been trying to make a wooden or bamboo pipe as a gift for my girlfriend/partner, @kai-sunrise, as I knew she was wanting one. I experimented with several different methods and materials, but without success.
I decided to dedicate the day before her birthday to creating her gift. On that morning, feeling into how much difficulty I had encountered while attempting to make a pipe for Kaï, I realized that I did not feel inspiration around it, which is why my results were so, well, uninspiring. With that in my awareness, I asked for inspiration, and then let it go for a while, to get on with my day.
A short time after intentionally asking for inspiration, an idea popped into my mind. Kaï collects, and uses extensively, musical instruments and sacred power items. The idea that came to me was to create a combination of a musical instrument and a power item. The materials and the method to create it began to filter into my mind, and I began collecting everything I would need.
What I was to create was something like a rainstick made out of bamboo, but without the walls of the nodes removed, so each each section of internode is intact, so it is more of a shaker staff.
The bamboo that I chose to use was one of the giant black bamboos that grow on the property of the intentional community where I've lived for three and a quarter years. This species is Gigantochloa atroviolacea, one of three giant black bamboos that grow on the property.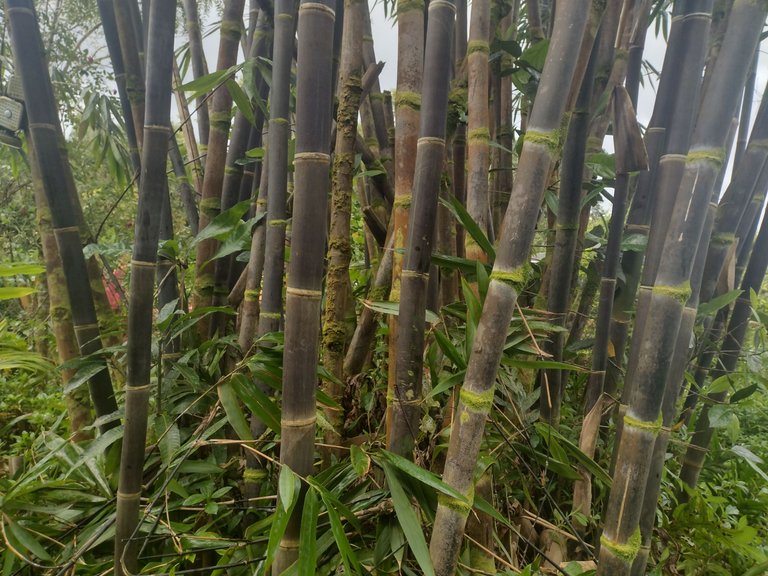 I located a culm of the proper age (3-5 year-old culms are ideal), and sawed it off at the base, then pulled it out of the clump and onto the grass to get a better view of what section(s) I would use. I located two good sections of the culm of approximately six feet long, which I carefully sawed off at the base of each ending node.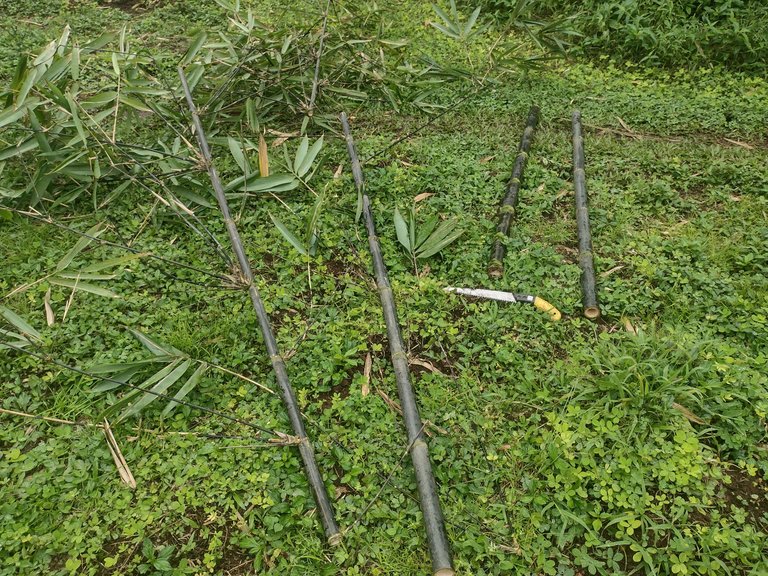 Once I cut two usable pieces, I took them to the community shop to begin to clean and process. I also gathered all of the tools and materials I would need to bring my vision to fruition.
After cutting the sections, I gently scrubbed them down using a natural scrubby and a mix of water, salt, and borax, to clean the moss and lichens off the surface of both pieces.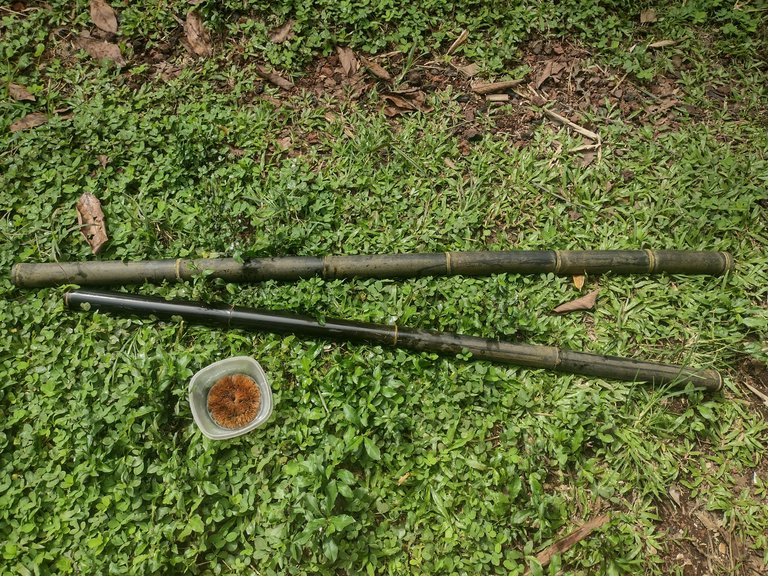 Once they were cleaned, I put them up on one of the work tables to begin drilling the holes in each end, through the wall of the ending nodes, and at the base of each sealed internodes, in a line.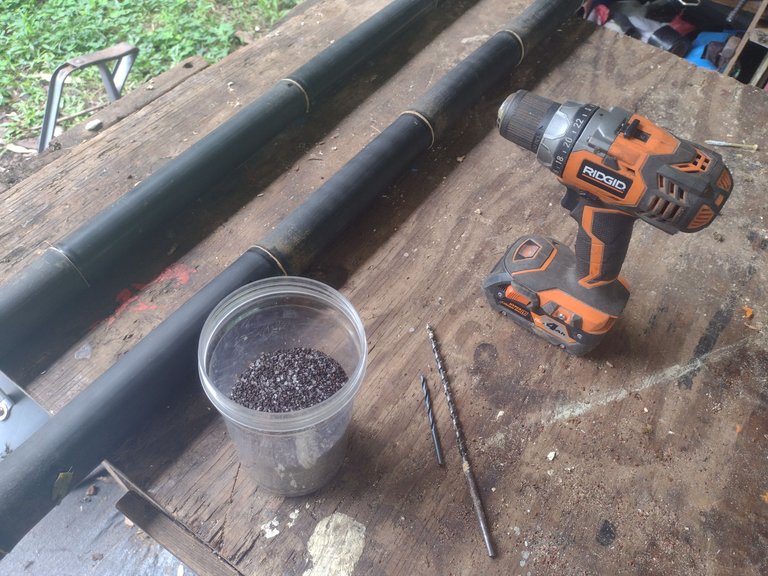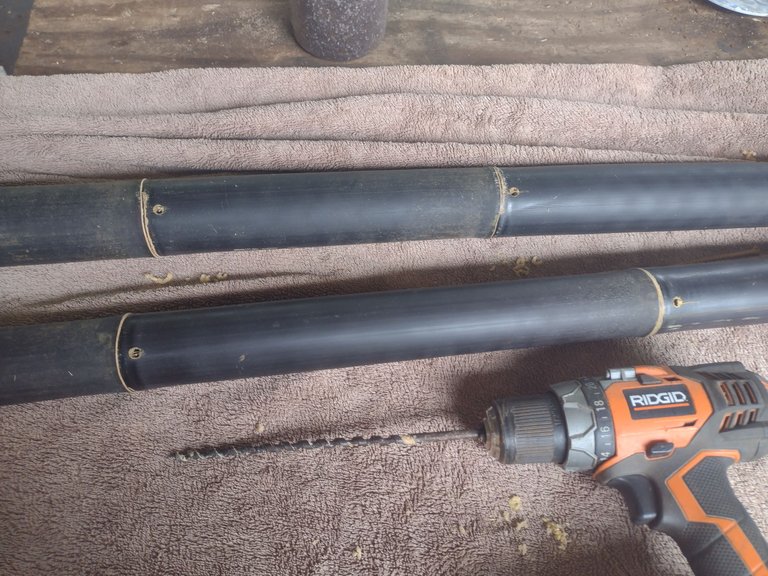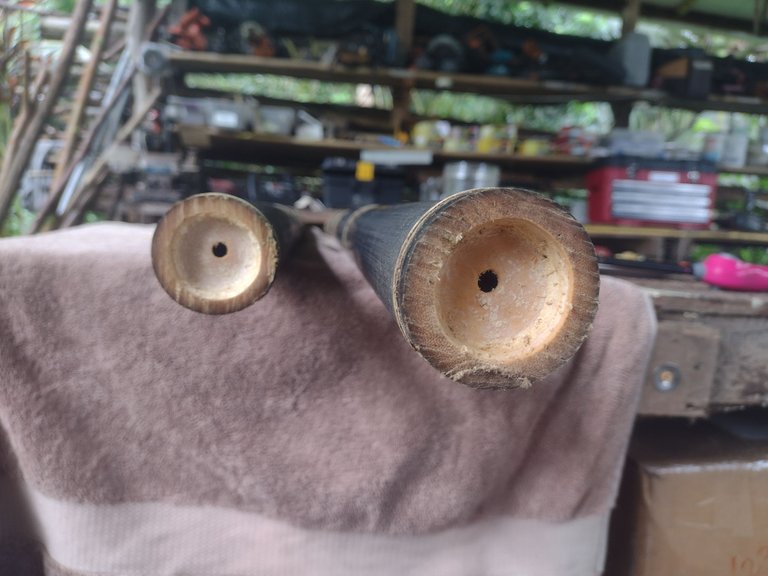 After drilling the holes, I began the longest part of the creative operation; carefully putting a mix of finer lava gravel (collected from the lava wall that flanks the southern side of the property, from the 2018 eruption), and course Hawaiian sea salt. I chose these two materials because the lava is from this land, and the salt is from this ocean, a good mix for a power item. Also, the salt will help prevent bacteria and fungus from deteriorating the interior of the internodes. This whole process was a process of creative improvisation and experimentation. As a part of this process, I decided to add in some larger lava pebbles (the ones that would fit through the holes) to give a greater diversity of sound.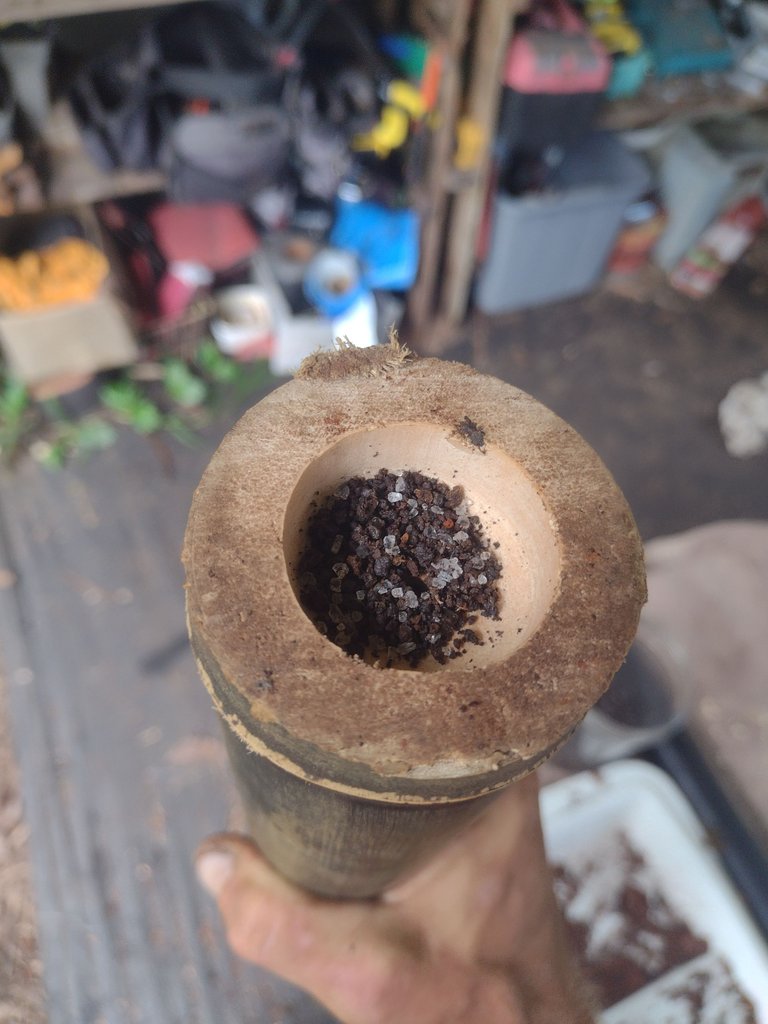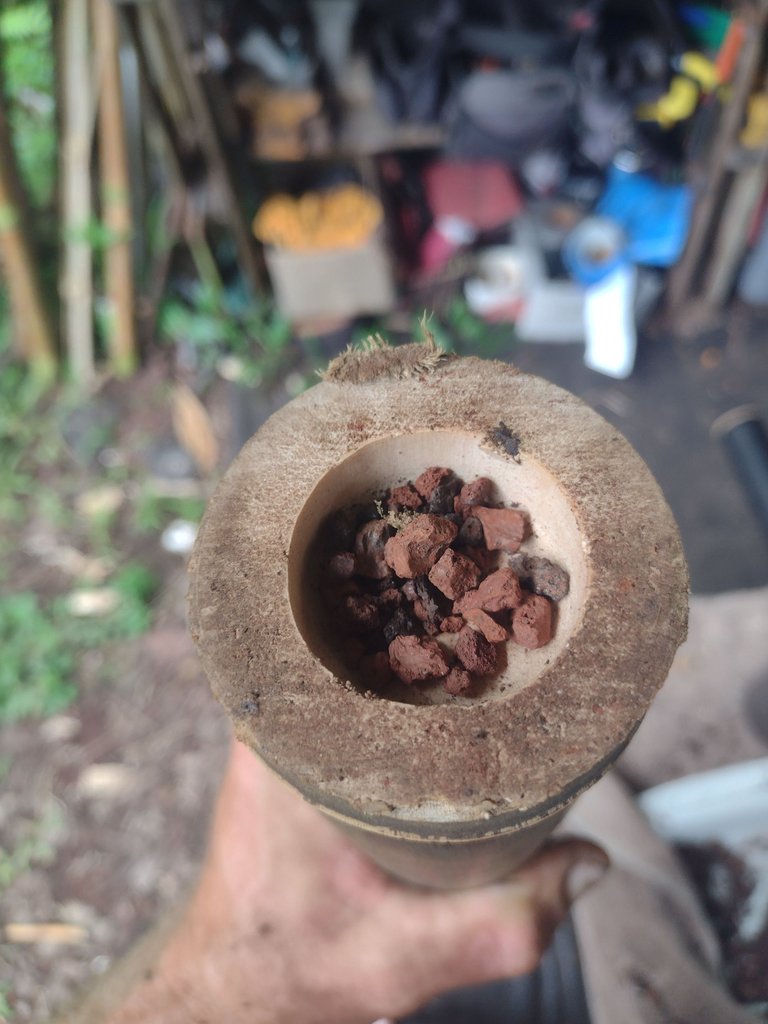 After adding sufficient lava gravel and sea salt, I found a small piece of Lava that fit snuggly and solidly in each hole, then melted bee's wax onto each pebble-filled hole.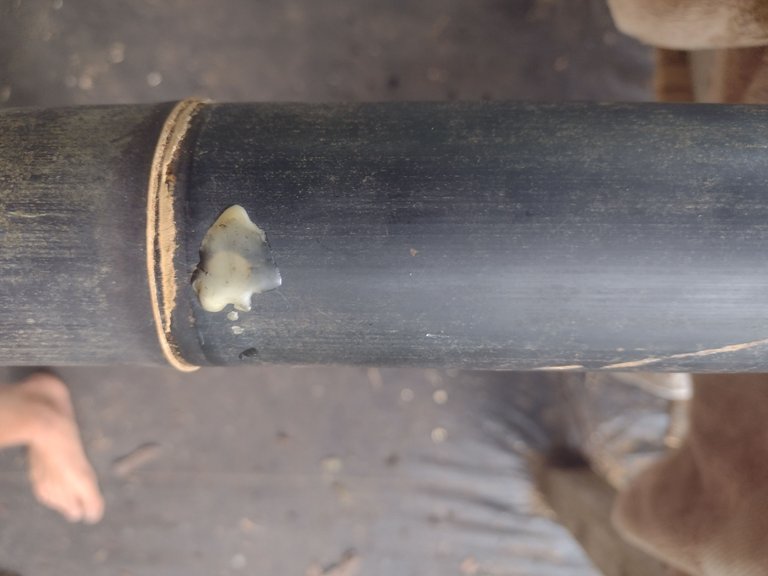 Once the internodes each has enough lava gravel and salt, and the lava pebble and bee's wax were put in and on the holes, I used a rag to smooth out the wax on the holes.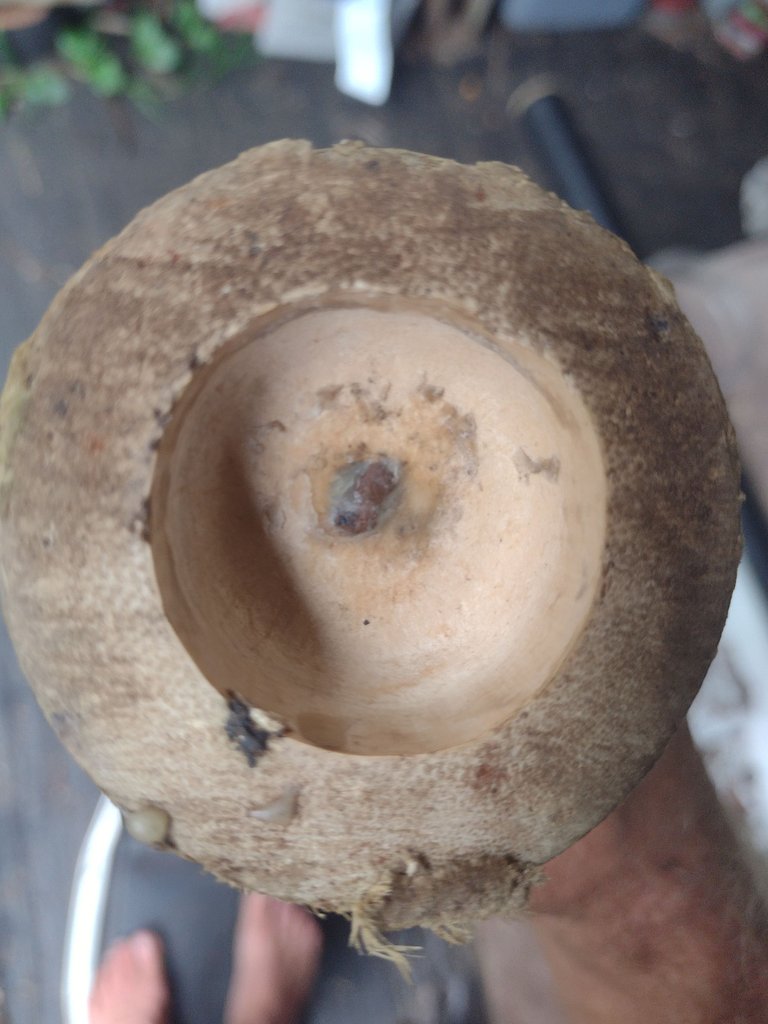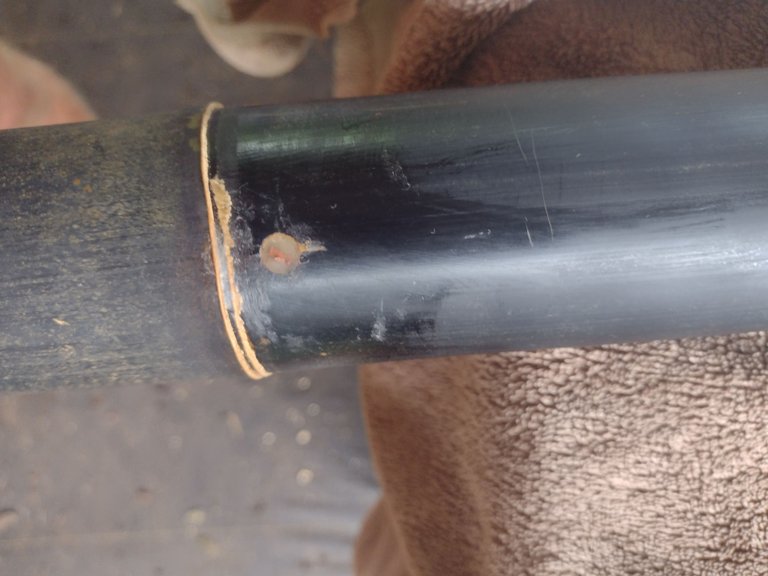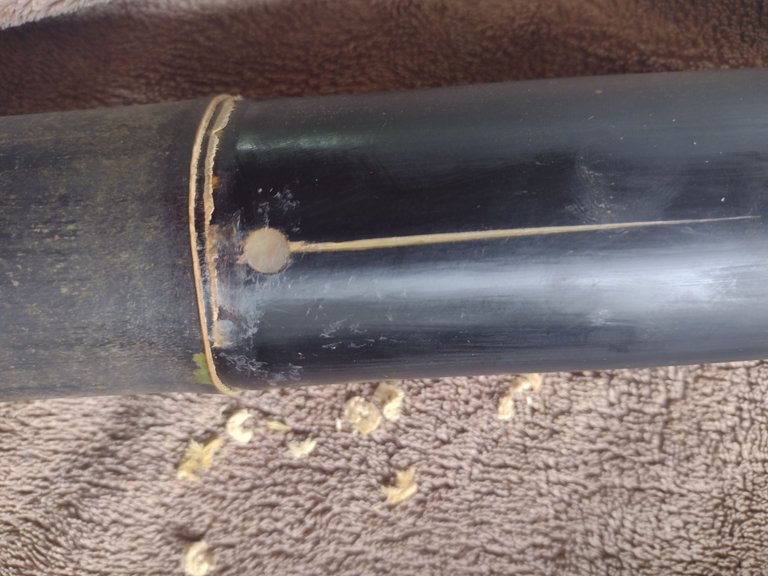 Due to the time it took to create one of these, I decided to leave the second one I had harvested, cleaned, and drilled, for another day. After all internodes had sufficient lava gravel and salt, and they were all sealed with a small pebble and bee's wax, and the wax was rubbed smooth, I gave the piece I had worked on one more good wipe down to make sure it was clean and looked good.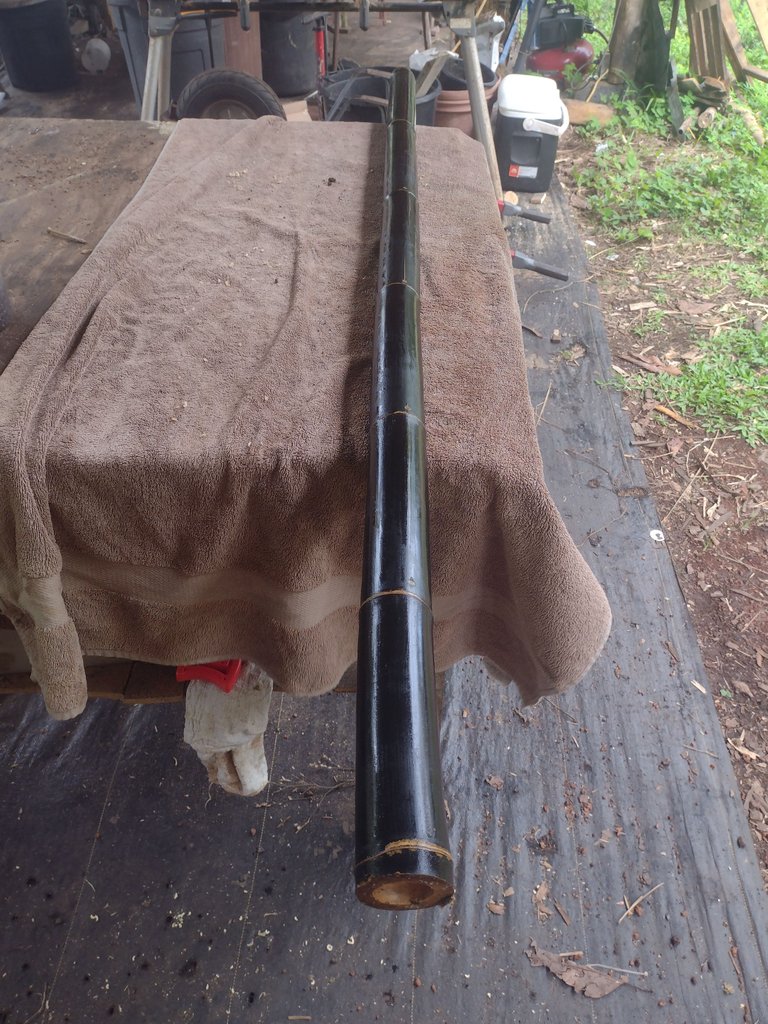 The last thing I wanted to do was to engrave Kaï's name on the piece. I used a large screw for this.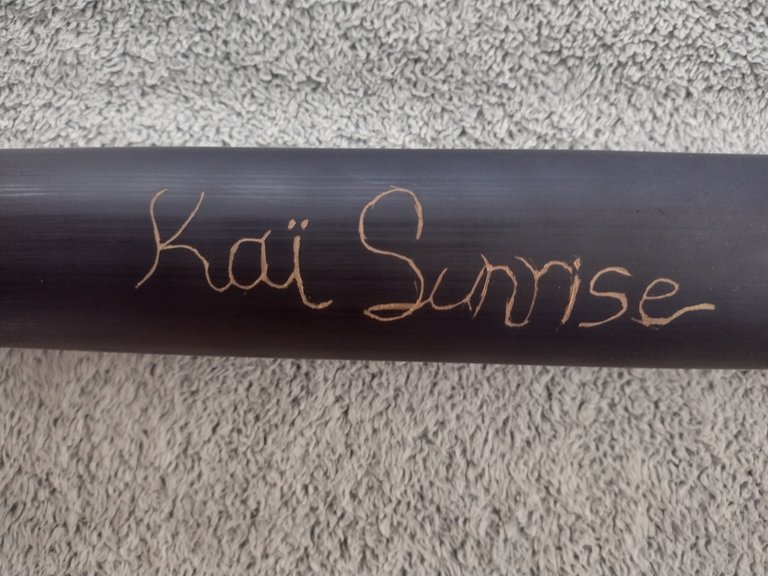 The day of Kaï's birthday, I wiped the piece down one more time with a rag to make sure it was ready to go. I then wrapped it in a large blanket to protect it during transport.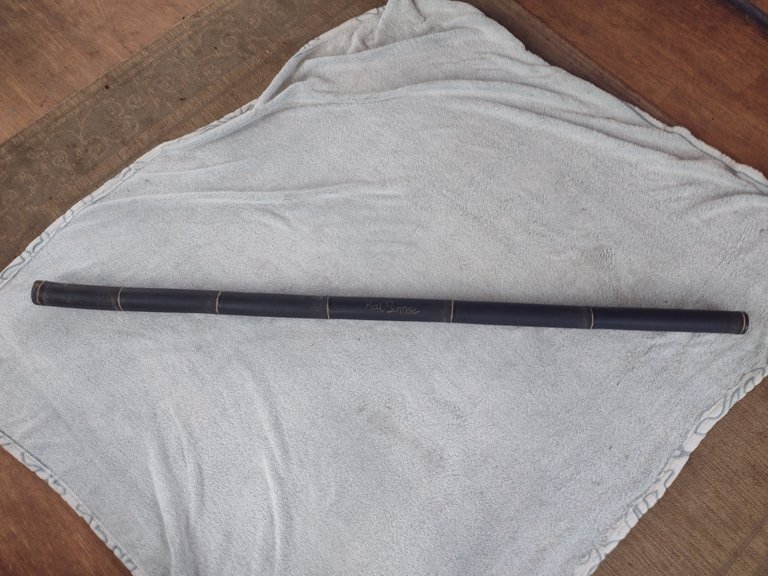 I gave this gift to Kaï yesterday, her birthday. To say she loved and appreciated it is an understatement. She seems rather enthralled by it. She calls it her dragon staff. Given that it has a good weight to it, she realized that she can use it for staff training and exercise, as well as musical or ceremonial use. I'll see her this weekend again, and I'll be sure to take of photo or two of her with her gift, then I'll edit this post to add it.
Thank all of you have read, viewed, and shared this labor of love with me. I hope I explained this process in an engaging manner, and that it perhaps nudges your own inspiration. 🙏 💚