I just updated Hive Punks to add a few helpful features.
Removed Infinite Scrolling
Added Pagination for Gallery & Market
Added All Punks button for Gallery & Market for previous behavior
Added My Punks button on market to find only your punks
Added Punk Counter on Gallery
Added Punk Counter on Market
Removing Infinite Scrolling
Infinite scrolling is pretty cool, it allows you to initially show a small number of items (10, 20, 50, 100) and then as people scroll down the page, it loads more items. I had this functionality for the Gallery, but I left the market loading all at once.
While all data has to be loaded to properly sort by rarity and price, the images don't have to be, so the only real benefit is reduce the initial loading of images. Each image is only about 2.5KB so they are not very demanding.
This feature didn't work for a very small percentage of people. It wasn't the final solution was just a temporary solution until some other updates were made.
---
Add Pagination for Gallery & Market
For most users, this isn't a big issue, as you may not have over 50 Punks. If you do however, you will now see your gallery loads 100 at a time and you can use the pagination controls to move through them.

The Punk market is pretty large with around 22% of the total Punks currently on the market.
I have always planned on having pagination on this page, and now we do. You will be able to flip through the market 100 Punks at a time.
Once filters are enabled, it will be much easier to find what you are looking for on the market.
---
Added All Punks button for Gallery & Market for previous behavior
Some people may prefer to load all Punks in their Gallery or Market at once, this button allows for that behavior. The market may take a few seconds to load, so only hit it once.
This button isn't for potato computers, only use it if you have a decent amount of ram and bandwidth to support it. It is however the same behavior the market had previously.
---
Added My Punks button on market to find only your punks
This feature I think everyone will be excited about. Want to find your Punks on the market quickly so you can cancel them and save them forever or update the price? This button will quickly load just your Punks on the market.

This feature is a huge time saver and I sorry it took so long to get around to it.
With this, you will also notice the total Punks you have listed on the market show up.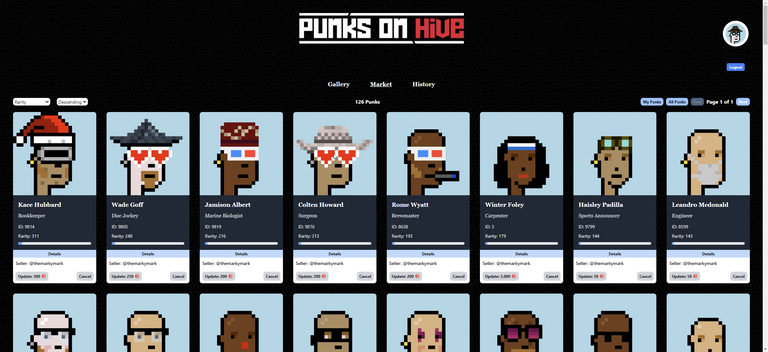 If you click on All Punks (and wait 2-4 seconds) you will be brought back to all Punks (albeit on one page). If you want paginated results, just hit F5.
---
Punk Counters
Finally I added a Punk counter to the Gallery and Market pages, this way you can quickly see how many Punks you have and how many are on the market. You can also click "My Punks" while on the market page and it will reflect how many Punks you have on the market. Small change but I think people will appreciate this.

---
What's next?
I still have lots of items I want to add to the Hive Punks site, but the two biggest features are Auctions & Filtering. There are a lot of other things I am thinking about and will let you guys know when they are live.
---
Want to share your ideas or talk about Punks? Join Blockhead Games Discord to get involved.
Don't forget to post your Hive Punks content in the Official Hive Community
@doze