---
Hello drone addicts, I bring you a unique post full of good shots and very interesting scientific information! and it is that Portugal not only has a unique variety of ecosystems but we can also get intact fossils that remain among the rocks for millions of years! Algar Seco is a coastal area within the district of "Faro" in the southern region of Portugal, very interesting for those who want to film with their drones and learn new things! I hope you enjoy my post!🧠🌊🤯
Hola adictos a los drones, les traigo un post unico cargado de buenas tomas e informacion cientifica muy interesante! y es que Portugal no solo tiene una variedad unica de ecosistemas si no tambien podemos conseguir fosiles intactos que permanecen entre las rocas por millones de años! Algar Seco es una zona costera dentro del distrito de "Faro" en la region sur de Portugal muy interesante para quienes quieren hacer un filmaje con sus drones y aprender cosas nuevas!! espero que disfrutes de mi post!🌅🛫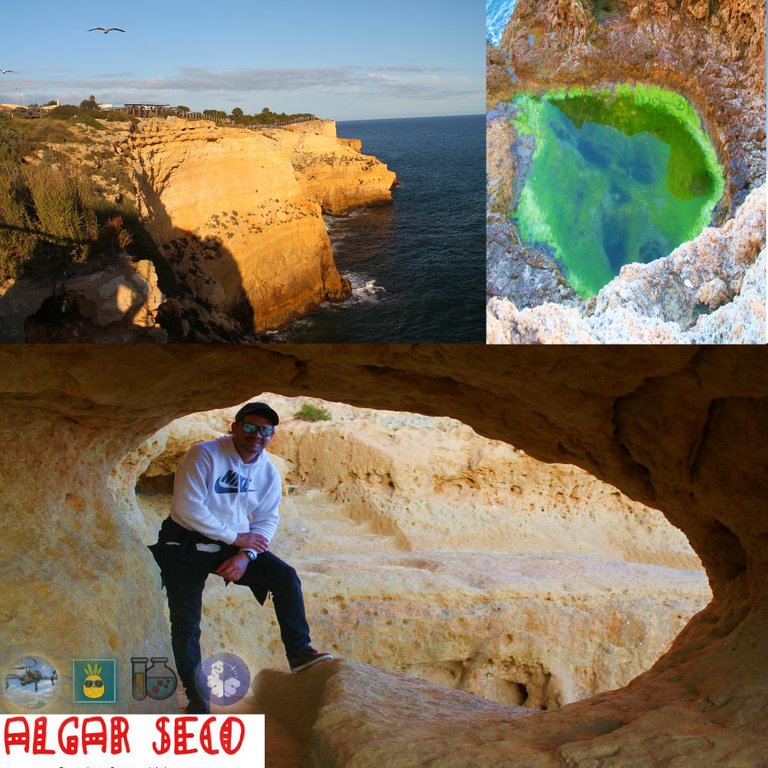 UNIQUE ROCK FORMATIONS🛫👨‍🏫/FORMACIONES ROCOSAS UNICAS🧠🕵️‍♂️
I gave my Mavic free rein and started flying over this beautiful rocky coastal ecosystem, but my adventure didn't end there...no no no!! I had that need to study in more depth the mysteries that surround the "Algar Seco" and my search would have good results because I discovered very interesting things! first of all the rocks made of granite! This material is easily eroded and that is why we see different rock formations within "Algar Seco", and we are describing millions of years of erosion, basically the waves of the Atlantic hit the granite rocks forming "caves".🌊🌊
Le di rienda suelta a mi Mavic y comence a volar sobre este lindo ecosistema costero rocoso, pero mi aventura no terminaba alli...no no no!! tenia esa necesidad de estudiar con mas profundidad los misterios que envuelve el "Algar Seco" y mi busqueda tendria buenos resultados porque descubri cosas muy interesantes! primero que nada las rocas hechas de granito! este material es de facil erosion y por eso vemos distintas formaciones rocosas dentro de "Algar seco", y es que estamos describiendo millones de años de erosion, basicamente las olas del atlantico golpean las rocas de granito formando "cuevas". 🧠📚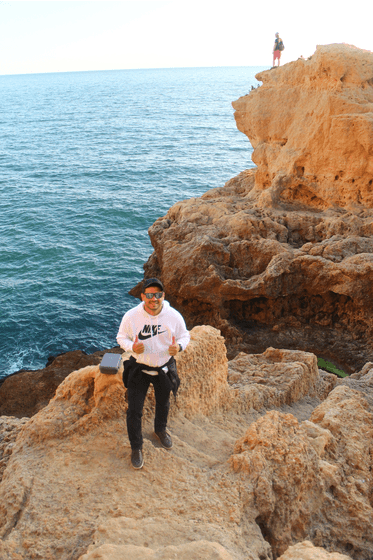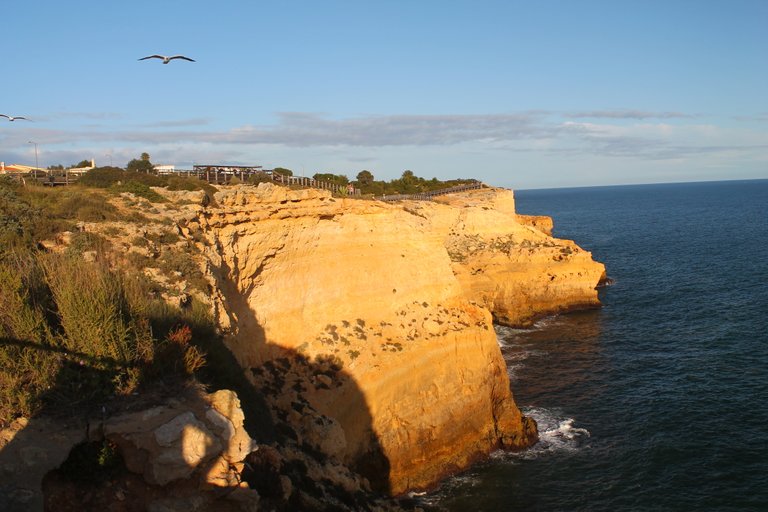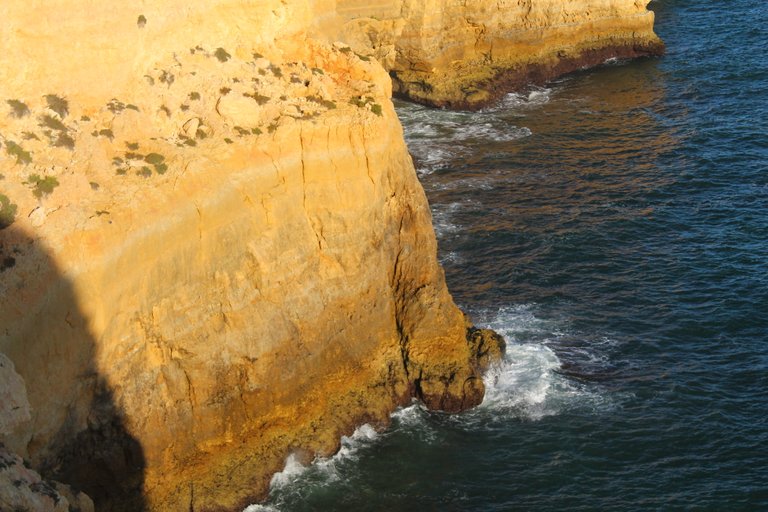 Despite being a very touristic area due to its beautiful beaches, these rocks keep a very interesting secret!!! and it is that you can see remains of invertebrate fossils dating back more than 24 million years! It is estimated that they were from the "lower Miocene era", this landscape has a scientific term: it is known as "karst landscape" in short, they are formed by the degradation of sediments that are sculpted by the beating of the waves!🧠🌊
Apesar de ser una zona muy turistica por sus lindas playas estas rocas guardan un secreto muy interesante!!! y es que puedes ver restos de fosiles de invertebrados que datan de hace mas de 24 millones de años! se estima que eran de la "era mioceno inferior", este paisaje tiene un termino cientifico: se le conoce como "paisaje kárstico" en resumen se forman por la degradacion de sedimentos que son esculpidos por el golpeo de las olas!👨‍🏫😮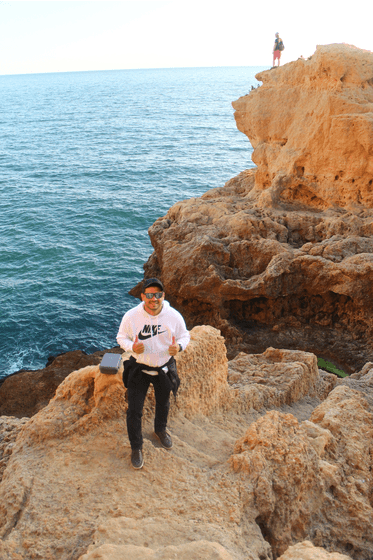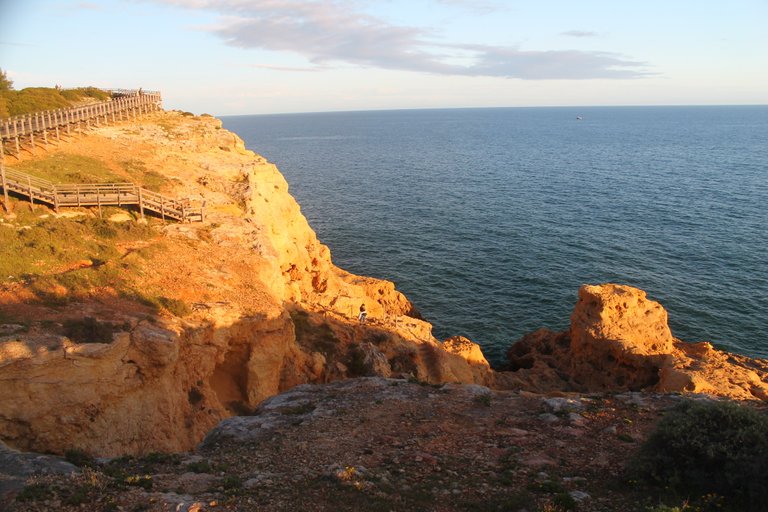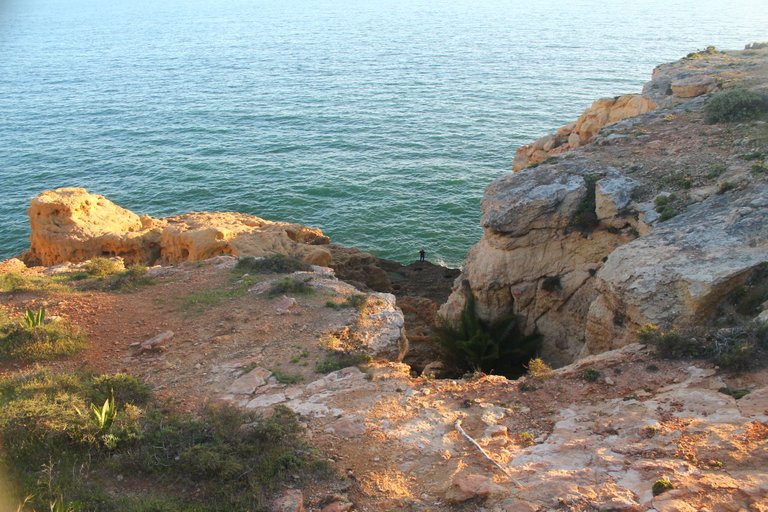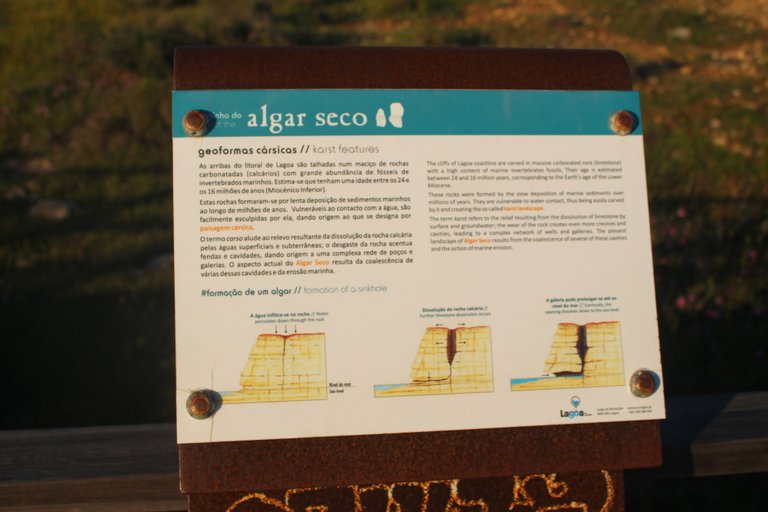 Wait... There's still an interesting fact!! Not only does the erosion of water against the rock form surface caves, but also a formation of submerged or marine caves occurs, and "Algar Seco" is known to have an underground gallery formation that extends for many meters! creating very interesting isolated marine ecosystems!💥🧭
Espera... Aun hay un dato interesante!! no solo la erosion del agua contra la roca forman cuevas superficiales, tambien ocurre una formacion de cuevas sumergidas o marinas, y "Algar Seco" es conocido por poseer una formacion de galerias subterranea que se extiende por muchos metros! creando ecosistemas marinos aislados muy interesantes!🌍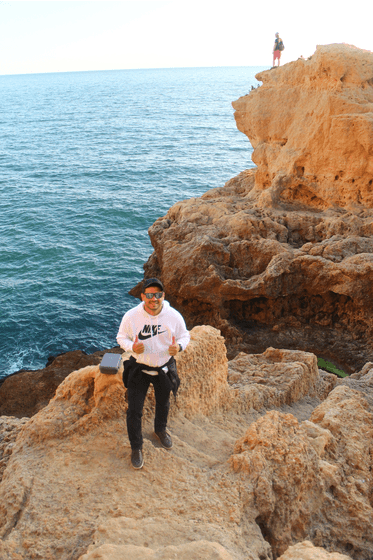 BIODIVERSITY🛫👨‍🏫/BIODIVERSIDAD🧠🕵️‍♂️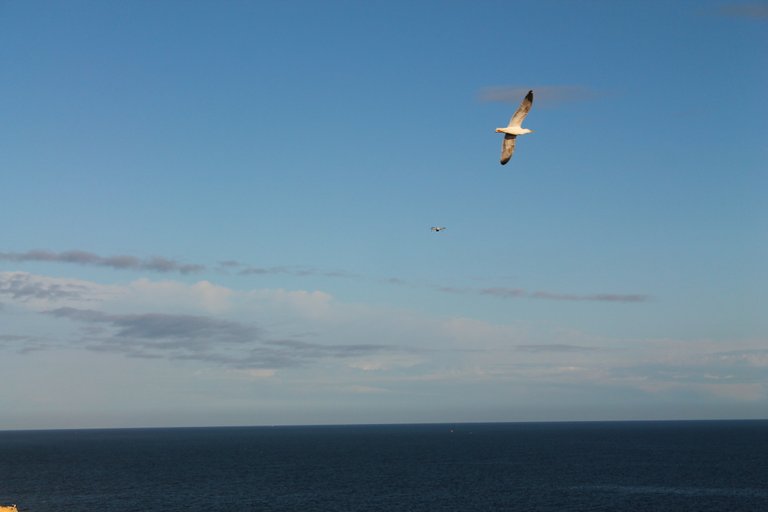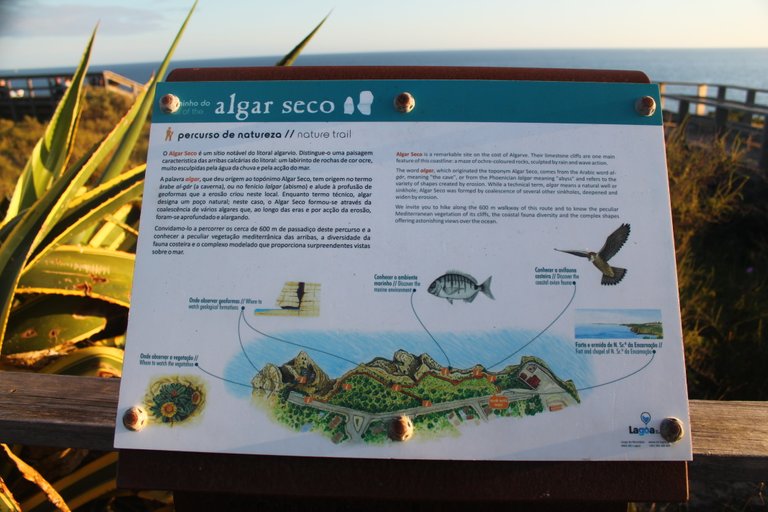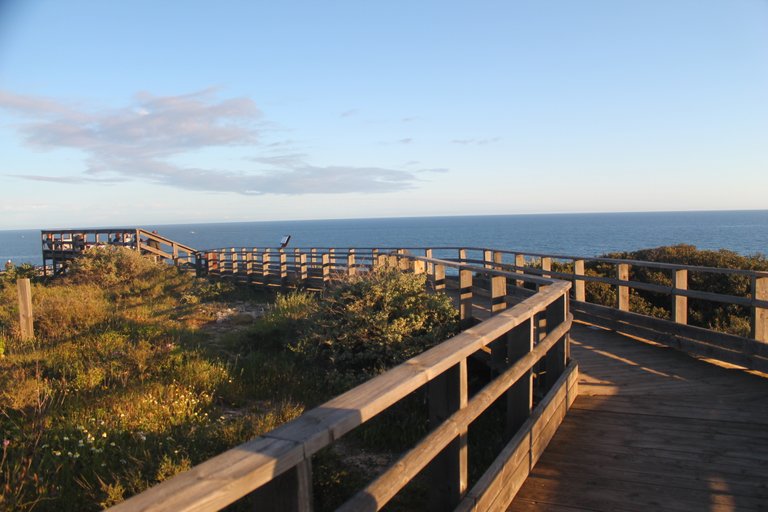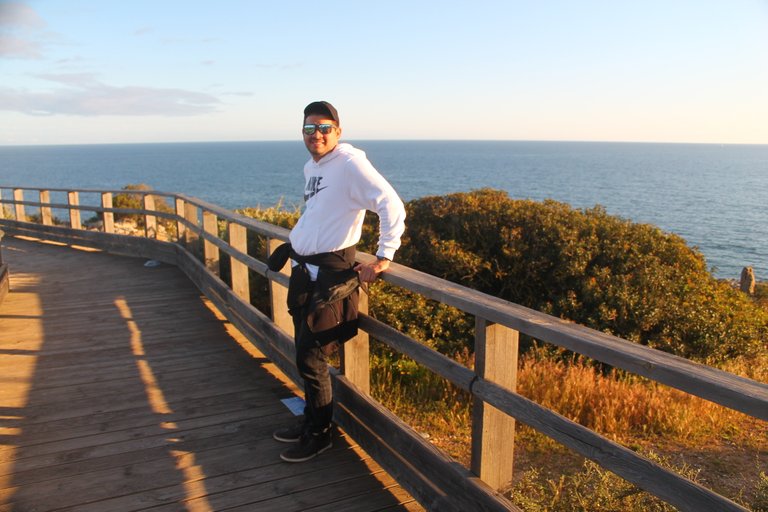 This area is very famous for the great biodiversity of biological life that we can find here! seabirds abound such as seagulls, shorebirds, swallows, some Phalacrocoracidae, among the marine animals that stand out in "Algar Seco" predominate: "Diplodus sargus, Sygnathus sp, various types of anemones, starfish, many varieties of lizards, insects and spiders! All this biodiversity comes together to create a unique ecosystem in Portugal!🧠🌍
Esta zona es muy famosa por la gran biodiversidad que podemos encontrar aqui! abundan las aves marinas como gaviotas, aves limicolas, golondrinas, algunas Phalacrocoracidae, entre los animales marinos que se destacan en "Algar Seco" predominan: "Diplodus sargus, Sygnathus sp, varios tipos de anemonas, estrellas marinas, muchas variedades de lagartos, insectos y arañas! toda esta biodiversidad de juntan para crear un ecosistema unico en Portugal! 🦉🦅🐠🦐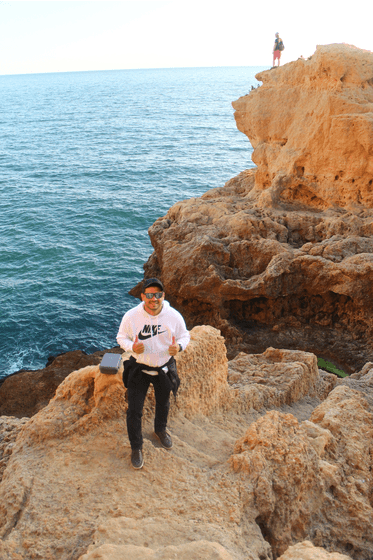 GO MAVIC🛫👨‍🏫/VE DRONE MAVIC🧠🕵️‍♂️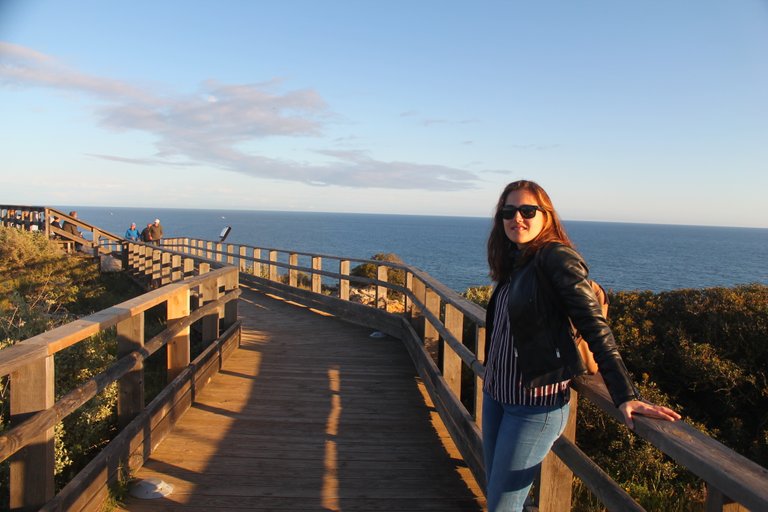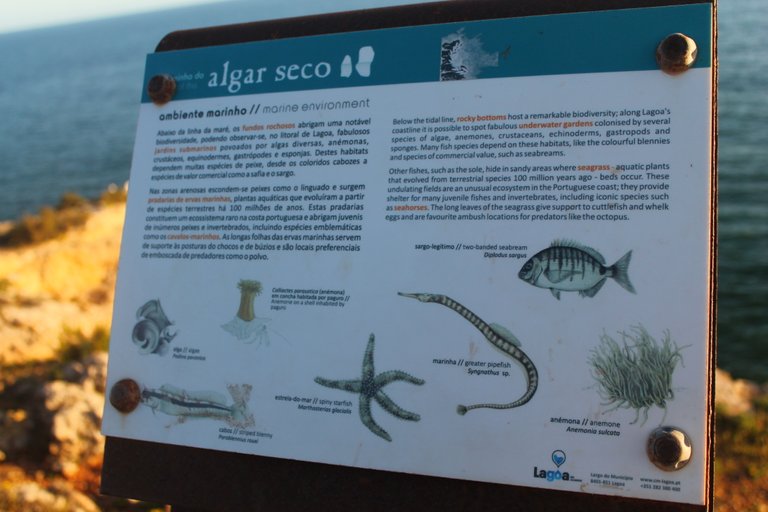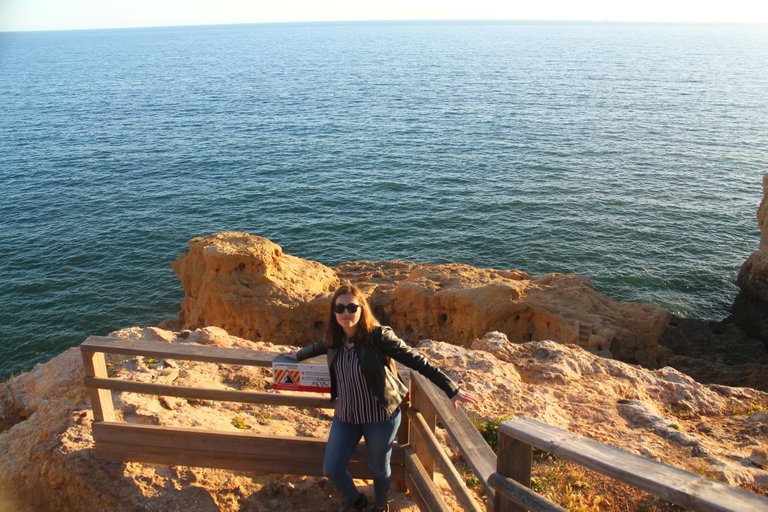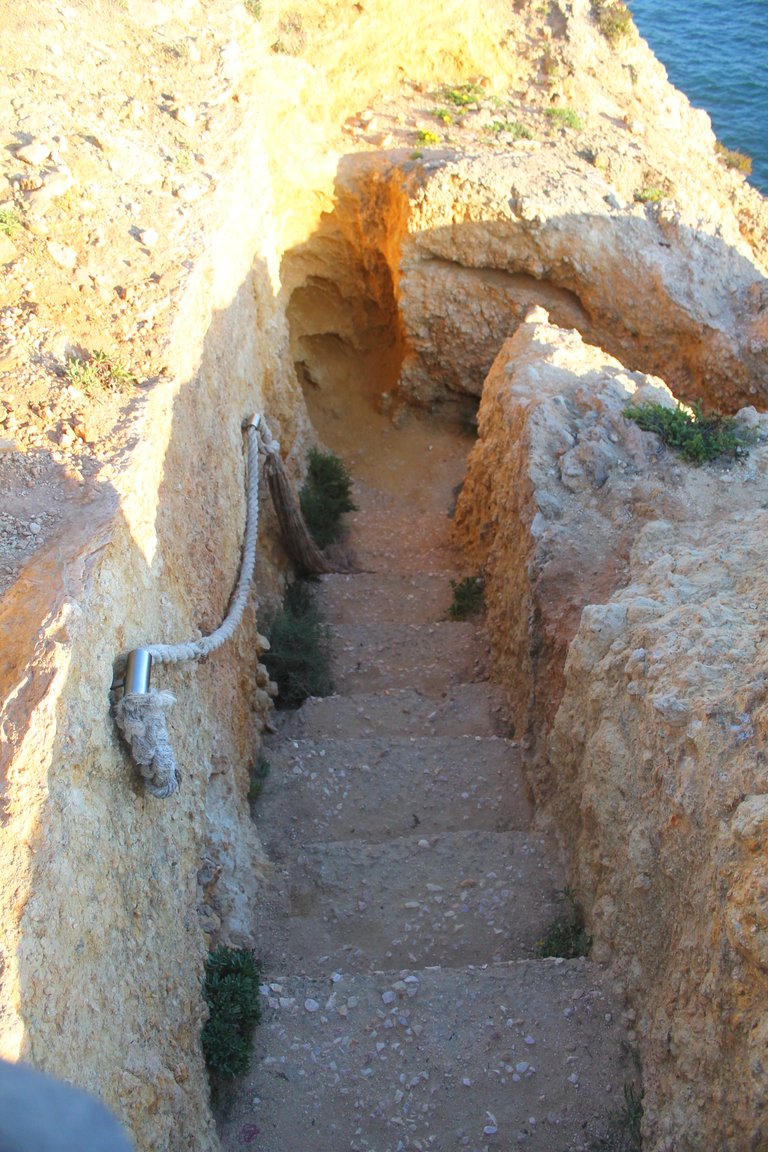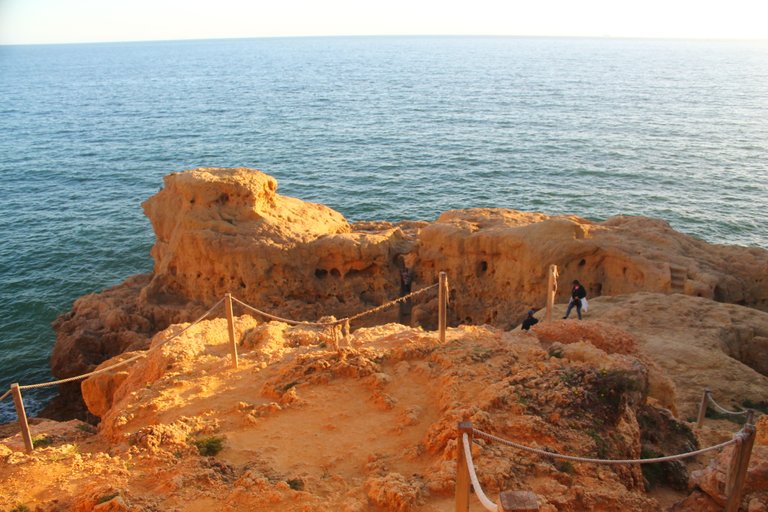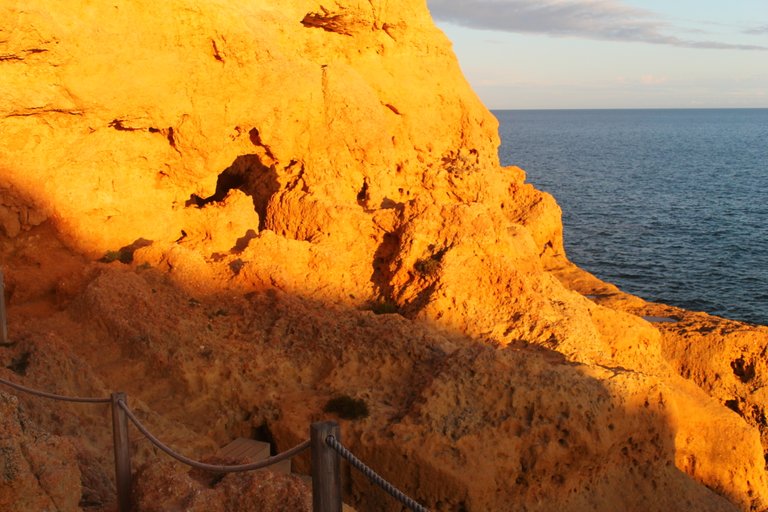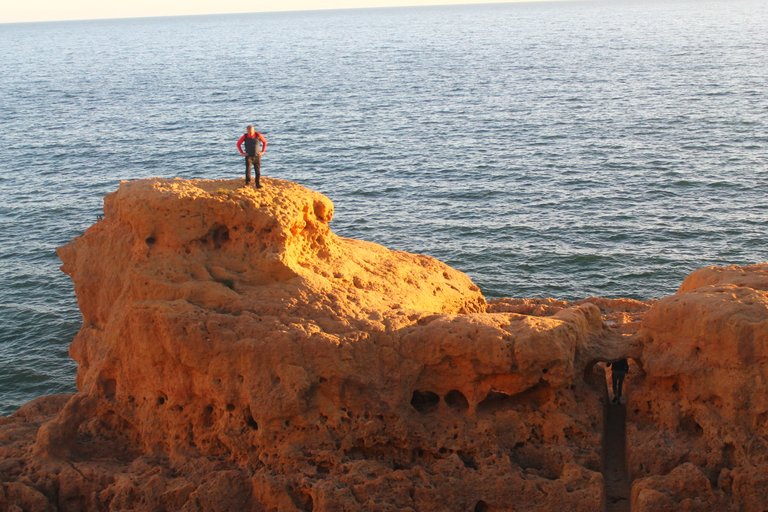 One of the best areas to fly your drone! You do not need a permit since it is allowed to fly up to a maximum of 30 meters in height, taking advantage of the fact that it is not yet summer you will not have a problem with crowds of people! I thought it was a great experience because with the drone you can film and see things that are hidden from view!🙂😏
Una de las mejores zonas para volar tu drone! no necesitas permiso ya que es permito volar hasta un maximo de 30metros de altura, aprovechando que aun no es verano no tendras problema con multitudes de personas! me parecio una gran experiencia porque con el drone puedes filmar y ver cosas que estan ocultas a nuestra vista😝😎!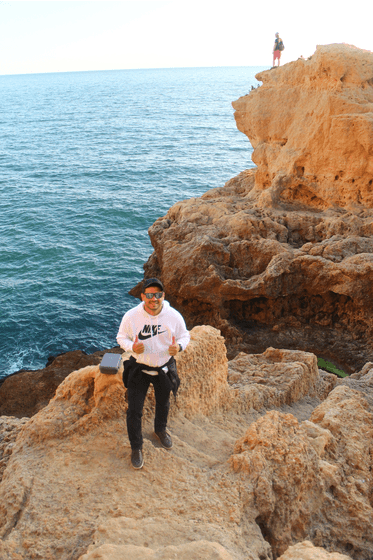 MARINE POOLS🛫👨‍🏫/PISCINAS MARINAS🧠🕵️‍♂️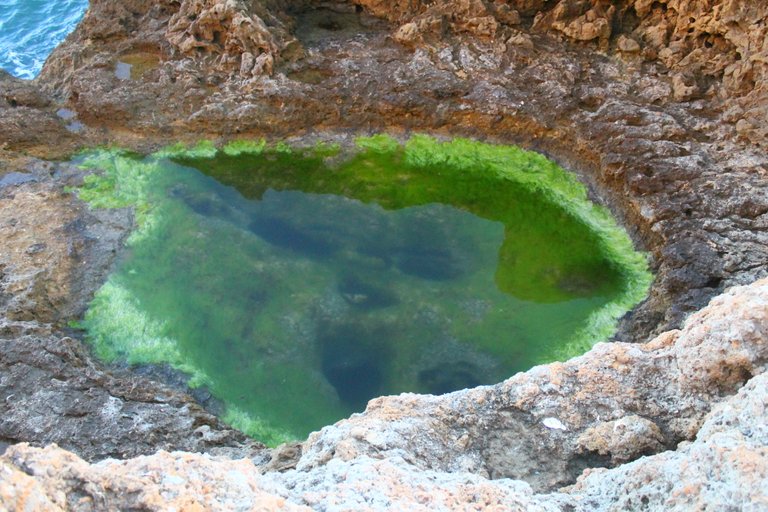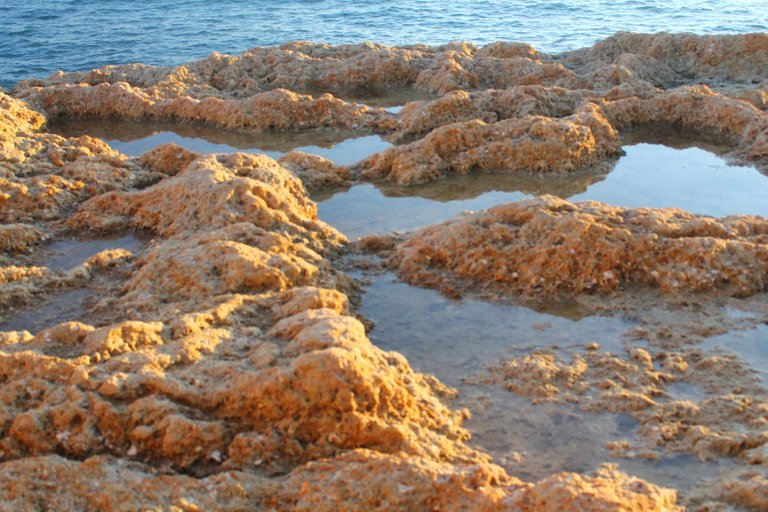 To an ordinary eye these are "saltwater wells" but in ecology marine pools are isolated "mini" ecosystems where many microorganisms develop because they are stagnant water, and at the same time some invertebrates that are part of the food chain are trapped. of the "Algarve Seco" ecosystem🤔😮
Para un ojo ordinario estos son "pozos de agua salada" pero en ecologia las piscinas marinas son "mini" ecosistemas aislados en donde se desarrollan muchos microorganismos por ser aguas estancadas, y al mismo tiempo quedan atrapados algunos invertebrados que forman parte de la cadena trofica del ecosistema de "Algarve Seco"🤯🌅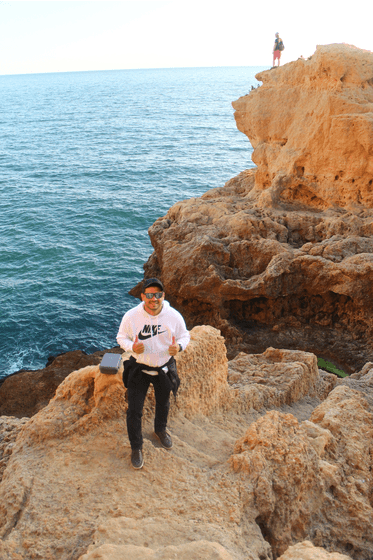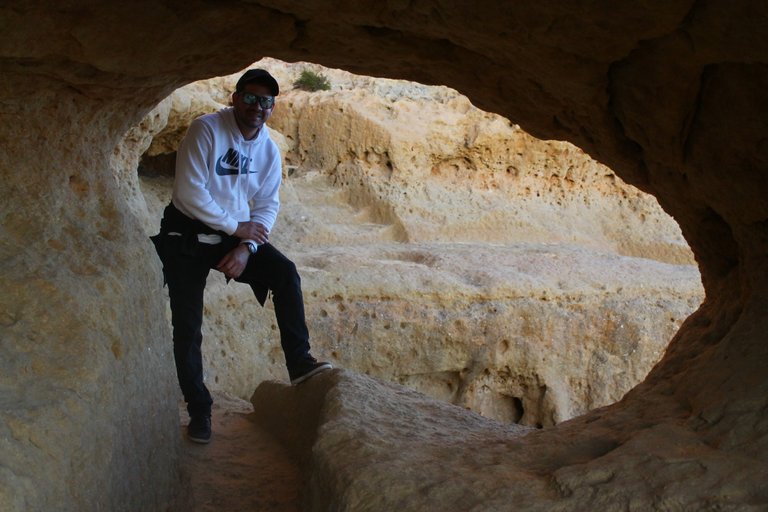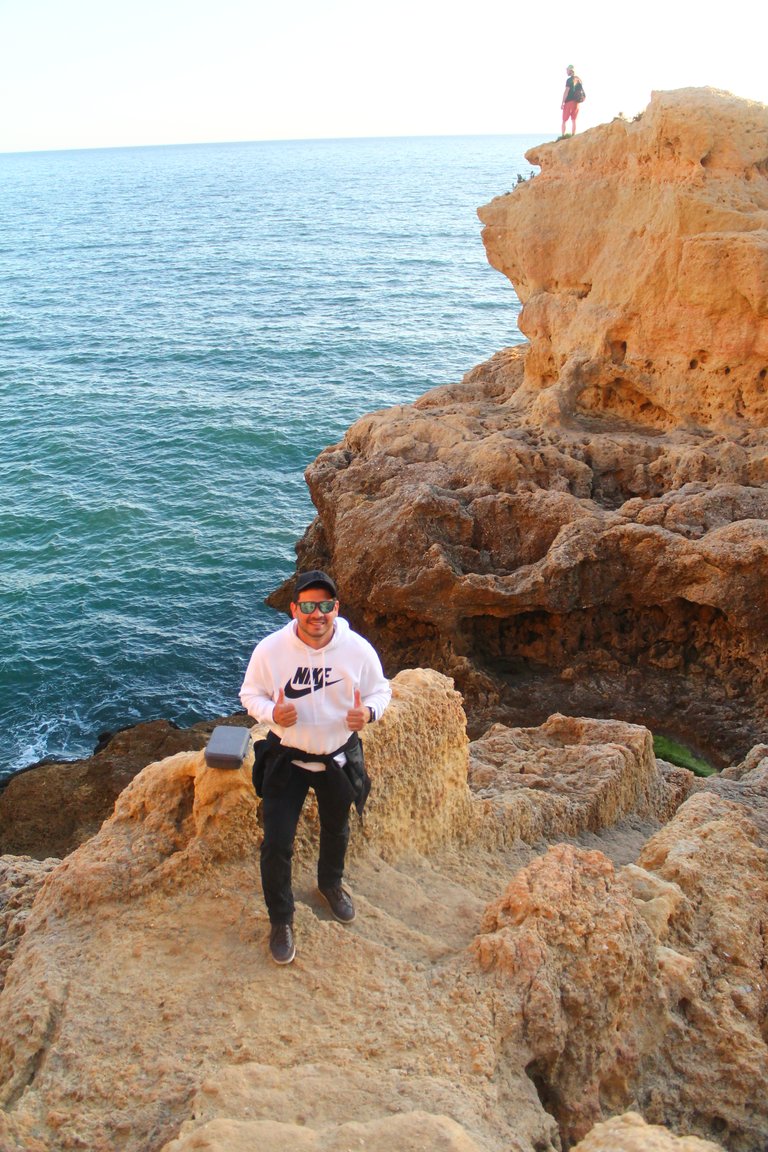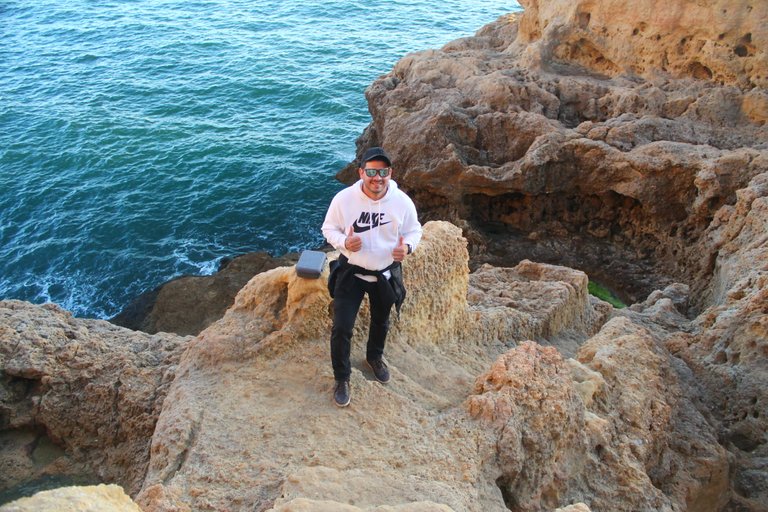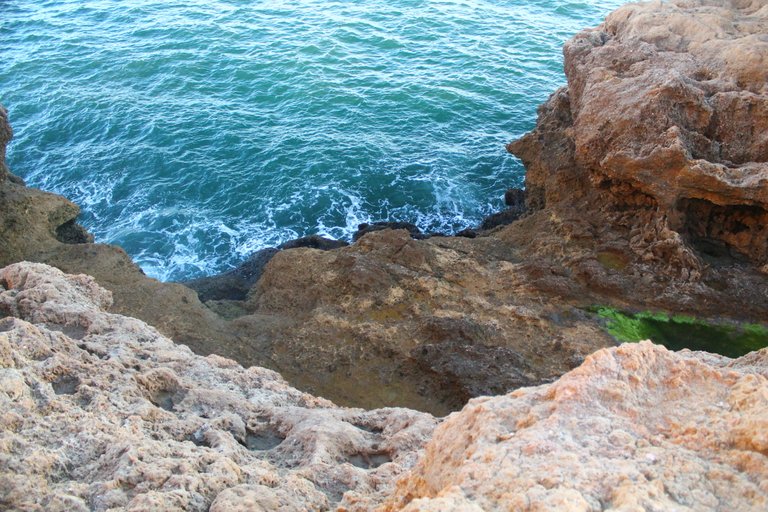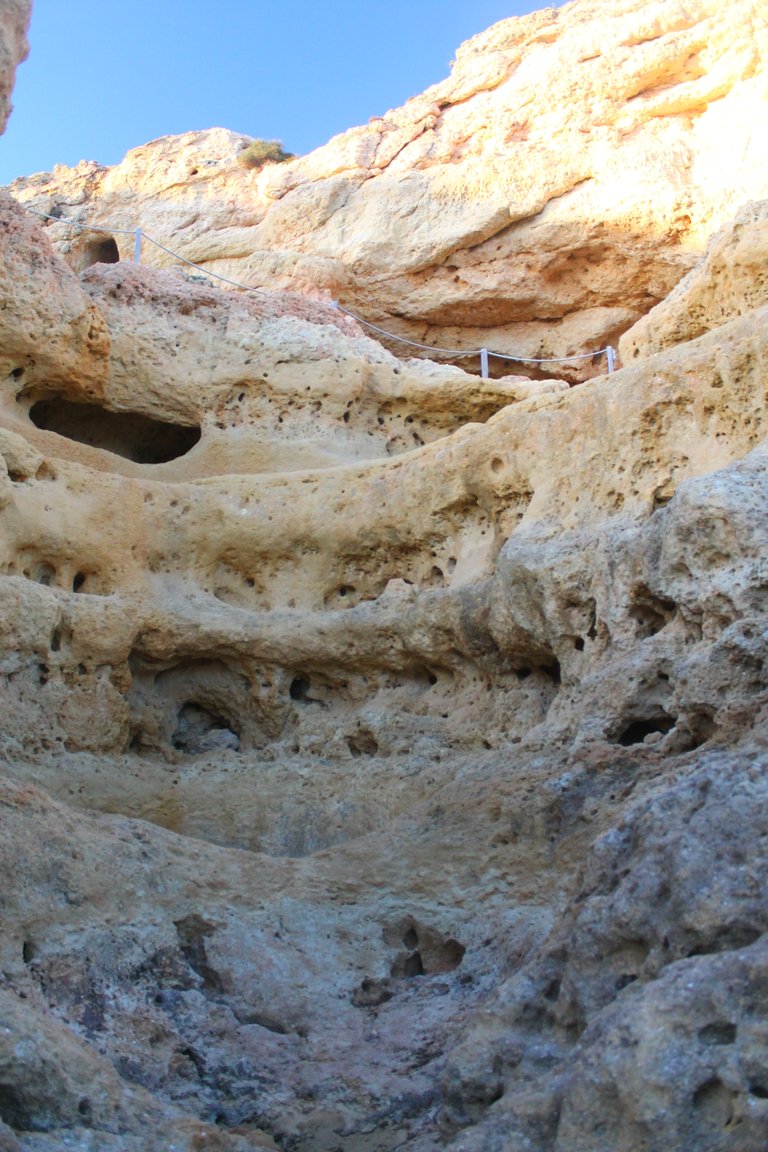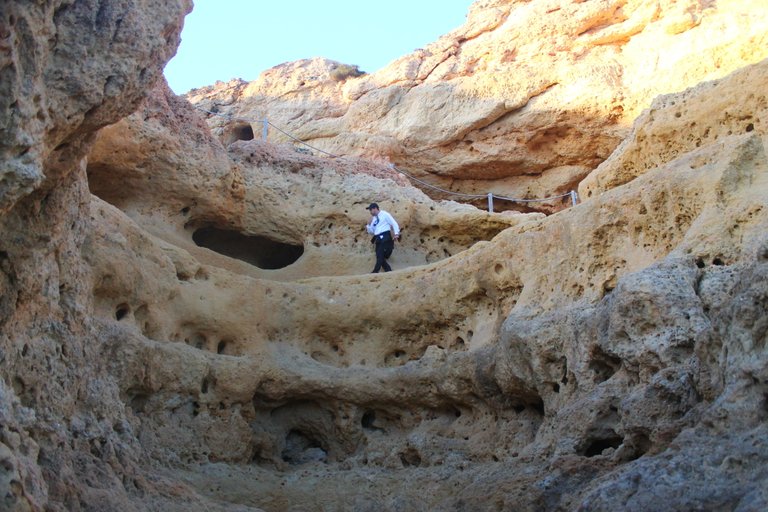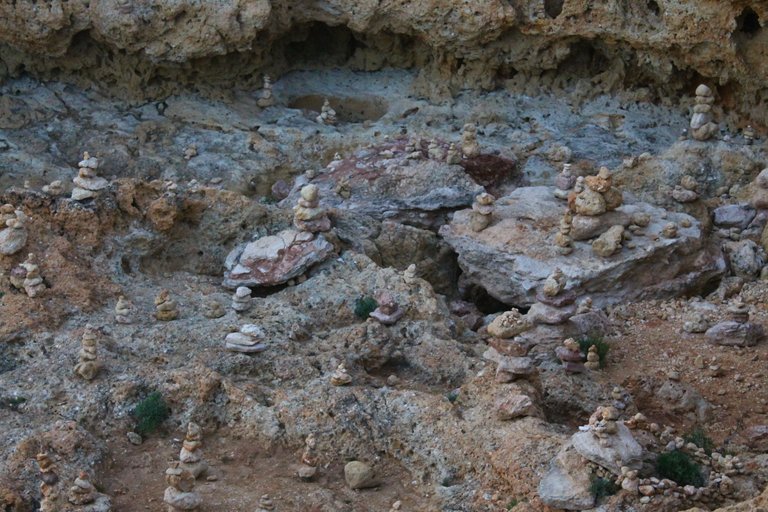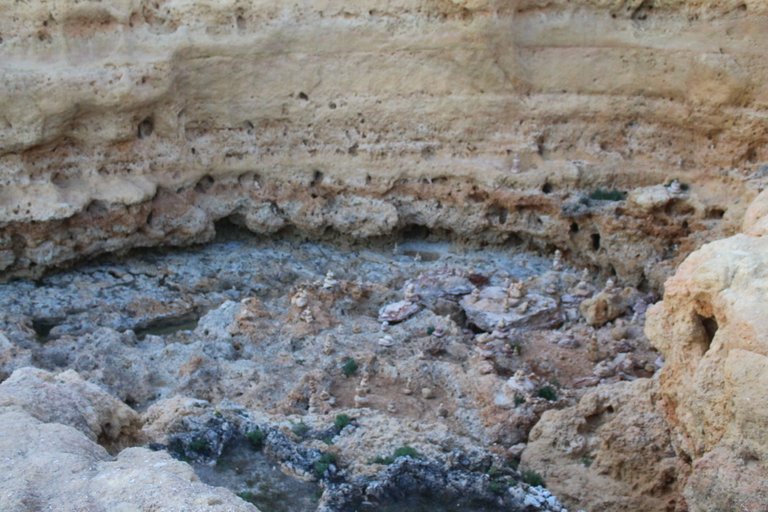 What can I say... It was a beautiful experience, enjoying the sunset is one of the most beautiful things on our planet! I learned a lot about this site, I was able to practice with my drone! "Algar Seco" is a place you must visit if you come to Portugal!🌍🌅
Que puedo decir... Fue una hermosa experiencia, disfrutar del atardecer son una de las cosas mas lindas de nuestro planeta! aprendi mucho sobre este sitio, pude practicar con mi drone! "Algar Seco" es un sitio que debes visitar si vienes a Portugal!🚙🚩🧭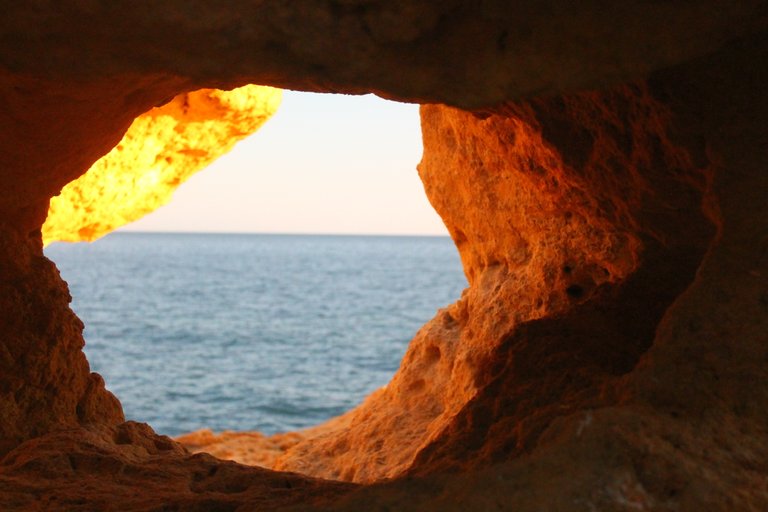 DNA is an organization to foster and DENSIFY NATURE-APPRECIATION which aims to establish REPORTS OF BIODIVERSITY DATA that is contributed by all of us Hiveans and subsequently cataloged.
Therefore DNA searches for HIGH-QUALITY posts that aim to DESCRIBE and determine the BIODIVERSITY AROUND YOU with added EXPLANATIONS and INFORMATION. For these informative posts they offer a CURATION SERVICE using the @dna.org account. It is also a CURATION TRAIL. Just add the #dna TAG if you think that any of your posts is what they are looking for.
GRACIAS POR LEERME / THANKS FOR READING ME (PHOTOS OF MY PROPERTY)🙂🧠🦾👍
bibliographic resources:
https://es.wikiloc.com/rutas-senderismo/trilhos-do-algarve-promontorios-algar-seco-e-7-vales-suspensos-35317856 (for the video)
The text is a mixture between my scientific knowledge and the information that the site shows
Music: *Música De Fondo Para Videos Y Presentaciones Corporativas I Deeper por e-soundtrax (320 kbps) *
---
▶️ 3Speak