I recently posted some other drone pics of the Fall leaves, but this one is special. It's a 360 Panoramic view from my Drone, which is actually a compilation of 25 individual pictures.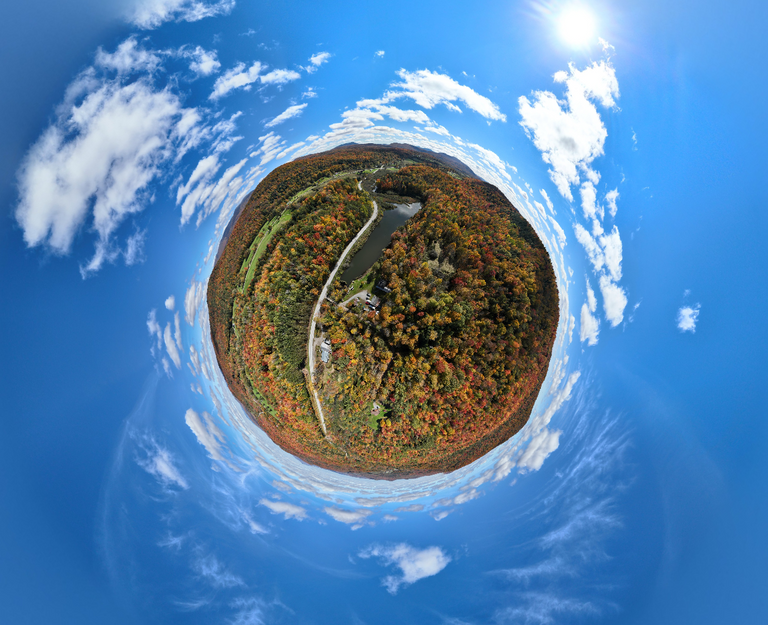 Here is the "Tiny World" shot. I think these are really cool. The bang comes from the compilation, which allows you to use the mouse or your finger on phone to spin around, look up, look down basically control the view to look in any direction. This requires viewing in an app or website designed to display it properly.
Now, if you click on this link for SkyPixel, it will give you a 360 Panoramic view you can "drive around" in.
https://www.skypixel.com/photo360s/k-360pano-bakersfield-2022-10-08-lowres2
If you enjoy that, you can also see the spring/summer view here:
https://www.skypixel.com/photo360s/brownspond-360-2022-06-26
Or the Winter view here, which is VASTLY different look. Hard to believe it's the same spot.
https://www.skypixel.com/photo360s/bakersfield-vt
Most of the DJI Drone series, including my Mavic 3 have some special "master shot" modes and special 180 horizontal, 180 vertical, and 360 panoramic modes. In this mode, you just need to hover, push a button, and they automatically shoot the required frames for you (25 for the 360 pano) and then stiches them together. Some pros like to do the stitching manually in post-production app, but the auto-stitching works fine for me.
Perhaps our wonderful Hive Devs will bring us some direct functionality to upload 360 pics directly in the future, but until then the links should work.
Don't forget to join our community for more great pics like this!
Don't have a drone? That's ok, join our community just to see all the great posts and support our folks that are posting or to learn more before you buy!
Tell your friends and join our community!
@Ecency link:
https://ecency.com/created/hive-186141