Read "Coronavirus update in South Africa – the calm before the storm" on TravelFeed.io for the best experience
---
Greetings fellow travelers and welcome to this special #covid-19 edition of The Shape of The Cape with your host Julescape. Whether at home or on the road traveling, we are all subject to the current coronavirus pandemic. The entire planet is under attack from one of the most virulent global virus breakouts – perhaps in our lifetimes so far. The knock on effect, even if we don't catch the virus, appears to be devastating to the global economy.
One of the worst victims is the travel industry, with a shut down or travel ban in place for some countries. Some nations have shut their borders, but some remain open to travelers. Here in sunny South Africa we have some protocols in place for this pandemic, as the president appeared on local television three days ago to address the nation about it.
https://www.youtube.com/watch?v=fQ17uoiJuMg
For example, as South Africa enters the over 100 club of known patients with the virus (on par with Taiwan) there is a ban on travelers coming from the high risk countries now in place here from today. I presume that means Italy, South Korea and of course China. Schools have prematurely all been shut down, a week before the holiday, which will extend through to mid April, longer than usual.
There is no quarantine yet, so we're moving around freely, but gatherings of more than 100 have been prohibited. I wonder what that implies, because you may find 100 people in a shopping mall or supermarket too? I'm concerned even to go to the stores, as no one is wearing a mask anywhere that I have seen in the country so far.
I was in Cape Town three days ago on my travels, and there are no masked faces. Here back on the Garden Route, about 600km to the east of Cape Town, I see no masks at all. People here seem complacent, suspicious of the pandemic narrative, and basically less concerned, saying things like "masks won't help you so don't bother".
In the photos here you can see the backpacker's I visited, a prime location at one of the beaches, which I would recommend...at a better time in history. It coincidentally happened to be a Corona beer establishment, so was plastered all over with the name, most ironically.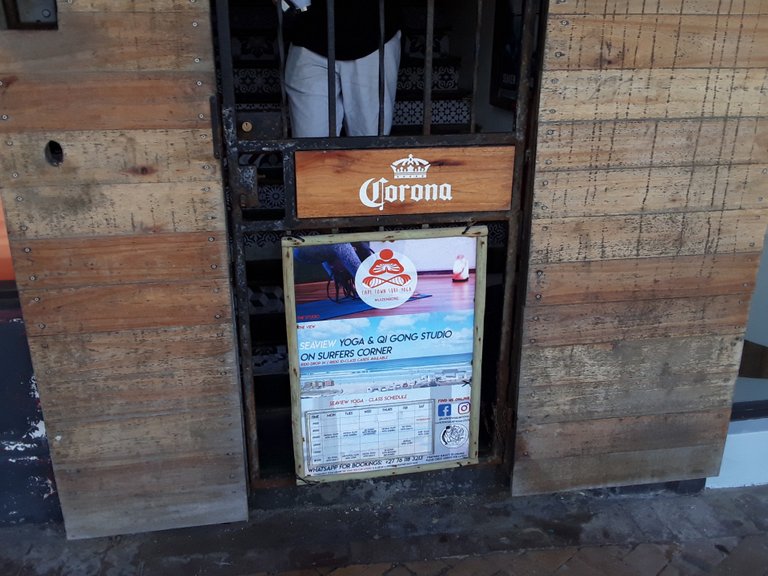 In other words there is a lot of uncertainty, denial, confusion and mixed messages. I presume it depends on the information individuals are hearing. You may want to visit sunny South Africa now as it is still warm and pleasant at the end of summer, but remember that our health facilities are very third world and poorly. You will catch more disease in the public hospital than anywhere else.
Also we're a poor country overall, with the mass of people living in shacks extremely close to each other, with little possibility for self-quarantine and a high chance of contagion due to poor hygiene. As much as I love to promote South Africa and particularly the Garden Route on the south Cape coast of Africa, now might not be the best time to visit. In fact now is not the time to travel anywhere in my opinion.
As winter approaches the south now, we may be in for a more challenging time too. The virus may be less virulent in summer but as winter brings the colder weather, it could increase the chance of spreading. I wish I could say it's all fine, but I can't. Although I am healthy and I haven't seen anyone with the virus, or any sign of it, still the rumor and concern is rampant.
I heard a local man on the radio today who had the virus, contracted due to international travel for work recently. He was actually quite fine and well, but told of how the symptoms of dry cough, slight fever and sore body came and went during the course of a day, which lasted some days. He had been overseas for his company, and on returning with the virus, they told him to stay home from work. So if you're healthy, you will get it and recover easily. But because it is so contagious, you could transmit it to an elderly relative or friend and they could die from the pulmonary complications due to the virus.
Travelers are most at risk, along with the elderly. Airplanes and air conditioned trains are a risky place, as well as airports, since the virus lasts so long on surfaces and thus spreads so easily. I would recommend staying where you are as a traveler, or staying home for a month or two, and then re-evaluate. Some patients recovered only for the symptoms to return days later, so we are doing the entire world a favor by staying home and not risking the chance of contracting the virus or being a super spreader with no visible symptoms.
If you want to know more, or wish to tell your own personal story from your country, then please fell free to read and add to this post here:(https://steempeak.com/hive-184437/@invisusmundi/coronavirus-situation-in-your-country). We all need to be informed and to hear from others on the ground, so that we can get a clearer picture.
---
View this post on TravelFeed for the best experience.