Most of you reading this are in the U.S. like myself. As all humans do, we tend to focus most on the matters of our nation. Here on The Periphery, for example, I look at social issues such as homelessness and crime, and shine a light on corners of the country such as Alaska. Naturally, this local-focal tendency has only increased during this isolating 2020 (with dramatic unrest and a presidential election to boot).
But as we also know, The Periphery is a global community. And in these isolating times, isn't the need to offer outside perspectives ever greater?
In this spirit, I just published my interview with Mindy Hu (link below).
I met Mindy in 2017 in Seattle. She had since moved to Shanghai. And now just recently, she has settled in Bali, Indonesia.
A move to another country during a pandemic?!
Yup. And check this out: She showed me a photo inside the coffee shop where she chatted with me: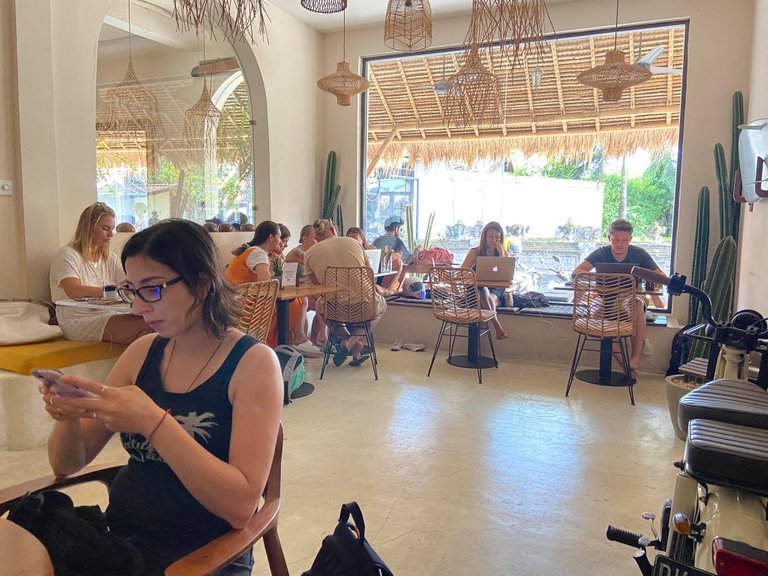 Hmmm. Busy, no masks, and full of Westerners in this Asian land
We forget there are other worlds out there. I always like to remember this (and remind others of it, too.) The broadened perspective is healthy. For this interview, Mandy is the good doctor prescribing such a perspective.
Watch our interview here:

We talked about life in Bali and her becoming a digital nomad.
We shared our thoughts on COVID-19 and the measures being taken around the globe.
And lastly, she introduced the main reason for the interview: the amazing new phone app Mindy has created.
She calls the app Peewee.
This app allows you to record yourself narrating an illustrated fairytale that you can then send to a wee one in your life. I recorded a few myself, and my niece, nephew, and friend's kids really enjoyed them.
To learn more about the app and download it to your phone, go to https://www.Peeweeapp.com.
Or, to learn more about it while seeing it demonstrated, here is that segment of the interview:
watch here:

I also segmented our discussion about COVID-19 (the most popular of these segments on YouTube) as well as our chat about digital nomad life:
watch here:

While opening the door to a global perspective, Mindy offered this app connecting people from the furthest corners of the world. And she does so during this isolating time--AND during the holidays!
This all seemed rather fateful.
I hope you enjoy my interview with Mindy.
I hope you can try out Peewee app.
-Brandon