Hi, fellow readers on Hive
Hola, amigos de lectores en Hive.
Today I bring a review about a book on psychology. It is 50 Great Myths of Popular Psychology: Shattering Widespread Misconceptions about Human Behaviour by Scott O. Lilienfeld, Steven Jay Lynn, John Ruscio and Barry Beyerstein. This book demystifies many absurd beliefs about the human mind and behavior that are deeply embedded in popular culture through movies, television, the internet, and the occasional urban myths.
Hoy traigo una reseña sobre un libro sobre psicología. Se trata de 50 Mitos sobre Psicología Popular: Las Ideas Falsas más Comunes sobre la Conducta Humana de Scott O. Lilienfeld, Steven Jay Lynn, John Ruscio y Barry Beyerstein. Este libro desmitifica muchas creencias absurdas sobre la mente y el comportamiento humano que están muy arraigadas en la cultura popular a través del cine, la televisión, internet y uno que otro mito urbano.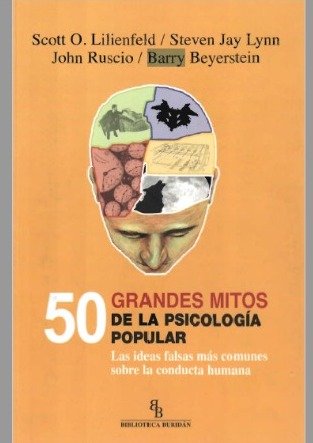 I must say that I only have photographs with my PDF version since I do not have the book in physical format.
Debo decir que solo tengo fotografías junto a mi versión en PDF ya que no cuento con el libro en formato físico.
Here I was trying to take a pic with my pdf but it was almost impossible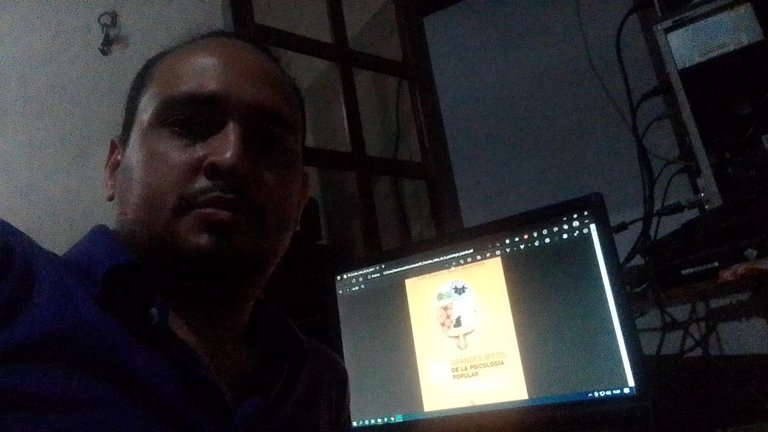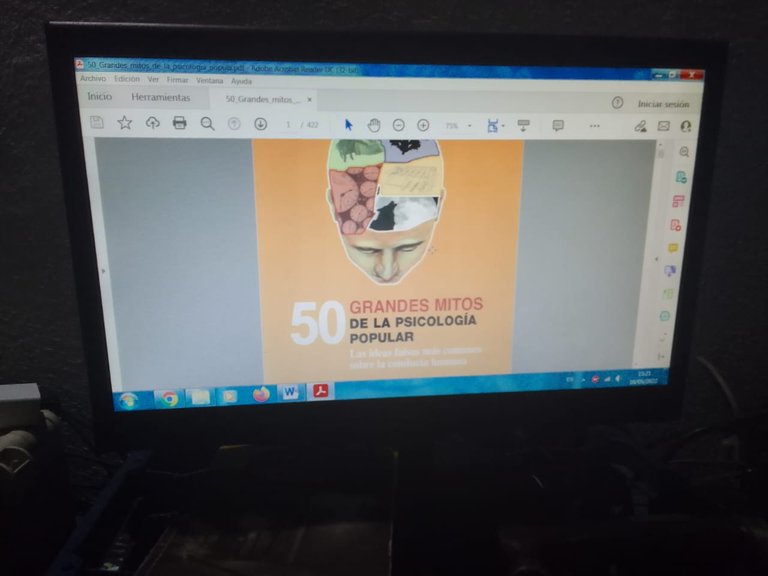 The book is written in quite accessible language to any ordinary reader who has some interest in the study of psychology or just wants to know a bit more about the topic. You do not need to have a specialized vocabulary to be able to understand what the authors are referring to.
El libro está escrito con un lenguaje bastante accesible para cualquier lector común que tenga algo de interés en el estudio de la psicología. No necesitas poseer un vocabulario especializado para poder entender lo que los autores refieren.
It is not just a book that shows why these beliefs are false, but also gives us tools to identify other myths and be able to think more scientifically. The authors point out the scientific truth regarding issues such as memory, personality, and above all the importance of demystifying these beliefs to improve public knowledge about mental health.
No se trata tan solo de un libro que muestra por qué esas creencias son falsas, sino que además nos brinda herramientas para poder identificar otros mitos y poder pensar de forma más científica. Los autores señalan cuál es la verdad científica al respecto de temas como la memoria, la personalidad, y sobre todo la importancia de desmitificar estas creencias para mejorar el conocimiento público sobre la salud mental.
I learned many things about individual and collective psychological effects and new techniques to avoid falling into intellectual or cognitive biases.
Aprendí muchas cosas sobre efectos psicológicos de carácter individual y colectivo, nuevas técnicas para no caer en sesgos intelectuales o cognitivos.
One of the greatest lessons that these authors leave us is that mental health professionals and students of many of these careers are as disinformated about their science as we are. Many psychologists blindly believe, for example, that we use only 10% of our brains, that our dreams have an interpretation, that abstinence is the only realistic treatment goal for alcoholics, or that low self-esteem is a major cause of psychological problems.
Una de las enseñanzas más grandes que nos dejan estos autores es saber que los propios profesionales de la salud mental y estudiantes de muchas de estas carreras están tan desinformados al respecto de su ciencia como nosotros mismos. Muchos psicólogos creen ciegamente, por ejemplo, que usamos solo el 10% de nuestro cerebro, que nuestros sueños tienen una interpretación, que la abstinencia es el único objetivo realista para el tratamiento de los alcohólicos, o que la baja autoestima es una de las principales causas de problemas psicológicos.
The book is structured in 11 chapters which explore different areas in which these myths are present. Here are screenshots of the index.
El libro está estructurado en 11 capítulos. Los cuales exploran diferentes áreas en las que estos mitos están presentes. He aquí capturas de pantalla del índice.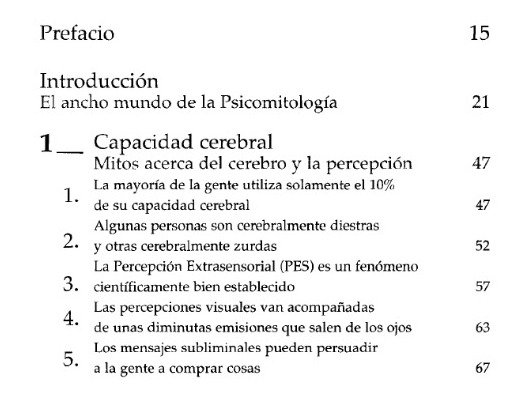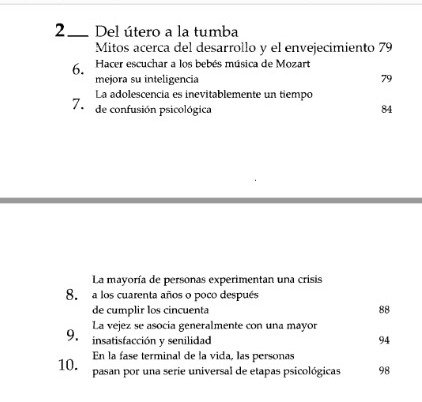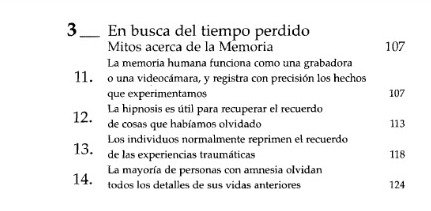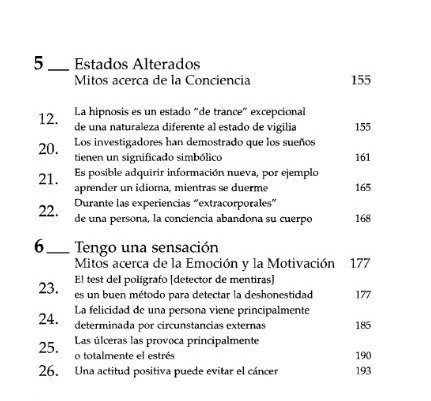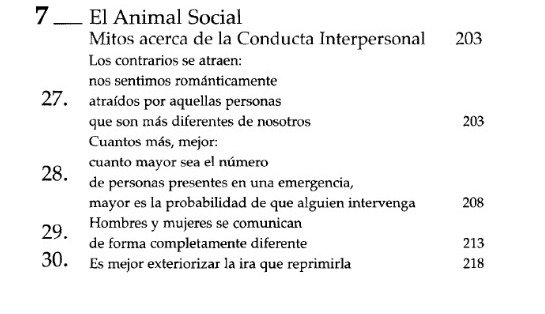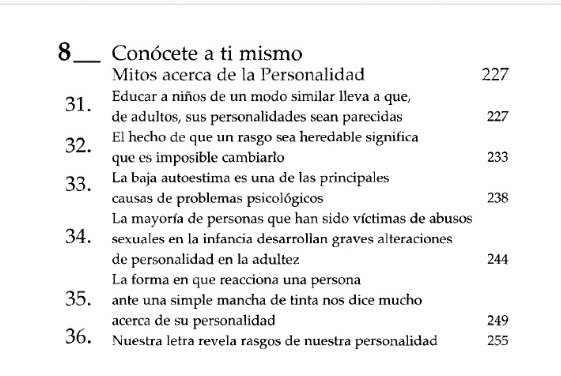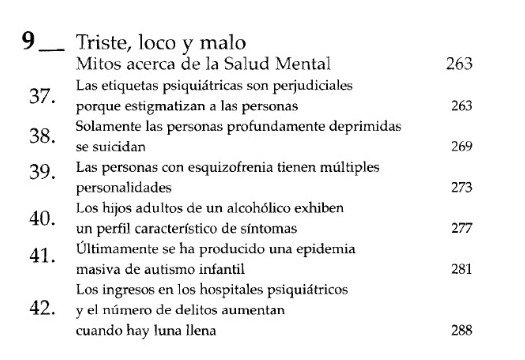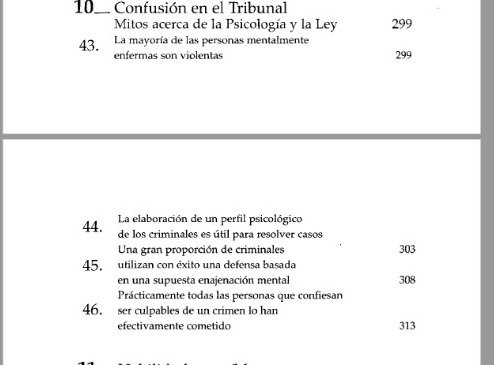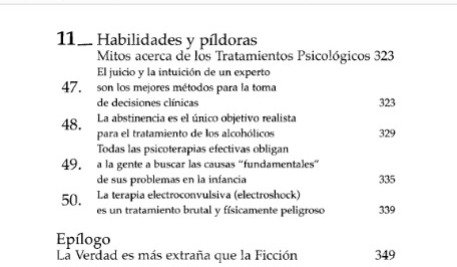 The best part is that you don't have to read the book linearly if you're interested in a myth that comes later. You can always go ahead and go to what you are most interested in.
La mejor parte es que no es necesario leer el libro de forma lineal si estás interesado en un mito que se presenta más adelante. Siempre puedes adelantarte e ir a lo que más te interesa saber.
Without further ado, I invite you to read it and make the most of it.
Greetings to everybody, and thank you very much for reading.
Sin más que decir al respecto, los invito a leerlo y a sacar el mejor provecho del mismo.
Un saludo a todos y muchas gracias por leerme.