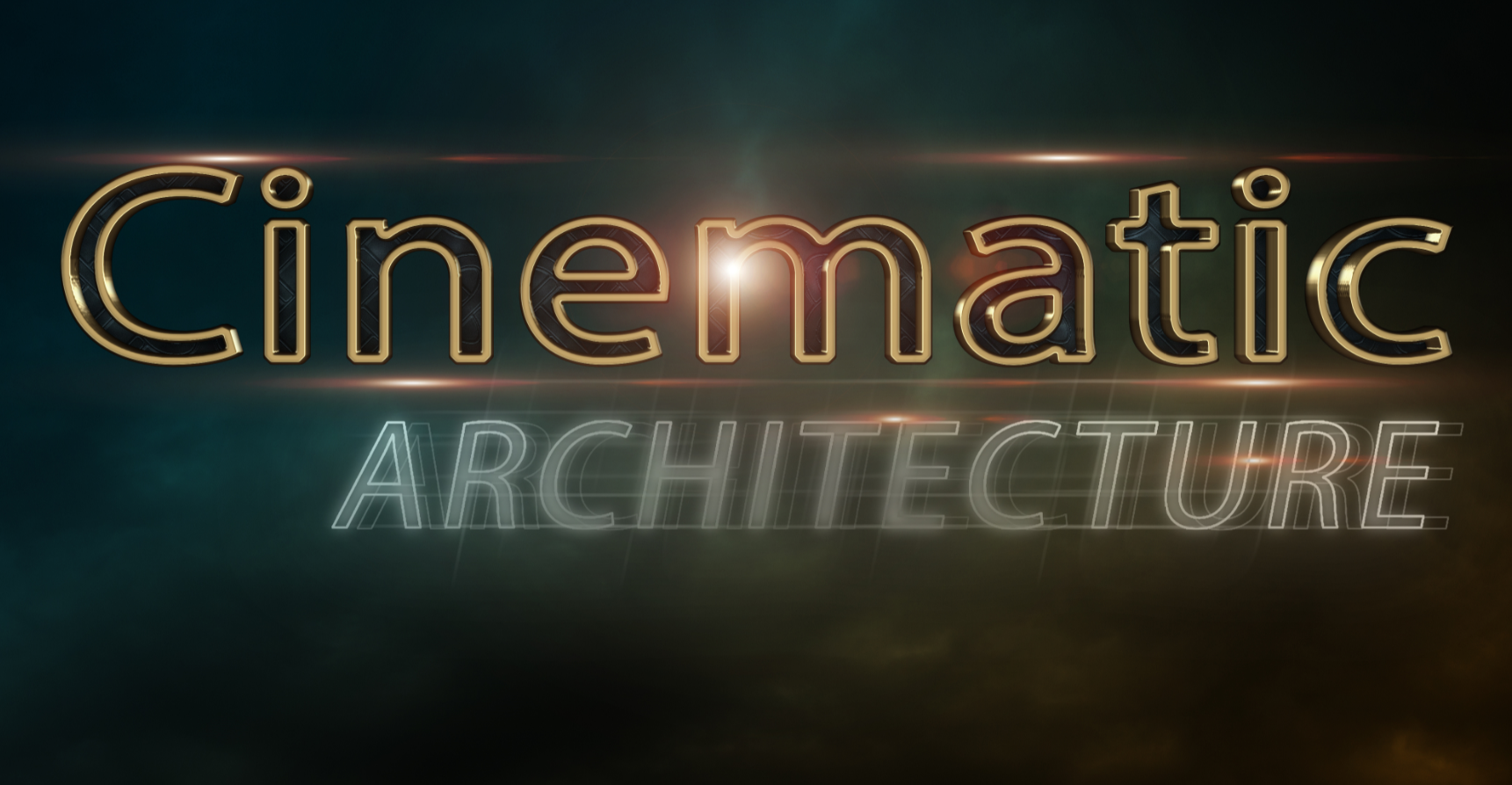 What genre do you prefer in a movie? Sci-fi, drama, romantic, comedy etc are the top preferences. Being curious about specific kinds of movies it's always interesting to dig a little more into what went to create such cinema.
Having bucket full of movies, let's start by one of the head scratcher- Inception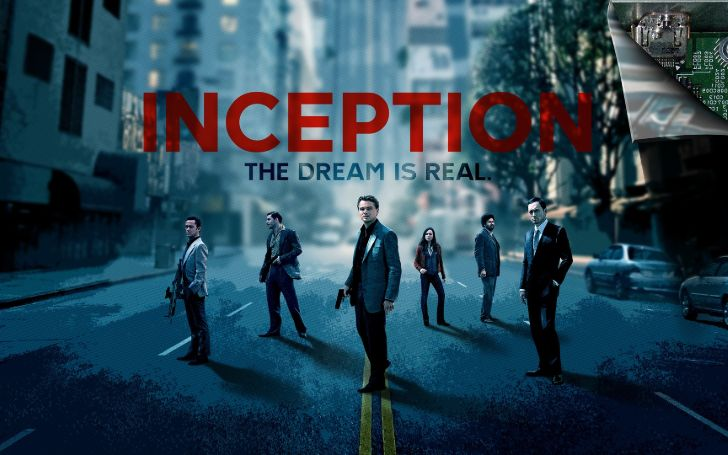 Src
It's an old classic, hard to understand and needs super strong concentration. Watched it or not, one would find some facts to be really interesting.
First of all an Architect was deployed to work for the cons to place idea into someone's dream since they are the gateway to subconsciousness. How interesting is the story line which fall straight into creative imagination of Christopher Nolan and led him and his team to create this masterpiece.
What I found to be interesting was the master con through a machine which let people dream together and be in it. Let's skip the plot and jump straight into why I bought this movie under "Cinematic Architecture" subject.
First of all the dream she (Ariadne- the architecture college student who is hired by Dom the cop played by Leonardo DiCaprio) needs to design should be in form of maze, Yup like one end in and another out. here dream is nothing cloudy and beautiful, it's like reality but burn into subconsciousness. Simply she needed the places, structures and people to be there in her imagination to create a real life dream.
The Penrow steps- Paradoxical Architecture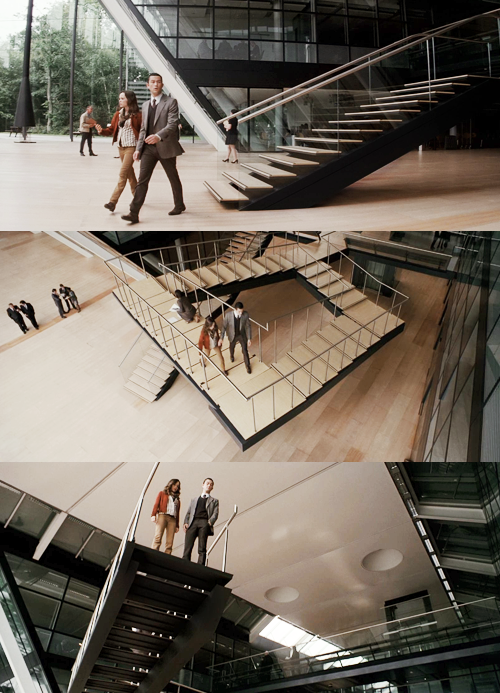 Penrose steps from Inception's set
Do anyone recall Harry potter's Hogwarts? Not exactly but somehow similar These were used to teach Adriane on how to construct pieces in maze .
These staircases are somehow impractical but own a fair share of space in art and two renowned mathematicians coined these staircase after a Dutch artist Esher's work on the steps which are hence used for art work and cinema.

Src
The most interesting aspect is that Christopher Nolan made most of his sets practically instead of relying on VFX and green curtains more.
Also taking inspiration from the bridge which turn to the 90 degrees parting from the middle to let large ships pass through. The zero gravity concept came in and a cubical almost mirrored city was created, okay that's obviously by the help of technology.
Let scratch more in depth of the dream sequel and talk about the themes set in variety of types in one dream

Number One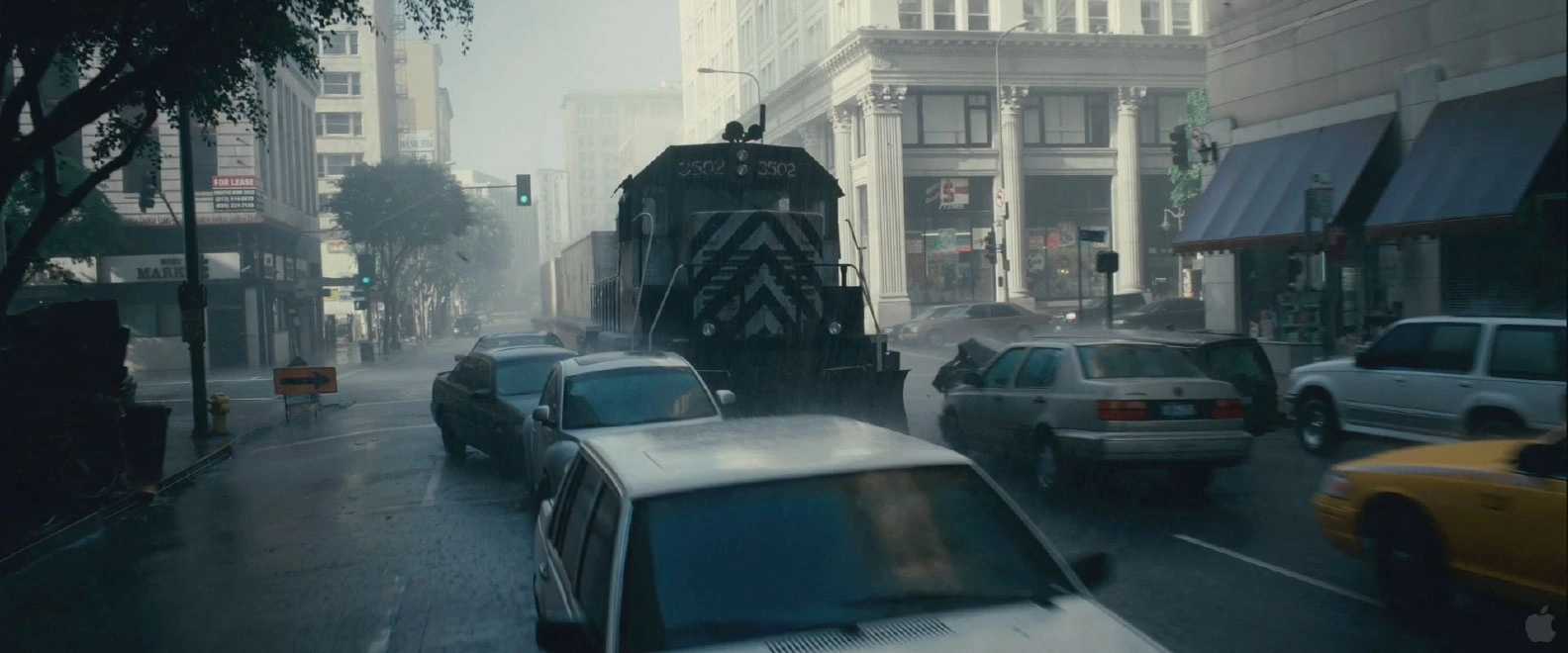 Src
The car chase scene which was one among the 4 types of dreams has a distinguished Dusty Greyish tone to the entire shot which was shot in sunny LA with artificial rain.
Number Two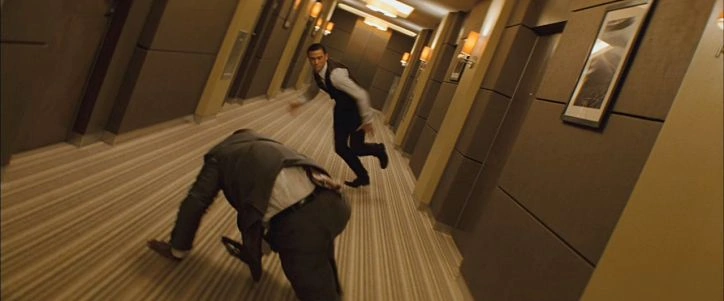 Src
Can you identify the changing color schematic to make the scene different, so this hotel's sequel within the dream had two thing notable- the first one is the warm orangish- yellow tone and another one is the zero gravity.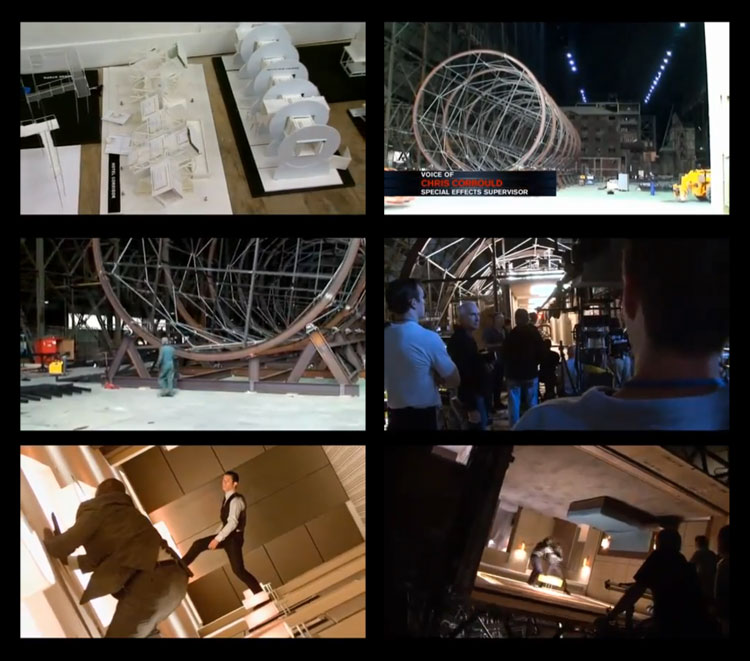 Src
For the zero degree hotel lobby's scene this huge circular rotating set was made to justify the fights and the thoughts behind the writer so the creative director geared up to extreme level and did it all from a small scale model to this huge set which is
Completely rotating
How interestingly, with help of steel frame structure and everything to mount boards to card board cabinets, and the glued fake furniture. The cast had to wear harness and conduct the scene. That depicts the grant level of cinematic Architecture, let's get to another scene

Number Three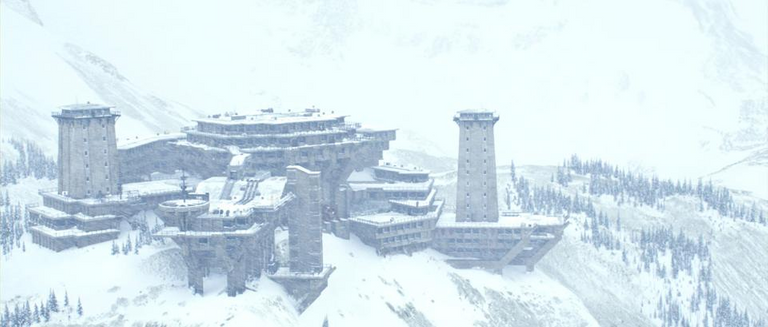 Src
The next scene is totally whitish with its monochromatic hues and tones. It was set into the hilly area into some real fortress which was similar but not exactly grand as shown in the film.
For it;s last scene again a set was created as it have to be destroyed by the fire so everything was shot on small scale model , which was created by art team, here's how it looked-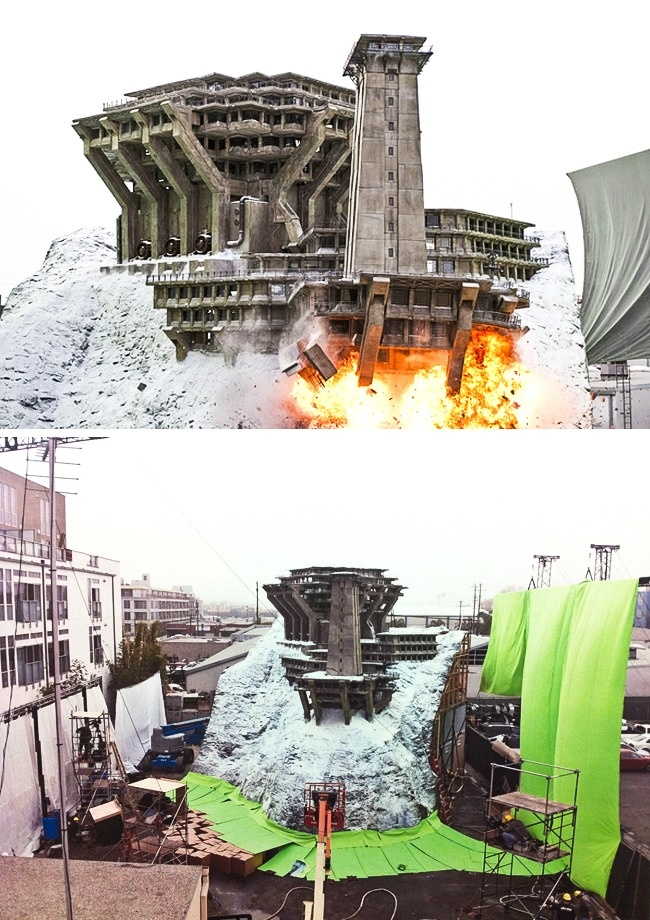 Src
That's a pretty large scale mode Isn't it?

Number Four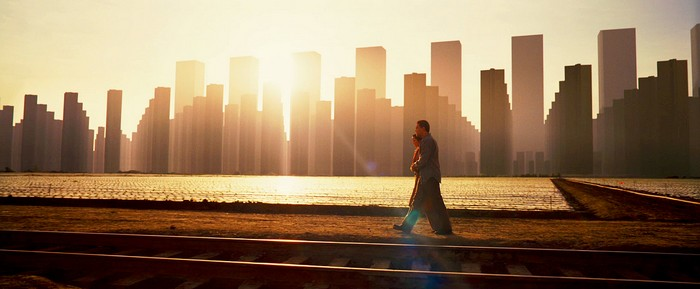 Src
The limbo city, Imaginative home of Dom and his Late Wife. It was all ultra modern and super distinctive.
It had the homes where they lived in and the city they want to live in like a past and future's mixture where they lost the grip of present.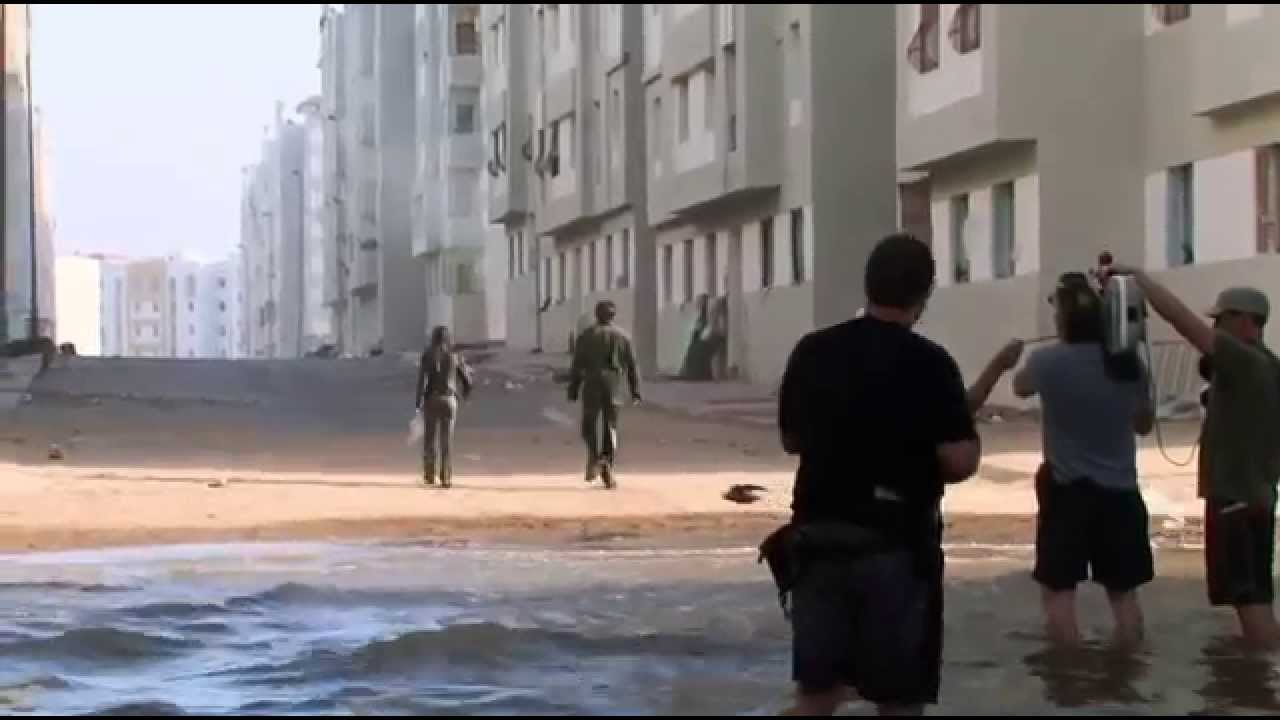 Src
It was partially shot in some Morocco's abandoned apartments but later with some added effects many distinguished structures were seen being demolishing into ocean.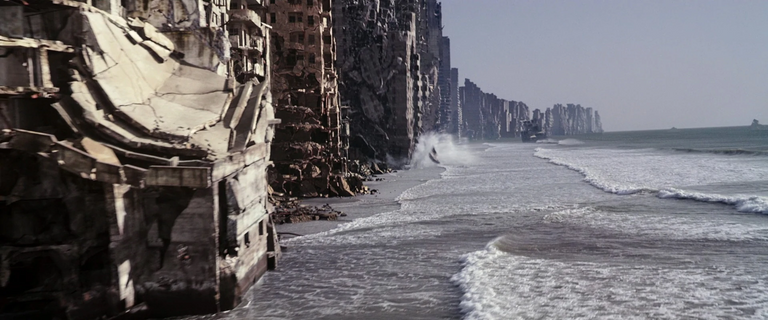 Src
Since a film includes screenplay, cinematography, vfx team, casting, directors etc but I am here to give some insights on the architecture used in cinema from creative director's way and thoughts involved. It's actually a huge deal talki8ng about a film of such a large scale.
We all are aware of Sci-Fi movies such as Marvel and DC's world. I am a huge fan, Are you?
But we all are aware of the creative sets and imaginative architecture in the movies like Iron man, Thor, Black Panther, Avengers, Batman and so on.
Not just talking about the superheroes but the set of the films, the false temporary structures and the effects are all possible by us humans and it's always interesting to learn one or the other new thing every now and then.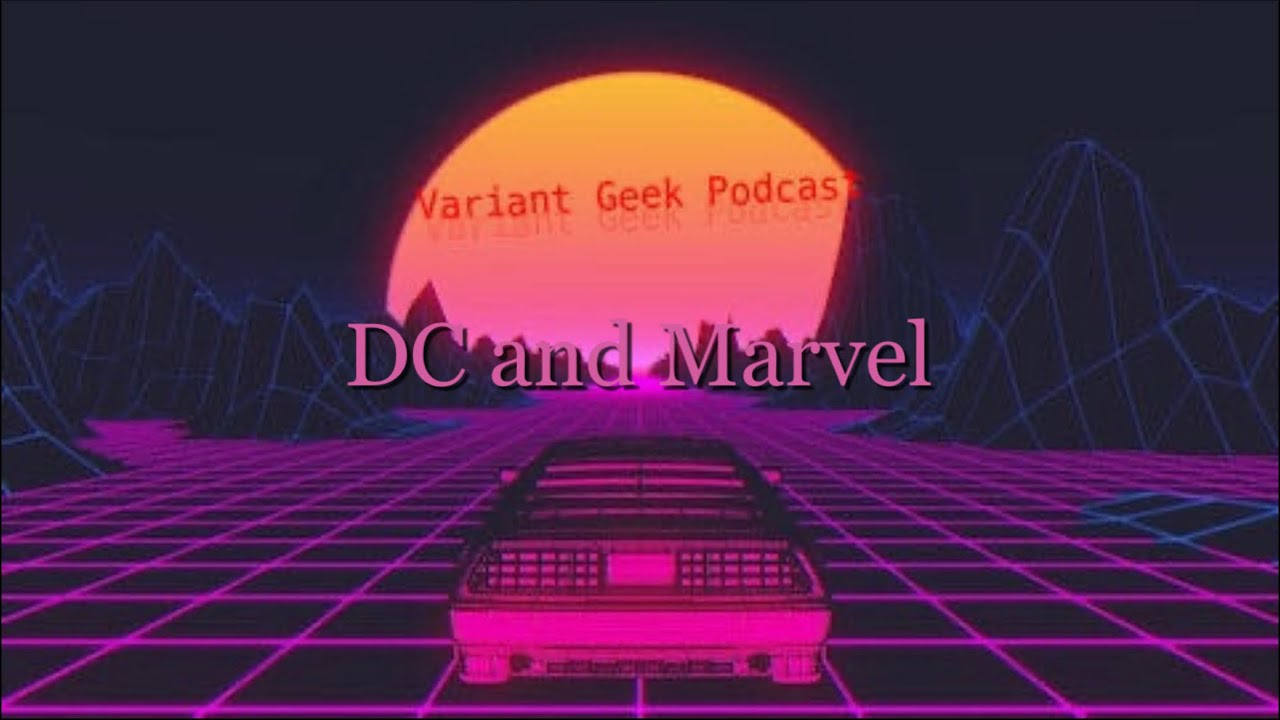 Src
There was a project of model making in one of our semester, we were free to choose whatever we want to, My few of classmates choose Eiffel tower, Falling Waters and such. But I and my group of 4 of my friends choose Tony Stark's house (Iron Man) to make.
It was supper crazy and fun since it isn't present in real life so it turned out to be more fun.
I just cannot justify the subject within the single blog, since I gathered lot more information of the cinematic architecture of Marvel and DC so I would like to start a series of few blogs on Cinematic Architecture.
So, stay tuned for some blasting information of Architecture's world in Cinema of Superheroes!
---
I hope a series is interesting to start, If you have other views please share:)
---