The reason behind any city's growth is it's infrastructure. DLF built this huge cyber hub which is wide spread across Gurgaon and this is the reason why this city became from nothing to the most important city. It comes under Delhi-NCR(National capital region) and also a state capital.
Cyber hub is not just a set of huge buildings but also have many entertainment things to accommodate. It's where my father worked for almost 30 years and has now started his own set of businesses.
Majority of multinational firms have their headquarter here. The workforce seen here is incredible from elite CEO to educated employees all work here. It's the second largest IT hub of India.
This weekend we had some work related thing to manage here. I really wanted to show one of the building's interior which I visited but It wasn't allowed to click even when It was a weekend.
So after work we had spare time to relax so went to the entertainment hub which is part of cyber hub and is allowed for any visitor to come unlike buildings which is prohibited due to security reasons.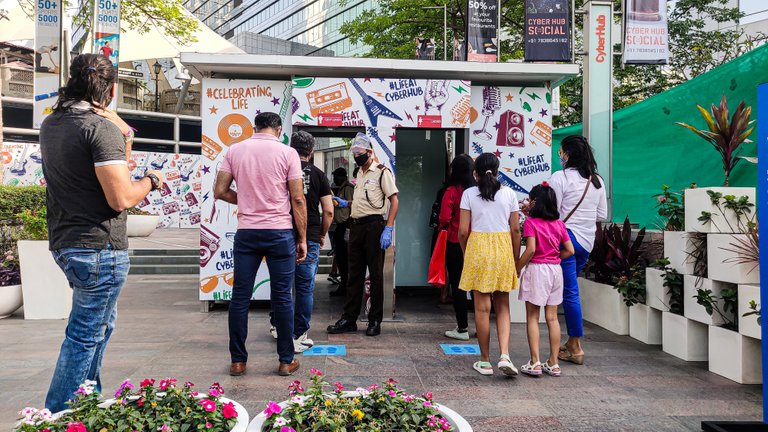 That's one of the entrance to cyber hub and there's a covid-19 sanitation kiosk and checking as well. There were showers of sanitizers inside and we all took proper precautions.

That's the very first café we saw with such interesting temporary canopy. This was under construction from ground level so they covered it with a ply wall.
This part of cyber hub is huge, come along explore with me. This just doesn't have cafe's but few of shopping complexes as well. But majorly small to large food stuff.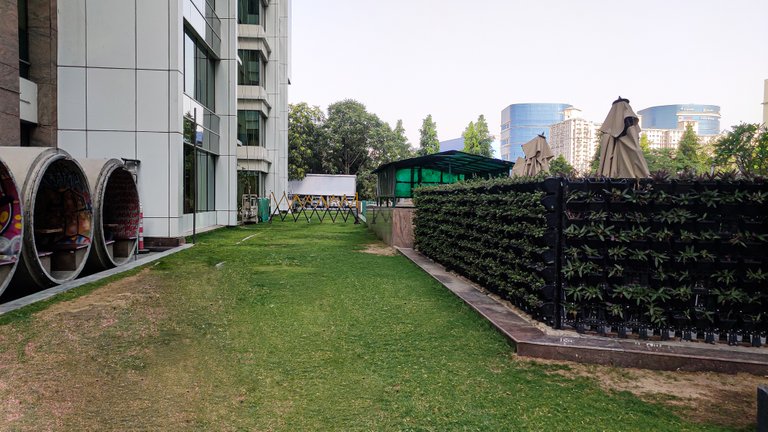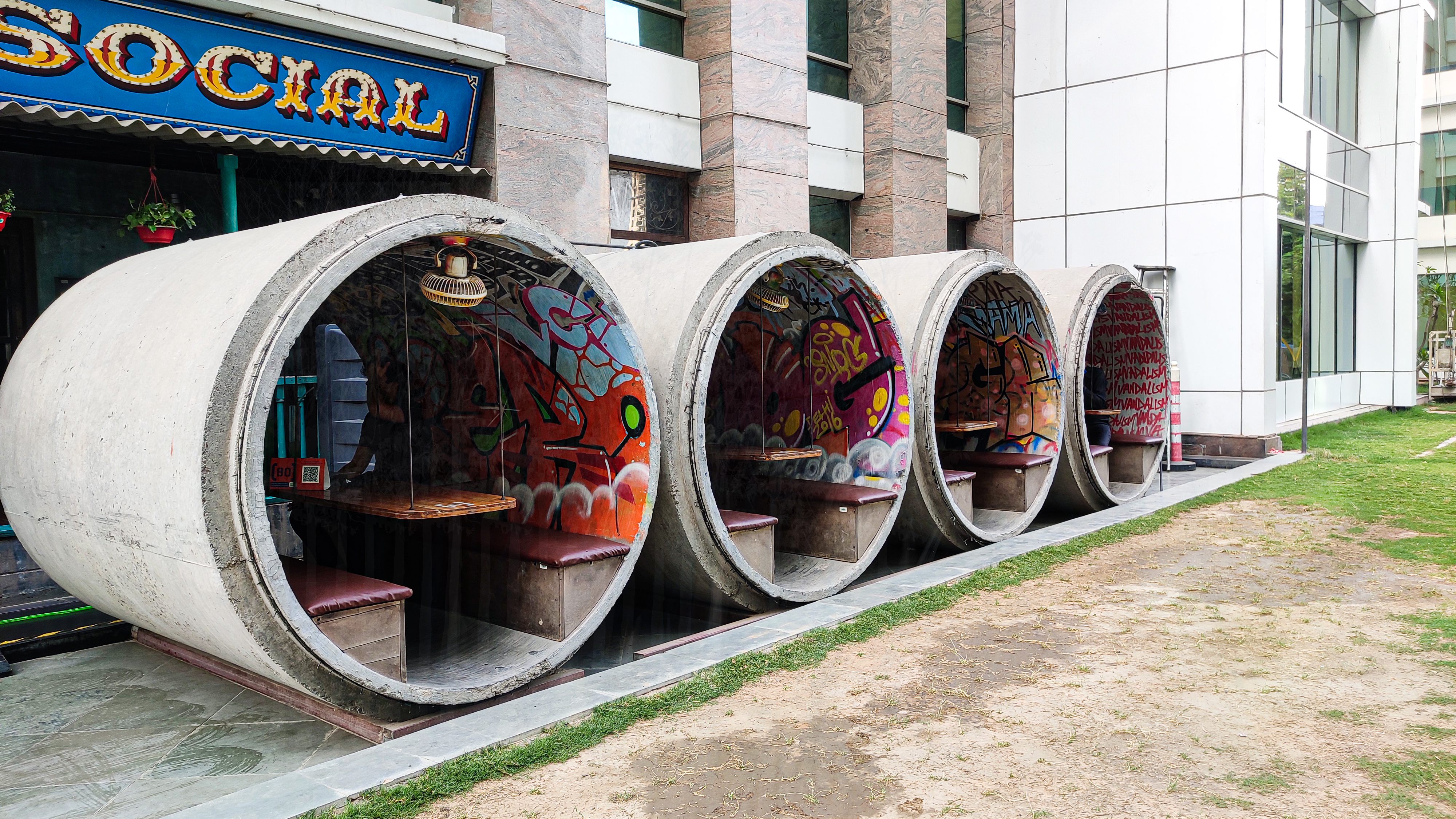 This was a café called Social which has it's branches all over Delhi and Gurgaon. It's quite spacious inside and is the themed based one. This was their outdoor seating in a huge concrete pipe they had graffiti done with seatings, it becomes quite lit by the evening. I couldn't stay there for evening as I live around 2 hours drive from there and we wanted to just chill and have lunch over there.
We didn't ate in social but from different place.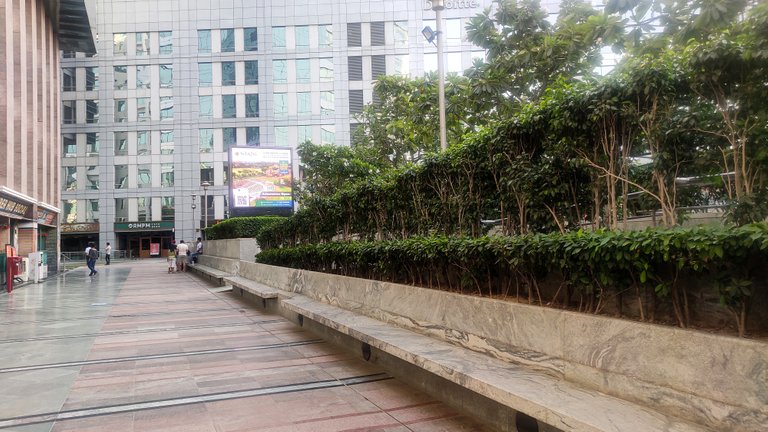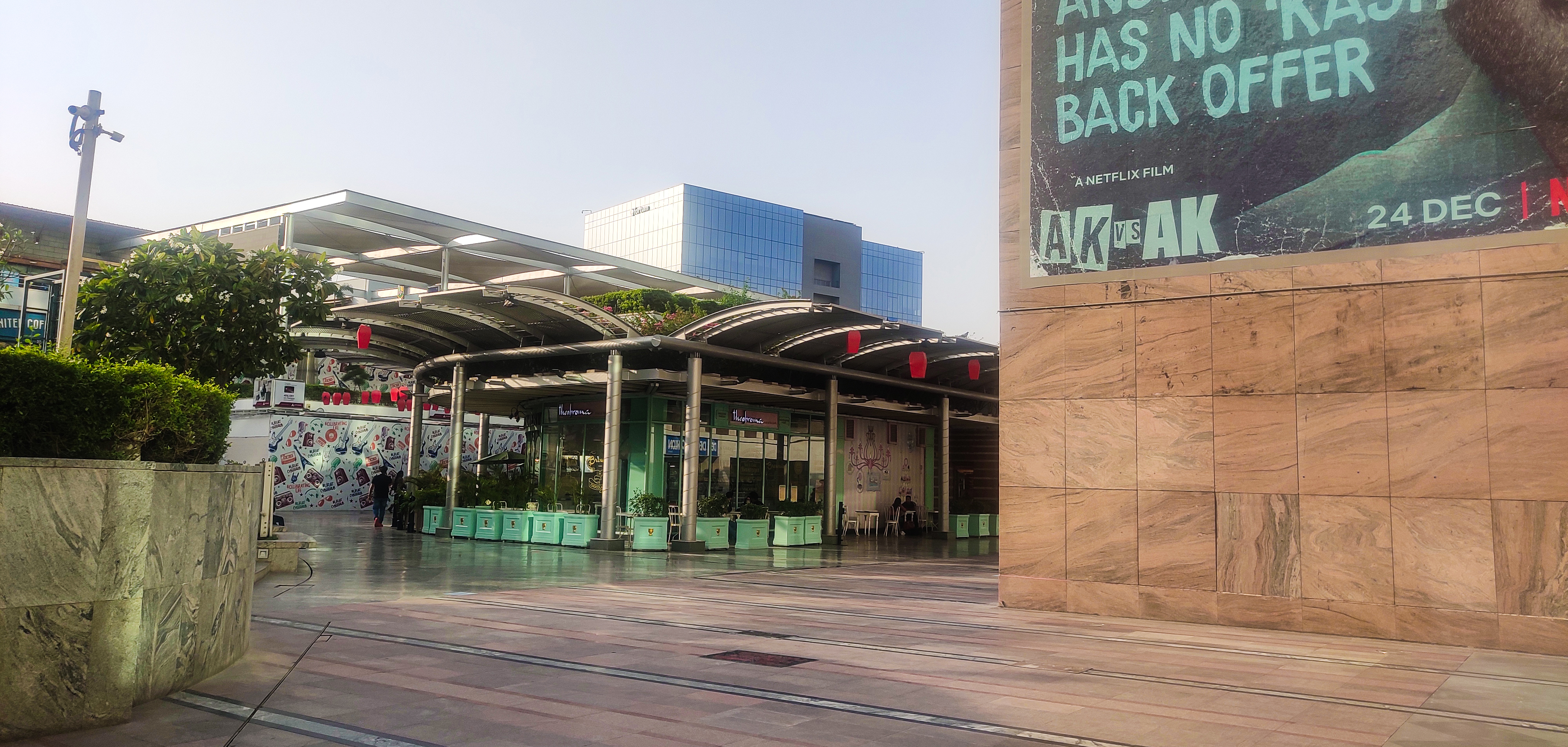 Moving on to another alley the most vibrant and interesting one, You'll see in upcoming pictures, This area is quite lonely it had an contoured seating on the right side and The purpose of showing this picture was the stone seating and holes for drainage below them, It is generally very populated but It was actually Sunday moreover covid bought WFH so scenario changed.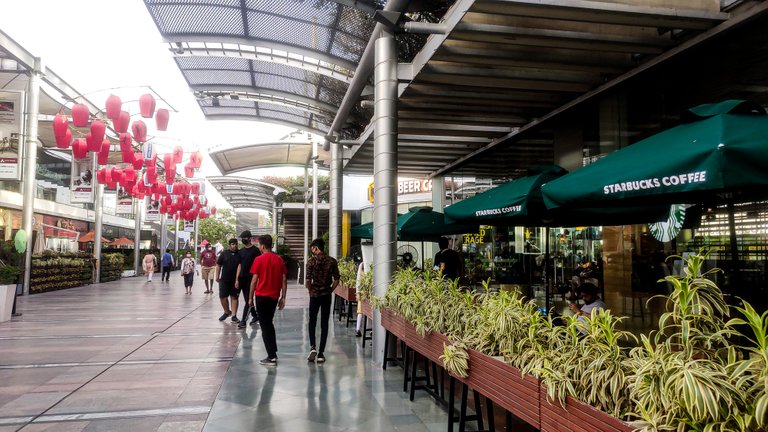 Here comes the vibrancy. There are number of restaurants , coffee houses, elite shops and mesmerising ambiance. To start with the architecture of this place is really well made. Few of the steel canopies are actual solar panels. There are actually only first floor in cyber hub so that it could reflect all the huge buildings of cyber city. There's lot to learn from the planning I found it amusing. There's a best alley I found on the first floor which I loved the most, shall show you soon, but before that let's see the ground level a little bit more.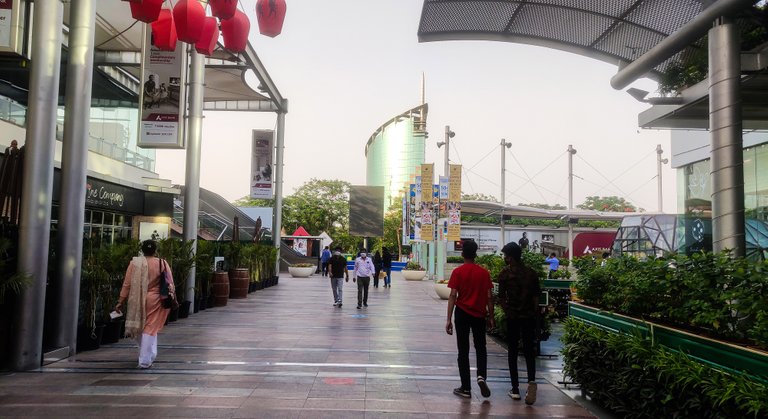 Just have a glance at that majestic skyscraper. It looks ravishing. Okay there's similar alley on the right side I just gave you'll the pictures of left one. There's an gaming zone as well which used to be our favourite hang out space prior to pandemic. Also we used our student Id's to get 50% discount on all VFX games. How cool, Isn't it? Now we have passed the college and the gaming place has been shut temporarily it's quite sad.
Felt a little nostalgic.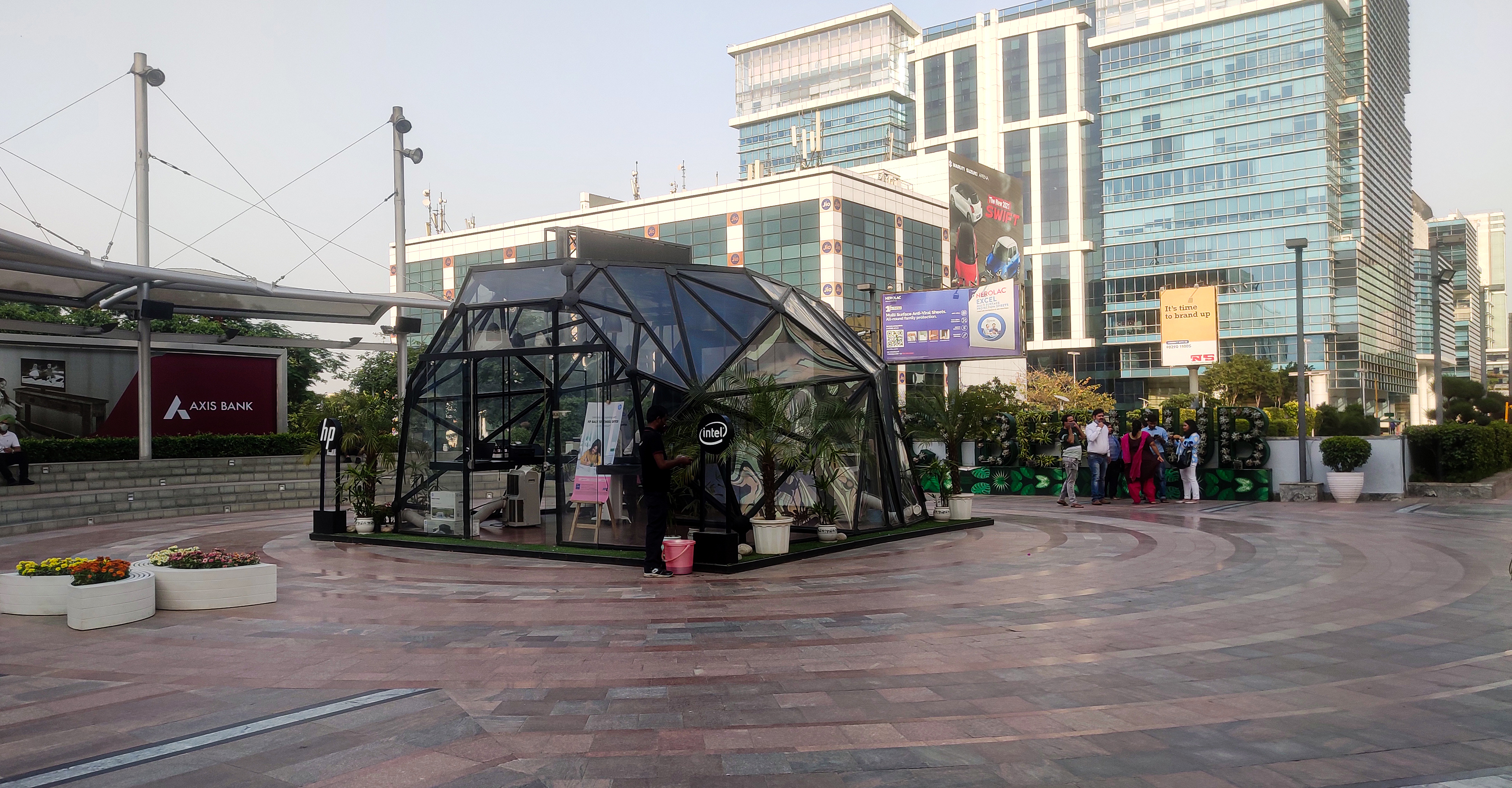 On a U-Turn to another lane, We encountered a futuristic Kiosk of Intel. Oh it was very interesting, the glass between the organic shaped frame is treat to watch and compliments the infrastructure.
How interesting it is that some hubs like these just bind the city and let the entertainment vibing.
It is most amazing at night with all those beautiful lights. Kuddos to the designer. The cyber hub is designed by Architect MPFP Paul Friedberg and Partners, New York with Lighting design by AWA Lighting designers, New York.
I was little disappointed, The entire DLF empire's owner is an India, They should have given chance to some Indian Architect be it renowned or let them at least collaborate. I really donot want to sound Biased but actually the value is decreasing in India of ur profession and many people are seeking work abroad.
Okay let this debatable subject rest here only. Appreciating the designers let's run on to the first floor which Is the most amusing alley here-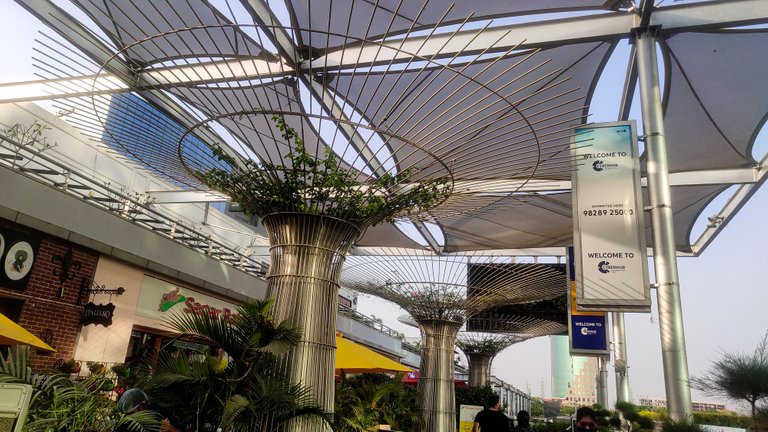 Columns with Creepers
Below the canopy lies these steel amazing columns with creepers on it's top. The most interesting structural element it's like landscaping meeting the Structure.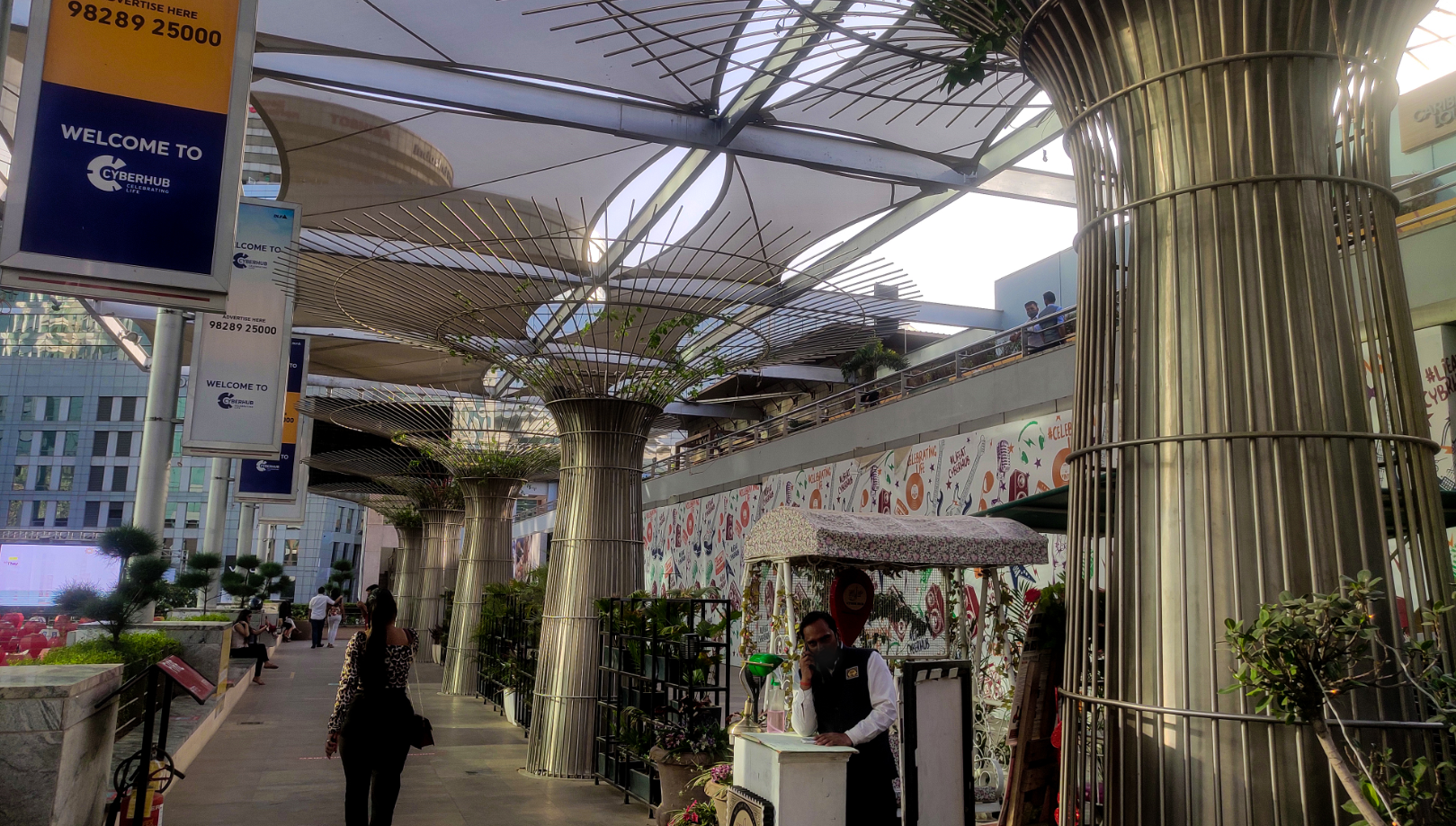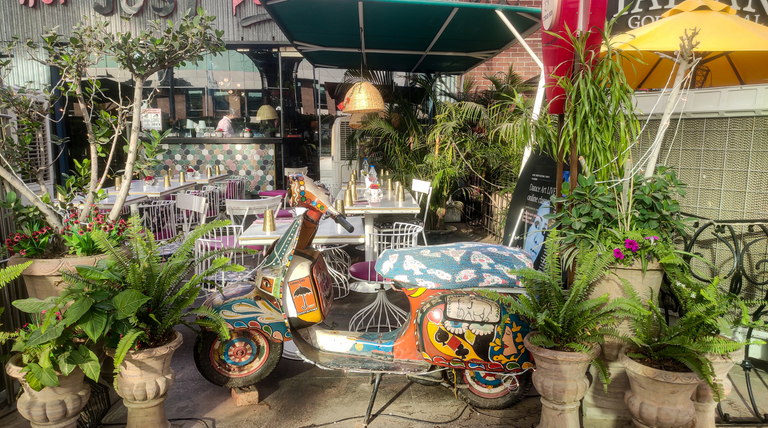 There were several outdoor seatings but I liked this one the most, It's very colourful, chaotic but cosy and nice. Also the closer look at columns depicts ms pipes making a frame and running towards top of the column and spreading out like a flower with creepers or may be ivy inside.
This hub shows hoe Architect, Engineer, Landscape Designer, Interior Designer all came together to build it for the city. I found this place to be amusing and such structures binds the city and also brings monetary profits for the city as well being in elite cyber hub IT gets the most attention. The night life here is a level up.
To conclude with I would like to add some shots of the huge structures clicked here by me-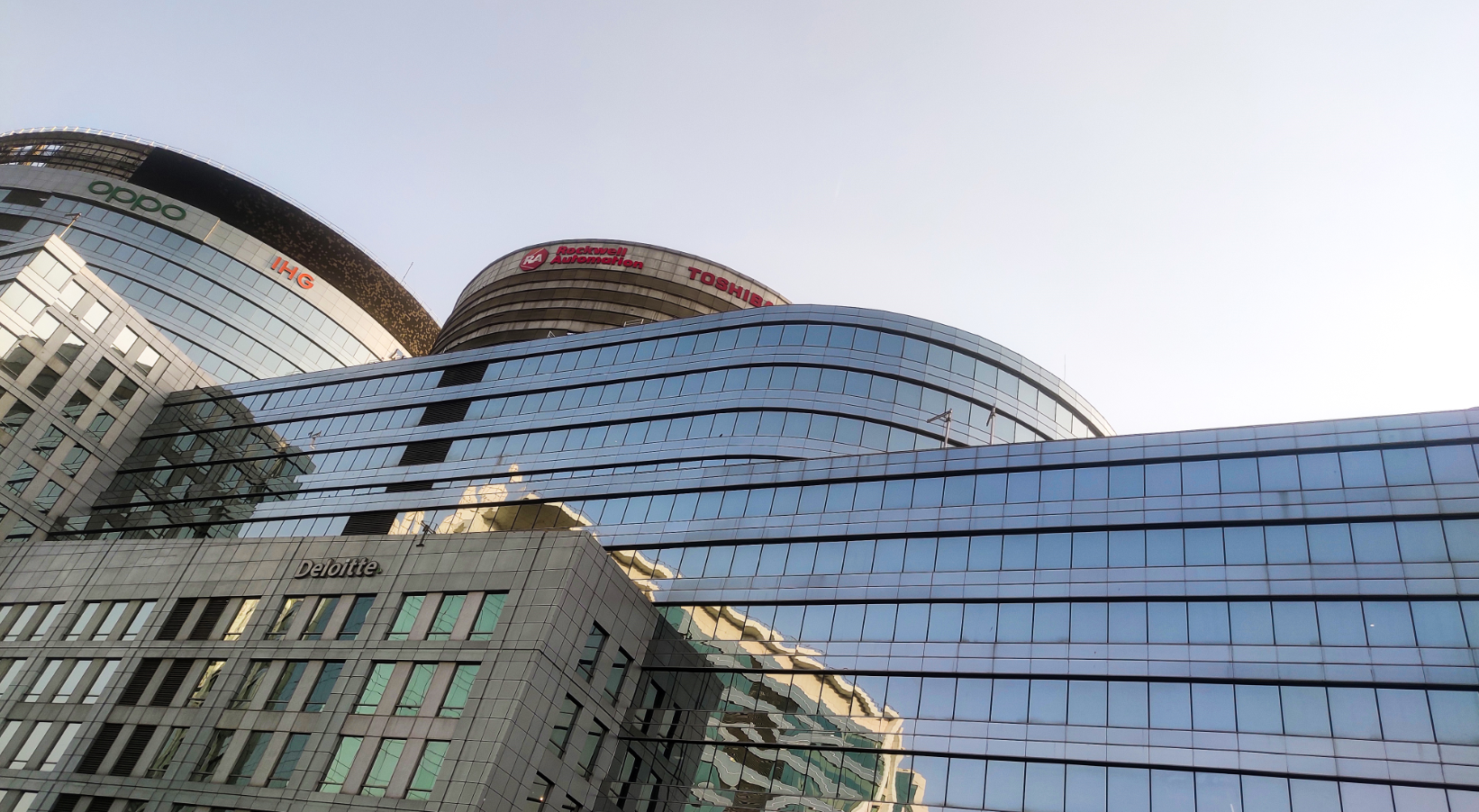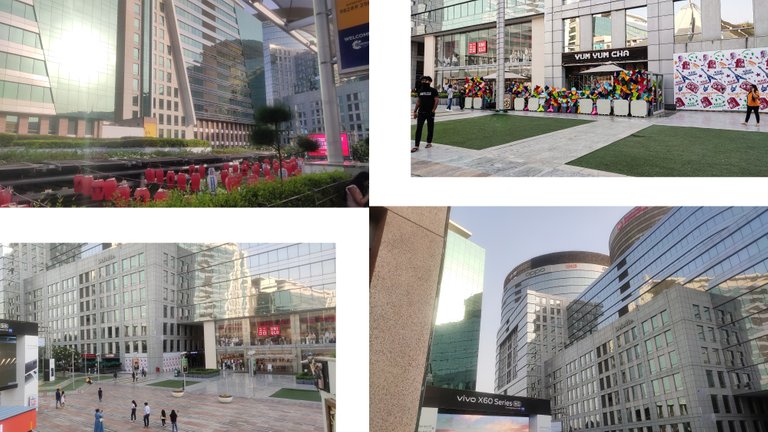 I believe such places inculcate the sense of pride for community and civic, it was quite linear site so that is why I mentioned different alleys and they were all planned well considering this hub is living breathing part of the major corporate sector of India. The exterior is lavishing and so is Interior. From offices to restaurants everything here is worth visiting.

That is the only picture of the interior I had, hopefully I'll click more the next time I'll visit for work inside one of the offices over there.
---
Above mentioned pictures belongs to me
---