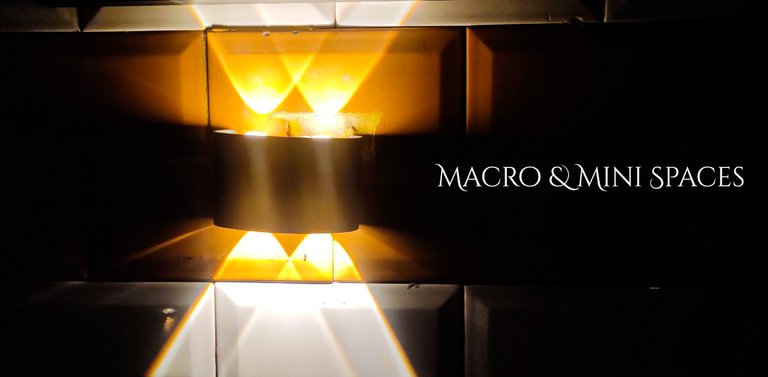 Interior spcaes
This weekend was amazing. I with my other two friends went for a treat in the famous sector 29, Gurgaon area. I wrote a post on the food we had over there.
We went to a classic huge café and a small café on the same day. I was so intrigued by the interior setting of both the places that couldn't resist but clicked pictures of the interior.
Let me throw some limelight on the café and brewery
Decode
The macro setting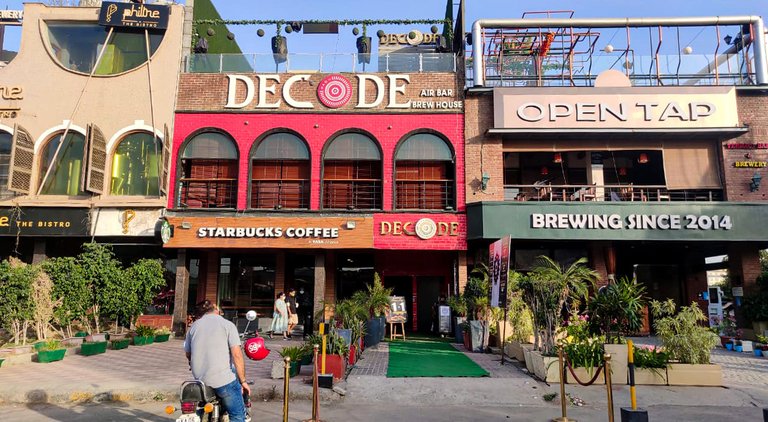 Starting from exterior, this sector is quite properly managed. since they know that all the cafes and restaurants are surrounded by the place, the government had included a huge parking lot which is the best thing since we suffer parking spaces heavily around such areas. So the best planned thing was this parking lot another thing mostly all the cafes are not more than two storied including their open seating spaces.
Coming to the interior of this place, the space was actually divided into five parts.
The kitchen
The vintage seating for more people
The cosy seating for a private party
The cosy seating for less no. of customers
The terrace had some open seating spaces and a large enclosed brewery.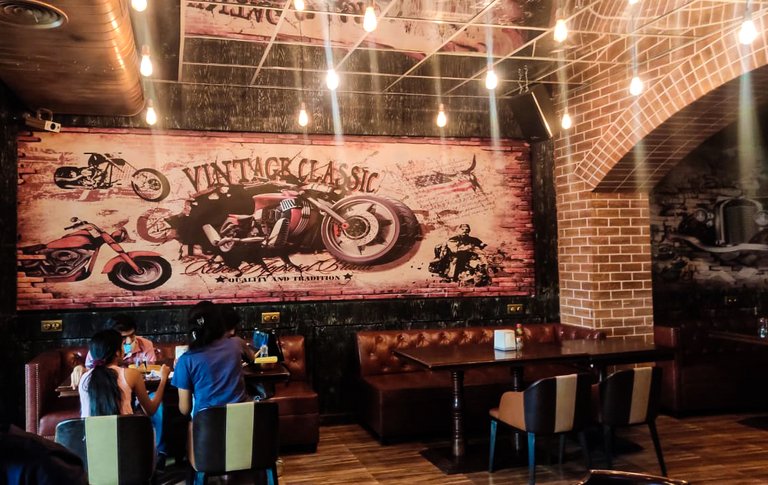 This is the first setting we see on entering the place. quite rustic and vintage. the mirrored ceiling is something refreshing to see as I am used to of seeing the open ducts and industrial ceiling which I admire too but this is different.
This is the first place I was referring to earlier which could accommodate more no. of people .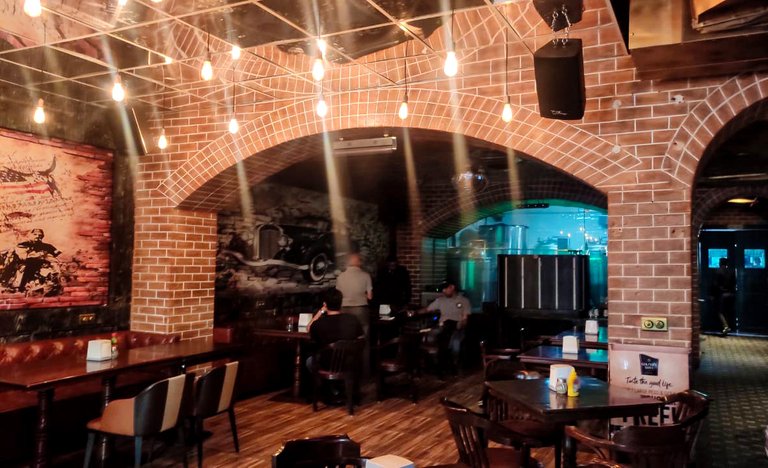 I want to burst the bubble and disclose that this is false brick work wall. But is very interesting may be its a texture or a wallpaper as I wasn't able to get a close look and didn't touched the wall to feel the texture. Yes I do that more often but since my friends felt shy they didn't allowed me do that.
Can you see the brewery behind that sky bluish tinted glass? It is amazing and the kitchen is just by the side of it. I would like to go a little beside from interior and let you guys know that the food was delicious so was the in house brewed beer and the staff was well trained and quick.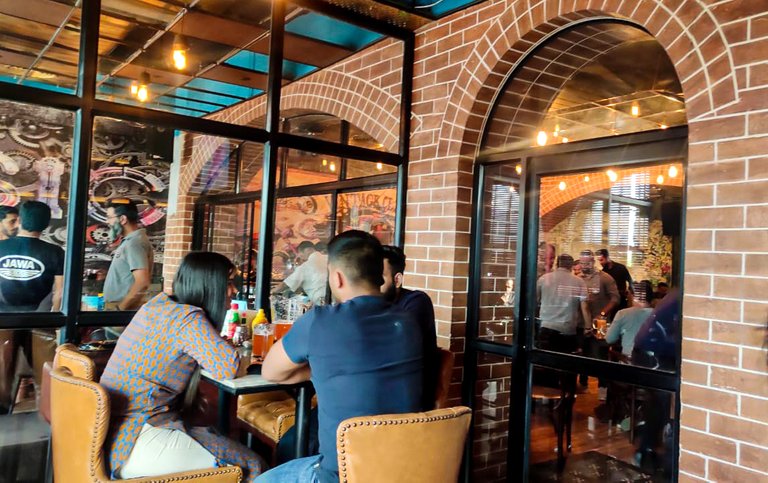 This was the other cosy space with closer seating and here you can clearly see that how the second hall is divided into two different rooms with a glass partition wall with black coloured mullions.
That's how they got three different seating spaces and mind you it was all so comfortable. I just didn't liked the graffiti on the wall of other side that's it. rest the place was superb.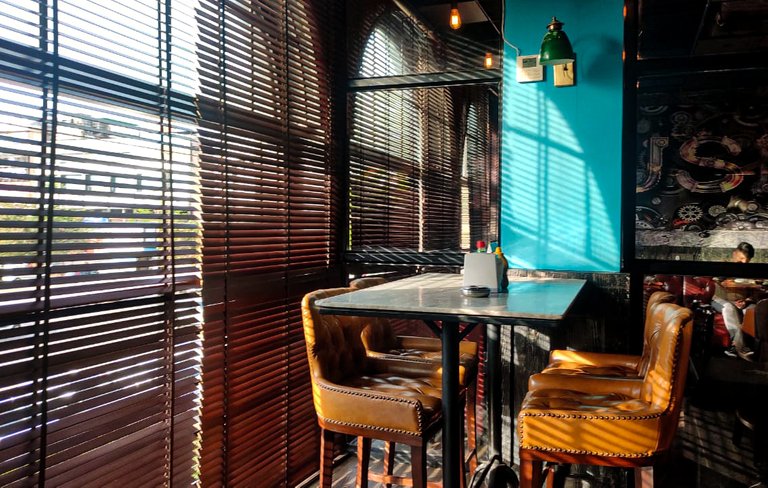 This picture looks like some googled image I would like to put on my inspirational board if working on a restaurant project!
Isn't it very cool I liked the colour palate here the cool and warm colours all makes up a lovely ambience.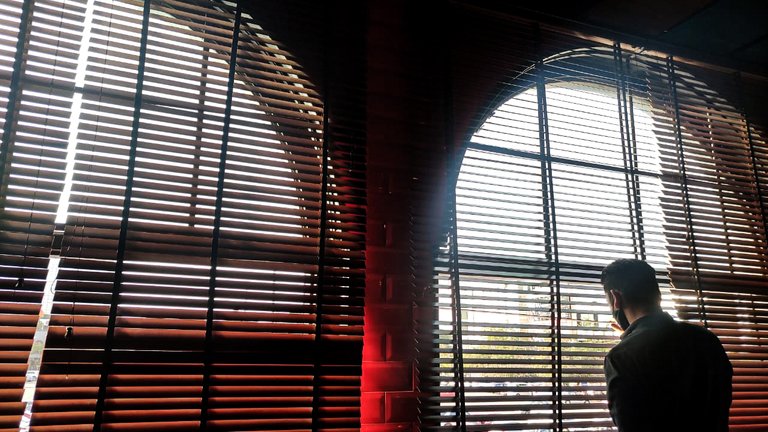 This one was quite dramatic picture. it just had some window blinds and arched openings with one of the staff member peeping through it. I found it to be very photogenic perspective.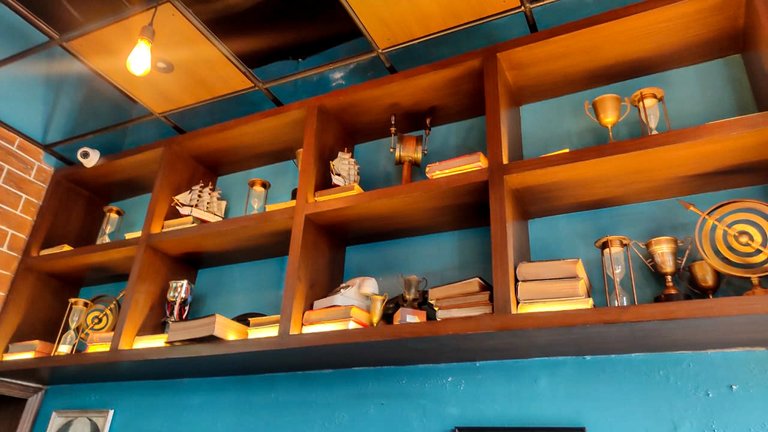 The wall right behind our table is this one. The wall shelves with golden rustic antique decorative objects and books makes it very lively and interesting.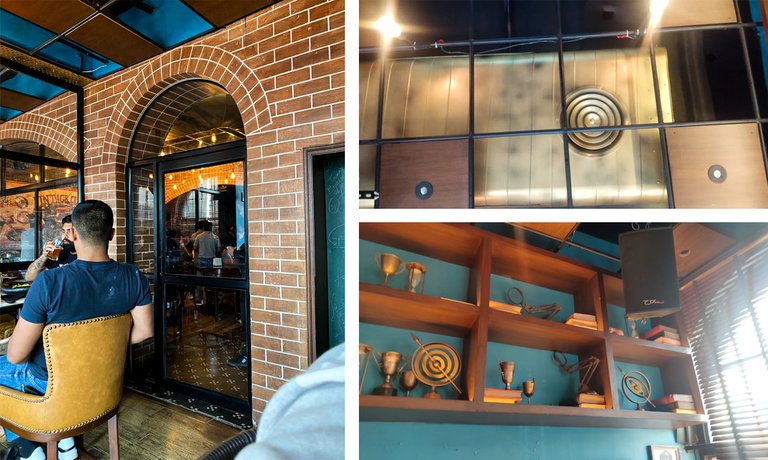 Here the ceiling that you see is quite industrialist and modern with ducts painted golden and partially exposed behind the steel structure of the ceiling. This aspect is quite breaking the regularity as the other space had mirrored ceiling and this one had different I really like the contrast as this space has more exposure to light due to huge windows so this ceiling worked the best. Also there were such speakers hanged from the wall, the old frames to add much of vintage look.
Now I would like to share some pictures from a mini café we went to later in the evening called The Burger Club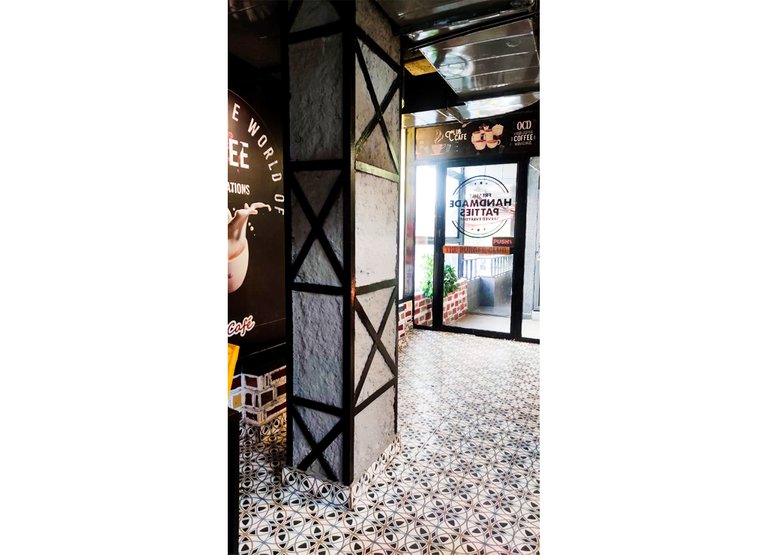 Mini Spaces
Okay, so after all that food and stuff we went to have a long drive since we were left with time to spare. Burger club is my favourite go to place for fries and stuff so I spotted one in the area and went there. The place was too compact but very nicely done. The best thing was this coloum. Okay so this column had skirting just like walls, How cool!
This was all concrete and covered with steel frame, I haven't seen such design ever. It was very interesting. It's like a fusion, the classic floor tiles and modern column.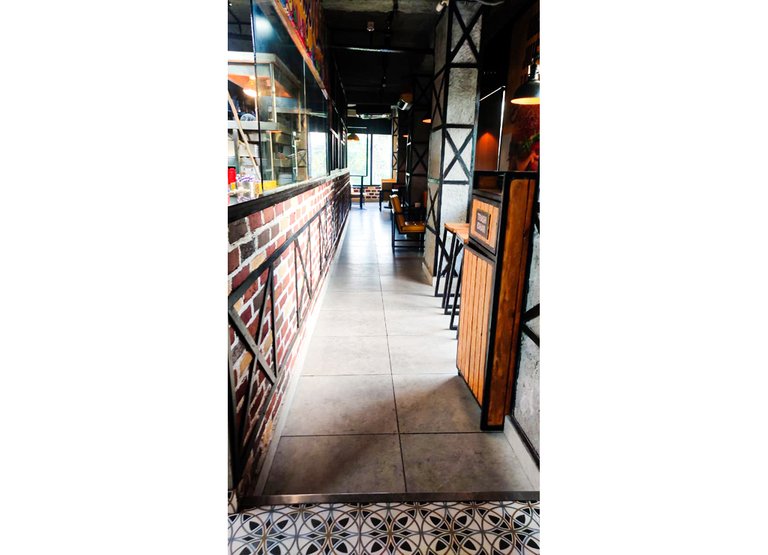 The thing I learned here was that how compact places could be designed well to give an amazing look to them, Interior does plays a great role in defining spaces and change the perspective and mood of users. As user experience is priority.
There were very few seatings well obviously due to space restrictions but they made it quite well organised. I was actually surprised by the size of this outlet since every Burger club's outlet I have been to are very huge and similar to KFCs or any such outlets. But this one was mini version I guess. the quality of food remains contently good on each store. But I really liked the idea of indulging steel frames into interior to make it look modern and raw.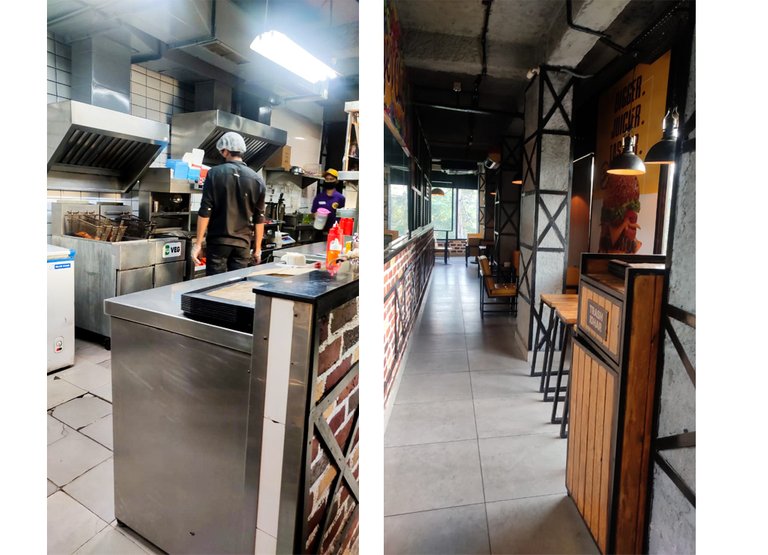 The kitchen was open, unlike other branches but I guess open kitchen would make the place look more spacious. Also It is very interesting to see how they make the burger n fries, entertaining!
And That's all. I learnt a lot from these opposite spaces that interior designing has power to make a space look good be it small or large. It's just the designer perspective which matters.
---