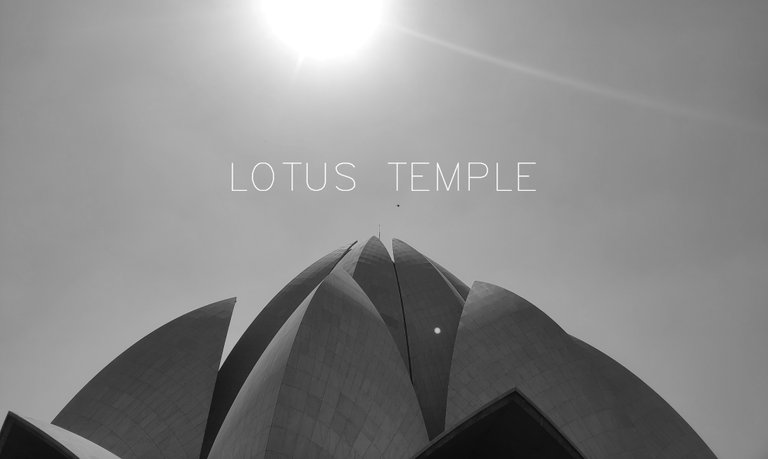 Lotus Temple
A long awaited visit was accomplished today. Finally, I visited Lotus Temple after years. It was much less crowded than expected. Before showing you the signature building of Delhi Let me highlight the fact that the administrative department allowed me after visiting hours to study the building when I told them that I am an Architect and just passed the college couple of months ago.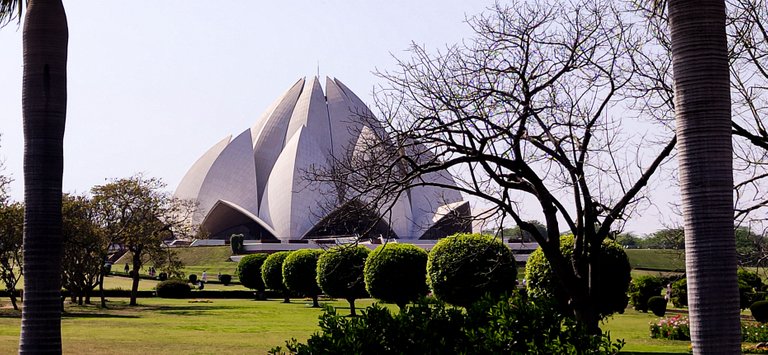 Architect Fariborz Sahba was the one who designed it with reputed construction contractors L&T and F&L for Bahá'í house of worship.
The structure is basically a meditation hall with no idol to preach one can come here and preach their own god in silence which was amazing. They symbolises peace even also there is no donation or entry fee.
This is situated in around 26 acers of land, housing wonderful landscaping, the main meditation centre, administrative building, library, conference hall and recently constructed residential blocks just for staff.
some glimpse of landscaping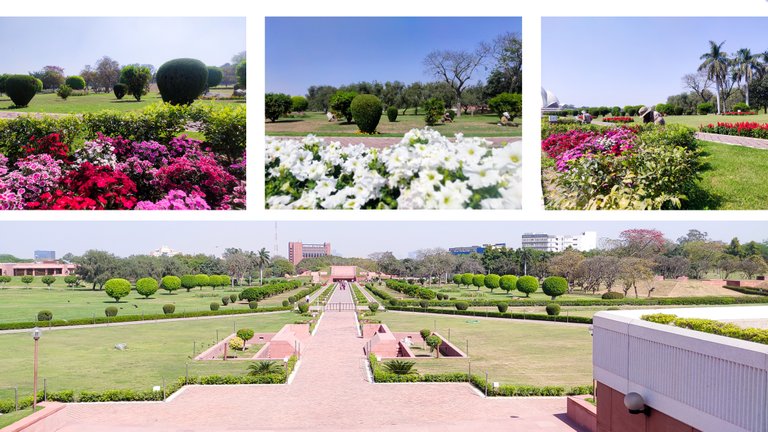 A very strategically planned landscape with smaller trees closer and wide spread across lawn and larger trees at the periphery. As a visitor one will have a very rich experience considering the fact that the main lotus meditation hall is designed in white marble and rest of the building structure which can be seen in the above bottom image into sandstone as same as the pathways and low rise specially covered by large trees which brings on distinctive focus on the main structure. Isn't it marvellous?
There is huge underground waste water system which is used in watering this huge spread landscape so no to any wastage and each gardener had khaki uniform and hat depicting discipline.
I cannot praise enough how fascinating was the structure, have a look-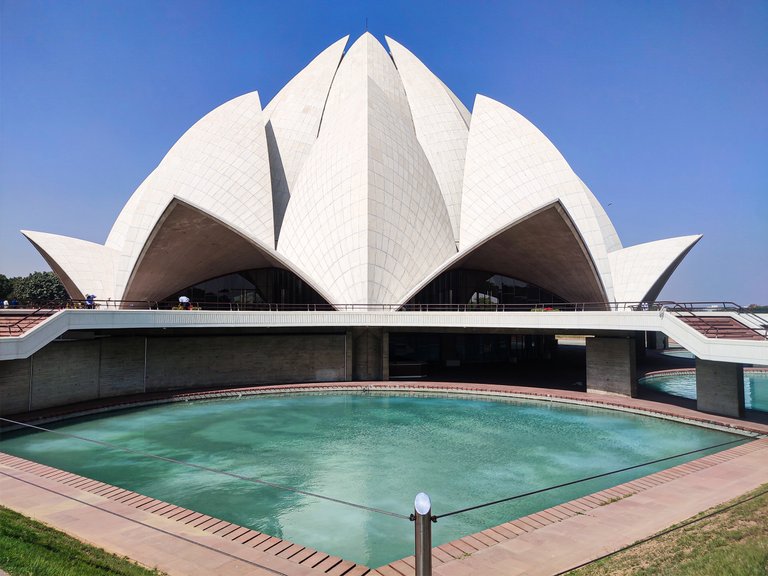 Expressionist architecture
Basically the structure resembles the half open lotus flower which is vividly visible also there are actually nine petals and water bodies surrounded between each of them. I could see contour on the site considering the fact that Delhi has flat topography but the contour here were very interestingly used. almost half of the structure has nothing but earth below it and rest of it have a bottom level and those are used for administrative purposes which can be spotted on the picture above.
The sandstone's bench at the extreme right in the above picture is not just bench, interestingly they are ventilation boxes for the basement and a slab added strategically making it a seating.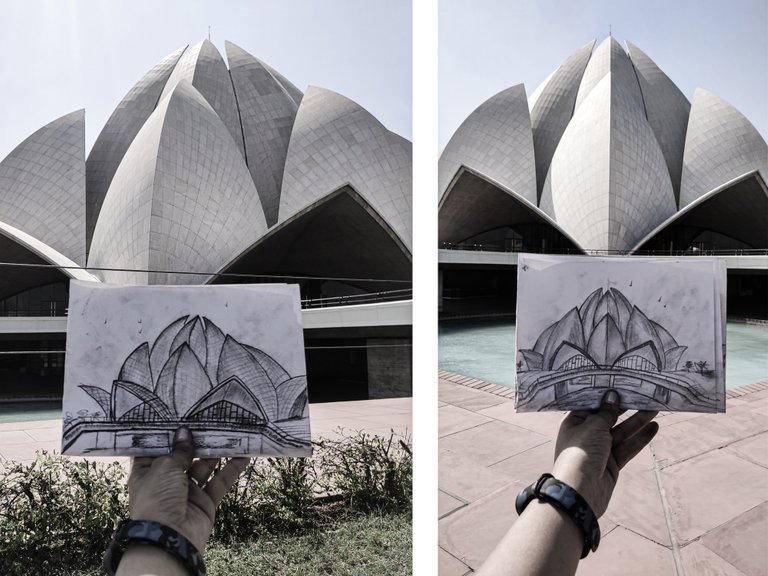 These were two charcoal sketches which I made quickly. I always wanted to have such a fun picture which will remind me of the peaceful time spent there. This was a solo trip and I wanted to paint there but that would consume a lot of time so these 5 minutes sketches were more than enough.
Inside of this structure was well planned concrete ceiling with ample no. of skylights.to maintain the temperature and lightings.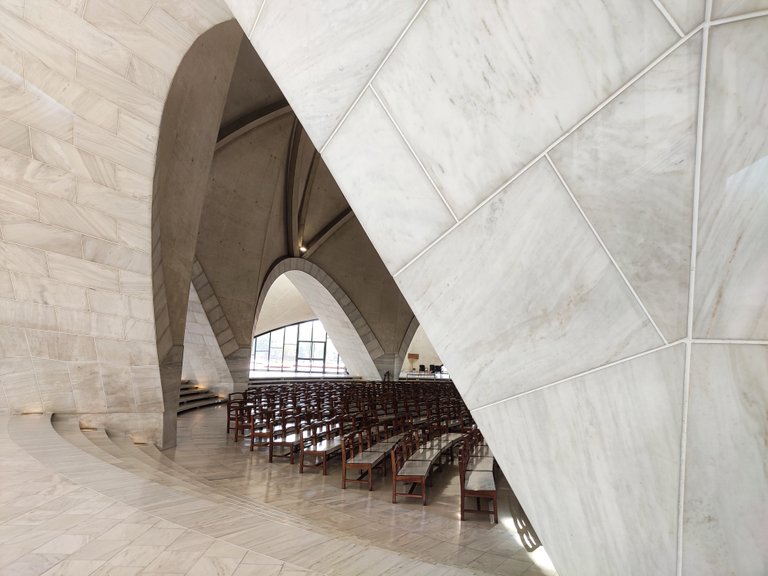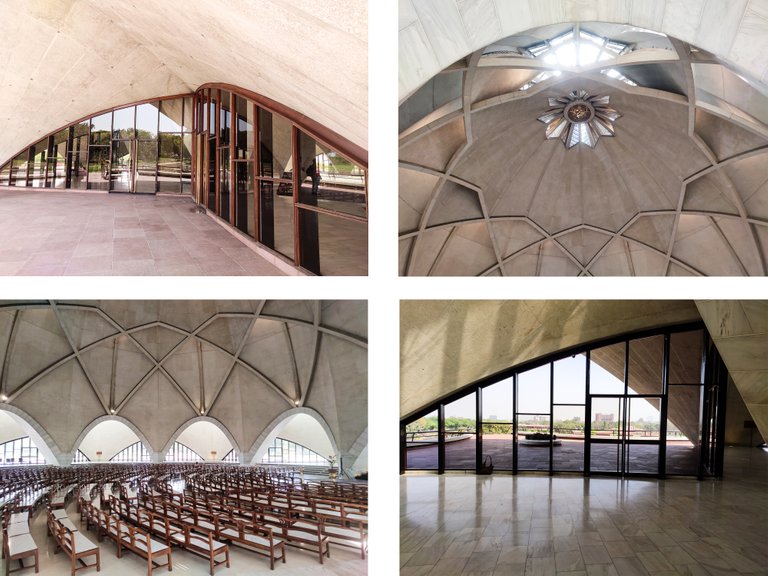 The entire structure is made up of concrete the outer shell has marble framed over the concrete structure and the inner dome receives most of the light through the skylights which are planned really carefully between the petals such that the entire hall lits with the sunlight. the seating can house upto 1300 people comfortably and to very keen interest of the designer they made the benches have lotus pattern which could be seen in the picture above. How fascinating!
The cleanliness was top notch, one needs to take off shoes before entering and they use harnesses and pulley to manually clean the high ceiling. Coming to the outer shell, it is highly maintained moreover the drainage is vividly planned, through the bottom of each petal there's a not so noticeable drain which leads the water to the basement in waste water management tank.
Expressionist Architectural style is used here, its's like breaking the monotony, the curves were so intricate and details let's have a closure look-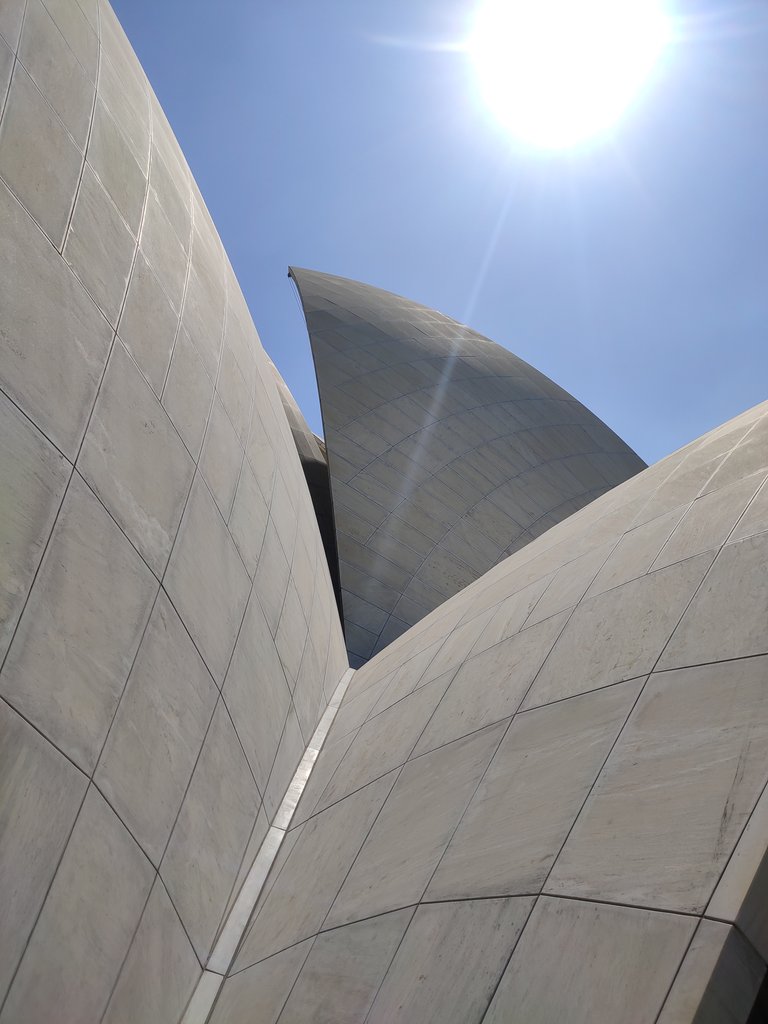 This is my favourite of the bunch
Appreciating the fine details over there that was a day well spent. Also this building houses solar panels, all the artificial lightings are run through solar power.
I really wanted to click the picture of the library as it had a very delicate model of the structure but it wasn't allowed. Also the nine pools surrounding the structure and it's nine petals are aesthetically appealing and helps maintain temperature.
Concluding
I honestly had so many pictures to showcase how this structure is signature landmark of Delhi but already this post has been long. So, if you find a way in Delhi, India, do visit here! just few steps away from metro and have a huge parking for personal vehicle.
To be volunteer here one can reach out to their admin area. By the way such structures bring life to the city not only attracting tourists but such marvellous showcase of expressionist style of architecture is rare to witness with peaceful environment and sustainable functionality.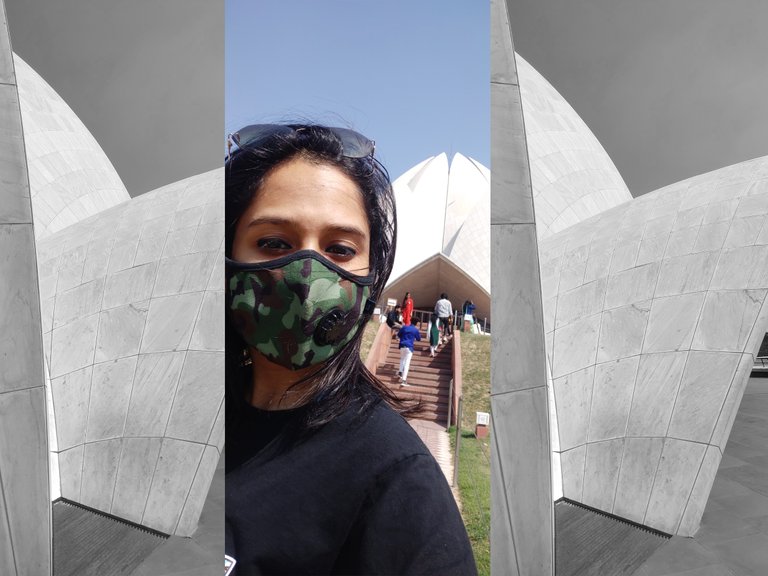 ---
Above mention pictures belongs to me, Also visit @ocd for architecture competition and our Architecture+Designcommunity for fascinating content.
---