Most of us are aware of the luxurious penthouses. I was a little disappointed as the very first project that was Bangkok's café which I mentioned in one of my blogs as well was shelved midway due to corona and financial issues. it was very disheartening. But later another residential project was carried out and now collaborating with a firm for whom we (my friends and I ) will be designing interior.
Couple of days ago we went to see the construction, the penthouse is completed and the interior needs to be done.
Site lies in Gurgaon and The owner is looking for modern interior.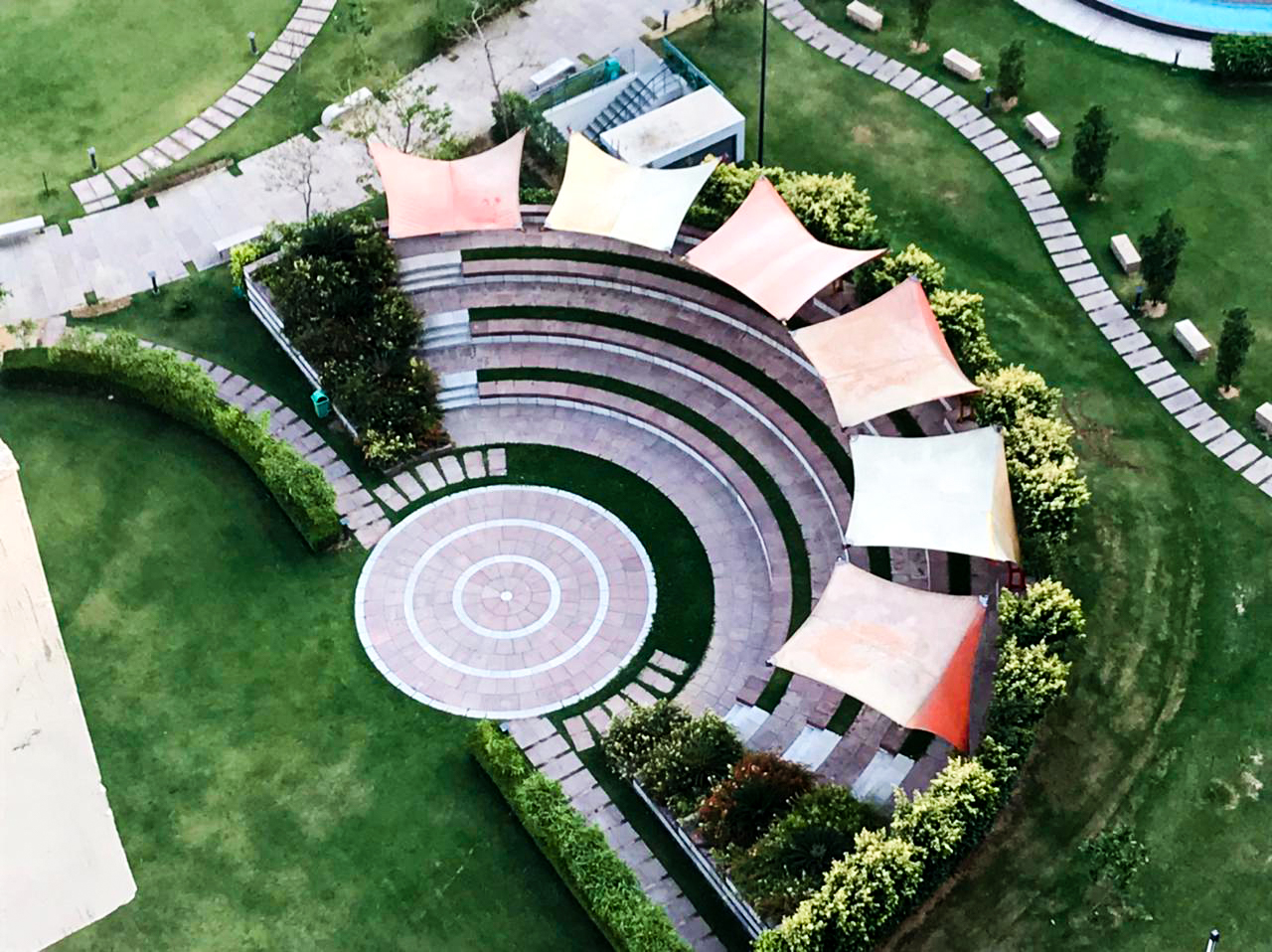 There's a housing which consists of 2 bhk, 3 bhk and penthouses on the top section of the buildings. All of this is still under construction here and there. But that's a picture of open air theatre which could be used for society's gathering or seating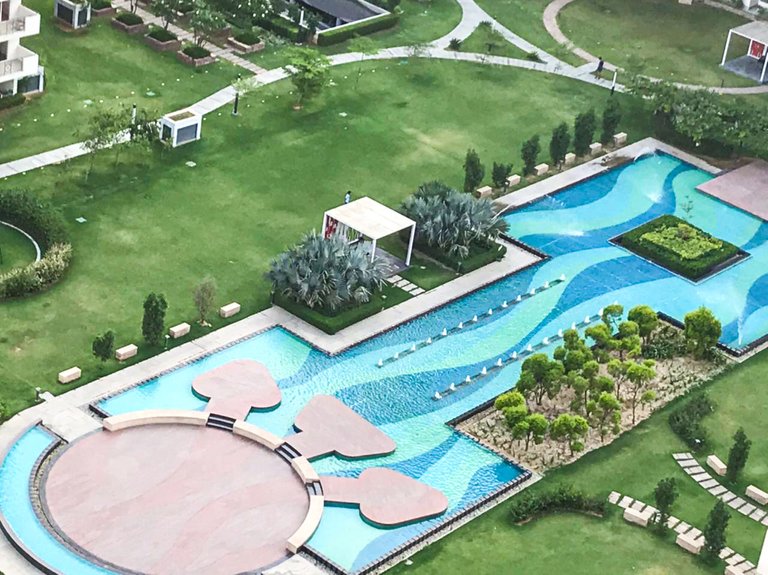 There was a club house by other side and it had a nice deep swimming pool with changing room and a gym. There were several water bodies out there as a part of landscaping and it was well designed.
The penthouse is on 15 th floor with two levels and a terrace. Level one had Kitchen, dinning, Drawing room, 1 bedroom, 1 store and a mini room may be gaming. Level two had two bedrooms and then comes the terrace.
Since this is initial stage so I have few pictures of the site visit, we are preparing mood boards for now before getting the plans and starting up the designing phase there will be a meeting with the clients on our mood boards.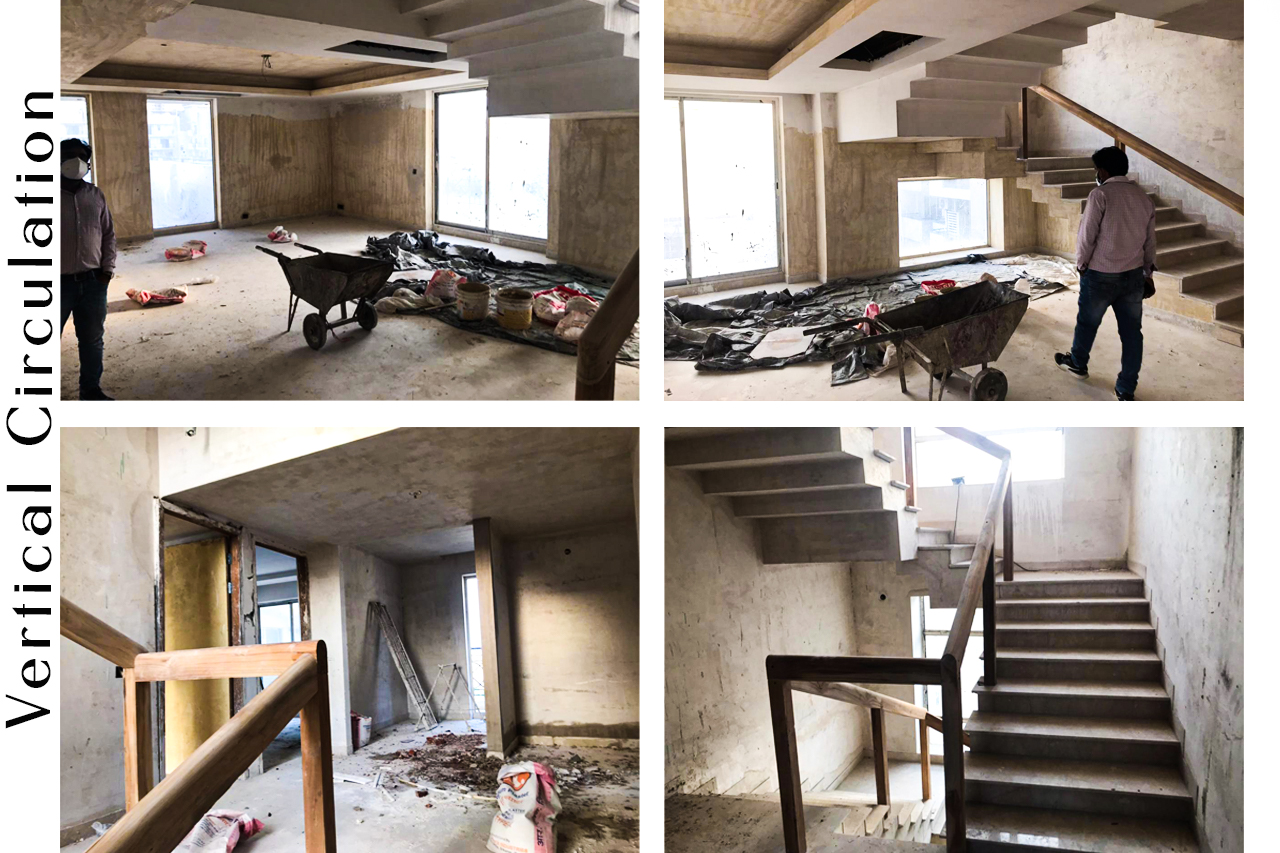 Staircase leads to the terrace which starting from level one of penthouse. The handrails will be changed and a lounge chair will be added under the staircase on level one. The above collage had two pictures from level one and other two from level two. The long chandelier and wall art will be added which will be commissioned to one of my friend. That's the exciting part like I am working with my friends on this project on designing.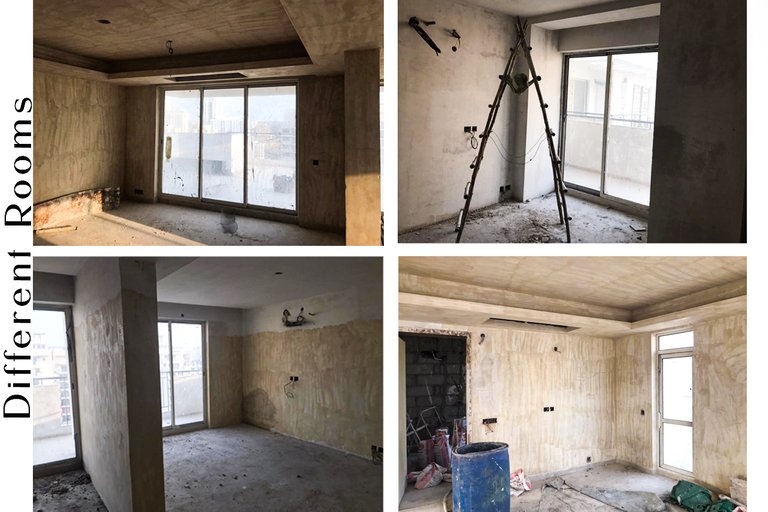 There were plenty more images but I choose these ones as rest of them had much of construction work spread across. The main thing is that the client wants each room to be different but still match the overall theme. There are balconies attached to most of the rooms. Still under design process I am thinking about how can I add vividness but still bind them together. Since covid lockdown are imposing and situations are getting worse so the next design meeting has been postponed a week ahead. We got plenty of time to go through more creative process. The hard thing is going within budget. The budget is good but not infinite as this mistake has been committed by me during the elevation selection of my recent residential project.
So, considering the market value of my design element is the hardest part now.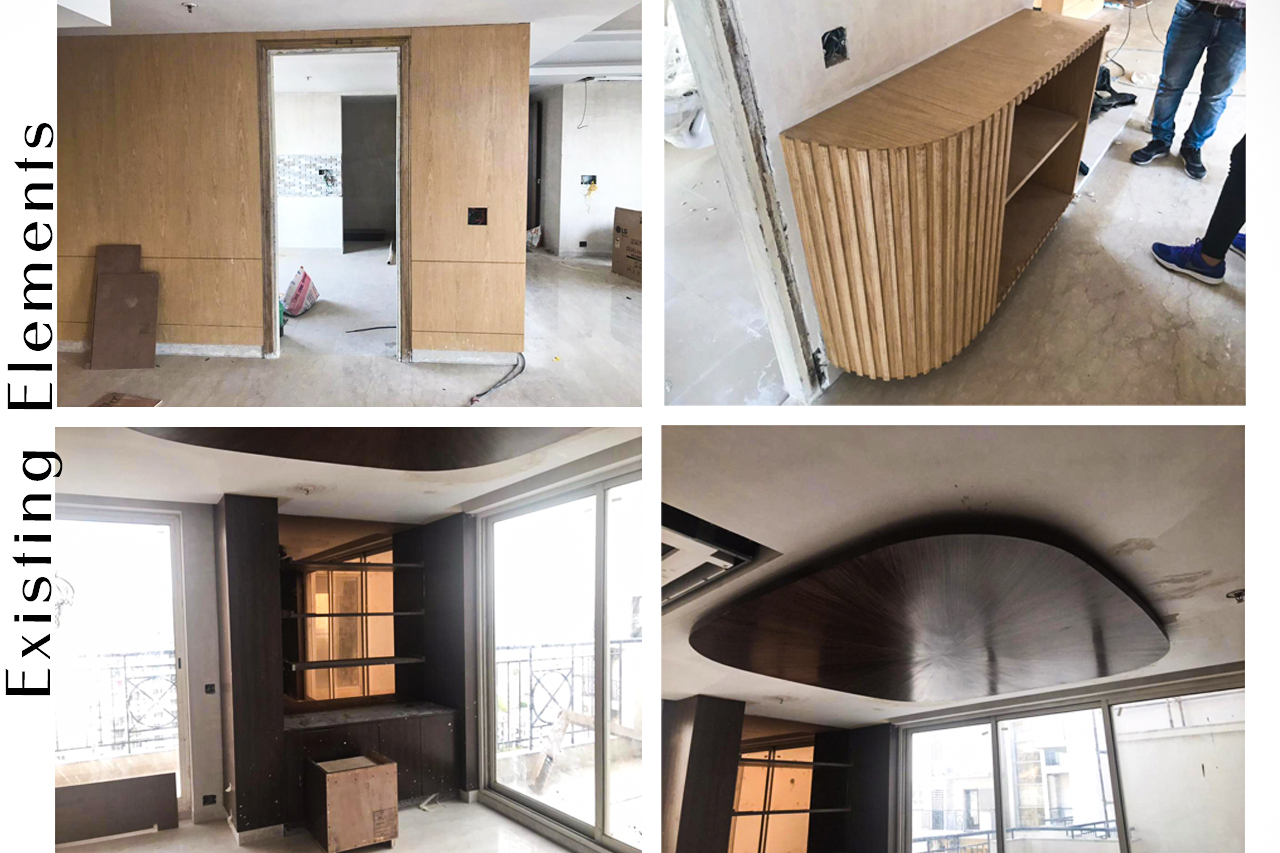 To my surprise there were four such places where already some designing was started and halted. These are now part of the home but the clients didn't liked the cabinets , ceiling and wall panel but to reduce the wastage of money we have to keep these elements and have to blend them into rest of the interior. That could turn out to be biggest challenge or blessing truly. It's just a matter of time and will get to know.
Penthouses are lavish and we need to design what they actually envisioned. First of all funny but true I asked the clients to share their Pinterest's pins!
Yes, It's really important and now we have it and I can really see what their taste is and what would they like.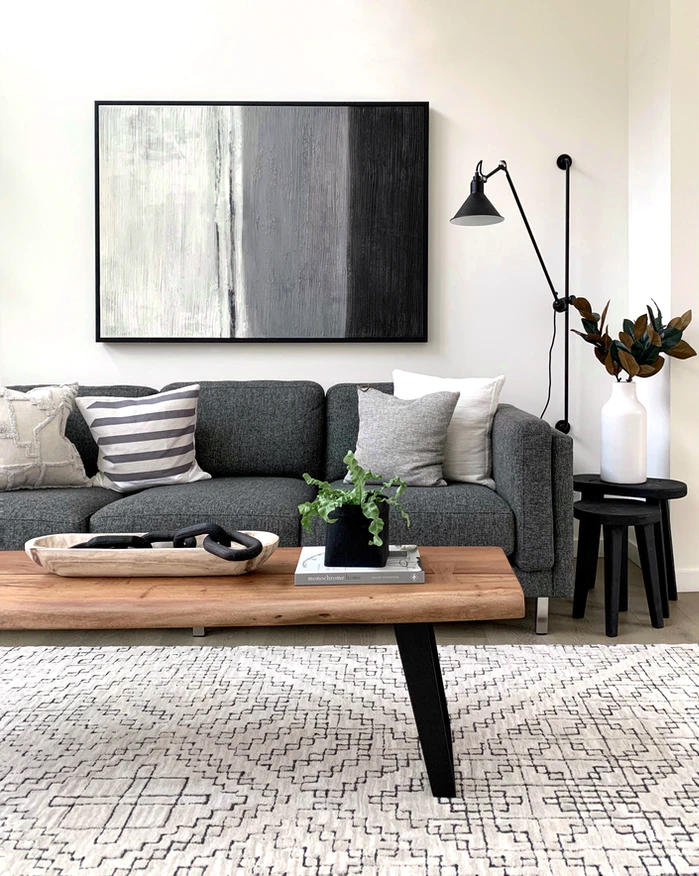 Living Room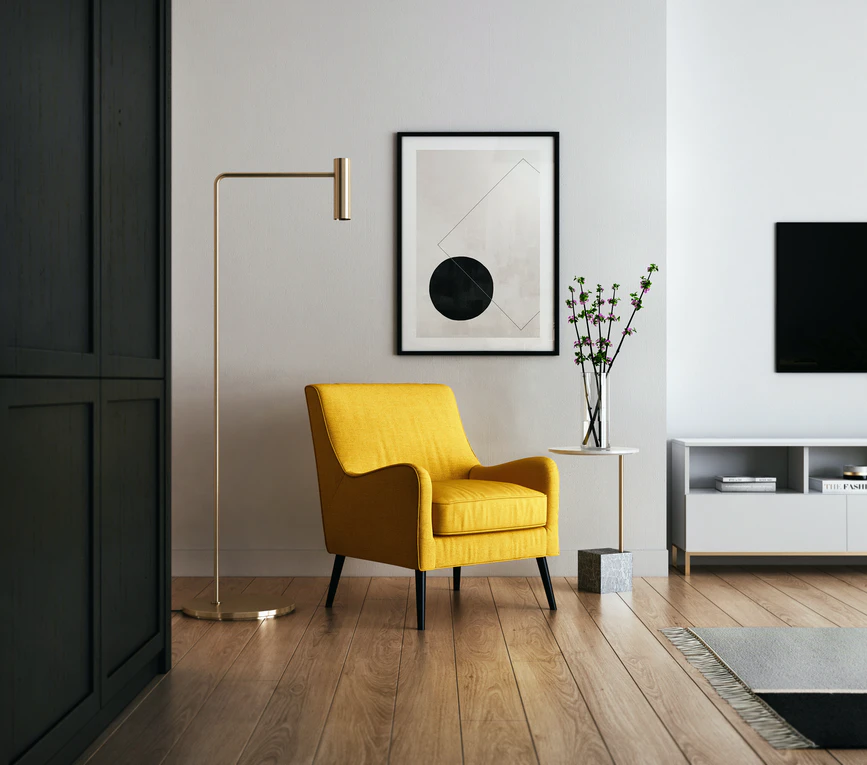 Lounge area
These are little glimpse of what they want, light yet sophisticated colour palate with here and there little pop of colours and arts.
Usually what happens is that penthouse has a setback from the rest of the floors but now a days it isn't implemented and the building is ended up with the same elevation and this has happened here as well. But the interior should speak for itself.
The crux is that this project is new ray of hope and a way to discover new things as getting a place designed is something really new for me and inducing my thoughts would be so exciting. Modernism is a moment and a style which is so in these days and applying them is like taking the style forward. Also Minimalism is a concept which is been confused with modern as I have heard a lot of people misusing the term but honestly minimalism is something way more different than modernism. Probably I shall come up with another blog differentiating between them.
---
What was your gig that excited you for the work?