Temples in India are one of the most sacred places. We have a rich culture of temples all over. My mother visits temple early in the morning daily , we have a mini temple at home where she preaches these days as going out is not safe.
Apart from the spiritual influence, these structures carries the majestic history of architecture of our nation.
Since it's a huge concept to discuss so I would like to make this blog fun with some personal touch by adding my experiences and pictures of temples comparing north to the south side of style. One should know north and south India are totally diverse but still are united.
Heading towards North, There are vivid styles but I would like to bring some focus on Rajasthan's temples. It owes a rich culture and one should definitely visit the state.
The most fascinating one was Dilwara temple, Cameras and mobile phones were not allowed there because of which I was unable to click pictures. That was the place where I held pencil for the first time to sketch and ever since I love sketching.
The Chittorgarh fort which UNESCO site consisted of several temples, starting from the first one called Meera Bai Temple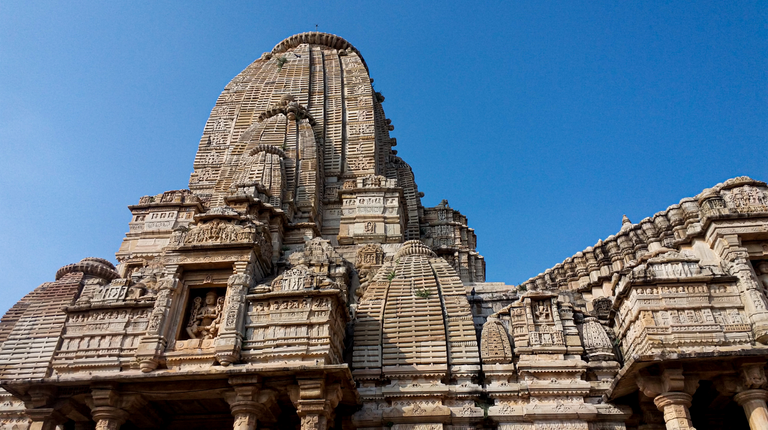 History behind this temple is that it was built to dedicated to the princes Meera who left her lavish royal living and was committed to preach Lord Krishna. She survived many fatal accidents which were planned against her. This temple have a statue of Lord Krishna obviously and with intricate details one would be mesmerised.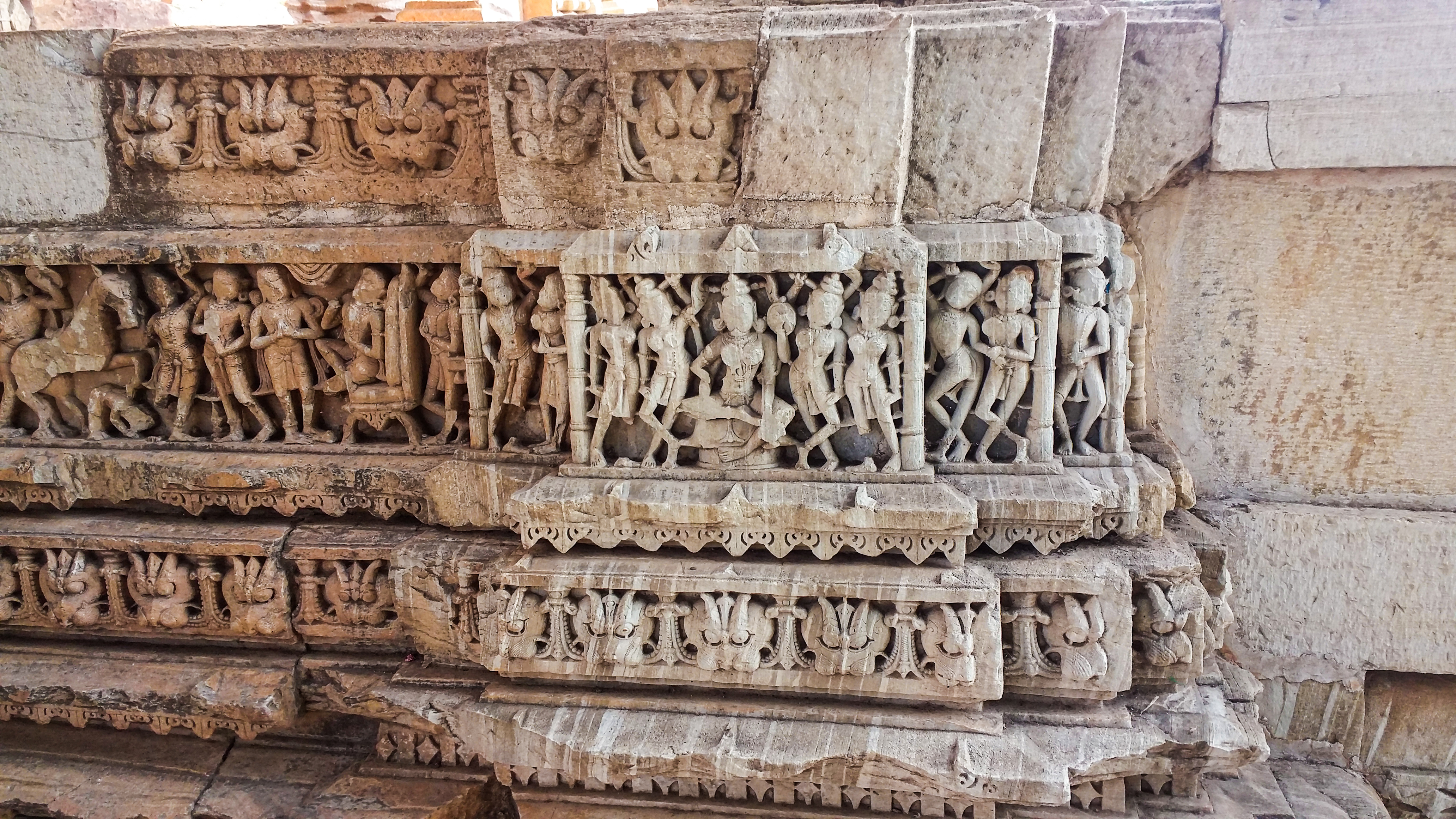 Constructed in Indo-Aryan style by Rana Kumbha this temple stands strong since ages.
The temple is situated on elevated plinth with it's carved stone details one can figure out miniature sculptures and each column owes a similar capital and a base.
It's actually quite open with just main mandapa closed with many domes, there is a saying that there are sculptures of 5 human bodies with one head which symbolises different caste but same god or one god.
To be honest I found the place really interesting and peaceful. I visited here a couple of years ago. To continue with lets' see the Vijay Stambha and Kali Ma Temple-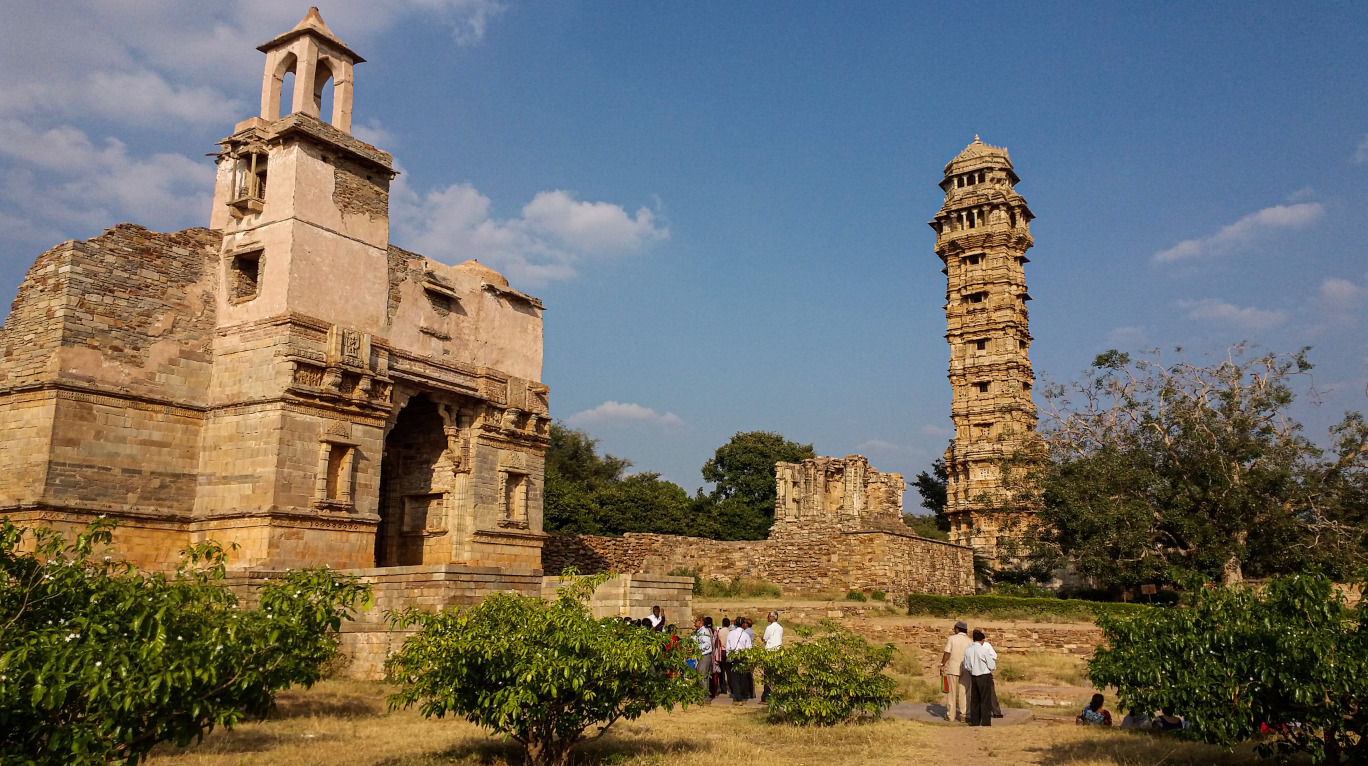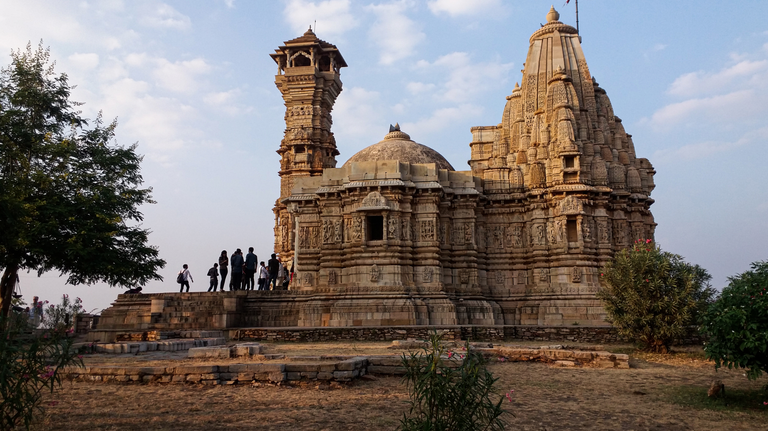 You might notice similarities in structure of temple. But the detailing and meaning of these two are completely different. Since these all are situated closely on same land of Chittorgarh fort which is actually on a mountain and wonderfully constructed.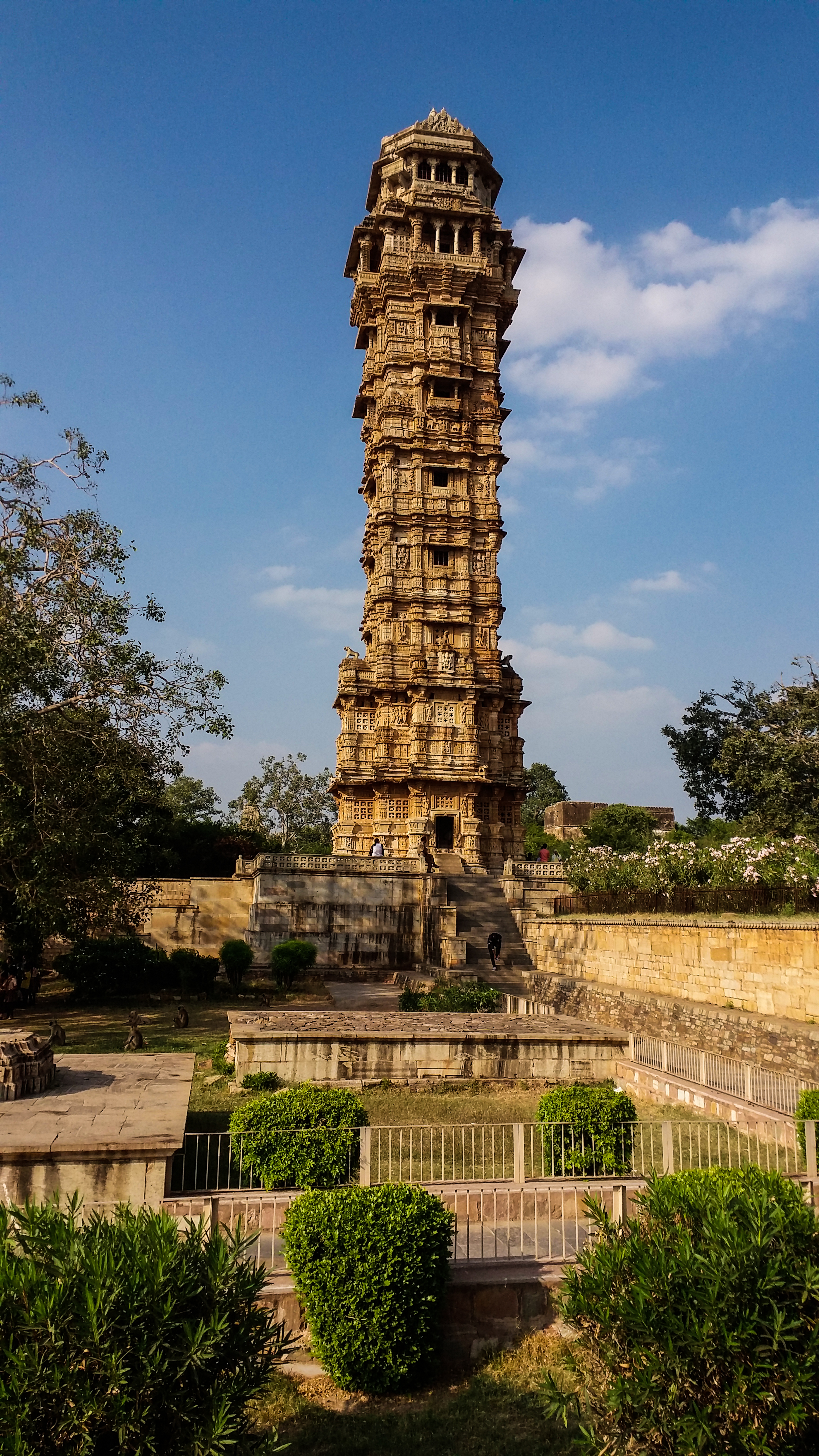 Isn't it a piece of crafted art?
The name Vijay means Victory so, as the name implies King Rana Kumbha built this Stambha to honour his victory over Sultan Mohammad Khilji and Sultan Kutubuddin Shah.
This red sandstone tower stands tall as 37.19 M high on a square platform, So what's all carved inside and out of this tower?
Hindu god and goddesses sculptures are carved with many musical instruments sculptures and the most interesting of them all
is the architect of this tower named Jaita and his three son's portrait is also carved on fifth floor of the tower.
There are in total 9 stories with more than hundreds of steps to reach at the top. I wasn't able to enter since the government has closed the entrance but it is said that the uppermost story has the most beautiful view as there are windows on every story .
I enjoyed the little landscape around the tower or Stambha in Hindi. Even there were remains of some other structures over that place.
It just shows the glory of Rajput's culture and their ability to construct long long ago.
Honestly, just the Chittorgarh doesn't sums up the temple of north. When north of our country is wide spread there will be diverse structures. I have visited many in my lifetime of 23 years.
Here I would like to differentiate only two styles i.e one from north and another from south side. Till now we have witnessed the immense cultural richness and attractive styles of temple structure let's now jump on to South side.
South being large it holds many distinguished styles. So, here I would like to go with a temple which I have mentioned in my past blogs but in a very fainted way. Let me through some lights on details and functionality of the temple called-
Chennakesava Temple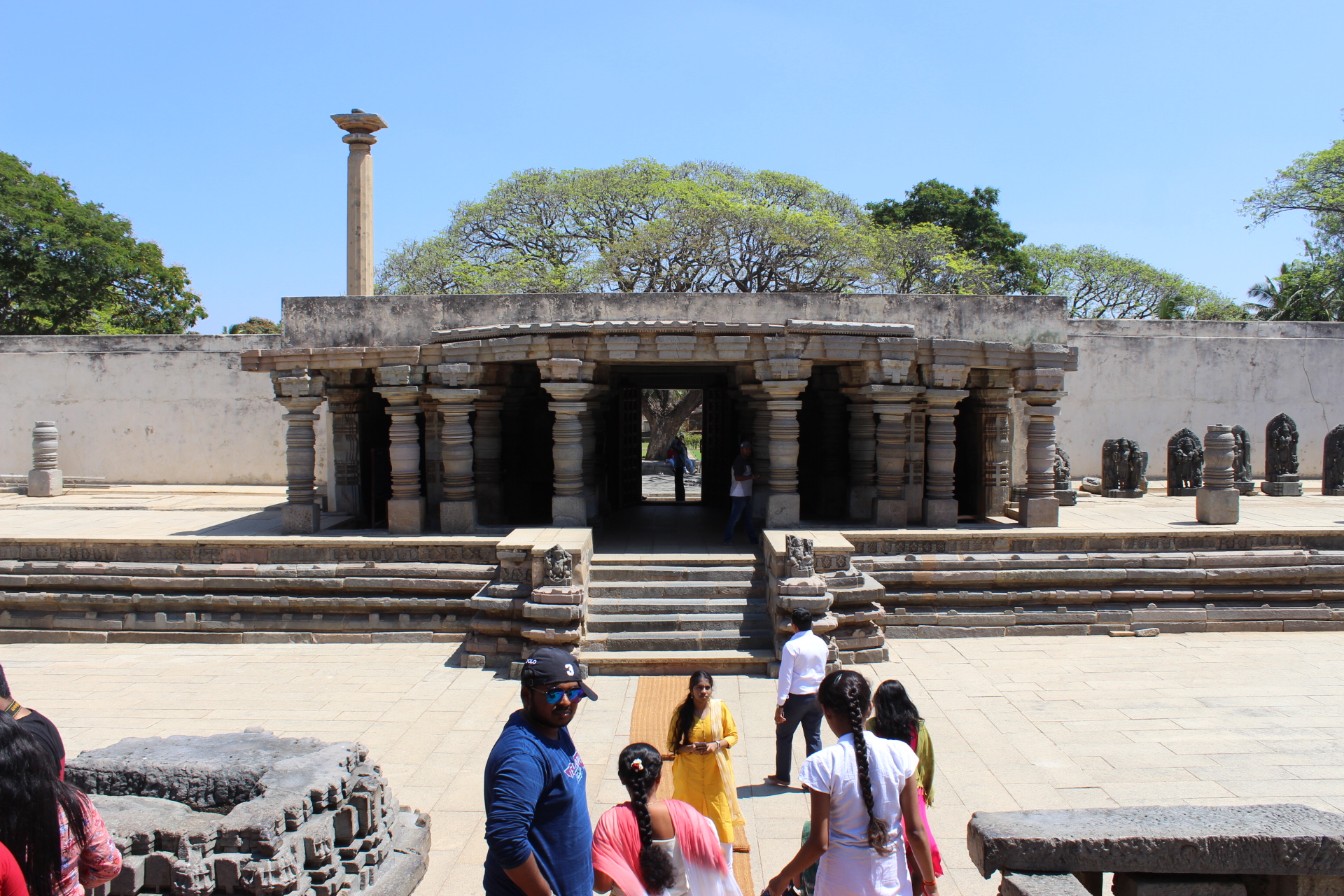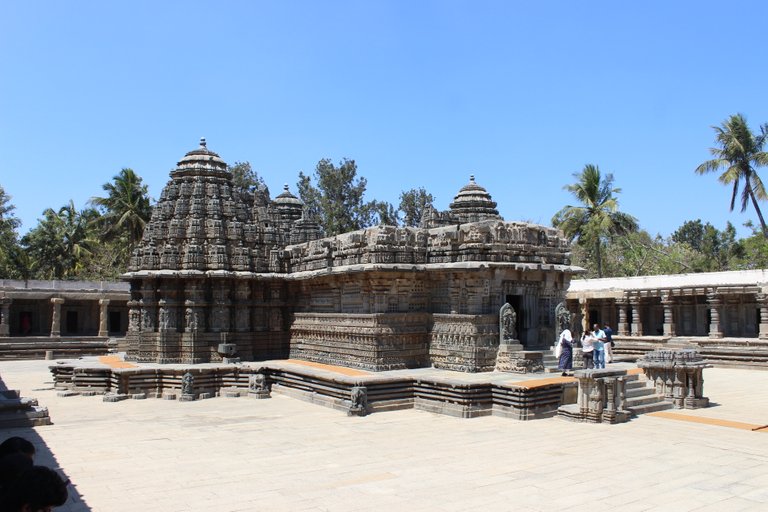 The third one is my favourite shot ever!
Besides it's beauty which I had shared in one of my blog, let's get startled by it's details-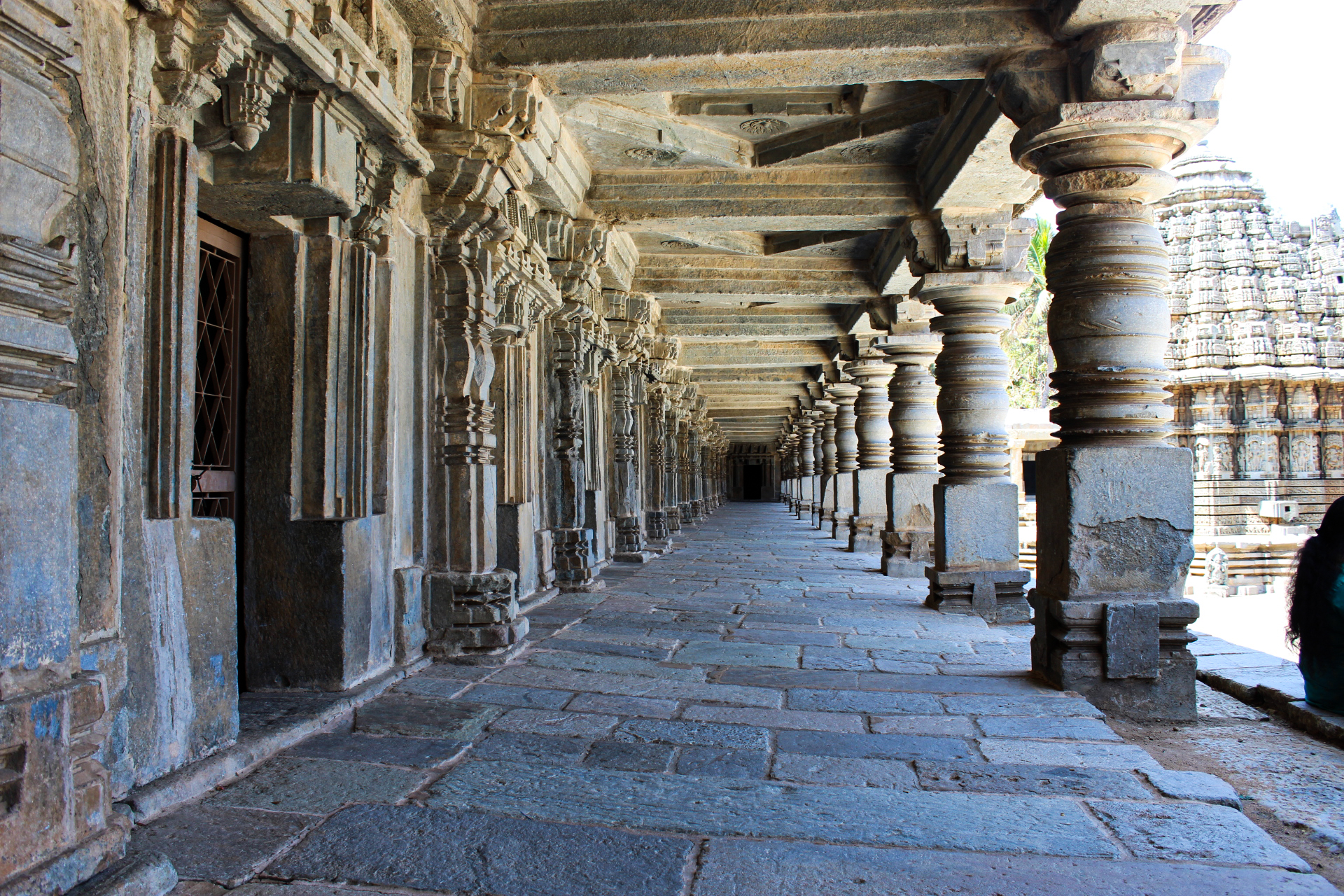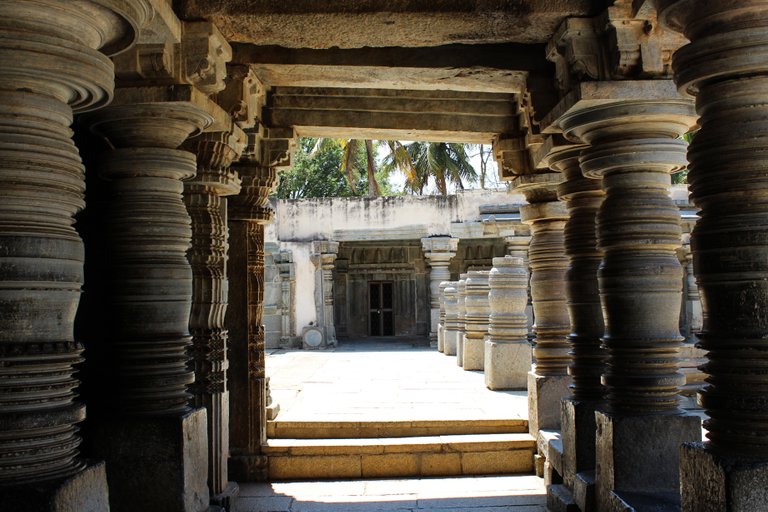 This splendid beauty was build by architect and sculptor Ruvari Malithamma in 1258 CE for Somanatha Dandanayaka who were general in Hoysala Kingdom.
From the history let's dig the architectural aspects.
The major material used in construction is soapstone (Green schist). The carving and the details will make on spell bound to the temple. There is an idol of Lord Vishnu but it isn't preached because it is Broken (Khandit) due to invasion of historic thieves they looted and destroyed many temples and majestic sculptures.
But this place is still respected and visited by many people entire year.
I visited Bangalore with my friends early last year, it's actually on out skirts of city and quite far away as we rented a car and drove it all along to visit a waterfall and this majestic temple.
The distinguished Hoyasala architecture screams symmetry as noticeable from the pictures.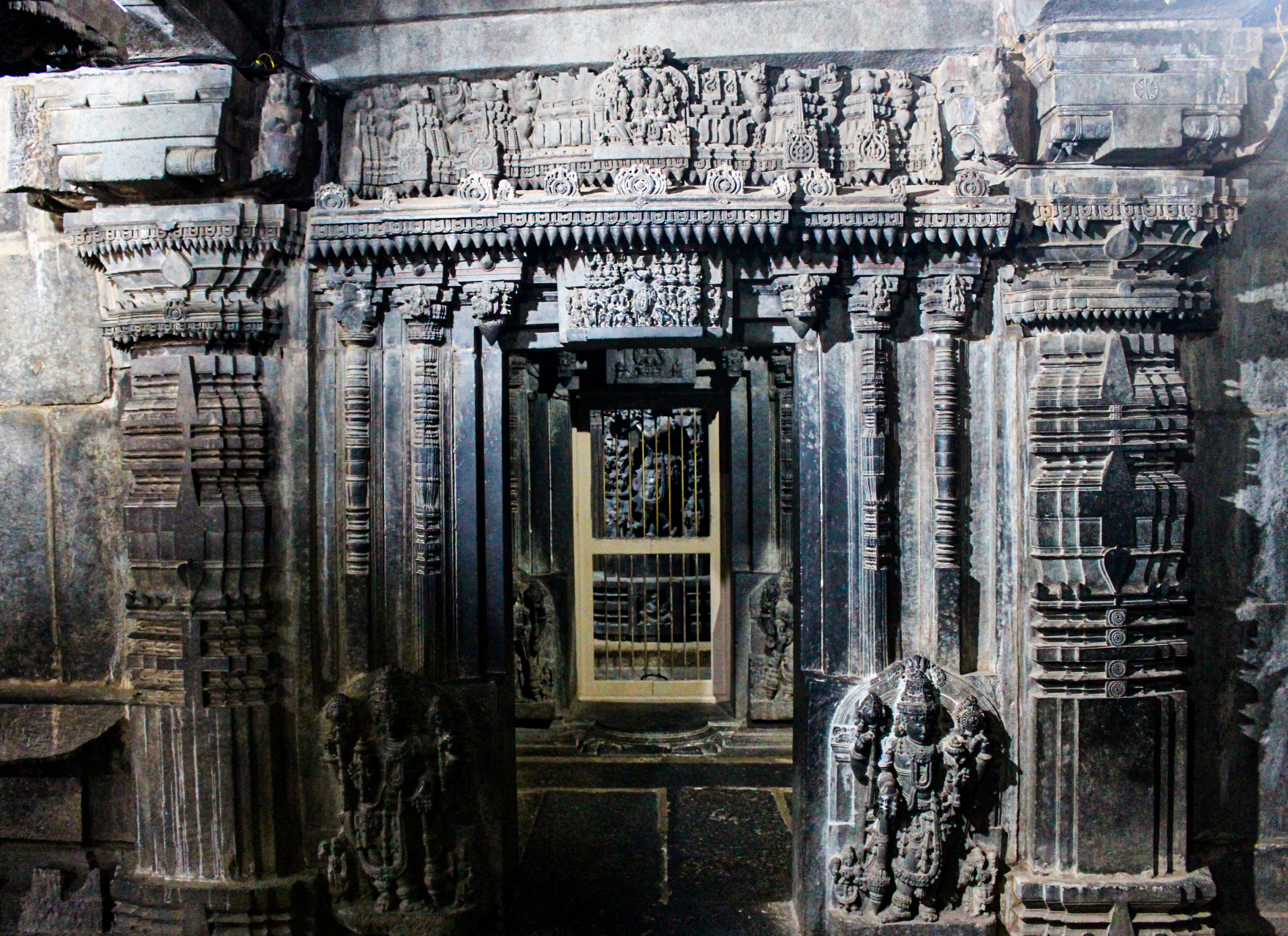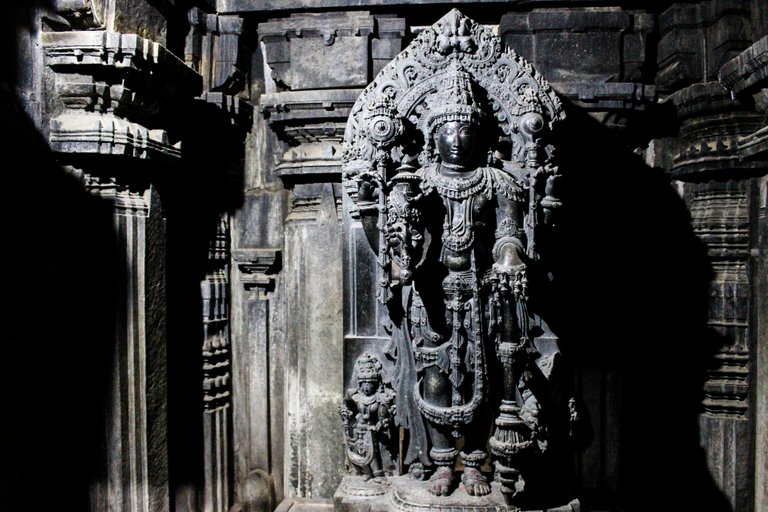 Respected Lord Vishnu
The exterior-
Through a huge porch one enters to the temple compound with a covered corridor of pillars on the rectangular periphery of the temple with the main structure lying right in the middle with open lobby between the periphery and the main sanctum.
The sculptures carved on the exterior of the temple is like an art gallery, it speaks volume.
What I Could derive from the carvings, there were- peacock, lions, elephants, cow, plants, creepers, sea creatures, the stories of mahabharat, ramayan, vishnu puran i.e the holy books, even sports like Kushti , dancing gods and goddesses and much more.
The Interior-
As one passes the foyer area there is empty central area with pillars all around supporting the dome, it's all situated on elevated plinth from the lobby and corridor's level.
The ceilings and idols are worth noticing.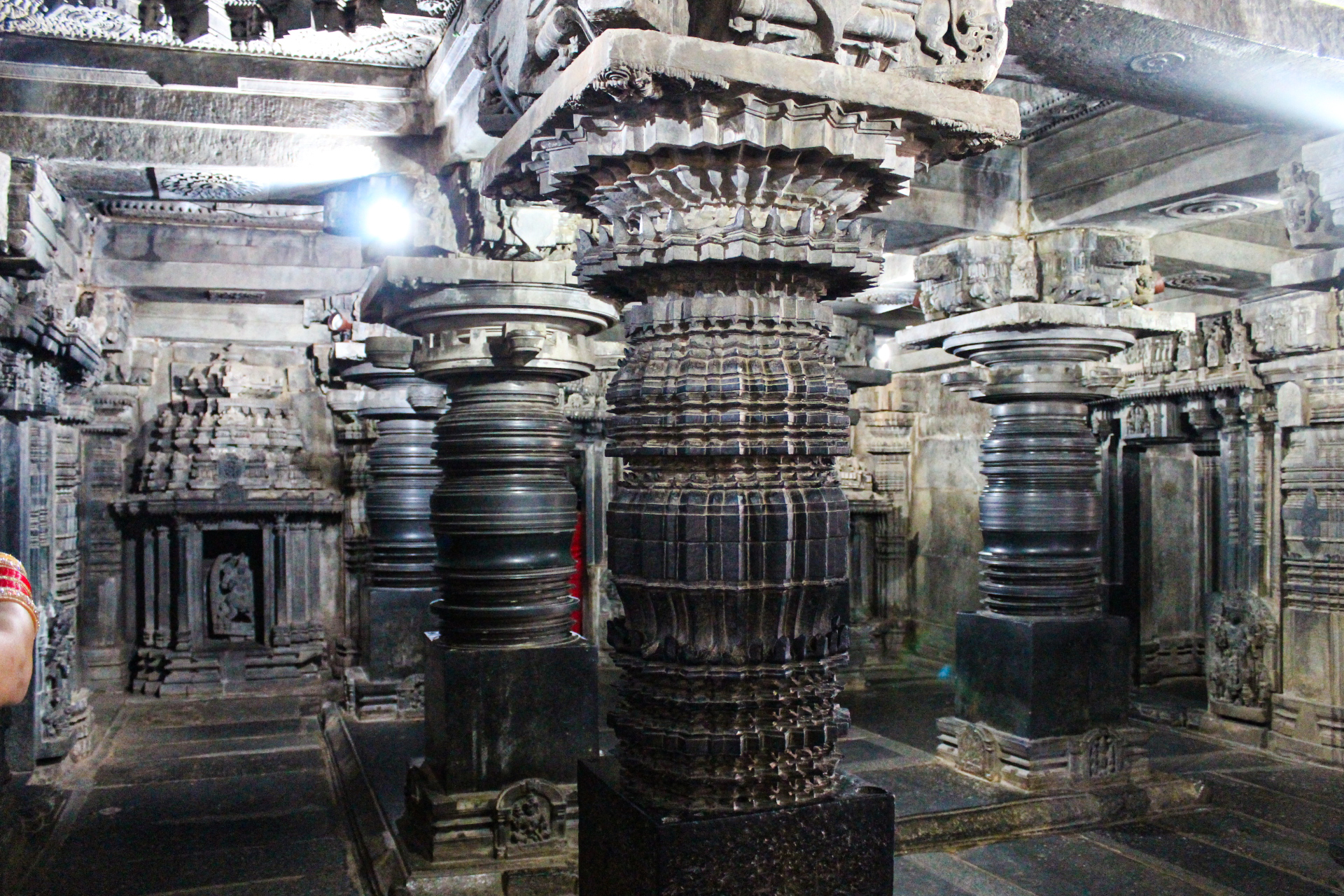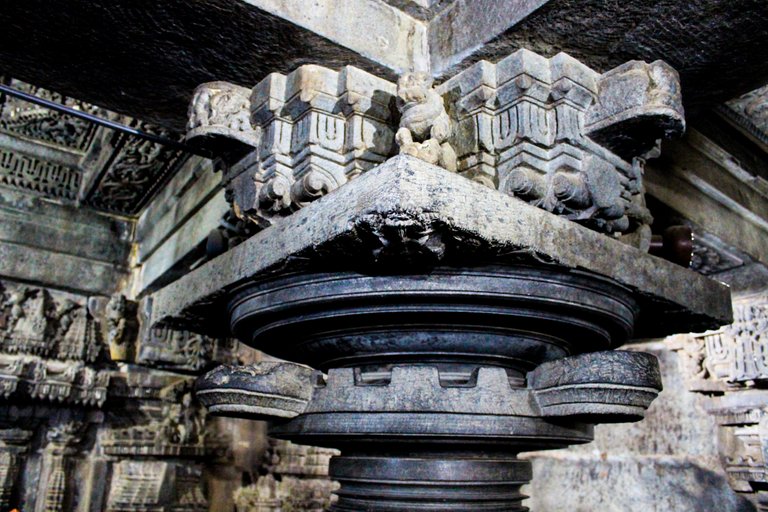 The columns owes a really distinguish style. Each shaft, base , capital and cornice is all divided into sets. one type of set is found some where where other type of sets are also found there typically a mixture of sets.
Considering how mesmerising are the details lets shift our focus to the ceilings. Yes, ceilings are the most detailed one-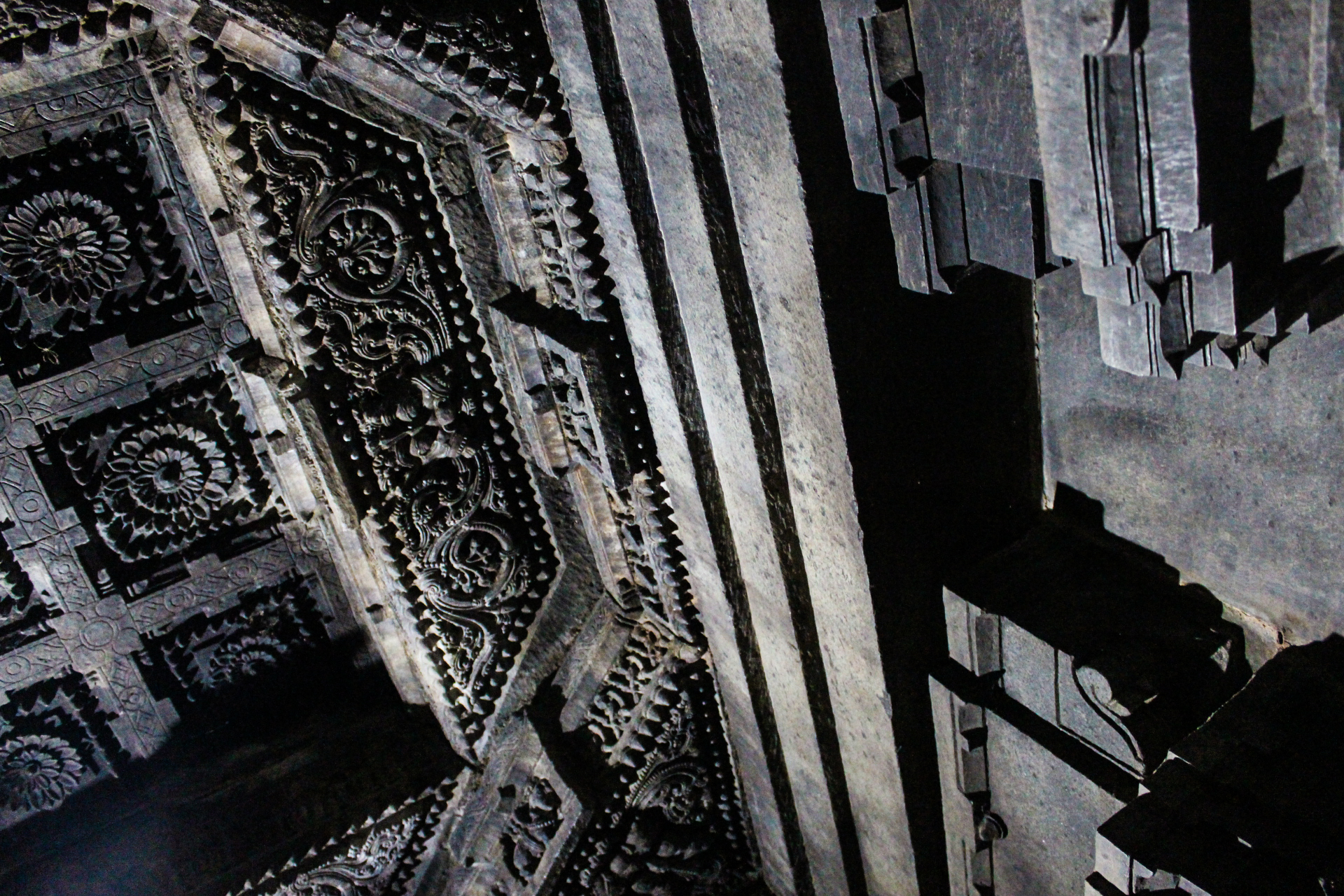 There are actually many types of ceilings, Unfortunately I lost few pictures which I regret now since I really wanted to show you all how amazing are those, I take immense pride in my nation's architecture history.

Concluding
Usually north composes of nagara style and south owes Dravida style then comes the sub styles according to the culture and kingdom. So posing the articulate Dravida style the hoysala style makes its own mark in the history which is evident from this temple. So is the case with Nagara style where Indo- Aryan style reflects it's own cultural importance. Distinguishing between them I just found similarities and differences and no one is above or below another. They both are majestic in their own ways.
Hope this might have bought a urge in you to visit them someday when the world becomes healthy and normal again.