My Futuristic Abode!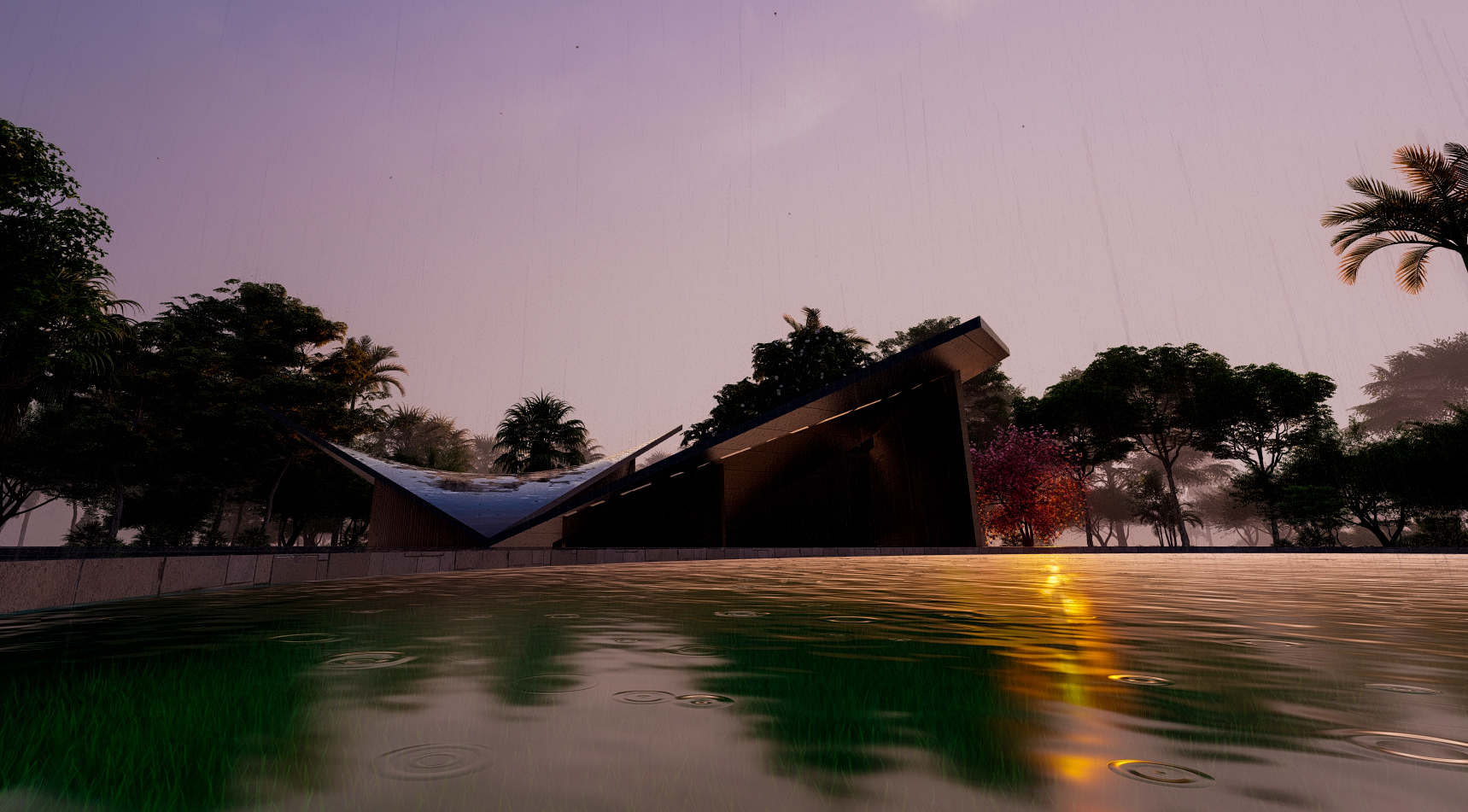 Futurism is not constrained to some specific set of rules, nor even a robotic or alienated concepts suits it. It is just few years ahead of us and the technologically way more advanced. For futuristic homes to be build, there's technologies and warmth of human civilisation which needs to be considered.
Here's a little glimpse to what I consider my futuristic home to be like... somehow.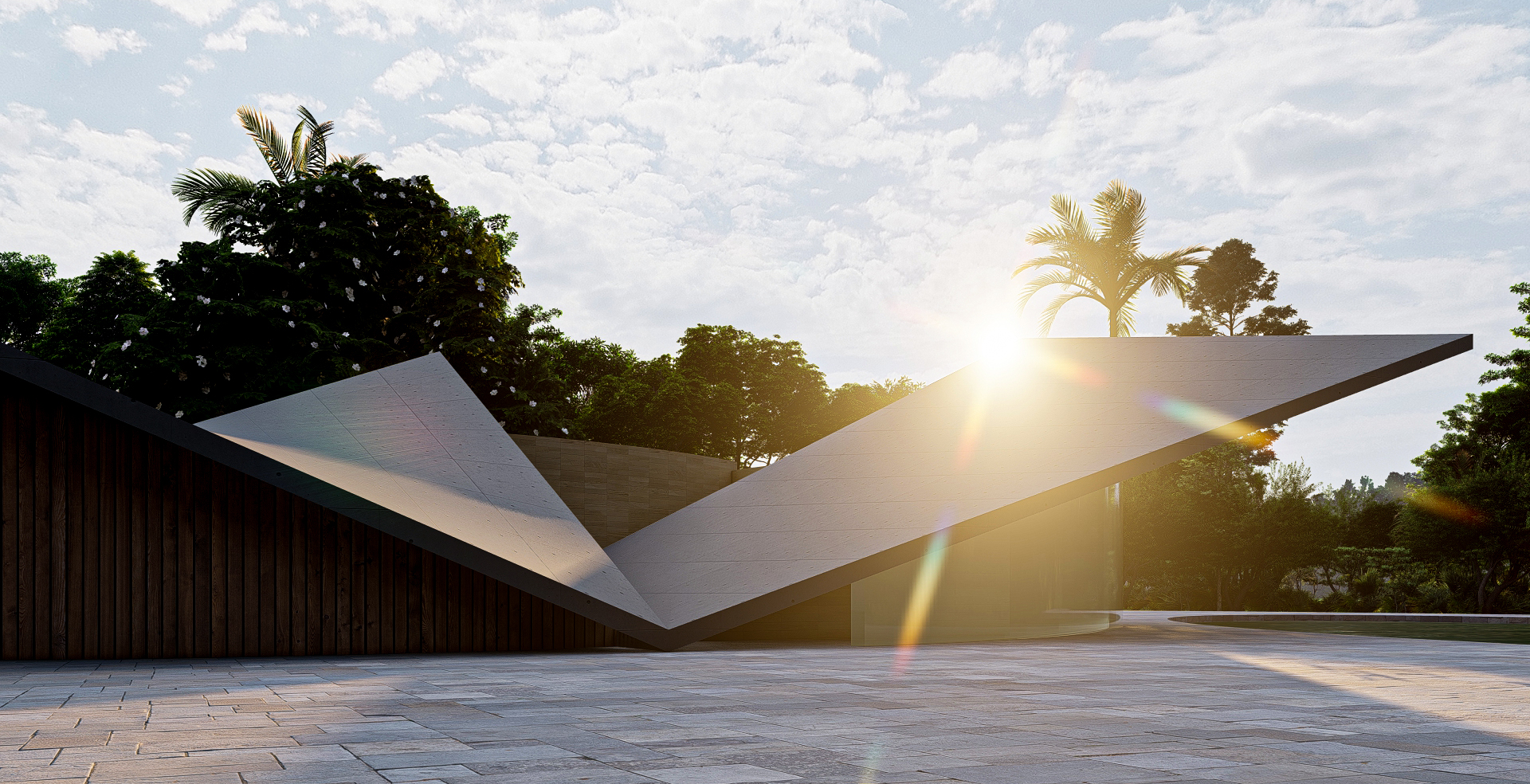 Angles, curves and edges are ultimate. As unique and fascinating they are, more hard are their construction and structural requirements.
People being awestruck by the revolution in architecture of future is what we expect now. The advancements of technologies will go hand in hand by the advancements of materials to perform sustainable functions as future generation needs to take more care of nature's gifts to mankind.
Considering how interiors will be structured, These flowing staircases are my dream to build. These were inspired by Balkan Architect (he makes wonderful tutorials on youtube) I don't know who actually designed them in first place but anyways these staircase were wonderful so I made them in Revit and later made the render along with rest of structures on Lumion.
These are very unique and one of it's kind, I am little concern with their functionality around children but will bring some more adjustment for safety purposes.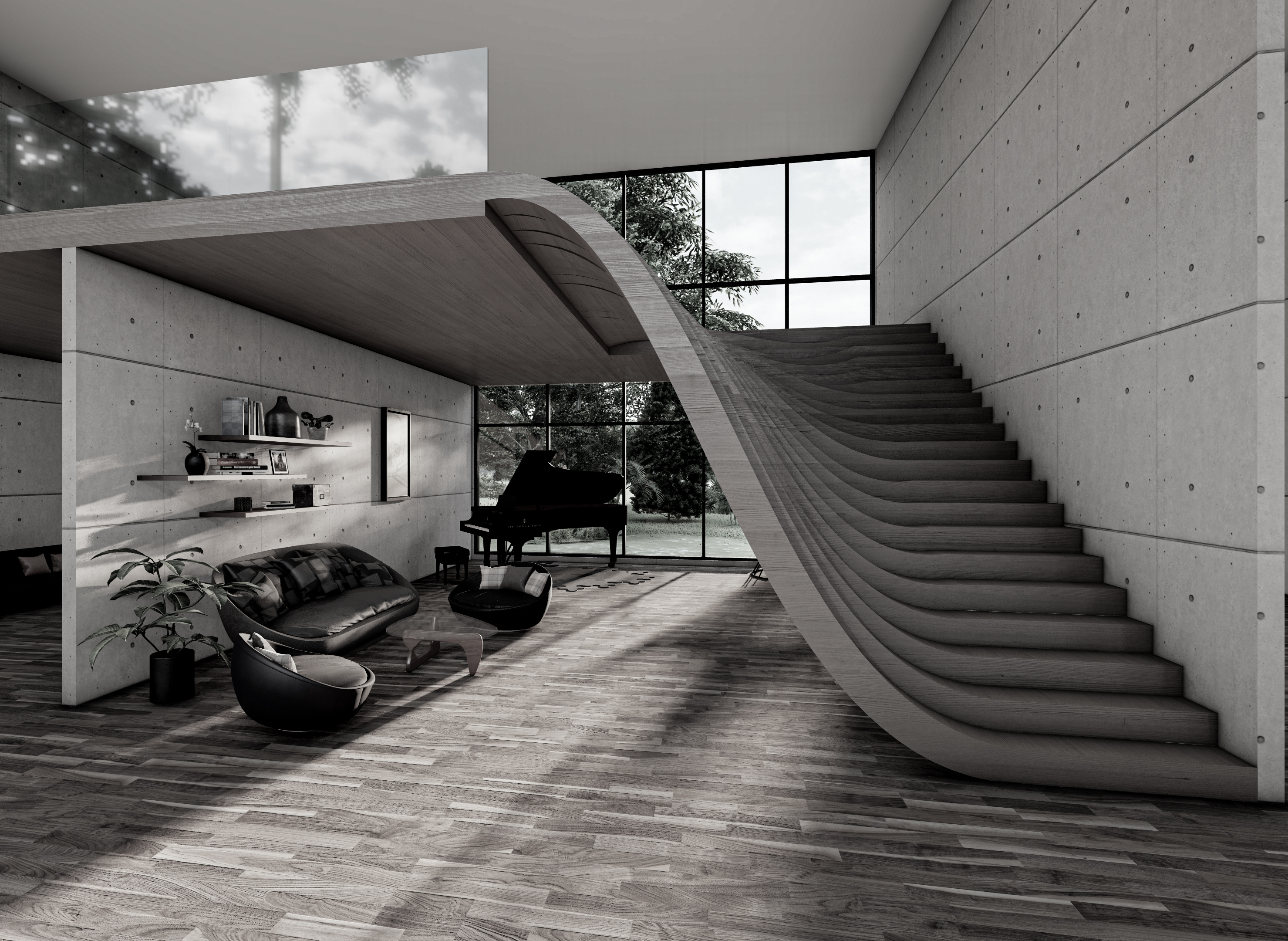 A little lounge area below these staircase with glazed wall is a unique combination of modernism and futurism. Bringing comfort and style making it a state of the art fusion.
For materials. the goal is to reduce carbon footprints produced by the building. As we humans have to reside in future homes not aliens.
Sustainable and Technologically Advanced
In Exterior, roof is made using carbon concrete instead of reinforced concrete as it's main components are made using waste produced during the wood production. Moreover Carbon concrete has significantly long life span, can bear much higher load and is sustainable than the regular reinforced concrete.
Using Mass Timber for interior and cross laminated timber for the façade and staircase would result in more sustainable choice of wood.
Since cladding is an integral part of interiors, an Aluminium foam is used as it is much durable and 100 % recyclable.
Glass constitutes a large part of many walls so using Nano crystal will reduce the amount of heat entering into buildings also can be regulated by users. Also the Kinetic glass for covering exterior glazing, this even monitor CO2 levels and can be regulated technologically.
Not to forget about the Solar panels, they are the most convenient way of managing light inside and out.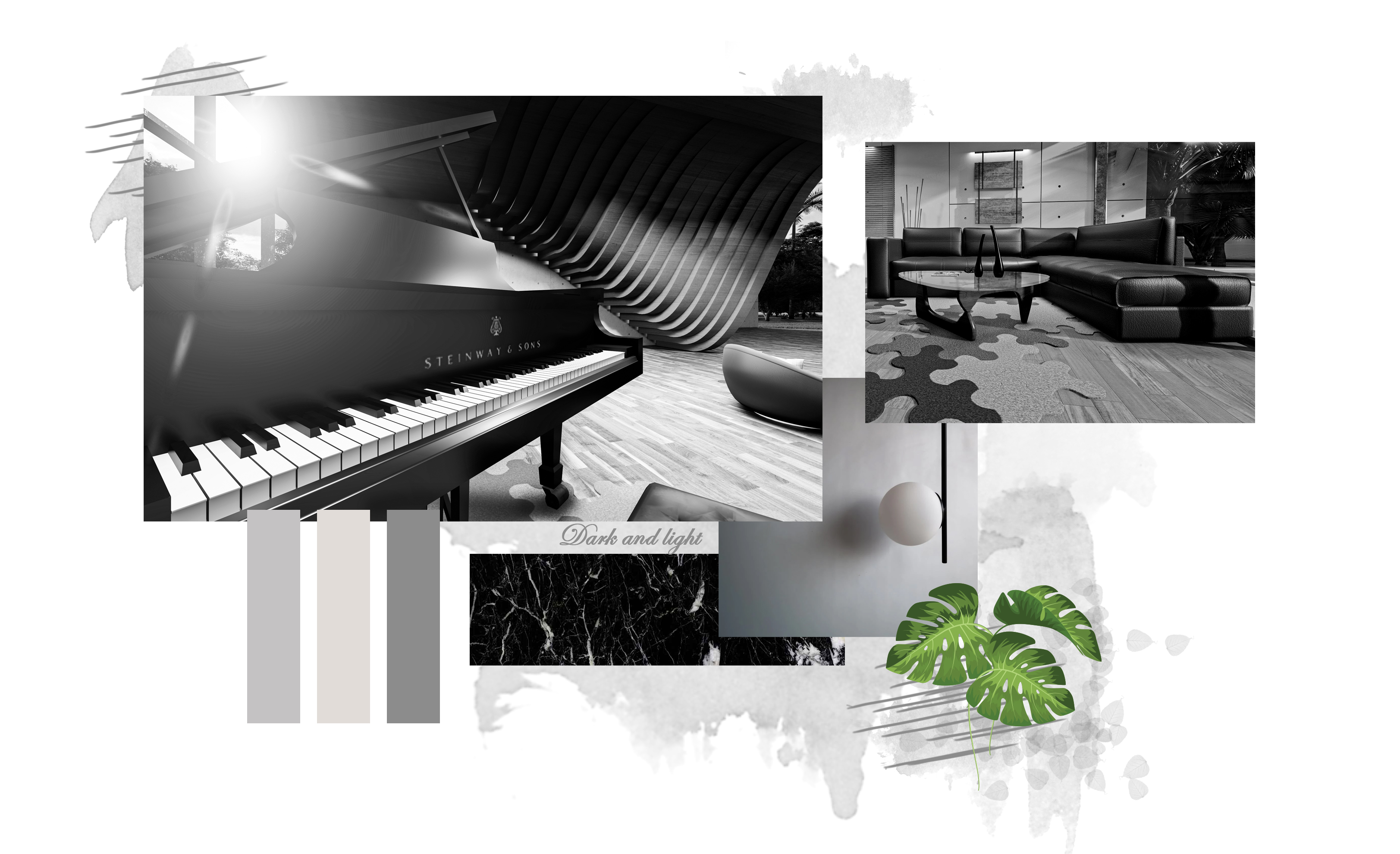 I prepared couple of moodboards to project how the colours and interior with the selection of materials will embrace the façade and the inner part of the home. For, Black being my favourite, choosing it's vivid hues to compliment wood is the most exciting of all. The granite, pendant lights will compliment the colour scheme.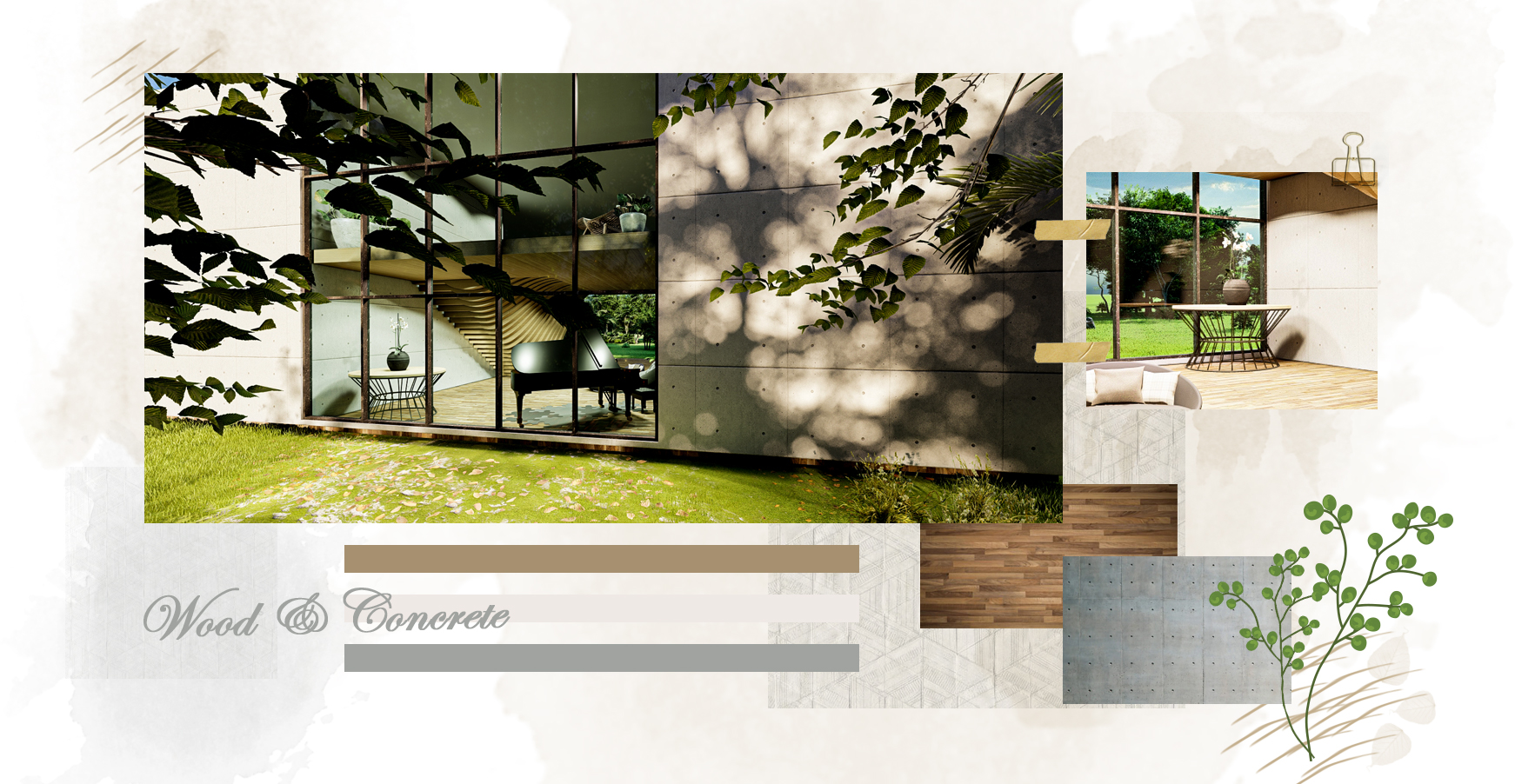 Another mood board is for a little hue of gold and bronze to bring in little vibrancy to the interiors, with the help of few of my renders and pictures, Adobe illustrator made these conceptual theme possible.
What are your perspective of futurism?
---
Above mention pictures belongs to me. I would like to appreciate @storiesoferne for giving me an idea of this subject and @sahiba-rana for helping me in execution of renders.
---

---
---