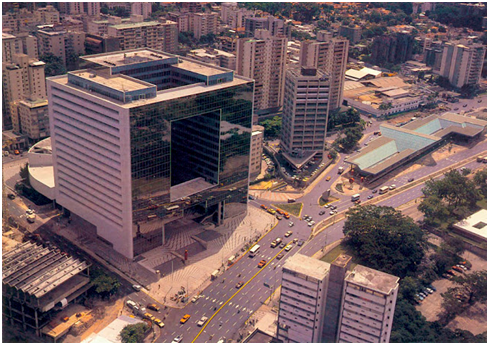 [ENG] Crystal Park - Urbanism
[ESP] Parque Cristal - Urbanismo
[ENG] Crystal Park - Minimalist building whose tower concept is based on a perforated cube
[ESP] Parque Cristal - Edificación minimalista cuyo concepto de torre esta basado en un cubo perforado
---
     In my previous publication, [ENG] "Experiencing Architecture - ARCHITECTURE IN CARACAS, name five (5) amazing and majestic architectural and contemporary works of the city of Caracas, capital of my country, Venezuela.
     Today I will introduce you to another of those contemporary architectural works of the capital city, called Crystal Park, which by then and as now, is a cutting-edge design, which does not go unnoticed, without a doubt, captures the eyes of every passerby passing near the place.
     En mi publicación anterior, denominada [ESP] "Experimentar la Arquitectura" - ARQUITECTURA EN CARACAS, nombre cinco (5) asombrosas y majestuosas obras arquitectónicas y contemporáneas de la ciudad de Caracas , capital de mi país , Venezuela.
     Hoy les presentaré otra de esas obras arquitectónicas contemporáneas de la ciudad capital, denominada Parque cristal, que para su entonces y al igual que ahora, es un diseño de vanguardia que no pasa inadvertido, sin duda alguna, capta las miradas de cada transeúnte que pasa cerca del lugar.
---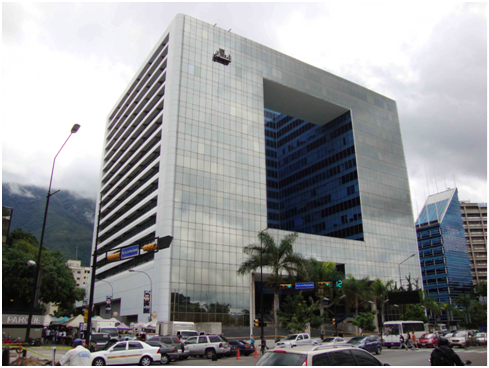 [ENG] Crystal Park
[ESP] Parque Cristal
---
---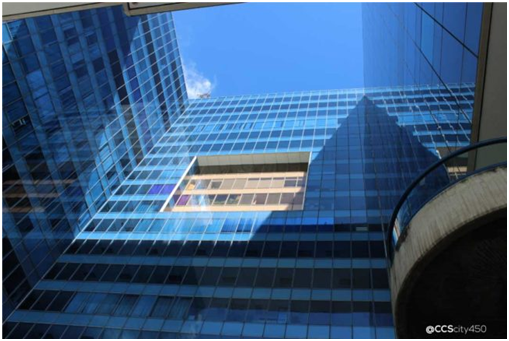 [ENG] View from inside the building-entrance of light
[ESP] Vista desde el interior de la edificación-entrada de luz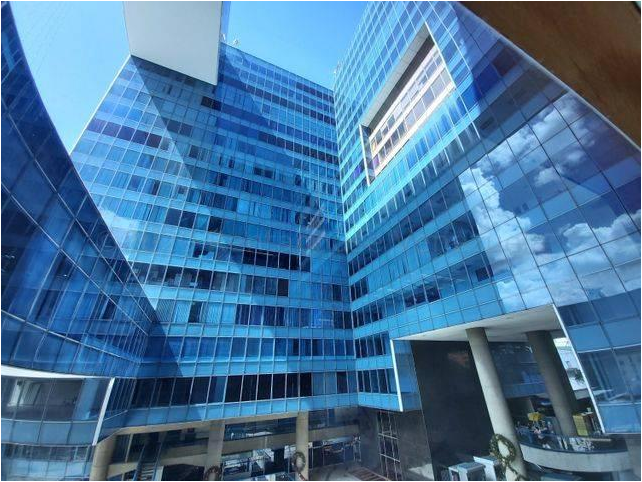 [ENG] View from inside the building-entrance of light
[ESP] Vista desde el interior de la edificación-entrada de luz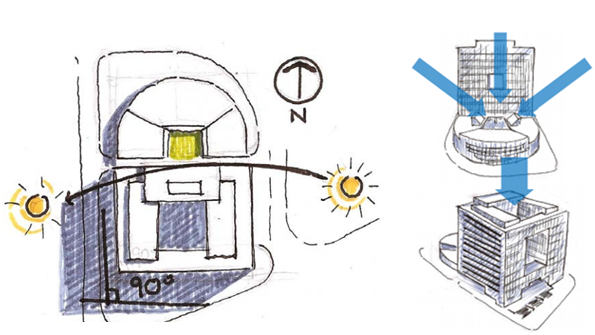 [ENG] Natural lighting of the internal spaces of the building
[ESP] Iluminación natural de los espacios internos de la edificación
---
     Considered part of the financial heart of Caracas, it is located in the Municipality Chacao, on Miranda Avenue, in Los Palos Grandes. It is considered one of the cultural heritages built in the municipality Chacao.
     Considerado parte del corazón financiero de Caracas, se encuentra ubicado en el Municipio Chacao, en la Avenida Miranda, en Los Palos Grandes. Se le considera unos de los patrimonios culturales construidos en el municipio Chacao.
---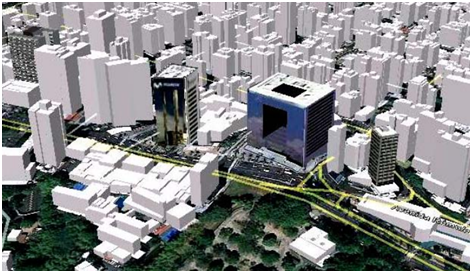 [ENG] 3D location image
[ESP] Imagen 3D de ubicación
---
     The project is the work of architects Walter J. Alcock and Roberto Collevecchio. Opened in 1977, ten years later, in 1987 it won the Metropolitan Architecture Award. The floors are made up of mosaics, which were built by the plastic artist Nedo. The shape and structural solution of the building is calculated to meet the conditions of the place where it was founded, since it is located in a high seismic area, with poor mechanical conditions of the ground, so its design was made under a strict mathematical order, the responsible for the construction was the Engineer Enrique Arnal.
     El proyecto es obra de los arquitectos Walter J. Alcock y Roberto Collevecchio. Inaugurado en 1977, diez años después, en 1987 ganó el Premio Metropolitano de Arquitectura. Los pisos se encuentran formados por mosaicos, los cuales fueron diseñados por el artista plástico Nedo. La forma y solución estructural del edificio esta calculada para cumplir las condiciones del lugar donde se fundo, ya que se encuentra ubicada en una zona sísmica alta, con malas condiciones mecánicas del suelo, por lo que su diseño se realizo bajo un estricto orden matemático, el responsable de la construcción fue el Ingeniero Enrique Arnal.
---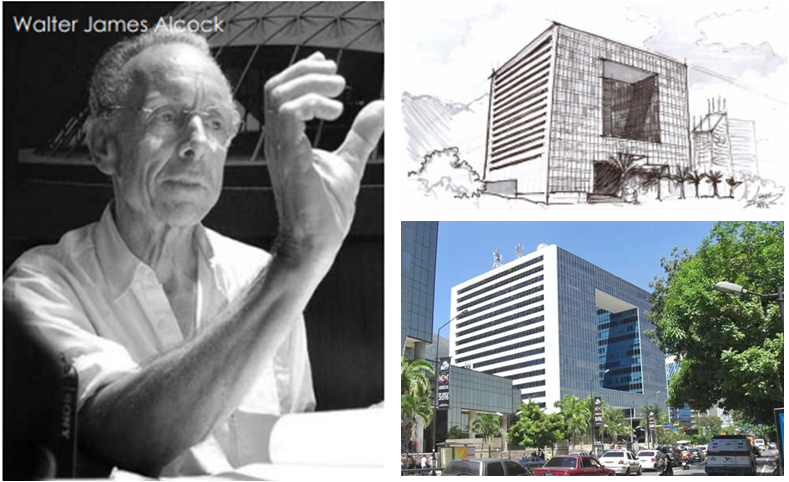 [ENG] Architect Walter J. AlcockWalter J. Alcock alongside a representation of the cube. / Images extracted from Google and edited by the author
[ESP] Arquitecto Walter J. AlcockWalter J. Alcock junto a una representación del cubo. / Imagenes extraídas de Google y editadas por el autor
---
     The structure is composed of a system of reinforced concrete porches, whose structural elements make up circular section columns and rectangular section beams, in its cube form, a system of horseshoe-shaped plants is created in the direction of the internal square of the building, thus remaining the center of the building completely free, allowing a large amplitude on its ground floor.
     La estructura está compuesta por un sistema de pórticos de concreto armado, cuyo elementos estructurales lo conforman columnas de sección circular y vigas de sección rectangular, con modulo de escaleras de concreto armado, en su forma de cubo, se crea un sistema de plantas en forma de herraduras en dirección hacia la plaza interna de la edificación, con esta forma, queda el centro del edificio completamente libre, permitiendo una gran amplitud en su planta baja.
---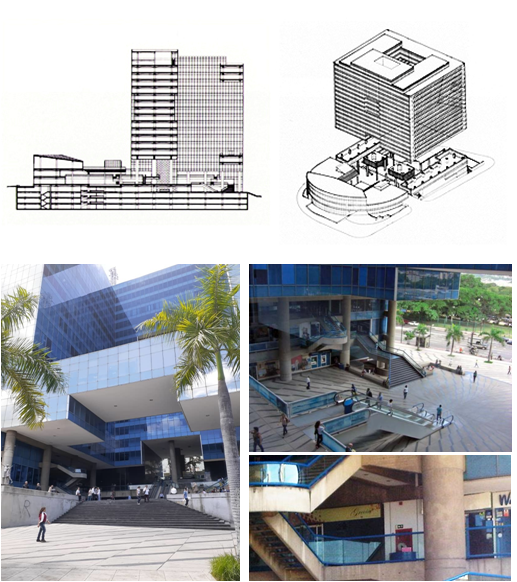 [ENG] Design and structural elements / Images extracted from Google and edited by the author
[ESP] Diseño y elementos estructurales / Imagenes extraídas de Google y editadas por el autor
---
     It has two (2) volumes, a low 2-level body that is rounded up to its northern border with pedestrian transition spaces between its curved edges and a second highest body that makes up the 15 levels where shops, banks, offices and medical services are located, faces Francisco de Miranda Avenue and the Parque del Este; To the east it gives access to a service station that discreetly enters the aluminum facade and just like to the west gives access to the parking area. Its openings allow it to efficiently take advantage of natural ventilation from the east of the building, allowing a pleasant temperature inside .
     Posee dos (2) volúmenes, un cuerpo bajo de 2 niveles que se redondea hacia su lindero Norte con espacios de transición peatonal entre sus bordes curvos y un segundo cuerpo de mayor altura que conforma los 15 niveles donde se encuentran los comercios, bancos, oficinas y servicios médicos , hace frente hacia la avenida Francisco de Miranda y el Parque del Este; Al Este da acceso a una estación de servicios que entra discretamente en la fachada de aluminio y al igual que al Oeste da acceso al área de estacionamientos. Sus aberturas le permiten aprovechar eficientemente la ventilación natural proveniente desde el este de la edificación, permitiendo una agradable temperatura en el interior de los ambientes.
---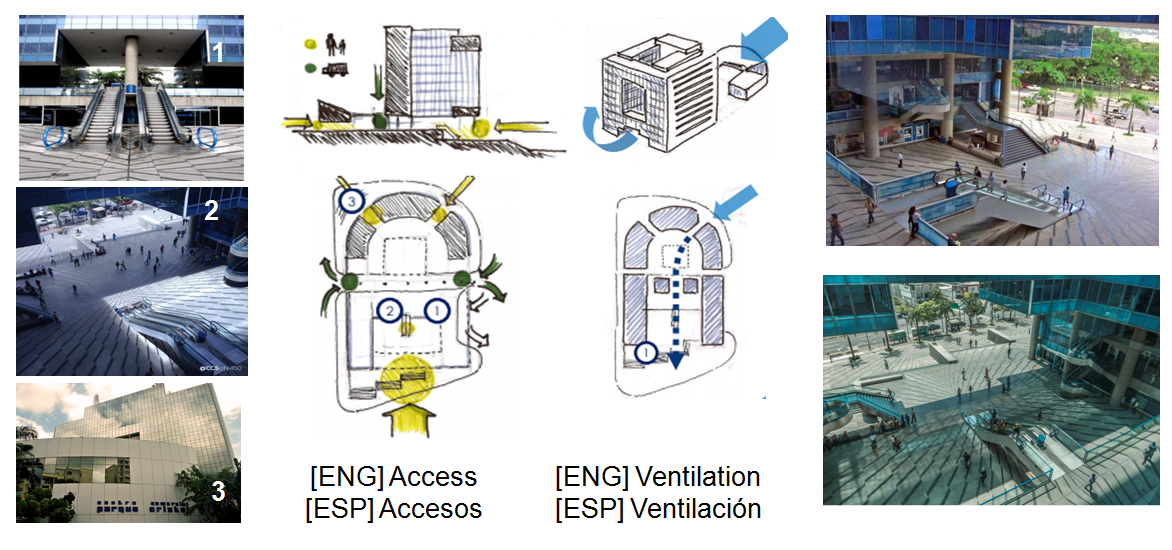 [ENG] Sketch.Pedestrian access and vehicle-Natural ventilation /Images extracted from Google and edited by the author
[ESP] Bosquejo.Acceso peatonal y vehícular-Ventilación natural /Imagenes extraídas de Google y editadas por el autor
---
     Below is a Collage of photographs of the interior and exterior of Parque Cristal.
     A continuación se presenta un Collage de fotografías del interior y exterior de Parque Cristal.
---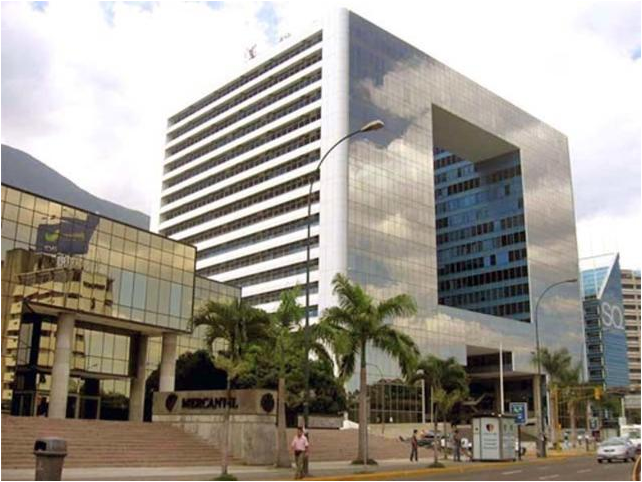 [ENG] View from the Mercantile Bank
[ESP] Vista desde el Banco Mercantil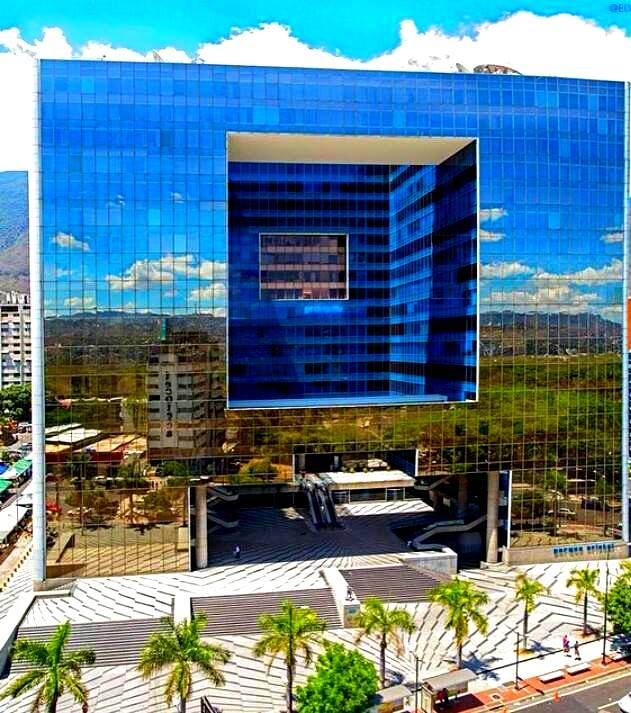 [ENG] Front View- Caracas Reflection
[ESP] Vista Frontal-Reflejo de Caracas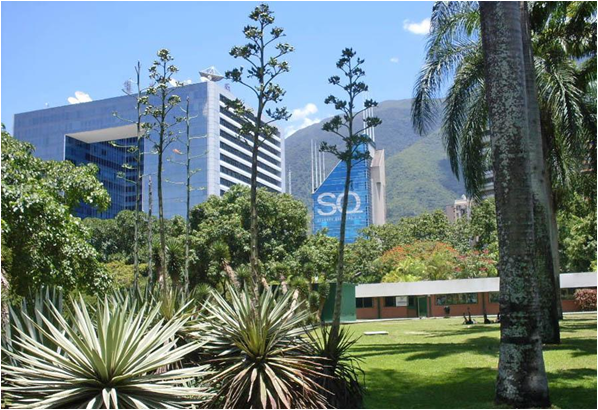 [ENG] Exterior areas of Cristal Park
[ESP] Áreas exteriores de Parque Cristal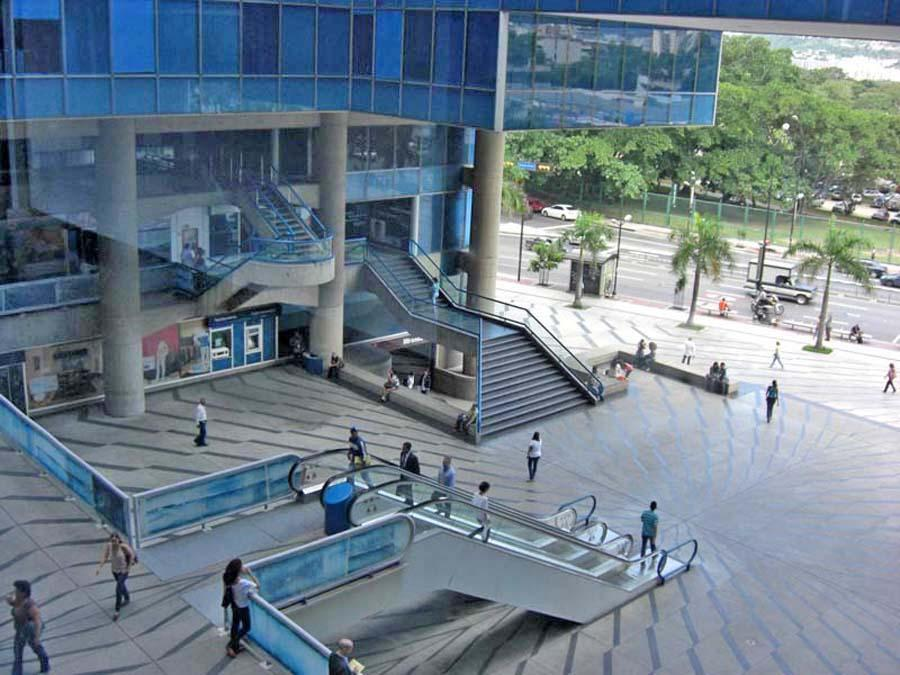 [ENG] Access areas
[ESP] Áreas de acceso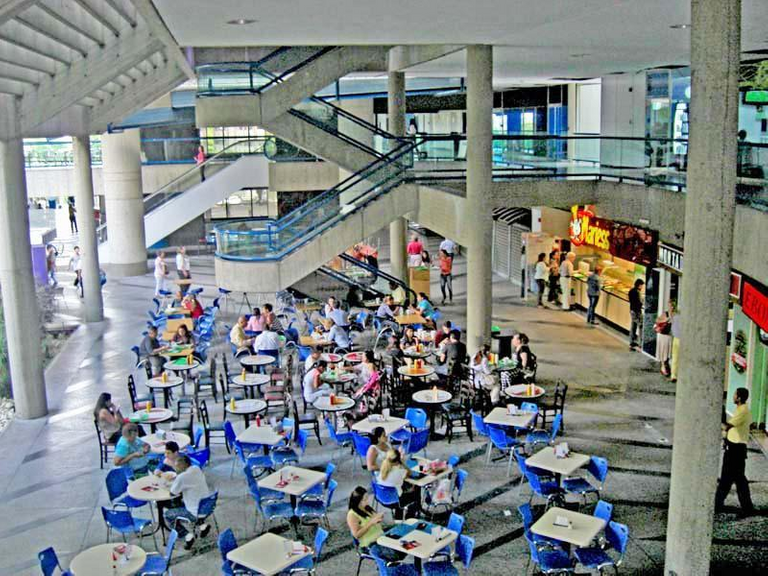 [ENG] Food feria
[ESP] Fería de comida

[ENG] Office corridors
[ESP] Pasillos de oficinas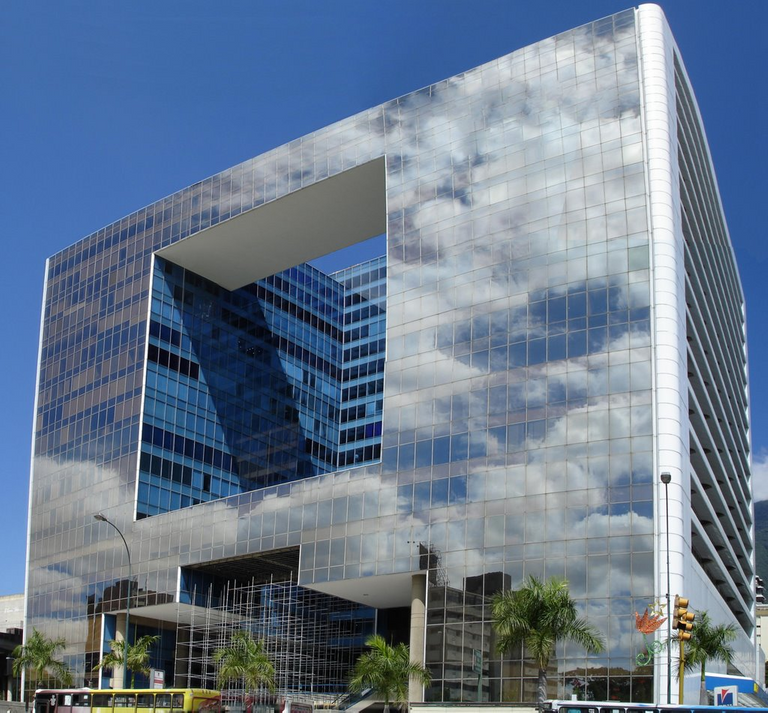 [ENG] Crystal Park
[ESP] Parque Cristal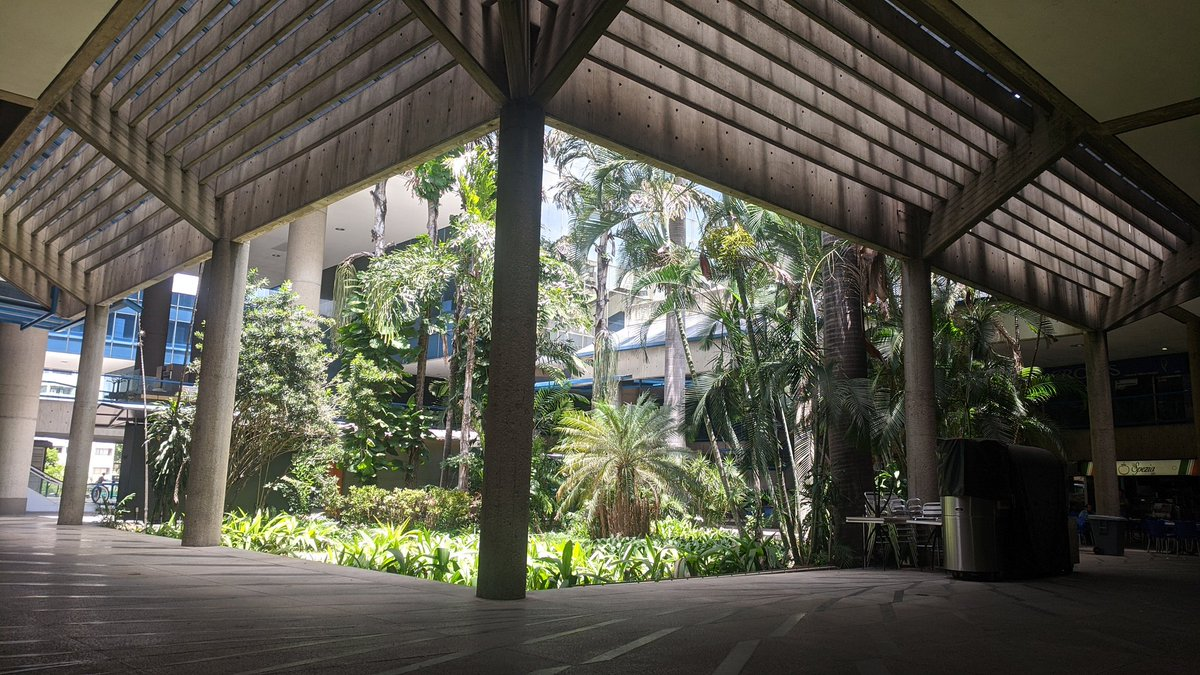 [ENG] Interior garden in the center of the building
[ESP] Jardín interior en el centro de la edificación
---

---