"You are Peter, and on this rock I will build my Church, and the power of hell will not defeat it." (Saint Matthew 16,13-20).
"Tú eres Pedro, y sobre esta piedra edificaré mi Iglesia, y el poder del infierno no la derrotará". (San Mateo 16,13-20).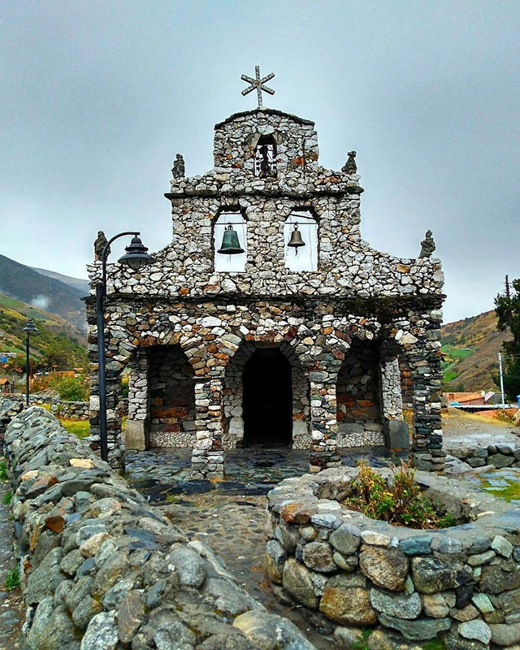 Stone Chapel in Mucuchíes. Mérida State Venezuela.
Capilla de Piedra en Mucuchíes. Estado Mérida VenezuelaFuente
     Good morning community. I greet you with great respect from Venezuela. Infinite blessings for you and your loved ones. Today, I bring you one of the tourist attractions of our Country, the most visited in recent times, it is the Chapel of San Rafael de Mucuchíes, popularly known as La Capilla de Piedra. Work of great beauty and extraordinary finishes, designed and built entirely by hand by the artist and architect Juan Félix Sánchez Sánchez important character, a native of that beautiful Andean land in the State of Mérida. Juan Félix Sánchez, was born in San Rafael de Mucuchíes, on May 16, 1900 and died, at the age of 96, in Mérida, on April 18, 1997. The Capilla de Piedra was built in its entirety between the years 1980 - 1984. This attractive construction was made with rocks, shells, corals, wood and cement and due to its architectural brilliance it was declared a cultural heritage of Venezuela.
     Buenos días comunidad. Les saludo con mucho respeto desde Venezuela. Bendiciones infinitas para ustedes y para sus seres queridos. Hoy, les traigo uno de los atractivos turísticos de nuestro País, más visitado en los últimos tiempos, se trata de la Capilla de San Rafael de Mucuchíes, conocida popularmente como La Capilla de Piedra. Obra de gran belleza y extraordinarios acabados, diseñada y construida totalmente a mano por el artista y arquitecto Juan Félix Sánchez Sánchez importante personaje, oriundo de esa hermosa tierra andina del Estado Mérida. Juan Félix Sánchez, nació en San Rafael de Mucuchíes, el 16 de mayo de 1900 y murió, a la edad de 96 años, en Mérida, el 18 de abril de 1997. La Capilla de Piedra fue construida en su totalidad entre los años 1980 - 1984. Esta vistosa construcción fue edificada con rocas, conchas, corales, madera y cemento y por su brillo arquitectónico fue declarada patrimonio cultural de Venezuela.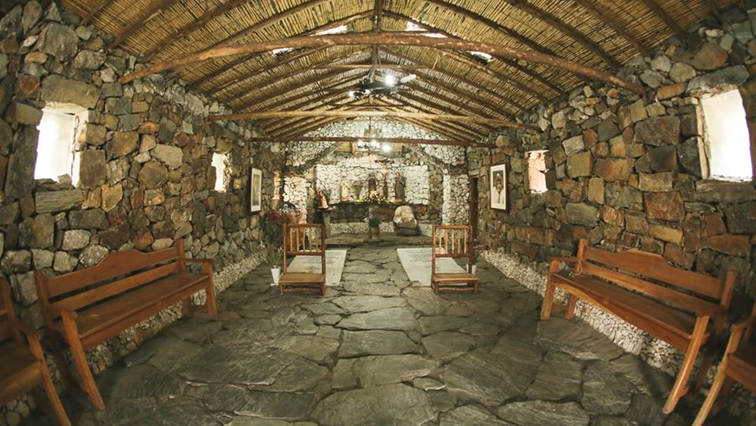 Fuente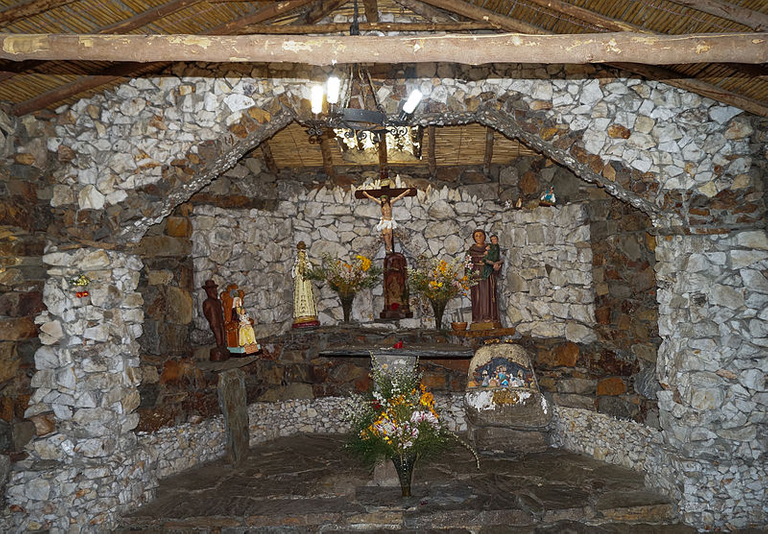 Fuente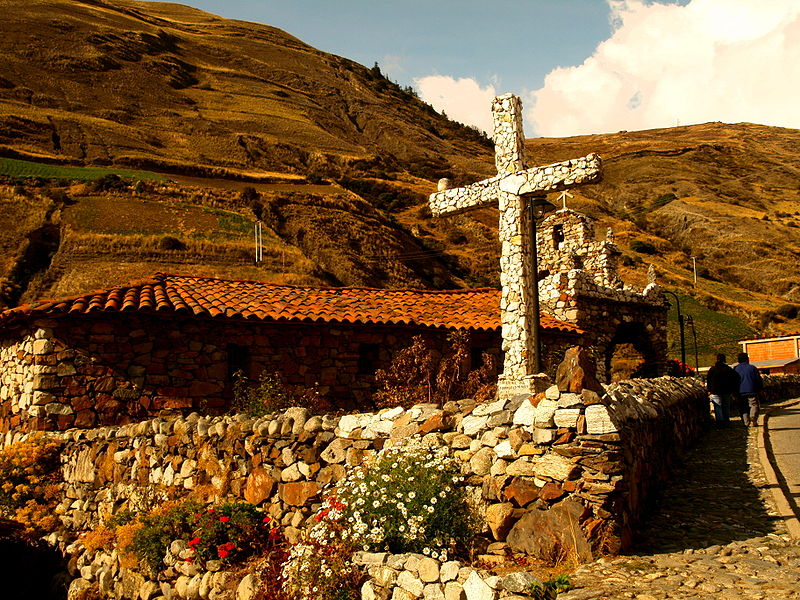 Fuente
---
Brief semblance of a genius / Breve semblanza de un genio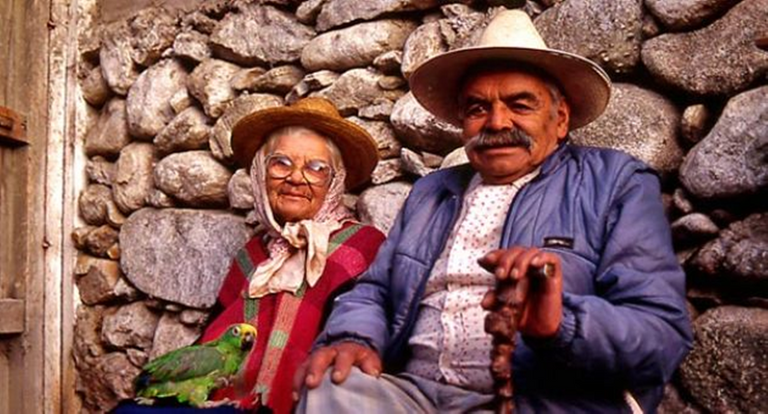 Don Juan Félix Sánchez with his wife Doña Epifania Gil.
Don Juan Félix Sánchez junto a su esposa Doña Epifania Gil. Fuente
---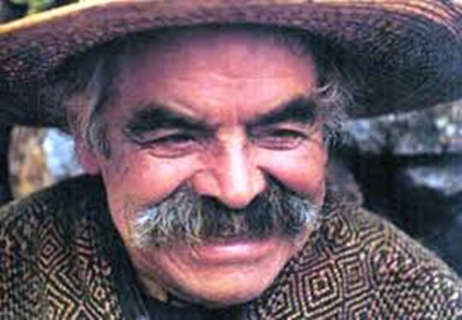 Don Juan Félix Sánchez. Fuente
     Don Juan Félix Sánchez Sánchez, is today an obligatory reference of Venezuelan culture, a man of great humility, very intelligent and dreamer, popular cultist, self-taught, an empirical scientist with many important achievements for his community, an artisan creator, a maker of dreams , the man of solutions. A high and light being, of unshakable faith, respectful of God and his neighbor, eternal in love with nature, seeing in each of its elements the sublime love of the Universal Creator. Don Juan Félix Sánchez was, in short, a blessed light in the world, an artist like few others: creator of looms and in turn an excellent weaver, muralist, extraordinary craftsman with sacred hands to make blankets, hats, chapels, sculptures, chairs, armchairs , tables, pieces of mechanics and metalwork, settings of space, light and colors. A being kind to nature and above all respectful of what has been created, a gentleman. In conclusion, the sparkling work and life of Don Juan Félix Sánchez does not end, it does not end, it transcends from the simple to the exalted, from the common to the sublime:
"The stone has to be chosen. In other words, the position required by the stone. By putting them they are saying their place ... Everything has its place and its time. " José Félix Sánchez.
     Don Juan Félix Sánchez Sánchez, es hoy un referente obligado de la cultura venezolana, hombre de gran humildad, muy inteligente y soñador, cultor popular, autodidacta, un científico empírico de muchos logros importantes para su comunidad, un creador artesanal, un hacedor de sueños, el hombre de las soluciones. Un ser elevado y de luz, de fe inquebrantable, respetuoso de Dios y de su prójimo, eterno enamorado de la naturaleza viendo en cada uno de sus elementos el amor sublime del Creador Universal. Don Juan Félix Sánchez fue, en definitiva una luz bendita en el mundo, un artista como pocos: creador de telares y a su vez un excelente tejedor, muralista, extraordinario artesano con manos sagradas para fabricar cobijas, sombreros, capillas, esculturas, sillas, sillones, mesas, piezas de mecánica y orfebrería, ambientaciones de espacio, luz y colores. Un ser amable con la naturaleza y sobretodo respetuoso de lo creado, un caballero cabal. En conclusión la destellante obra y vida de Don Juan Félix Sánchez, no concluye, no termina, trasciende de lo sencillo a lo excelso, de lo común a lo sublime:
"La piedra se ha de escoger. Es decir el puesto que exige la piedra. Al ponerlas ellas van diciendo su lugar…Todo tiene su lugar y su tiempo." José Félix Sánchez.
Other creations by Juan Félix Sánchez / Otras creaciones de Juan Félix Sánchez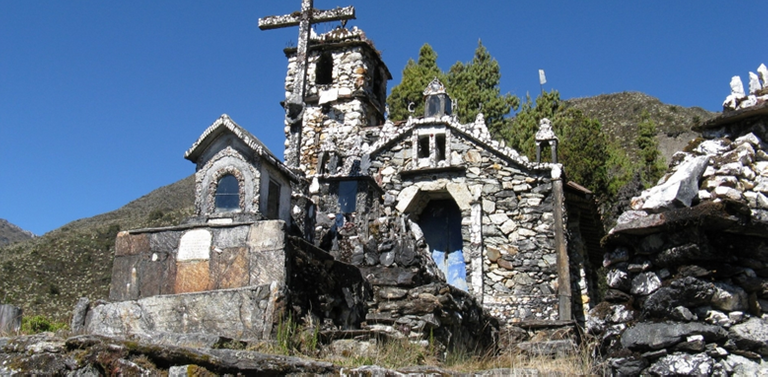 Tisure Chapel. This Chapel is located in the sculpture-architectural-religious complex "El Tisure", a site located in the Sierra Nevada de Mérida National Park. By the way, the artist lived in this place with his wife Epifania Gil
Capilla del Tisure. Esta Capilla se encuentra en el complejo escultórico-arquitectónico-religioso "El Tisure", sitio ubicado en el Parque Nacional Sierra Nevada de Mérida. Por cierto en este lugar vivió el artista junto a su señora esposa Epifania Gil Fuente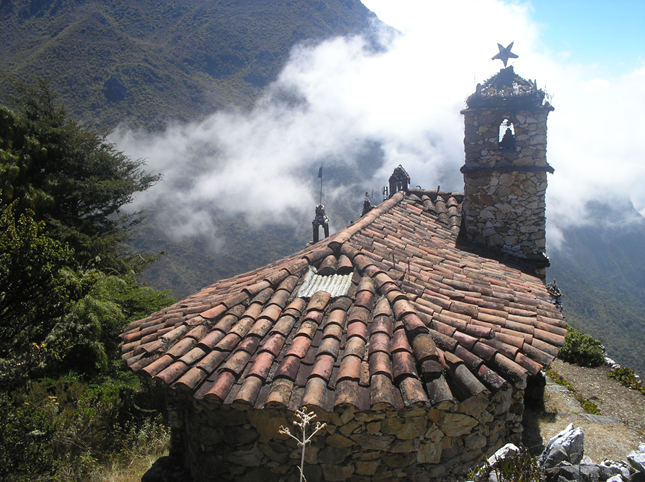 Otra vista de la Capilla de Tisure.Fuente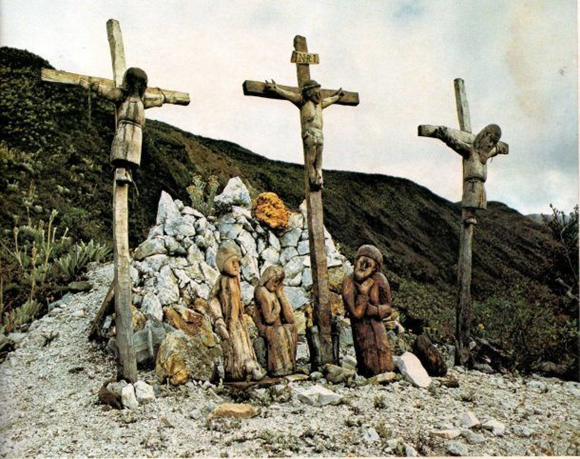 The Calvary of Jesus. The Tisure. / El Calvario de Jesús. El Tisure.Fuente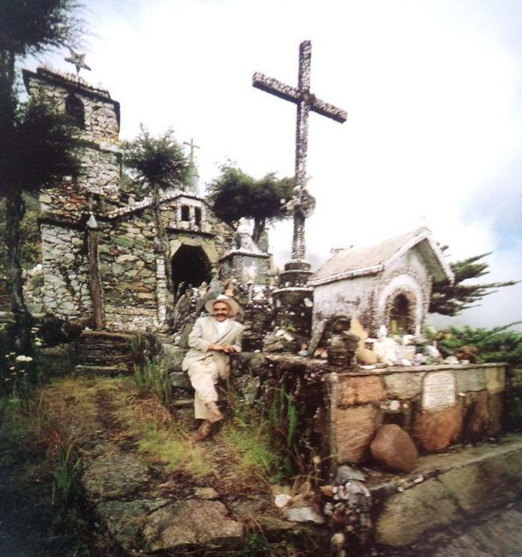 In the photograph we can see the genius, architect, builder and popular cultist Juan Félix Sánchez. NOTE: Your cultural heritage is as solid as your faith in God and the stones of your buildings.
En la fotografía podemos ver al genio, arquitecto, constructor y cultor popular Juan Félix Sánchez. NOTA: Su herencia cultural es tan sólida como su fe en Dios y las piedras de sus contrucciónesFuente
---
Author, Autor: Marcos Milano