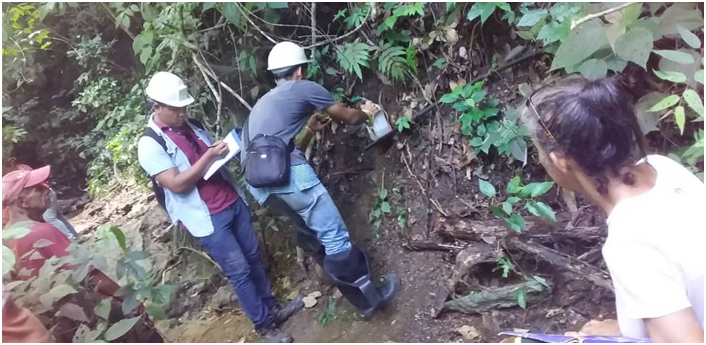 Volumetric Capacity - Guacarapa Community
Aforo Volumétrico - Comunidad Guacarapa
---
[ESP] DISEÑO DEL SISTEMA DE RIEGO POR GRAVEDAD PARA LA ZONA AGRÍCOLA DE GUACARAPA
[ENG] DESIGN OF THE GRAVITY IRRIGATION SYSTEM FOR THE AGRICULTURAL AREA OF GUACARAPA
---
     Buen día, hoy quiero compartir con ustedes otro de mis trabajos de campo que ejecute acompañado de mis colegas ingenieros hidráulicos, donde se nos solicito por parte de la Dirección de Promoción del Sector Agrícola del Municipio, realizar los estudios correspondientes para la elaboración de un proyecto de diseño para un sistema de riego que contribuya en el aumento de la cantidad de agua que beneficie a la zona campesina Guacarapa.
     Good morning, today I want to share with you another of my fieldwork that I carry out accompanied by my colleagues hydraulic engineers, where we are asked by the Directorate of Promotion of the Agricultural Sector of the Municipality, to carry out the corresponding studies for the elaboration of a design project for an irrigation system that contributes to the increase in the amount of water that benefits the Guacarapa peasant area.
---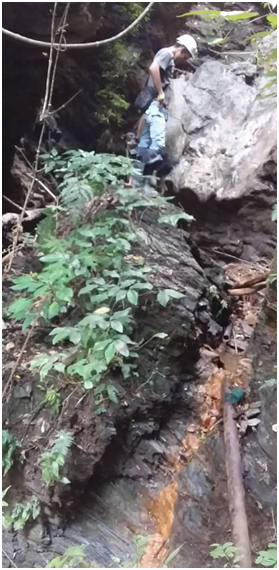 Observando la fuente de captación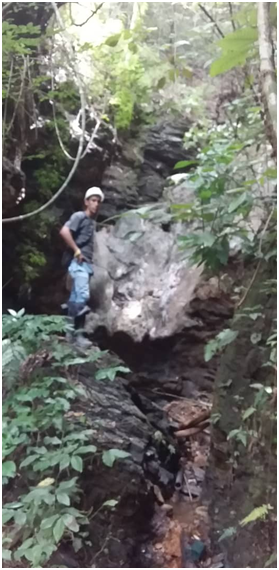 Looking at the source of the catchment
---
     Este trabajo comenzó con la visita al área para observar el sitio de captación y poder recomendar el tipo de obra para almacenar el exceso de agua, tanto en condiciones normales como en temporadas de lluvia, y así contribuir con el volumen que produce la fuente y garantizar el suministro diario de las parcelas.
     This work began with the visit to the area to observe the collection site and be able to recommend the type of work to store excess water, both in normal conditions and in rainy seasons, and thus contribute to the volume produced by the source and ensure the daily supply of the plots.
---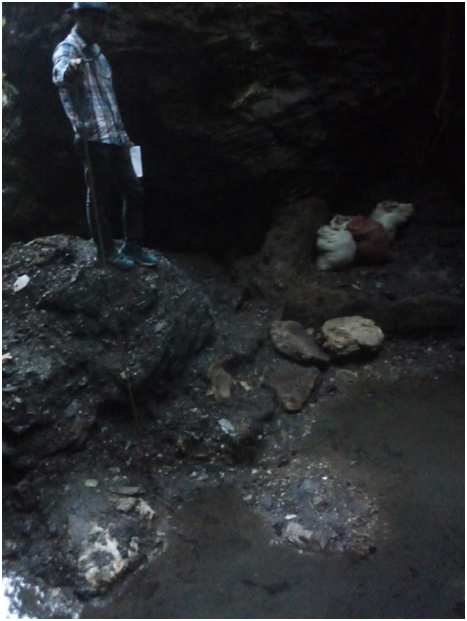 Looking at the source of the catchment
Observando la fuente de captación
---
     Para no hacer tan extensa está publicación, les mencionare los trabajos más relevantes para la obtención de información. 👇👇👇
     In order not to make this publication so extensive, I will mention the most relevant works for obtaining information. 👇👇👇
---
     Durante la visita, se observó la infiltración entre las rocas de la montaña, estas rocas forma una pared natural en el sitio donde se encuentra la toma de agua, desde este punto se capta el agua que alimenta a la comunidad agrícola.
     During the visit, infiltration was observed among the rocks of the mountain, these rocks form a natural wall at the site where the water intake is located, from this point the water that feeds the agricultural community is captured.
---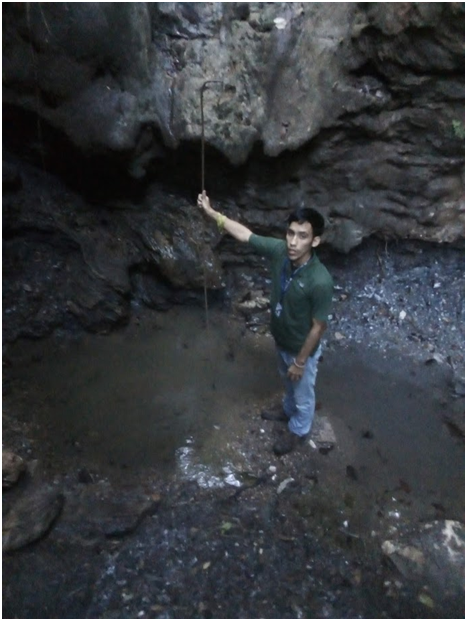 Wet rocks by Infiltration coming from the mountain - I wasn't told they'd take the picture 😂 😄
Rocas húmedas por Infiltración que llega desde la montaña - No me avisaron que tomarían la foto 😂 😄
---
     Se observo la perdida de una tubería de 12 m de longitud con diámetro de 6 pulgadas en hierro galvanizado por su alto nivel de corrosión. La función de esta tubería es llevar el agua desde la fuente hasta una estructura de captación (tanquilla de concreto) construida por los campesinos de la zona.
     The loss of a 12 m long pipe with a diameter of 6 inches in galvanized iron was observed due to its high level of corrosion. The function of this pipe is to bring the water from the source to a catchment structure (concrete tanquilla) built by the peasants of the area.
---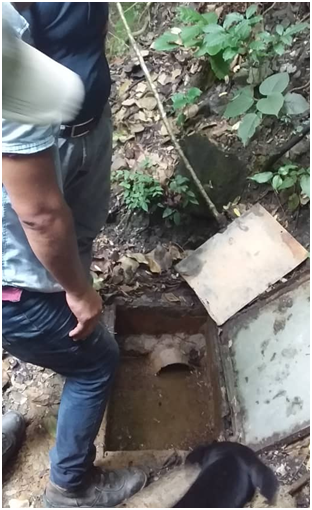 Concrete tanquilla
Tanquilla de concreto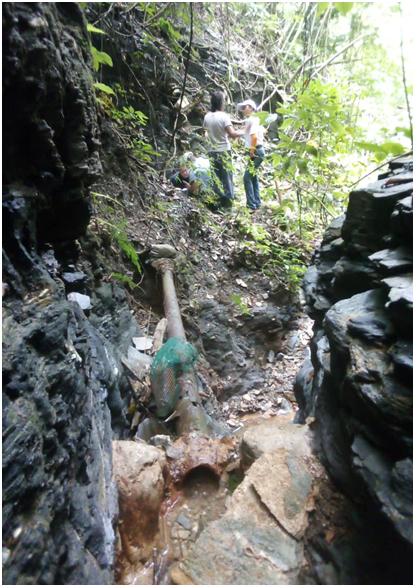 Galvanized iron pipe with high corrosion level.
Tubería de hierro galvanizado con alto nivel de corrosión.
---
     Con el equipo GPS se definieron las coordenadas (UTM) y alturas de ubicación de la fuente de agua superficial, así como los puntos de referencia de cada una de las parcelas involucradas (18 parcelas), ademas, para este diseño se definió la ubicación para 4 tanques de almacenamiento.
     The GPS equipment defined the coordinates (UTM) and location heights of the surface water source, as well as the reference points of each of the plots involved (18 plots), in addition, for this design the location was defined for 4 storage tanks.
---
     Una vez obtenida la información se realizaron todos los análisis correspondiente para la elaboración del proyecto final que describo a continuación:
👇👇👇👇👇👇👇👇👇
     Once the information was obtained, all the corresponding analyses were carried out for the elaboration of the final project described below:
👇👇👇👇👇👇👇👇👇
---
     Se descargo al programa de Google Eart las coordenadas de cada uno de los puntos tomados durante la visita en campo. Esto nos permitió definir el diseño de distribución apropiado para el sistema de riego de la comunidad.
     The coordinates of each of the points taken during the field visit are downloaded to the Google Eart program. This allowed us to define the appropriate distribution design for the community irrigation system.
---
     Se definió el caudal que suministra la fuente de agua con los datos del aforo volumetrico realizado en la visita de campo.
     The flow rate supplied by the water source was defined with the volumetric capacity data made during the field visit.
---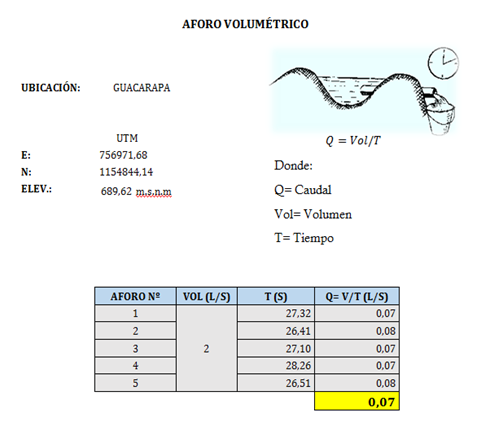 Volumetric capacity data - Defined water flow
Datos del aforo volumetrico - Caudal de agua definido
---
     Se realizó un perfil longitudinal para conocer cuáles son los puntos críticos con respecto a la fuente de captación.
     A longitudinal profile was made to know what the critical points are with respect to the source of catchment.
---
     Para el cálculo del diámetro de tubería principal se evaluó la perdida de presiones en los nodos (entrada en las parcelas), llegando a un resultado de diámetro de 1 pulgada.
     For the calculation of the main pipe diameter, the loss of pressures on the nodes (entry into the parcels) was evaluated, reaching a diameter result of 1 inch.
---
     Se diseñó un cronograma de distribución de agua sectorizando las parcelas con el propósito de abastecer cada parcela con un caudal adecuado que aporta la fuente superficial. Para esto se considero los siguientes aspectos técnicos:
     A water distribution schedule was designed by sectorizing the plots in order to supply each plot with an adequate flow that provides the surface source. For this purpose the following technical aspects are considered:
---
👉 Actividad a desarrollar en la parcela (agrícola u óvino).
👉 Altura de terreno y desnivel desde la captación hasta cada parcela.
👉 Distancia de la fuente de agua.
👉 Actividad a desarrollar en la parcela (agrícola u óvino).
👉 Height of land and unevenness from the catchment to each plot.
👉 ;Distance from the water source.
---
     Mejoras para el proceso de captación de agua. 👇👇👇
     Improvements to the water collection process. 👇👇👇
---
     Se propone en el área de la fuente de agua levantar un muro mediante la colocación de bolsas de concreto de fácil transporte. Estas son diseñadas para que se endurezcan con la humedad de la fuente permitiendo formen una pared sólida.
     It is proposed in the area of the water source to erect a wall by placing easily transported concrete bags. These are designed to harden with moisture from the fountain allowing them to form a solid wall.
---
     En la salida de la fuente de agua se colocarán dos (2) tuberías de diámetro 1 pulgada cada una, la primera a nivel medio de la salida, y la segunda en el fondo, ambas se interconectarán. La tubería de fondo tendrá una salida lateral que se utilizará como limpieza de fondo.
     At the outlet of the water source two (2) pipes diameter 1 inch each, the first at the mid-level of the outlet, and the second at the bottom, both will be interconnected. The bottom pipe will have a side outlet that will be used as background cleaning.
---
     Se ha previsto cubrir el fondo de la fuente con lajas de piedra y los espacios entre ellas colocar concreto para disminuir la infiltración del agua.
     It is planned to cover the bottom of the fountain with stone sashes and the spaces between them place concrete to decrease the infiltration of the water.
---
     A continuación se presenta el diseño del sistema.
👇👇👇👇👇👇👇👇👇
     The system design is presented below.
👇👇👇👇👇👇👇👇👇
---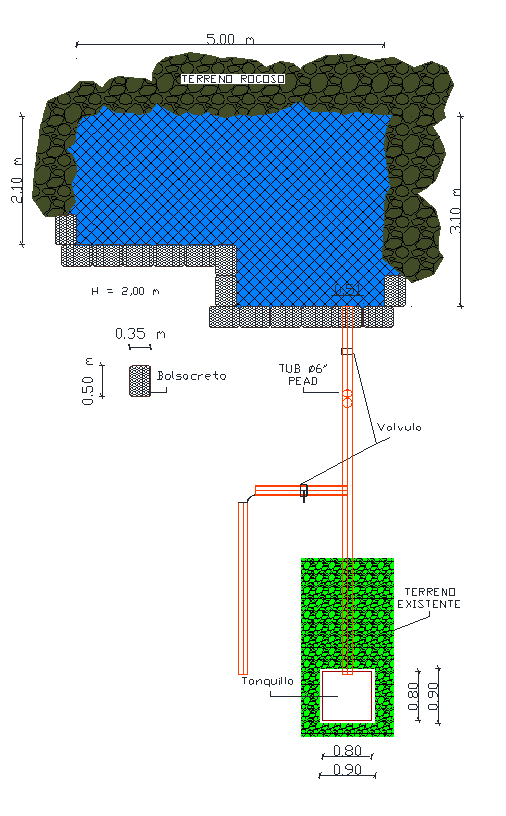 2D plane of the retention dam and concrete structure.
Plano 2D del dique de retención y estructura de concreto.
---

2D Plane - Connections in Storage Tanks.
Plano 2D - Conexiones en los Tanques de Almacenamiento.
---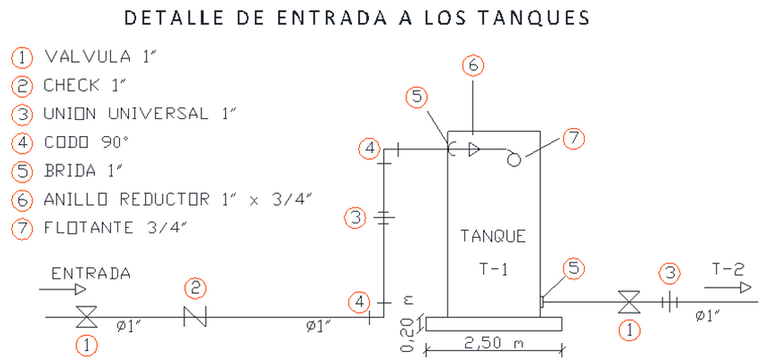 2D Plane - Detail of water inlet to tanks.
Plano 2D - Detalle de entrada de agua a los tanques.
---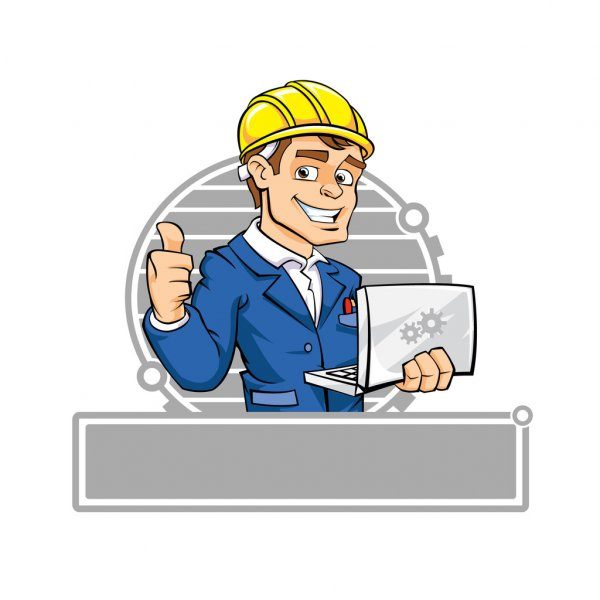 Thank you for taking the time to read this small project.
Gracias por dedicar su tiempo para leer este pequeño proyecto.
---
Author, Autor:
Ing. Manuel Milano