Hi all 👋🏻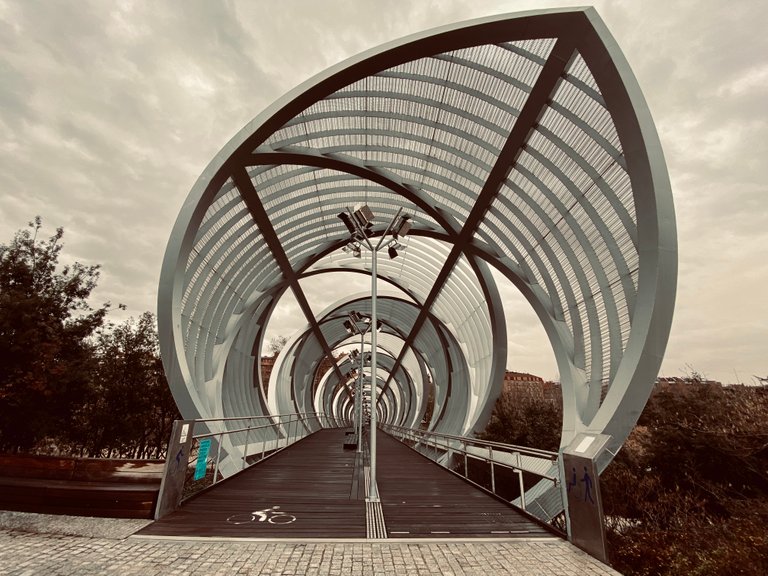 With my third post into your Architecture+Design Community I want to show you two bridges located in the city of Madrid, Spain.
Namely the Puente Monumental de Arganzuela and Puente de Toledo.
They are located very close to each other and surrounded by a beautiful park you can walk through, relax and take some nature in. Even hear birds around you…
We visited these bridges on the 14th of March 2022 when we stayed in Madrid for 3 nights around that time.
I thought these bridges and particular the Puente Monumental de Arganzuela deserved a post on their own and not just 1 photo in a walk through Madrid post. (I still have to write that one day 😊)
Here is their location on Google maps:


The red pin shows one of the bridges, as you can see it is below the centre of Madrid city. The other bridge is left from it.
We were that day in the area and I knew of the existence of the bridges so we wanted to visit them. 😉
It was a very rainy day in the morning and walking around the city was almost impossible due to high winds and torrential rain. So we drove with a taxi to a large mall where we spent a few hours. After having lunch there we looked outside and saw it had cleared up.
So we decided to start walking from there all the way back to the centre of the city (about 1 hour straight walk back, but we detoured a few times) and we would go pass the bridges on our way.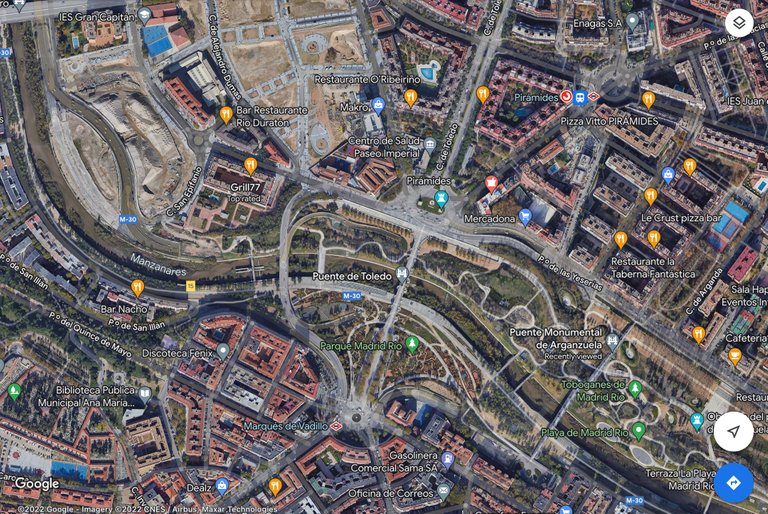 Here you see a close up of their location on Google maps, where you see the large park they are surrounded by.
The Puente de Toledo goes over the Manzanares river and the Puente Monumental de Arganzuela goes over the Madrid Río Park and the Manzanares River.
I will tell you a little bit about these bridges as we walk along… from before we reached them to a little after them and what we saw through my photographs.
My photographs are taken by my iPhone as my DSLR camera died on our last trip / to Cuba.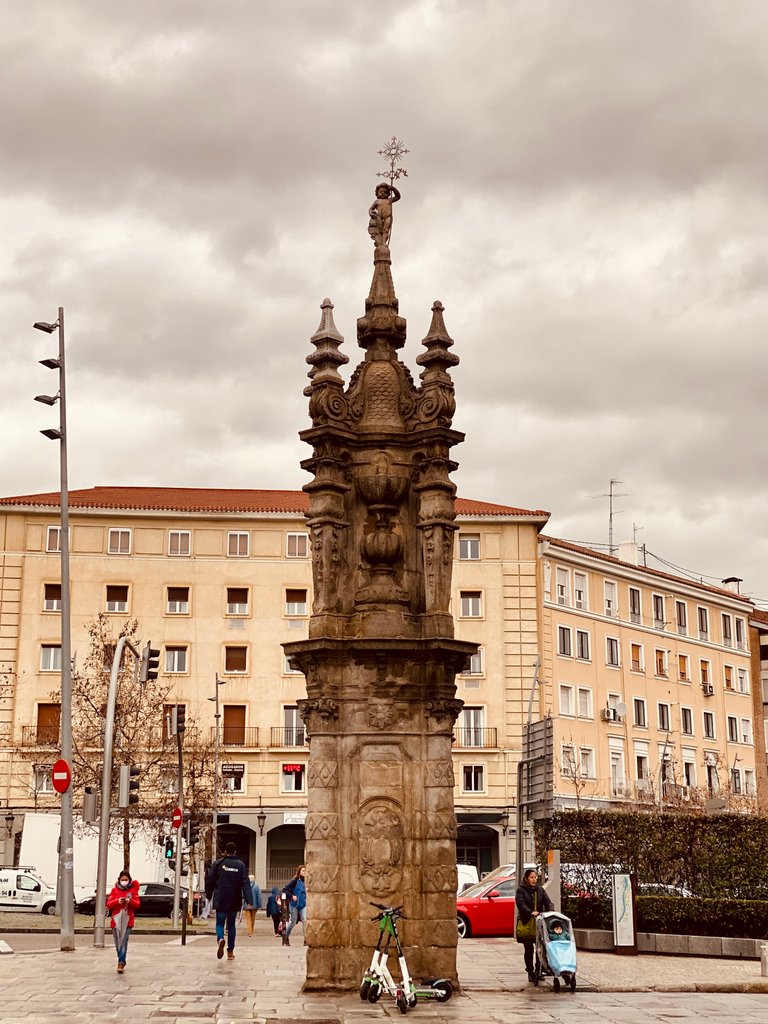 We are here at a roundabout and we needed to cross some roads. We saw 2 of these large pillars on either side of a wide walking path towards the Puente de Toledo/ Toledo bridge. It goes across it.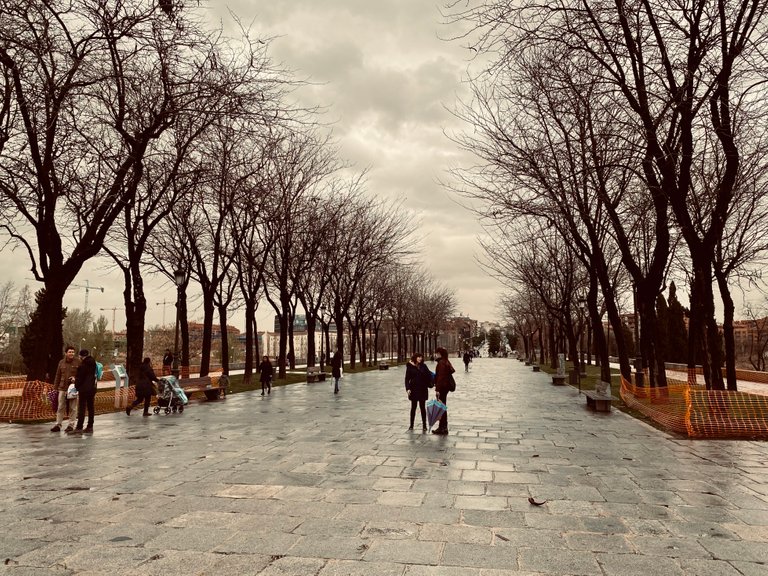 This is the walking path… at this point we decided not to cross and walk just to the right on a path down, towards the large park, so we can see the bridge better from below.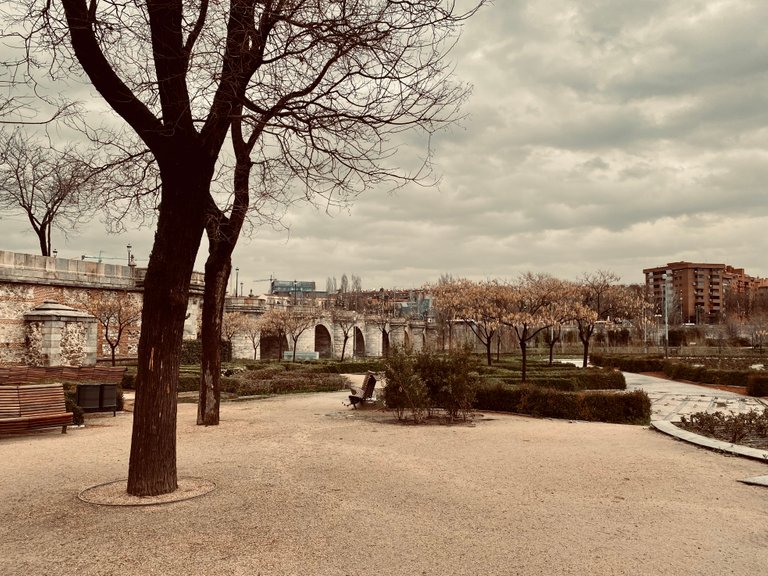 When we reached the park we see the Puente de Toledo appearing.
A little bit of information you can find In this Wikipedia webpage!
It states: "It was built in a Baroque style between 1718 and 1732 by architect Pedro de Ribera and goes across the Manzanares River"
Let's have a closer look: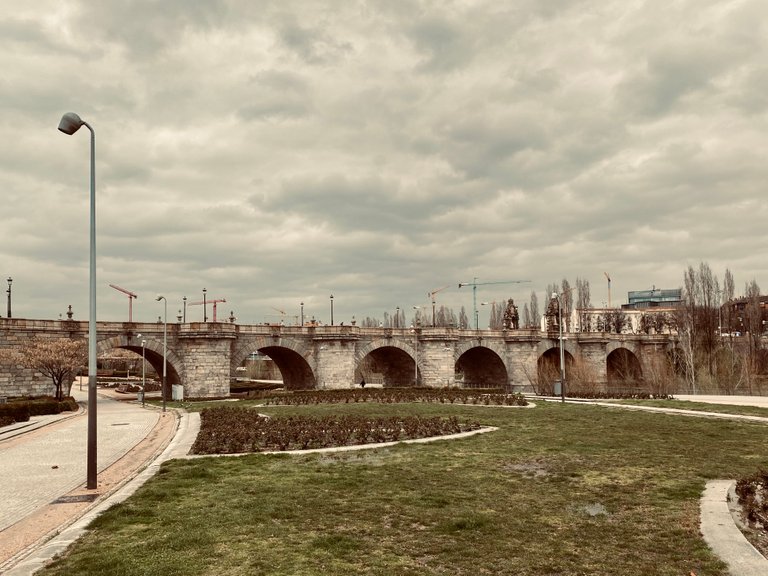 It's beautiful in my opinion, too bad of the many cranes behind it… I could have removed them out of the photographs, but I wanted to show you what we actually saw… through my eyes 😎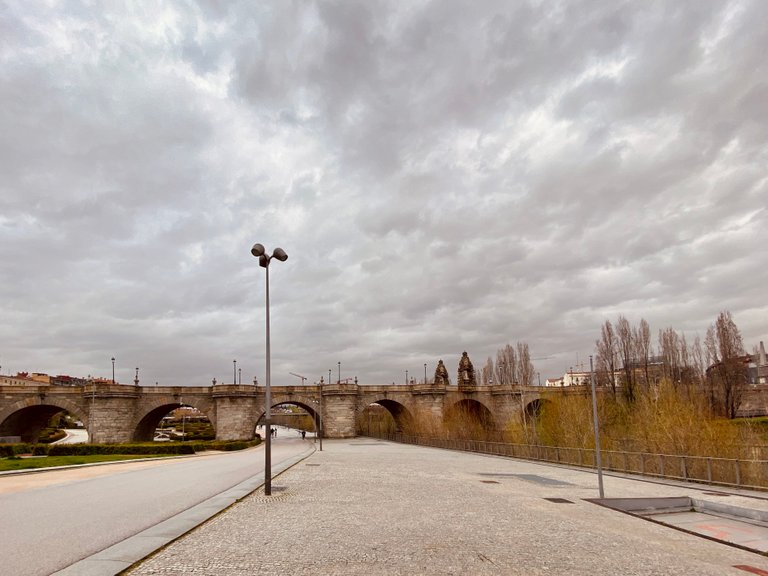 Walking towards the river side we see when we look back this view of the Puente de Toledo.
Our view in front… shows you something special… 🤩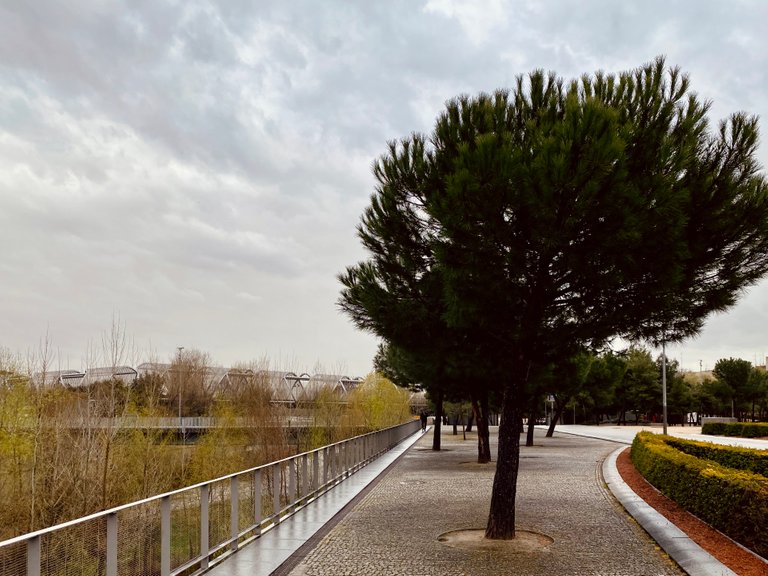 You can see part of the Puente Monumental de Arganzuela.
We walk towards it… as this was the bridge I wanted to explore the most.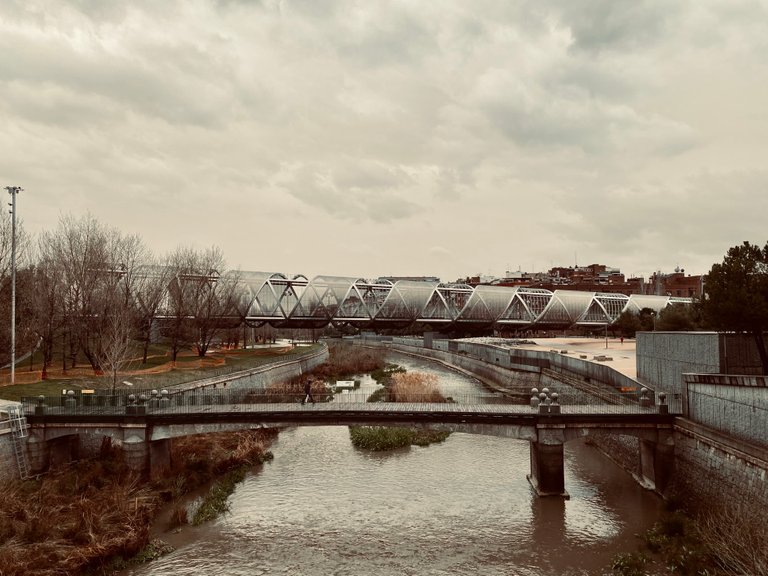 There are 2 smaller bridges before it, so we go on one and I take some photographs in the middle.

Very interesting. I like it's design.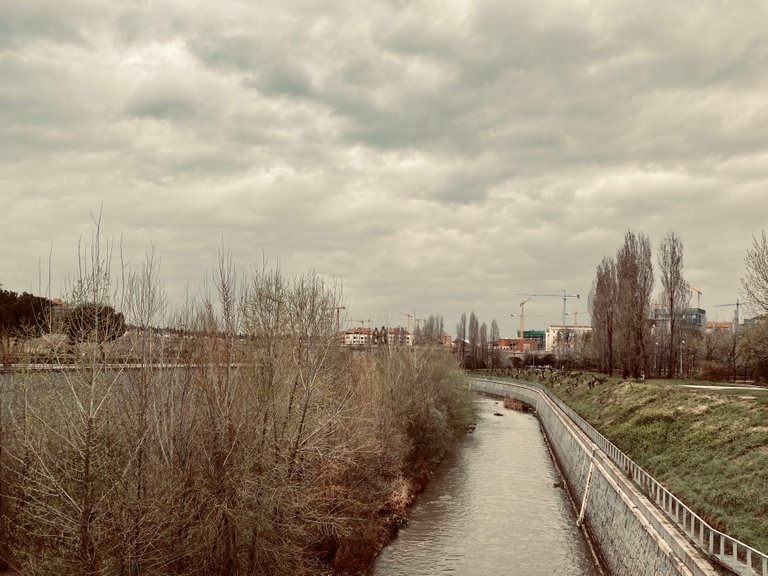 When I look behind me you see the river and if you really look closely, still a little bit of the Toledo bridge.
Back to the Puente monumental de Arganzuela.
More information you can find In this Wikipedia webpage!
It states (text slightly adjusted by me): "The Arganzuela Footbridge (in Spanish: Puente or pasarela de Arganzuela, formally Puente monumental de Arganzuela, also Puente de Perrault) is a pedestrian bridge in the city of Madrid, Spain.
Building works started in February 2010. The footbridge actually consists of two separate metal cones, one passing over the Madrid Río park while the other crosses over the Manzanares river, nearly meeting at an elevated middle point serving as lookout of the Madrid Río park.
The combined structure is 278 m long.
The architect Dominique Perrault designed it.
It was opened on 24 March 2011."
We walk further…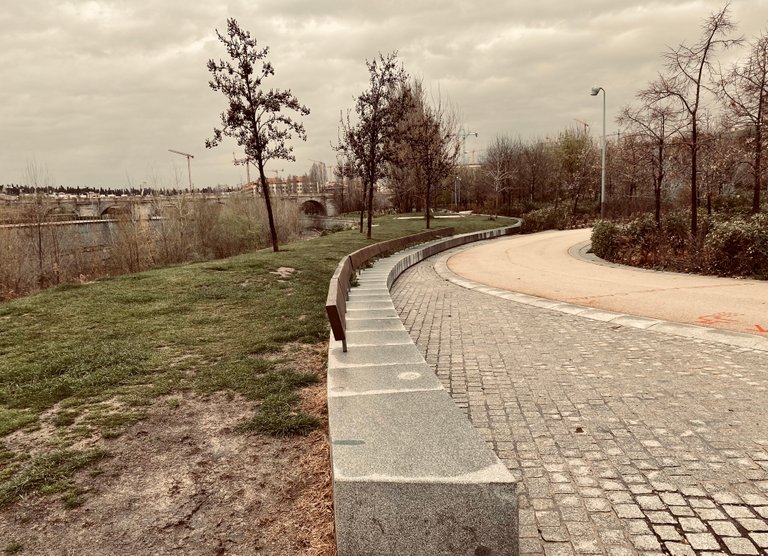 Here we crossed the river and we are on the other side of it… view in the back.
A beautifully constructed bench greets us.
We walk towards the bridge and reach the elevated part. So we are standing in the middle of the 2 parts.
One goes over the river the other over the park.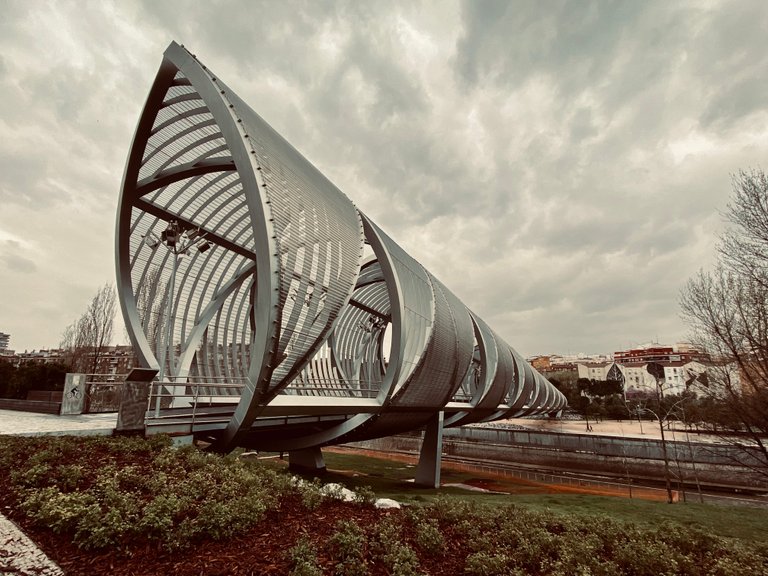 It is rather large.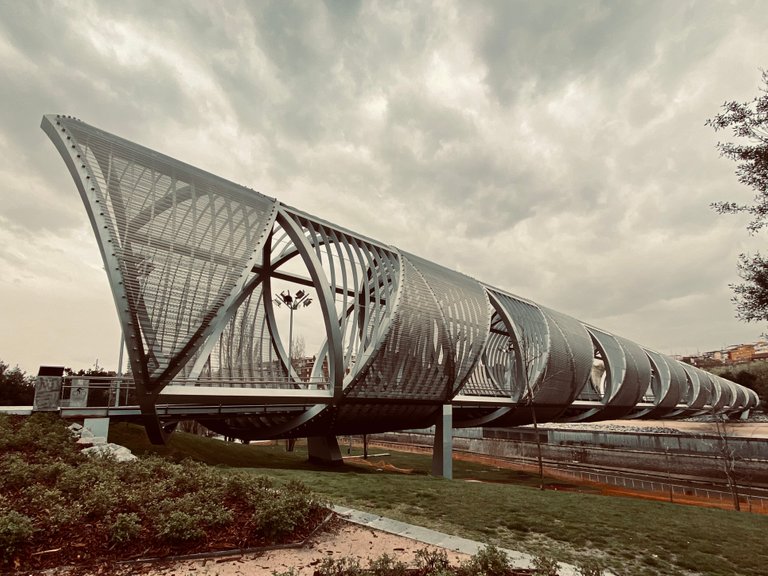 I decided to take a photo with people in it to show you the size of the bridge… so you can relate to the size.


Here two couriers circle past.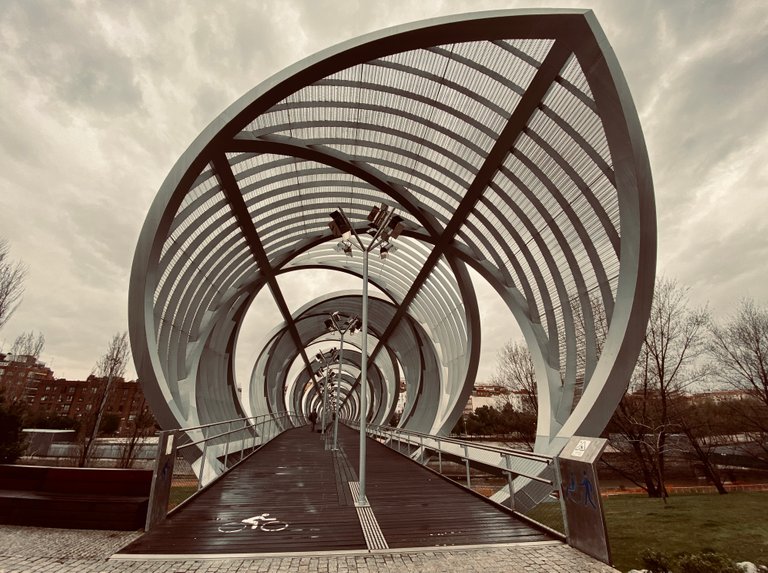 Our view through it.
I see lots of lights… it must be an amazing sight to see it at night time, but we don't have the time to go back in the evening.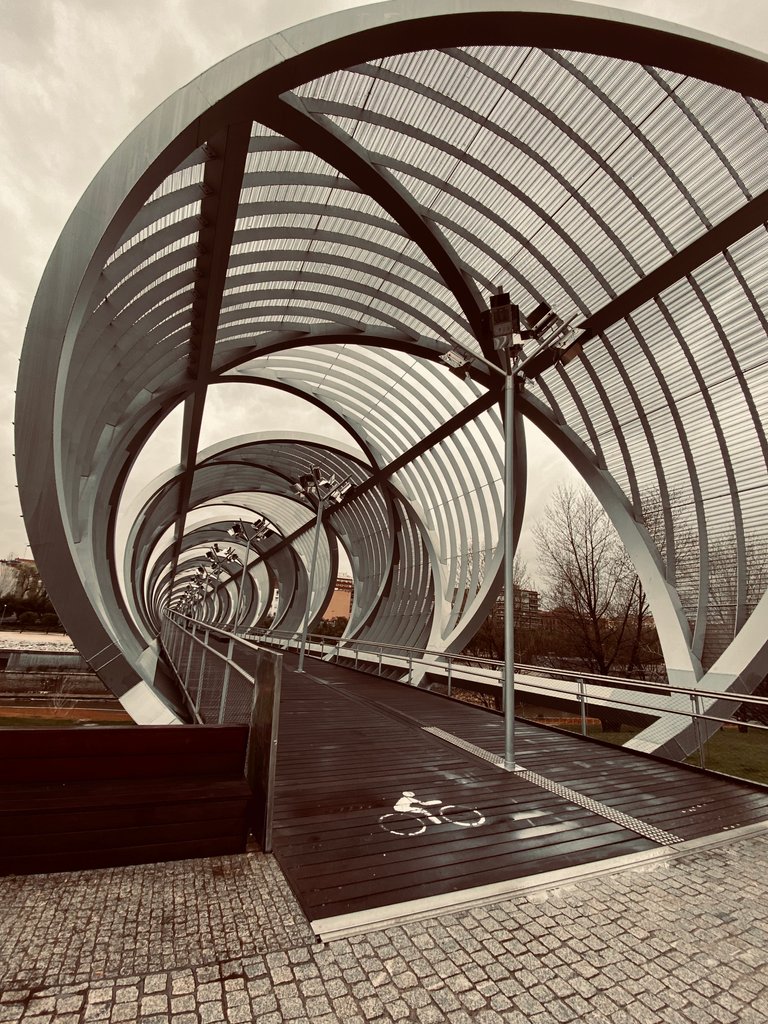 Closer look.
You see one part is designated for cyclists and the other part is for pedestrians.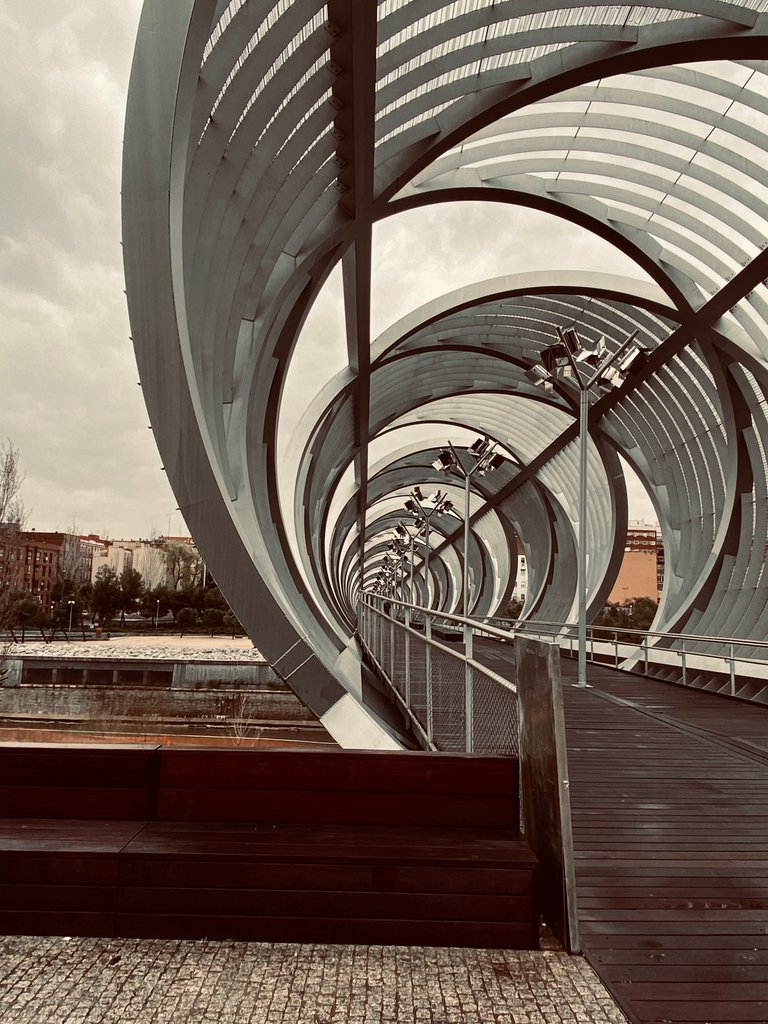 View through the other side.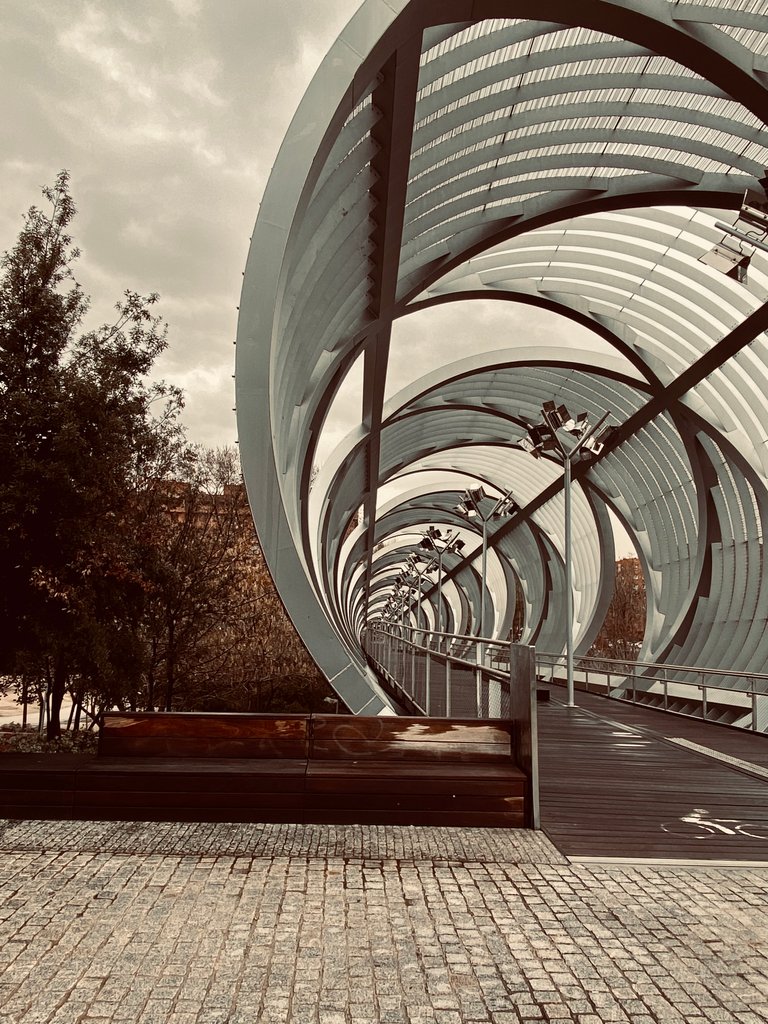 I like this design… intriguing. It doesn't feel out of place. It is a beautiful addition to the park. And an easy way to cross for people.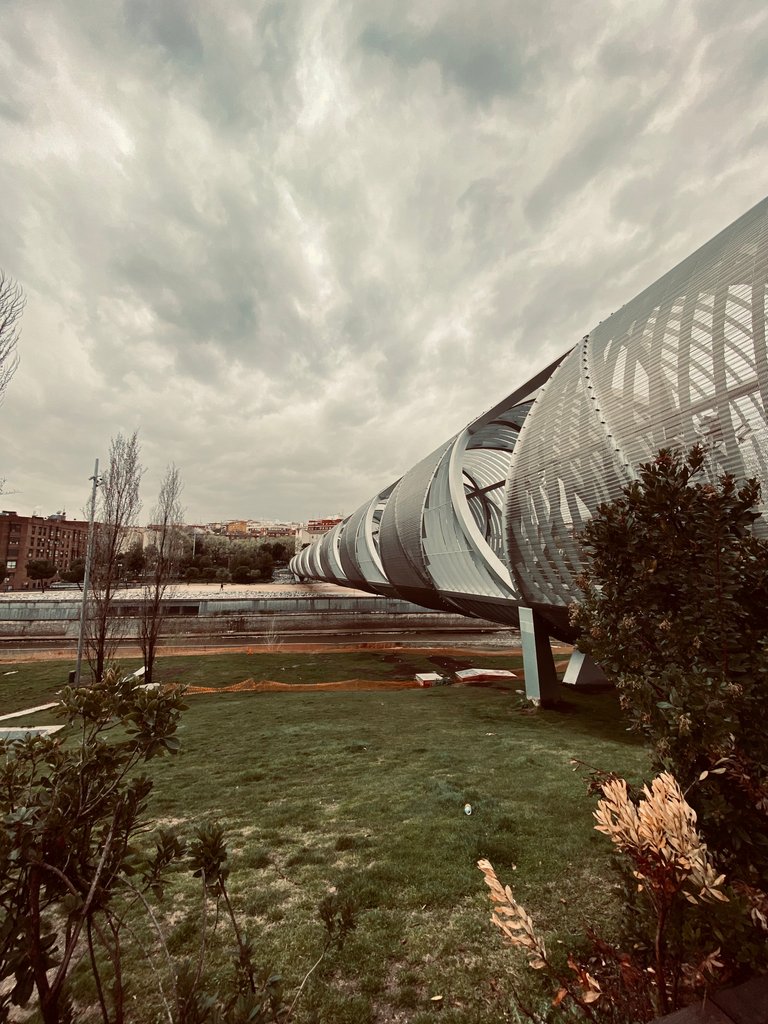 Side view where you can see it's foundation.

Other side.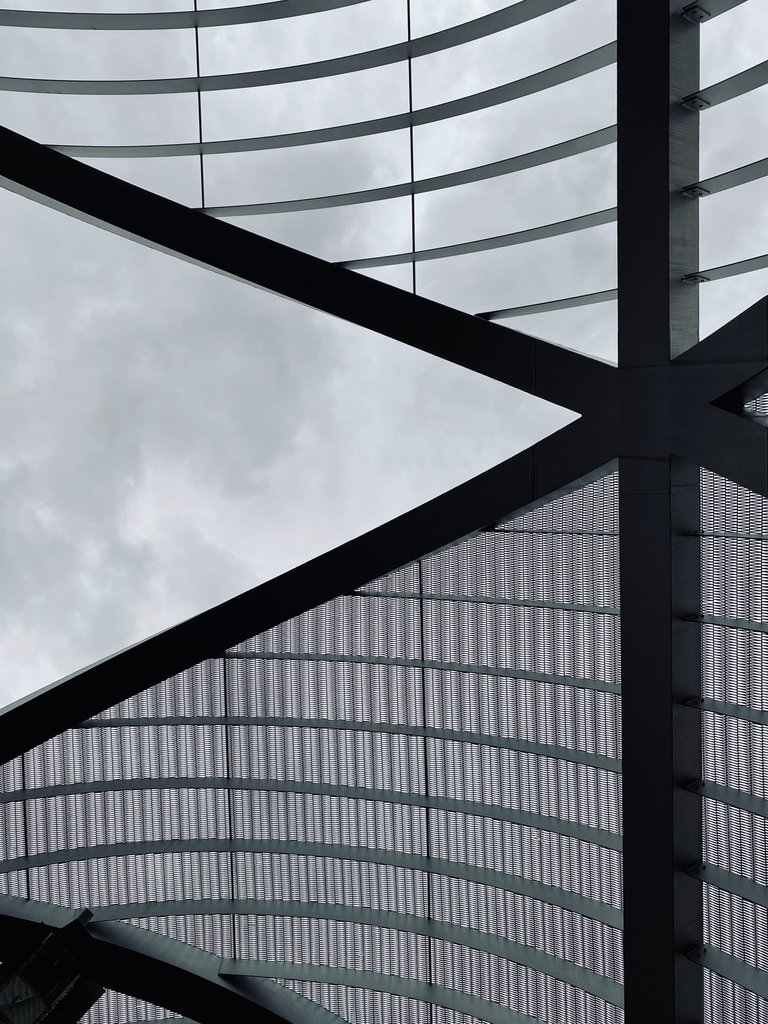 Ok, let's walk through it now…
When I look up I see this.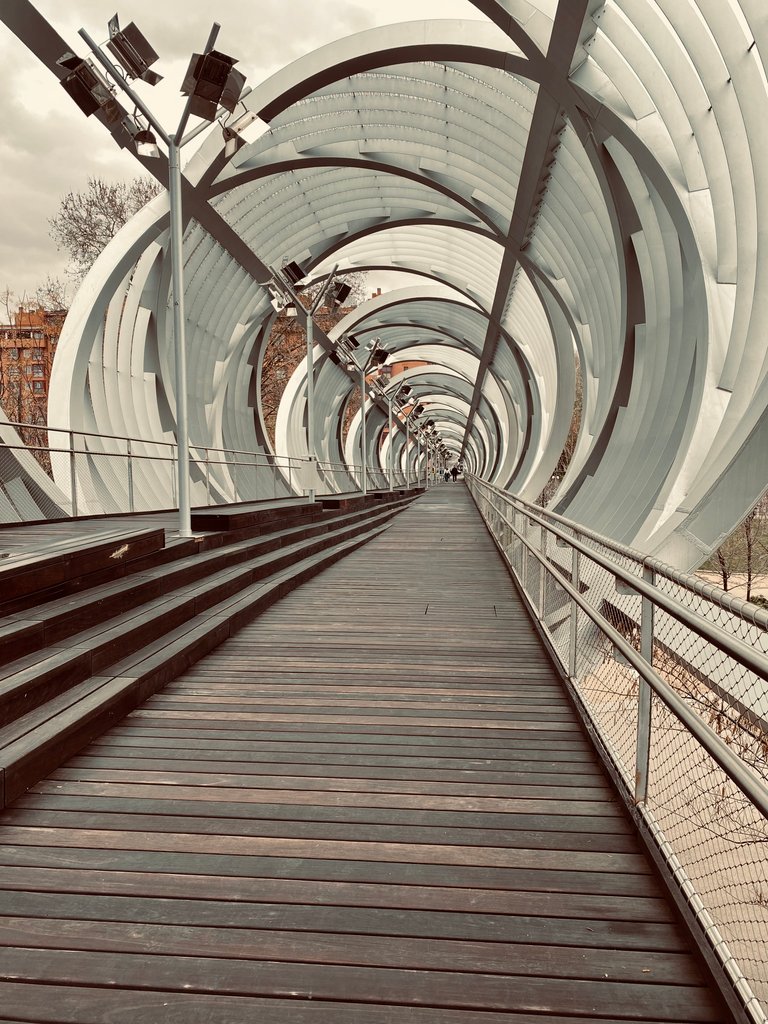 Some benches divide the wooden paths.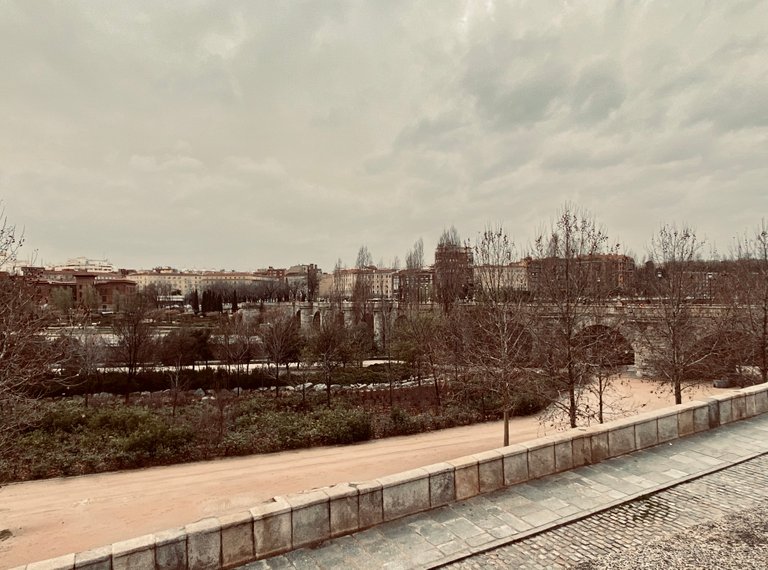 On the other side, through it we start walking towards Puente de Toledo again.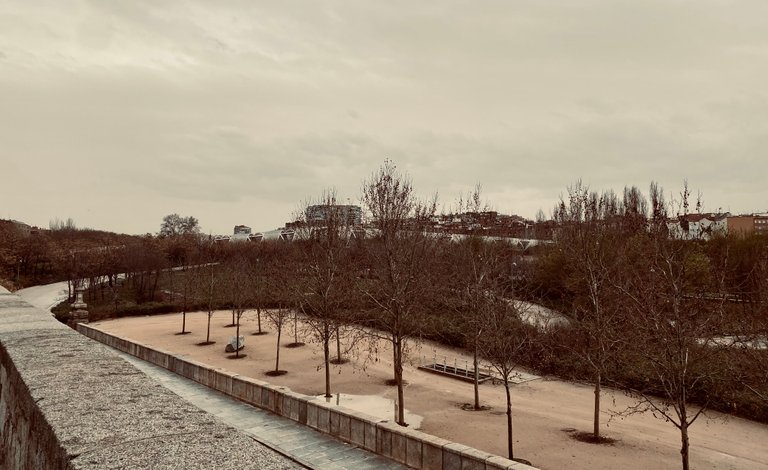 From here we see this view… notice we are now on the other side of the river. Our view towards the other bridge we just crossed.
It is very subtle, the bridge peeking through the bare tree tops.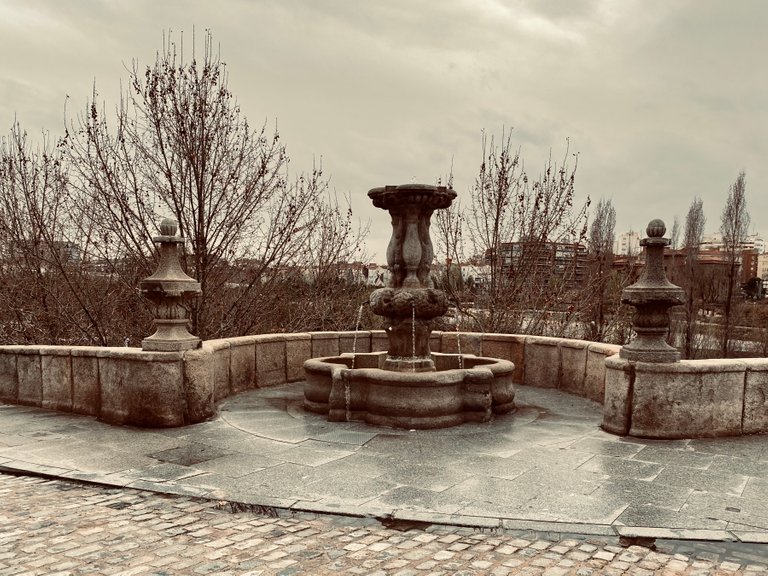 We reach Puente de Toledo again and see this fountain on either side of the walking path over it.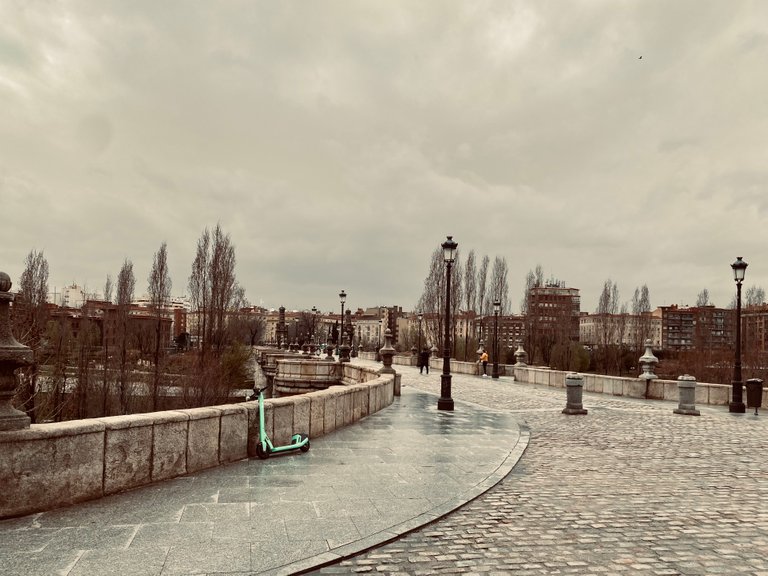 The path over it… the one we never crossed.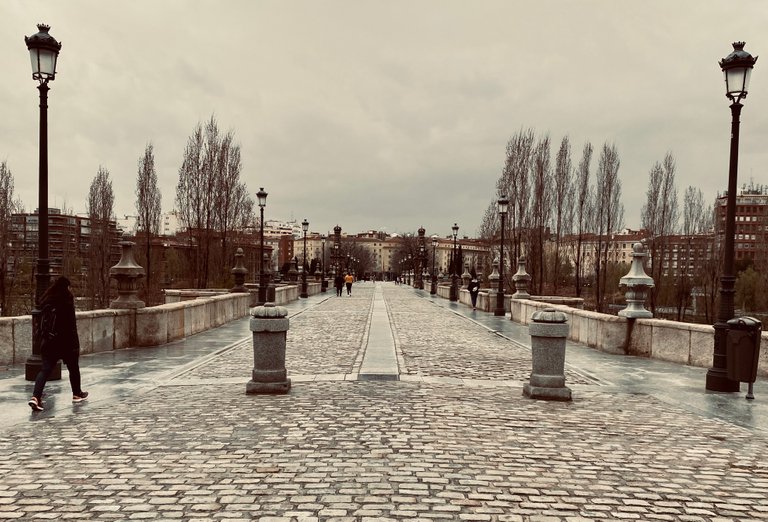 Behind us we have another roundabout.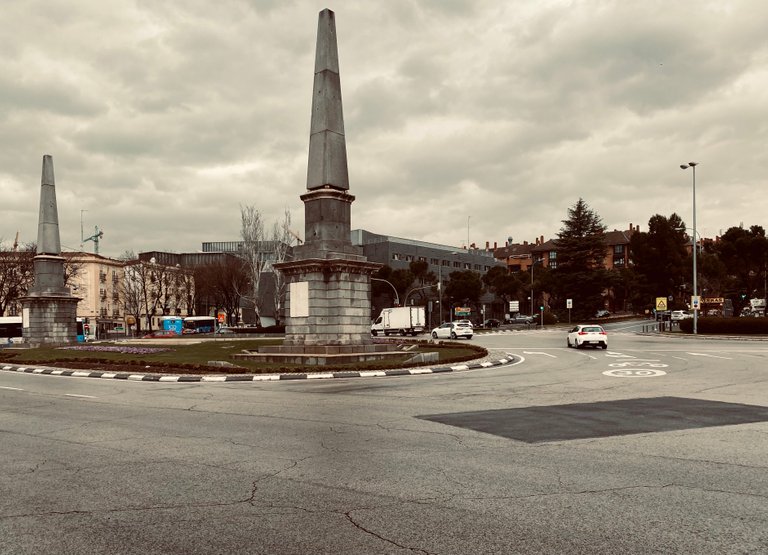 We see here the La Glorieta de las Pirámides.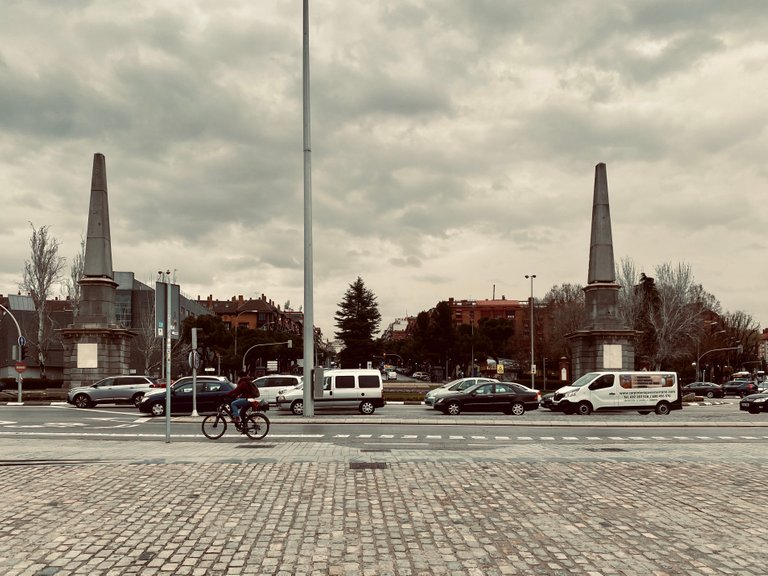 More information you can find In this webpage!
It states: "The roundabout of the Pyramids constitutes the eastern access to the Toledo Bridge in Madrid, one of the historic bridges that spans the Manzanares River. Initially called La Glorieta de Puente de Toledo/ Roundabout at the Toledo Bridge, was also named "two obelisks" and built by Francisco Javier de Mariétegui, erected in the square in 1831."
"The current architectural appearance of the roundabout dates from the remodeling carried out between 1995 and 1996, in which a landscaped central island was created on which the monoliths sit, which were restored, and a fountain installed to constitute the accompaniment of said elements."
And with these last photos and info… I want to finish my post for today.
Hope you enjoyed my photos of Madrid, Spain from not that long ago.
Thank you for looking and reading 😊 🙏🏻
Any questions or comments, let me know. Always happy to help.
Have a great day all 😎
Grtz Jackie
The divider is Created by SilverFish / @ mondoshawan
Unless stated otherwise: All art and photos used in my posts are taken, created and owned by me. If you wish to use any of my photographs, please contact me first. As I have used some commercially myself. We don't want that you or somebody else gets into trouble 😉 So please don't use them without my consent.
!pinmapple 40.398468 lat -3.711245 long 2 beautiful Bridges in Madrid ~ Puente Monumental de Arganzuela and Puente de Toledo 🇪🇸 d3scr