Amidst the world's progress, some communities lived in isolation. The world was able to share culture, heritage, and practices through open communication. However, some tribes in remote areas like islands and forests isolate themselves from the world. They lack the capital, information, and resource most of the world has. It is rare for communities to forego contact from the outside world, but these communities still exist. These people have a different idea of family, property, and authority.
There are around 100 remote tribes in the world, and more than half are in the Amazon. People romanticized who would be the first person to come in contact with them. These tribes became an object for colonial exploration to search the ten lost tribes of Israel. I feel sorry for these people. They lived a life of harmony in isolation, and our consistent efforts to explore them will cause them some lives. These people are not immune to the common infectious diseases known to man. Why not appreciate these tribes from afar?
We have a little know-how of what is the lifestyle of these tribes. We can only see their ingenuity from the aerial photos. I wanted to know how their innate creativity reflects on their dwellings. Here are some of these tribes.
Yanomami of Northern Amazon
The Yanomami people live in the outskirt of Brazil near the Venezuelan borders. They value their way of life and traditions and only engage with the local government when needed.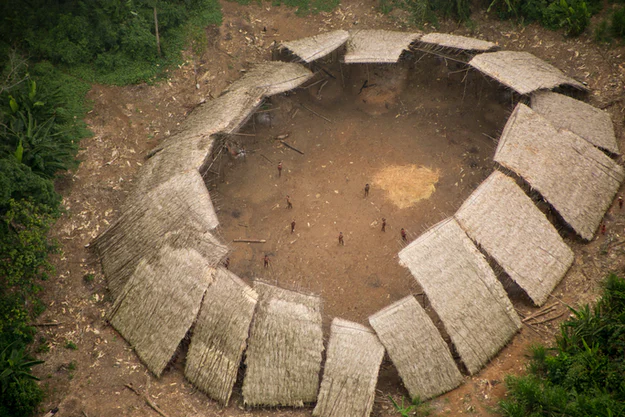 Yonamami people lives in a shabono.
A small isolated Yanomami village has had no contact with the outside world ever since. They are about 100 people that reside in a communal structure known as shabono. The shabono is a series of partially incline thatched roofs. They used lean-to, which is a basic form of shelter.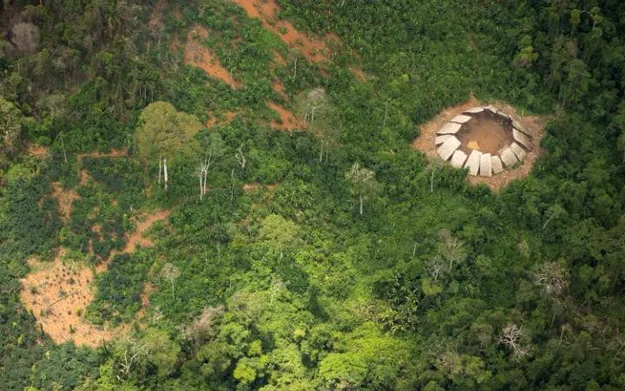 The lean-to is arranged in a circle to have an open space at the center. Each section of the shabono belongs to a different family. The Yanomami people put a high value on the community that reflects on their dwellings. They are currently in threat due to greedy miners that are like termites. The Yanomami land is under government protection, but gold miners continue to pollute their food and water resources.
Uncontacted Indians of Brazil
Amazon houses about 100 uncontacted tribes in the world. These people always move from one place to another due to pressing threats by miners, ranchers, and illegal loggers. Some of these tribes are down to the last of their member. They embrace a nomadic lifestyle. They can build a house in a day and move after two days. They make a makeshift shelter with thatched roofs. Some dig holes around his home to trap the animal or hide.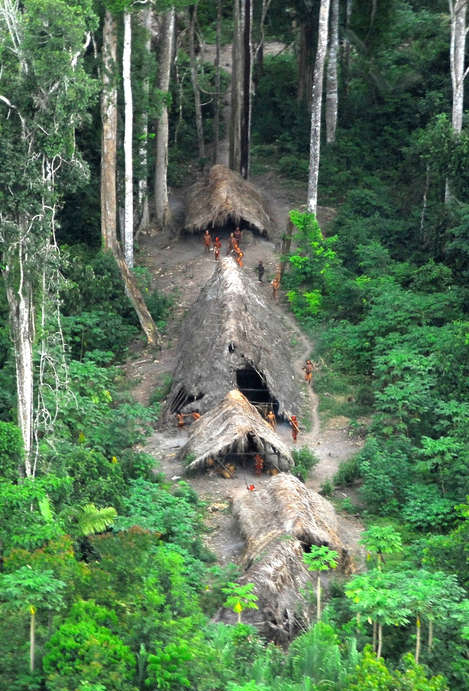 Communal houses of Awa people
We don't have a lot of information about them, but we know they want to remain uncontacted by the outside world. They shoot arrows at any outsiders and even airplanes. They also avoid contact by hiding deep in the forest. Most of these tribes don't stay for long in a place. They move after two days or a week. However, there are more establish tribes that live in communal houses. They plant manioc and other crops in forest clearings. They mostly hunt and fish.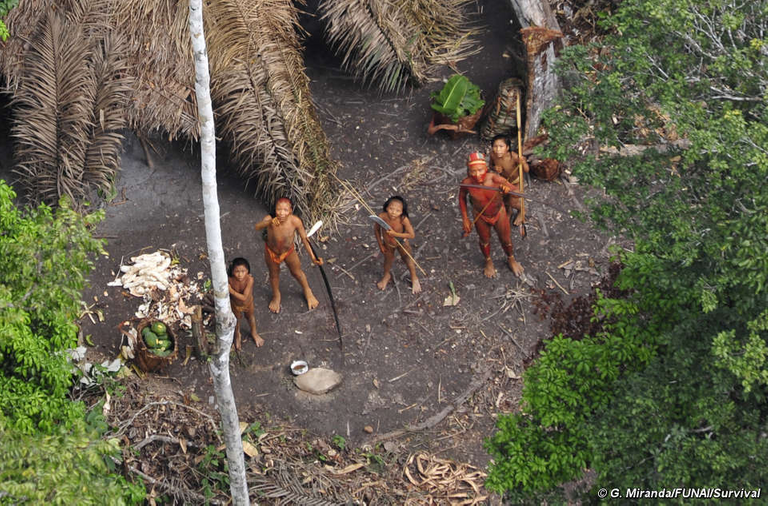 I am fascinated by how these people's ingenuity creates a sturdy place to take shelter. I only presented two tribes, but I learned from my reading that most of these tribes have similar dwelling architecture. They use readily available construction material and usually form a lean-to of thatched roofs. They also lived in closed groups which are evident in their communal house design.
The Shabonos
Most of the tribes I have encountered in my reading have a common theme to their dwellings except for the Yanomami people. The Yanomami people present unique dwelling architecture called shabono. As shared earlier, the shabono is a circular building with an open area at the center.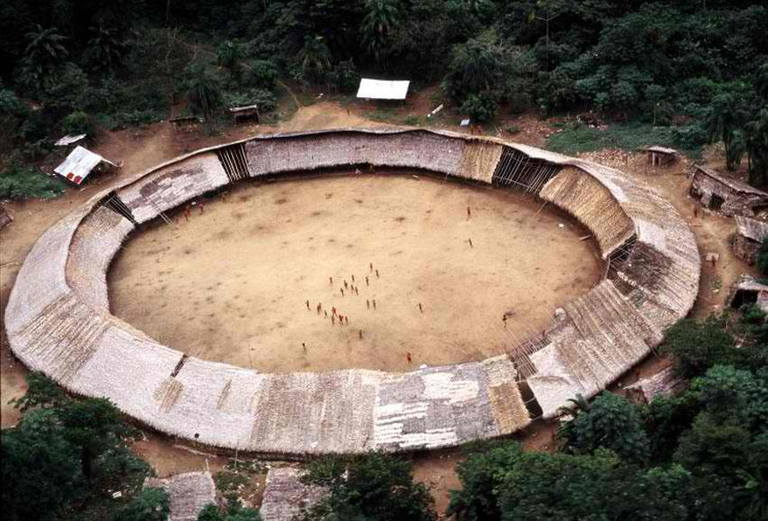 Shabono of Yanomami People
The Yanomami people build shabonos using a variety of plants and trunks. They thatched palms and roots to form the roof. Each family has a sector in the shabono where they can cook their provisions and sleep in hammocks. Half of the roofed area is a corridor shared among families. They perform rituals, ceremonials, and feast at the open center of the shabono. Around 70 people lived together in a shabono.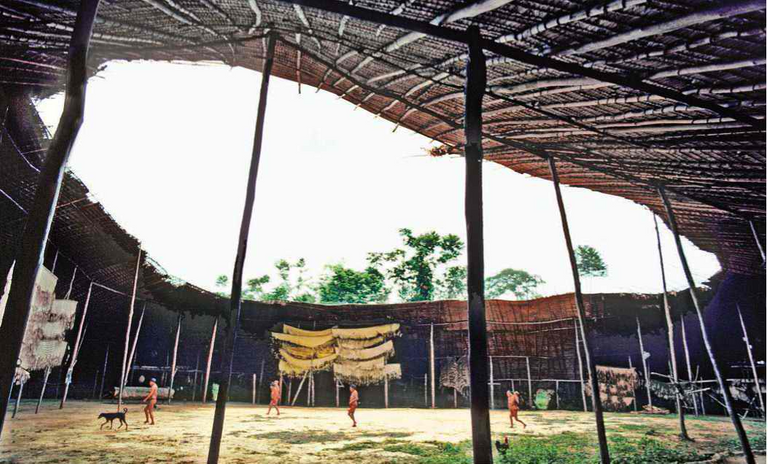 Inside a Shabono
The structure is sturdy and functional. The roof has two layers: one layer covers the living area; and, the inner layer prevents rain from pouring down into the living space. The floor is slightly above the central communal area. The outer walls have four main doors connecting to the main trail to the gardens, nearby streams, and other Yanomami settlements.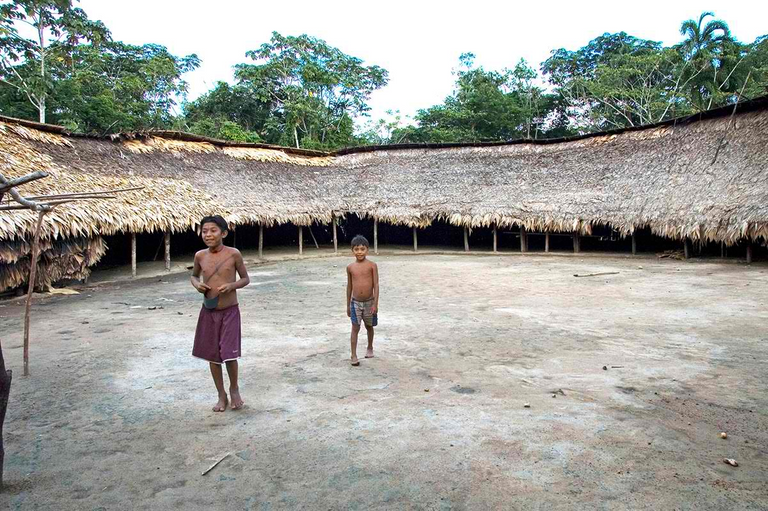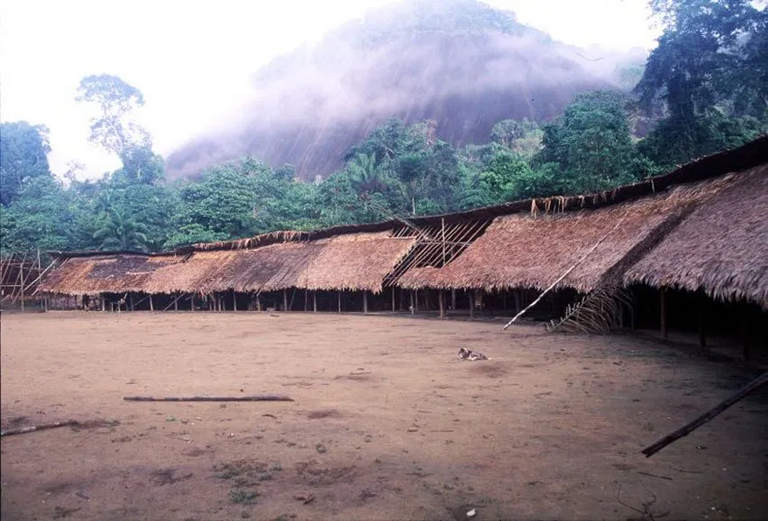 The communal space of a shabono
Like most of the Amazonian tribes, they divided the task into sexes. Men hunt animals, and women grow crops, which accounts for 80% of their food. They have particular rules like no hunter ever eats the meat he hunts, and he should share it with friends and family. In return, he will receive it from another hunter. The Yanomami people respect each other that every decision is a consensus from the community.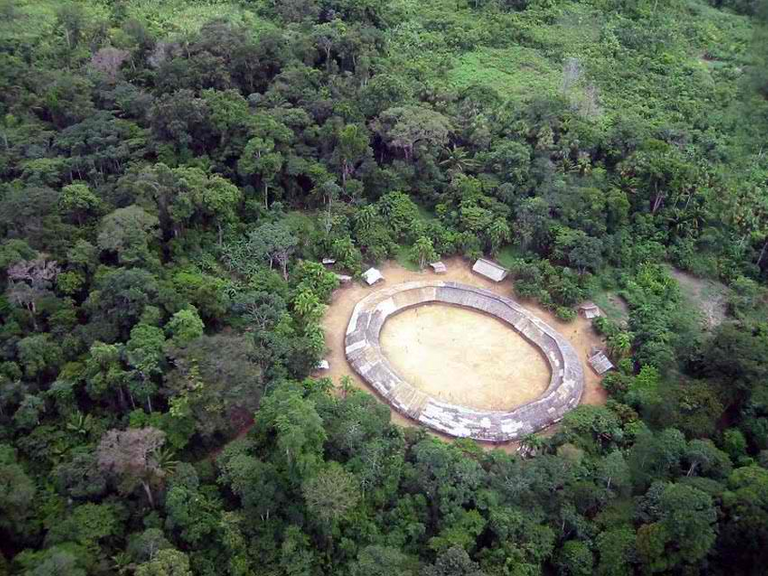 The Facade of a shabono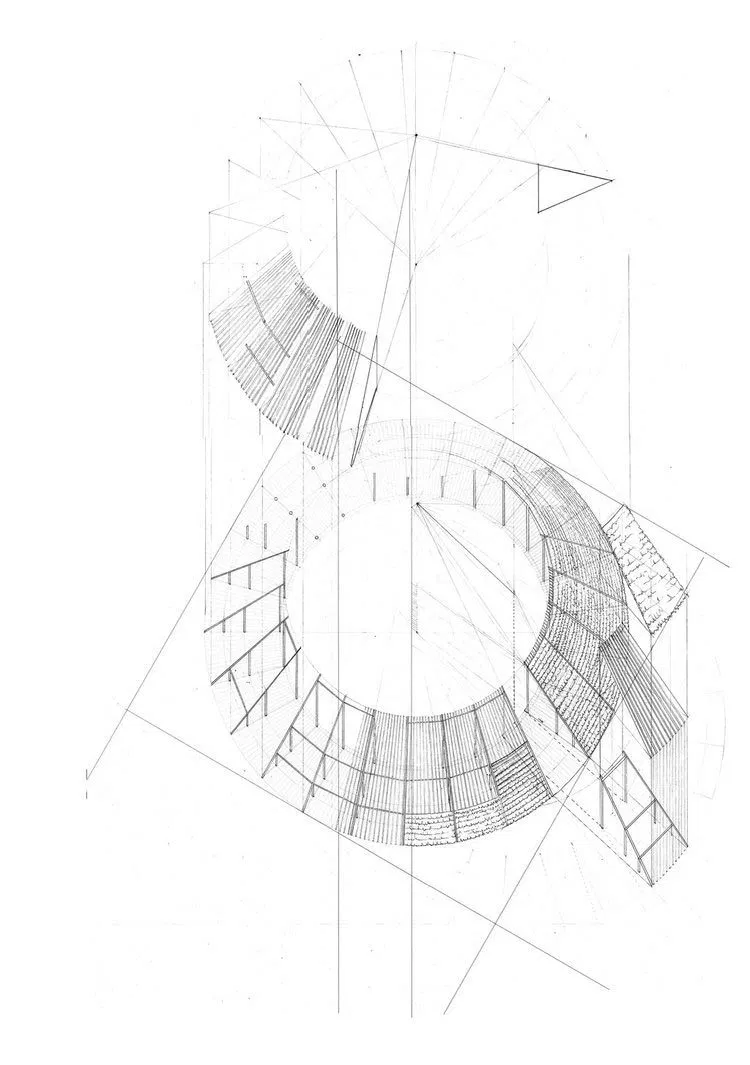 Architectural sketch of shabono (axonometrix view)
Amidst their isolation from the world, their ingenuity prevails through how they build their dwellings. They may have lacked the capital and information the world has. These never cower to live out their creativity. They have developed an architectural theme for survival. Their nomadic and communal mindset reflects in their dwellings. Architects and urban planners can look at these buildings' paradigms that depart from the global norm. They can benefit from taking a closer look into these indigenous structures.
---
References