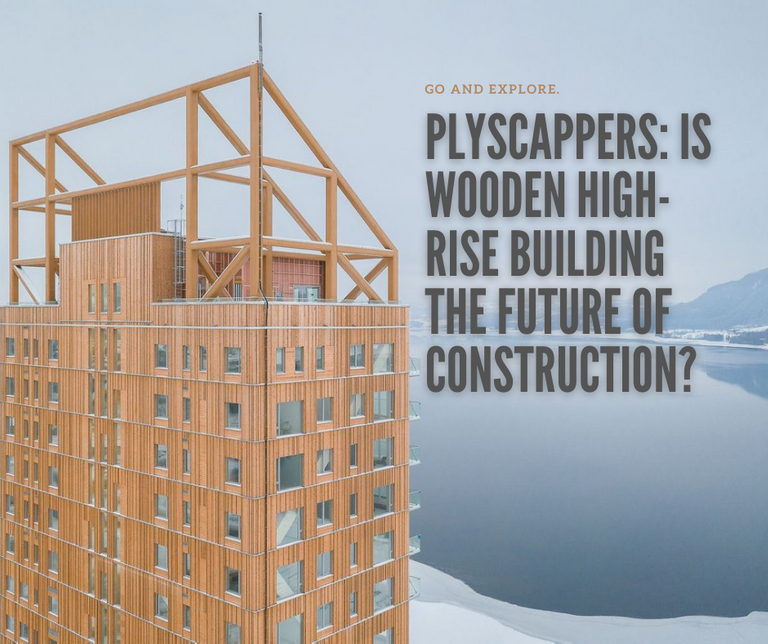 The world population will reach almost 10 billion in the next 30 years. Most of the population is in the cities, which is two-thirds of it. We will have limited space, and we need to find a workaround. Space will be a premium, and the possible solution is to have high-rise buildings to house the growing population. With architecture and engineering focusing on sustainability, our concrete and steel have large carbon footprints, which is why we are finding new materials for our skyscrapers. Architects and engineers create cutting-edge high-rise buildings using wood, the most renewable and natural construction material.
It is not new to us to use wood in building structures. Our ancestors used wood for almost anything from arms to the wheel. Since humans started to create shelters, homes, and vessels, wood became valuable building material. In the late nineteenth century, we made almost all boats out of wood, and wood is still widely used in boat construction today. People compare wood to concrete, steel, and glass, and some dispute that wood is an obsolete and risky option for tall building construction.
Scientists, architects, and engineers attempt to adapt the use of wood in building high-rise structures that fit the needs of the modern city. They are pushing beyond the boundaries of wood construction so that to gain broader support for its use. This undertaking inspires innovative ways to work with wood that will lessen the environmental drawbacks of urban construction.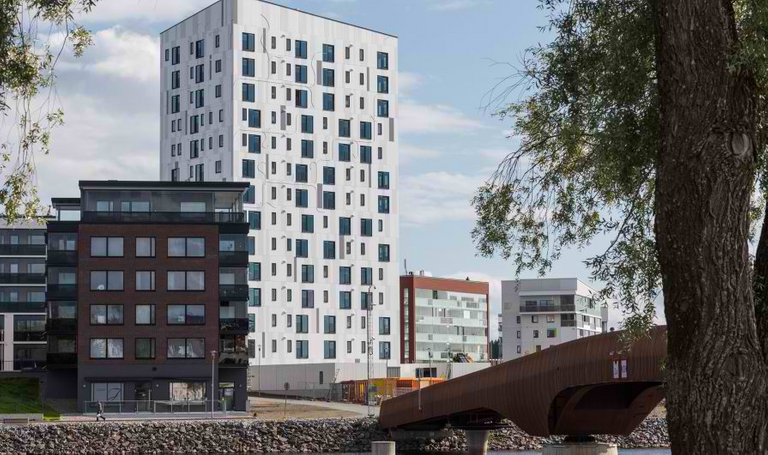 This university student housing in Joensuu, Finland, is made almost entirely of wood. (source)
The Joensuu Apartment Complex in Finland
The Joensuu apartment complex is a prime example. We can locate it at the University of Eastern Finland. The apartment has an interior frame made out of bulk lumber, which is a high-density wood commodity. Bulk lumber is one of the latest high-tech materials that the world economy depends on forests to fill. Mass timber has a certain futuristic appeal to developers and builders, and its proponents expect that future cities will be all-wood high-rises. It is a 14-story building that houses 117 student apartments and Finland's tallest wooden high-rise building.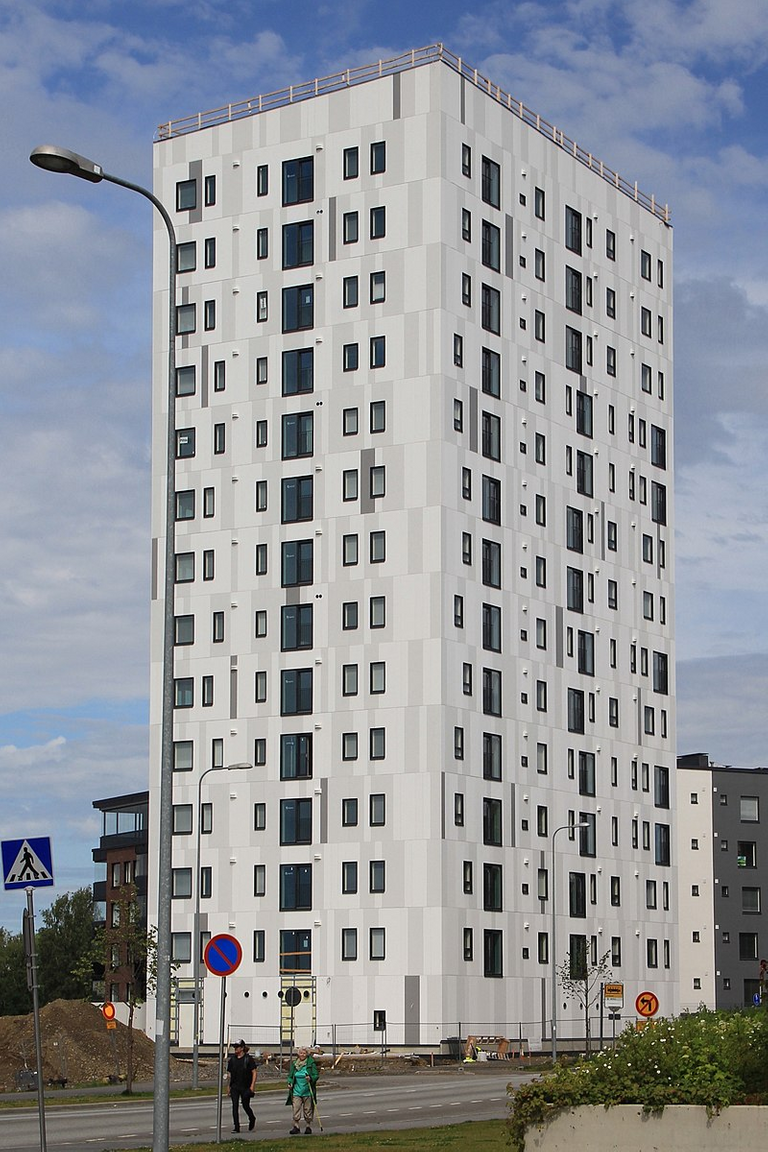 This university student housing in Joensuu, Finland, is made almost entirely of wood. (source)
The architects devised an all-wood plan to support the zoning policies of the area, which favors wood for high-rise construction. The ground floor and civil defense is all concrete which is a prerequisite for an inhabited structure larger than 1,200 square meters. The rest of the apartment used laminated veneer lumber (LVL) for flooring and cross-laminated timber (CLT) for the walls. The cross-laminated timber (CLT) is an inch-thick strip of heartwood like a Jenga set to produce a solid block. On the other hand, laminated veneer lumber (LVL) is multiple layers of thin wood glued together using an adhesive. LVL makes an excellent beam to form the skeleton of the building.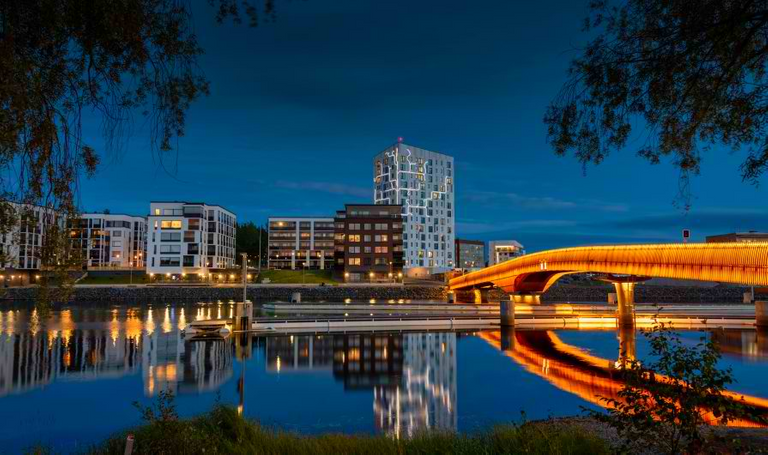 This university student housing in Joensuu, Finland, is made almost entirely of wood. (source)
Although they build a Joensuu apartment complex with wood, there are relatively few identifiable wooden surfaces. It is due to most interior surfaces are clad with gypsum board to satisfy fire safety standards. Almost 2000 cubic meters of woods in Joensuu can store a quantity of carbon equal to the annual emissions of approximately 700 passenger cars. Structures won't be possible without a steady, controlled growth of trees that they planned decades before the harvest, whether from the paper fluff in diapers to the bones of skyscrapers.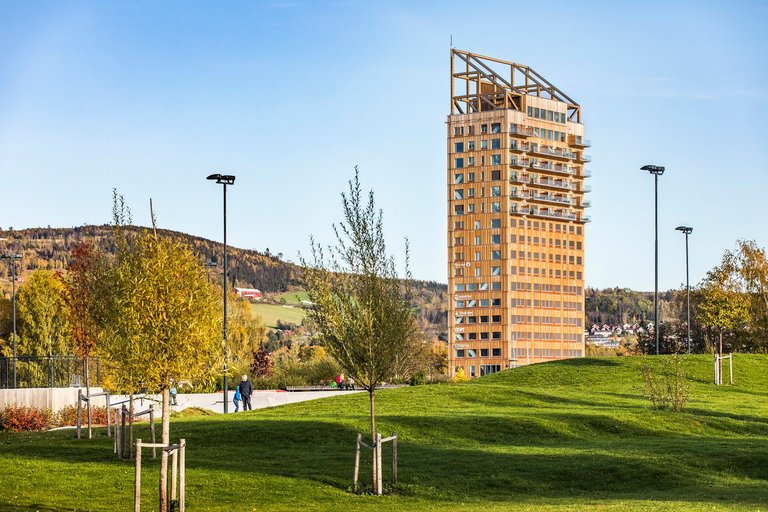 The exterior façade of Mjøstårnet, The Tower of Lake Mjøsa (source)
The Mjøstårnet, Norway
With fewer than 10,000 people and surrounded by farmland, the Norwegian town of Brumunddal may seem an unlikely location for a record-breaking high-rise. It is where we can locate the world's tallest wooden high-rise building, the Mjøstårnet. The Mjøstårnet is an 18-story building north of Oslo that stands slightly more than 85 meters tall. It houses offices, hotel rooms, and apartments. It used approximately 3,500 cubic meters of timber that is about 14,000 trees.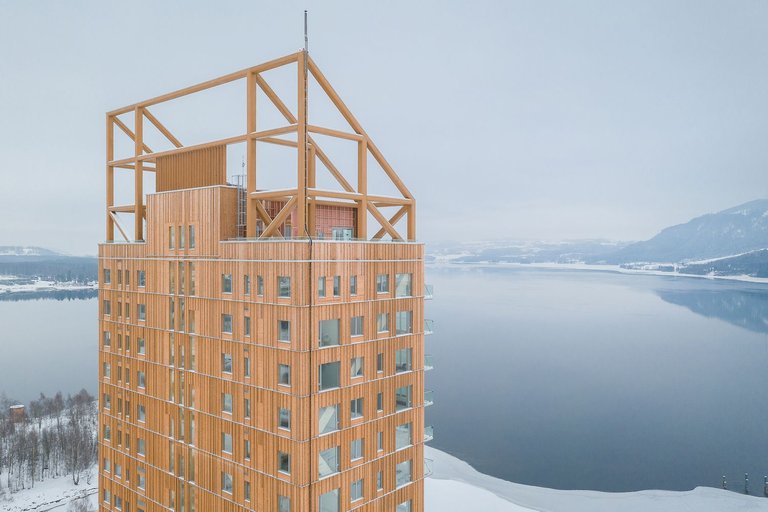 The exterior façade of Mjøstårnet, The Tower of Lake Mjøsa (source)
The tower has 18 floors, and various programs with each floor are approximately 640 square meters. Its total program area is about 10,500 square meters with an additional 4,500 square meters public bath. The ground floor is open to the public that has a lobby, reception area, and restaurant. A public swimming pool with two 25-meter-long pools in the low-rise building adjacent to the tower complements the new structure. Healthy and sustainable forestry enables wooden buildings to rise.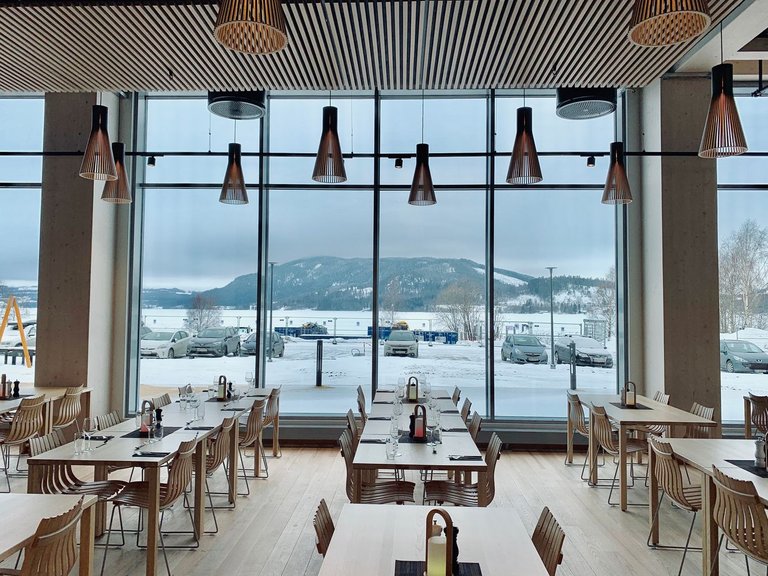 The interior of Mjøstårnet, The Tower of Lake Mjøsa (source)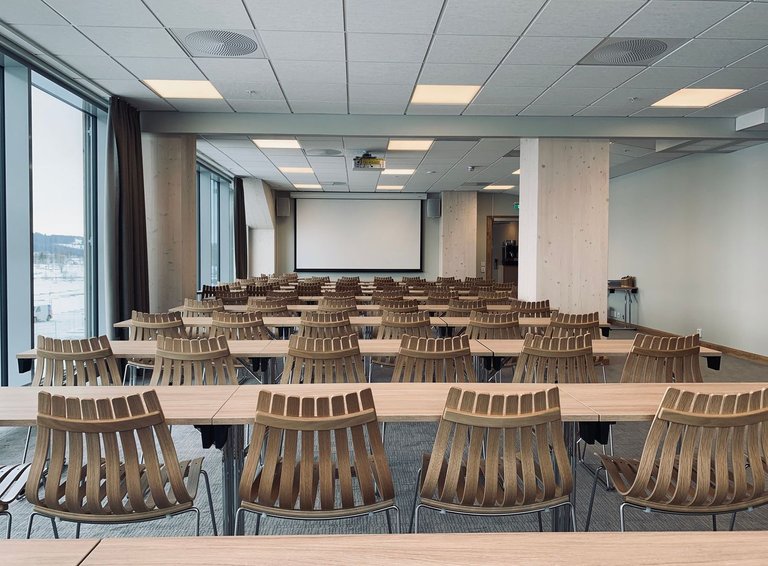 The interior of Mjøstårnet, The Tower of Lake Mjøsa (source)
This architectural and engineering feat put a small town on the world map. It solidifies a growing body of evidence that timber provides a sustainable alternative in building high-rise than using concrete and steel. Similar to the Joensuu apartment complex, they used cross-laminated timber (CLT) to achieve such feat. Again, CLT is a byproduct of gluing strips of laminated wood together at 90-degree angles to one another before being packed into massive beams or panels under tremendous pressure. We dubbed these high-rise buildings made of mass timber as Plyscrappers.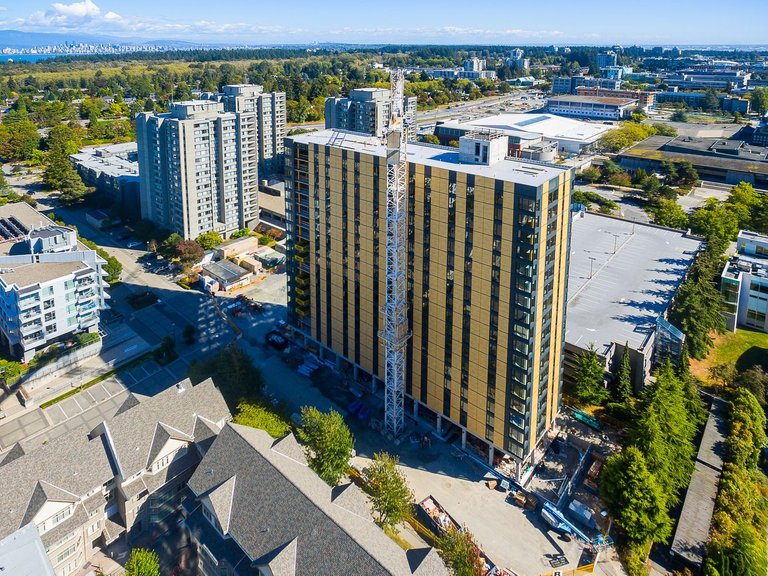 The façade of Vancouver's Brock Commons (source)
Brooks Common, Canada
British Columbia is no stranger to wooden giants. Storms have battered Douglas fir and Sitka spruce trees up to 60 meters tall along the western coast in some cases for nearly a millennium. Several architects, foresters, and engineers adapt and design a growing number of wooden giants across the cities. The 18-story Brock Commons tower in Vancouver proves the endless possibilities of timber for high-rise construction. It was once the world's tallest timber building which built far less money and quicker than concrete buildings. Besides, it is sustainable and has less environmental impact than steel and concrete construction. It can mitigate about 2,432 metric tones of carbon.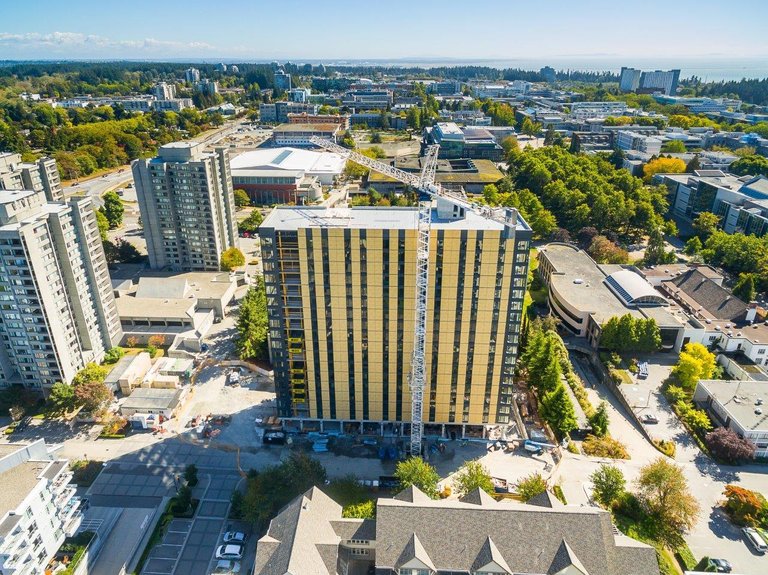 The façade of Vancouver's Brock Commons (source)
The 15,115-square-meter structure has a concrete base and two concrete stair cores. They used CLT panels back with glulam columns for the 17-floor plates. Between the wood floor slabs and columns, they placed steel connectors to pass loads between columns. It also provides a bearing surface for the CLT floor panels. The roof has steel beams and decks clad in prefabricated wall panels. They used 70% wood-fiver high-pressure laminate for the wall panels. The Brock Commons Tallwood House is a student residence building at the University of British Columbia (UBC) in Vancouver. It stands 53 meters and houses 404 students in a mix of one-bedroom and studio units with study and social spaces and a student lounge on the top floor. They performed rigorous testing of wood-to-wood connections on a two-story mock-up before its construction to ensure structural stability and integrity.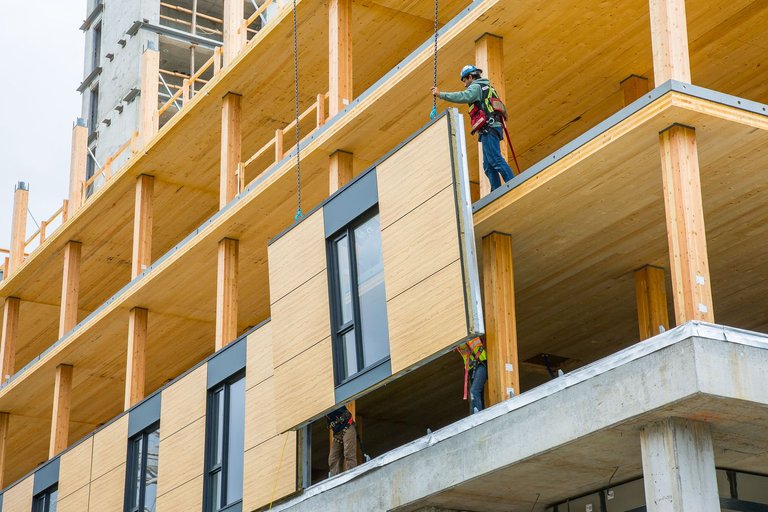 Worker assembling the wood panels in Vancouver's Brock Commons (source)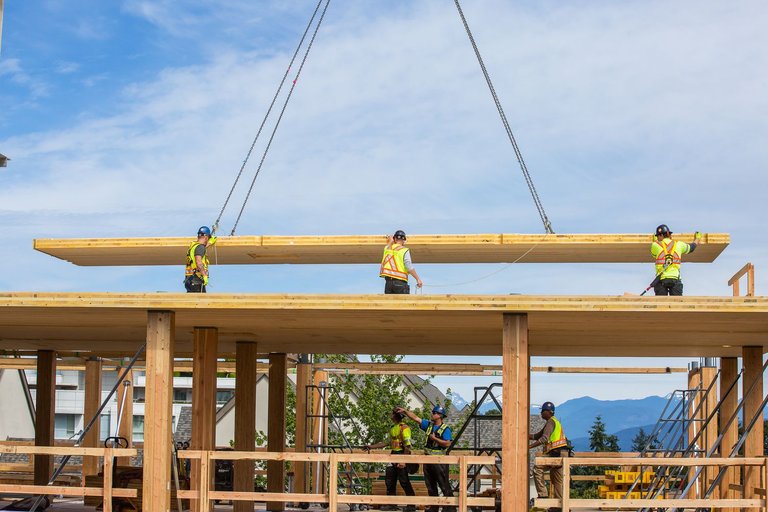 Worker assembling the wood panels in Vancouver's Brock Commons (source)
Similar to Joensuu, the interior does nothing to expose it. The wood structure hides well behind drywall and concrete topping. It is to comply with approved fire safety standards and, as a result, to expedite approval from building authorities. Brock Commons receives some criticism for using mass timber in the project, but the benefits outweigh the few drawbacks. When combined with sustainable forest management, it represents an entirely environmentally-friendly form of construction. It is lightweight and therefore less vulnerable to damage during earthquakes. Hence it uses prefabricated materials; we can construct at a quicker pace and hassle-free.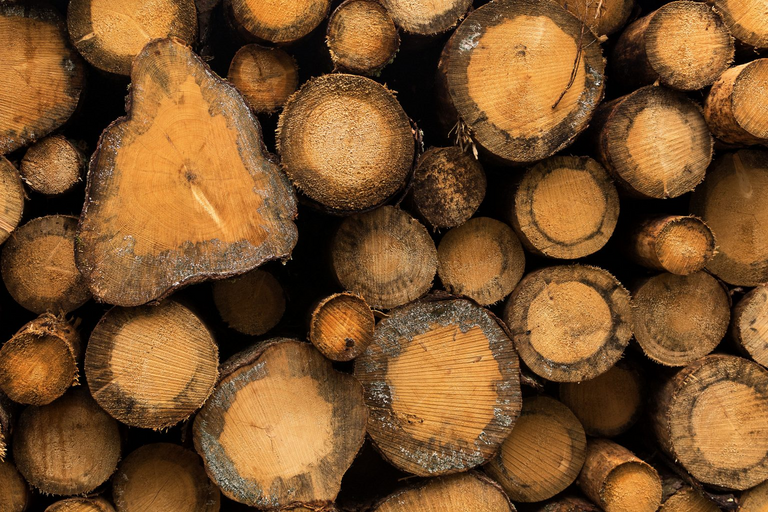 Wooden logs stacked on a pile (source)
More than an average log cabin
Our tall timber buildings vary from the typical two-by-four wood framing used in single-family residences or two- to four-story condominium structures. We used cross-laminated timber (CLT) and laminated veneer lumber (LVL), all of which are byproducts of cutting-edge material research. We can also use concrete and steel around elevator shafts and stairwells in mass timber structures, but we used engineered wood for floors and beams.
Structural wood components, such as CLT, have several benefits in tall wooden building construction. They are lighter than traditional materials, which suit well for earthquake-proof buildings. Besides, it is easily manufactured and used a fraction of energy than steel or concrete. Hence it is lightweight; we can assemble floor and wall parts off-site that minimizing construction time.
Since we can construct individual parts accurately in a warehouse, we can eliminate defects and maintain accurate dimensions. Prefabrication allows us to optimize energy efficiency. Hence tall wooden structures store carbon; we can stop it from going into the atmosphere. We can trap it inside the building for decades. In contrast, buildings made of steel and concrete emit a significant volume of carbon dioxide per ton of material.
Is it a solution to sustainability?
Some people still argue that high-rise wooden structure is far less resistant to fire than traditional concrete and steel structures. However, these buildings have met the fire safety criteria that we can somehow debunk their arguments. The tall wooden buildings face a potential environmental effect on trees. Although we gain an advantage from the construction, we can't deny that it raises concern about increased erosion and habitat destruction if we don't have a good source for our timbers in a sustainable and well-managed forest.
The future bulky slabs of wood don't come from old-growth sanctuaries.
Instead, the giant beams and columns are made up of much smaller parts, mimicking many desirable qualities of good-grown old wood. It will have a fraction of the environmental impact. Our recent technical advancements have undoubtedly enabled us to have more effective construction processes and materials.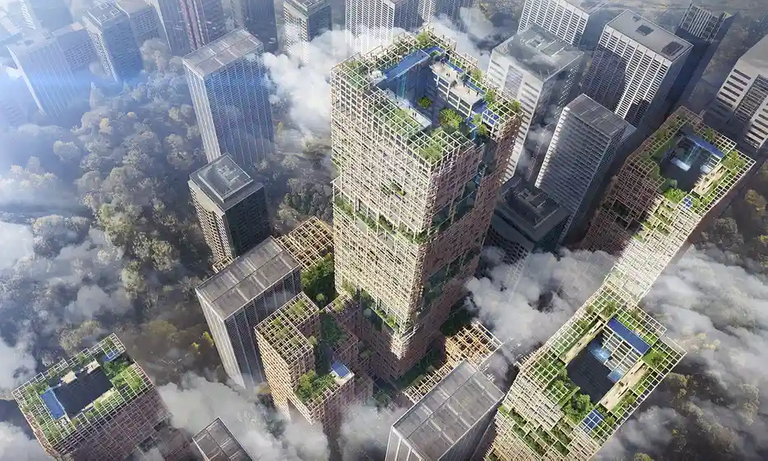 Japan's Sumitomo Group hopes to use CLT to build a 70-storey tower in Tokyo. (source)
More and more architects are rallying for timber over concrete and steel, as swayed by its growing popularity and the looming problem of climate change. When we focused on better carbon-reduction strategies, we seek to adapt high-rise wooden structures as it will allow us to sink our carbon emissions to new heights based on a recent study.
Austin Himes and Gwen Busby reveal that substituting mass timber for standard building materials decreases construction phase pollution by 69%. It will result in a reduction of 216 kg CO2e/m2 of floor space. When we scale up low-carbon construction and assumes mass timber replaces traditional building material, we can mitigate up to 9% of global carbon emissions by 2030 and holds off global warming below 1.5 degrees Celsius.
The title of the world's tallest wood building would be difficult to maintain. The riskiest city for earthquakes, Tokyo plans for a 350-meter-tall, 70-story structure. High-rise wooden structures will gradually become a part of the global urban environment as architects, engineers, and tradespeople become more familiar with these materials. Again, we slowly debunked our misconception of wood as fire-prone due to modern, robust, and innovative material.
---
Readings