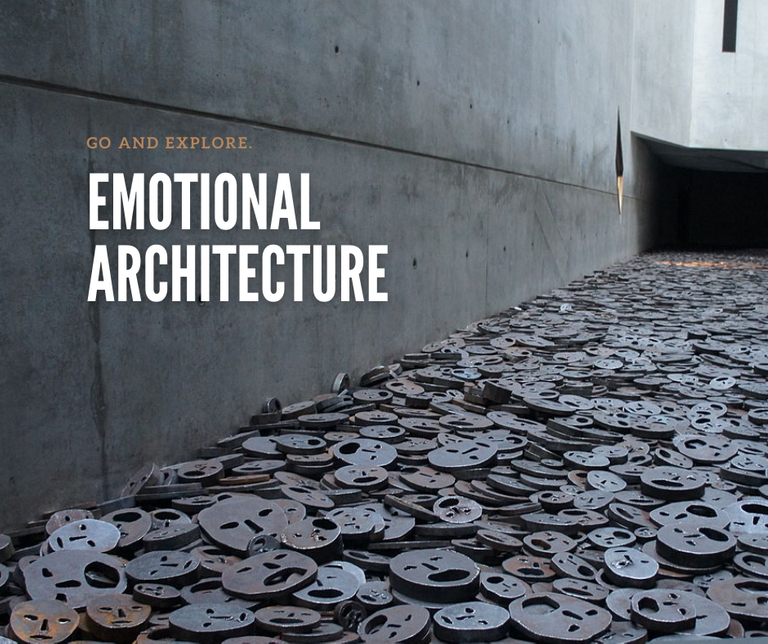 In the old days, architecture brought an elicit feeling to the people exposed to it, but architecture to date becomes too calculated that it simply design to optimize space. Architecture should give us a sense of spiritual fulfillment and wonder; it touched us with a sense of elegance, affection, and memory; and it provided us with an emotional platform from which we could better grasp the human collective to which we all now belong.
When architecture exudes a sense of location, we can interact with the room. It sculpted a sense of identity that elicit different emotions. An architect can never guess how anyone will respond to his or her architecture, but architects can still strive for a richly associative architecture rather than diagrammatic or abstract architecture.
Mexican architect Luis Barragán and sculptor-painter Mathias Goéritz introduced the concept of emotional architecture in 1954. They aimed to boost spiritually uplifting buildings that will stand above the modernistic and urban approach to architecture. A common thread to an "emotional architecture" mimics what an impressionist painter does in his paintings. It celebrates shades, illumination, and shadows with precise delicacy. Often, these architectural masterpieces invite the public to pause and think.
We associate emotion in architecture with how much architecture exudes a sense of place and belongingness. Architects can use the sense of place to define the architectural identity of the building. When they integrate it into the design, architectural personality elicits empathy in the people living within it. Human emotion can be vital in profoundly bond the inhabitants and the architecture of the building. It is somewhat like an artist that serves a lasting impression through its artwork.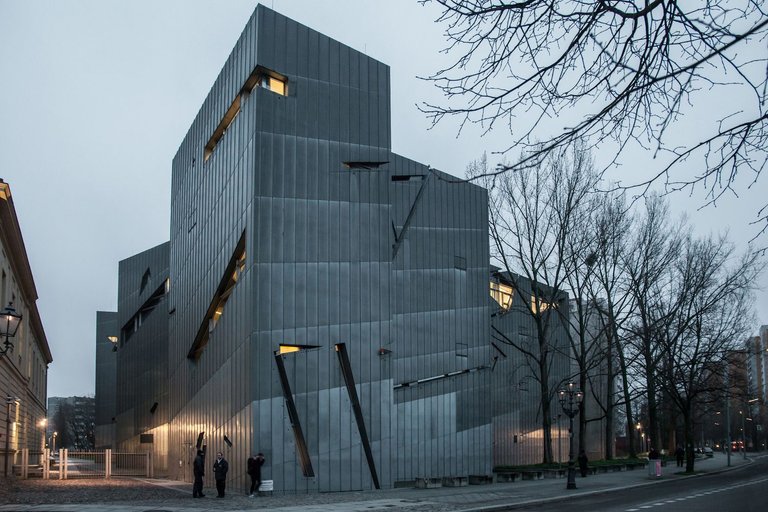 The Jewish Museum in Berlin that reflects the Holocaust. (source)
Architecture that tells a story
We are space-sensitive that we often choose the ugly place with character over perfection. We can't deny that strange or disfigured space with deformities in its walls is more relatable than a modernistic abstracted space. It is a sterile reflection of what keeps us human after all, which is the mistakes and battle scars. Architects and designers tend to create a sense of isolation rather than belongingness to its immediate environment.
We need to revisit the intimate relationship an individual has with his or her immediate physical surroundings. With that in mind, architects are adapting to create spaces that are poetic and theatrical. These unique and memorable spaces allow us to become calm, energize, uplift, and create happiness. Giuliana Bruno said that we link emotion to motion. The design of spaces guides people to a journey both intellectually and physically. It takes us to an emotional narrative that affects where we want to go, how we behave, and what we remember from the place.
Again, emotion is a vital connection to how we perceived architecture. Architects should design with human senses in mind. Architectural quantities like materiality, light, and sound exude different emotions. It can create an architectural narrative that pulls off a metaphor or a juxtaposition of one's life. We can trigger emotions with a design concept that connects with occupants.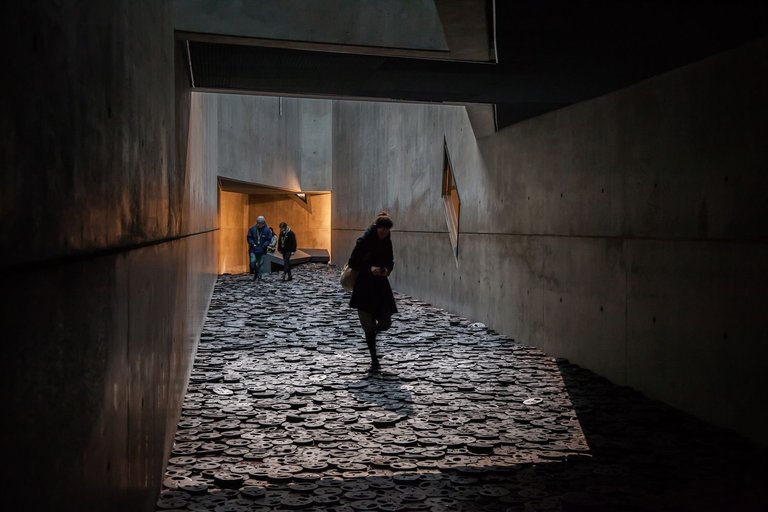 A pathway in the Jewish Museum in Berlin that reflects the Holocaust. (source)
We knew that buildings age over time and become obsolete. It is this story of aging and mortality that they embed that keeps them alive. We should not overlook the influence of architecture in our lives, considering the narrative architecture is tangible and intangible. Architects can design buildings that parallel history or recreate it ingeniously.
Daniel Libeskind designed the Jewish Museum in Berlin with the horrors of the holocaust in mind. It combines walkways and staircases that would take us through the experience of the sadness that Hewish felt in the holocaust. He used a dull and toned-down corridor of the museum to show us the terrifying fate of Jews in the holocaust as they walked through the gas chamber and saying their last goodbye. The metal parts reflect people's screams of agony as they walk into the gas chamber.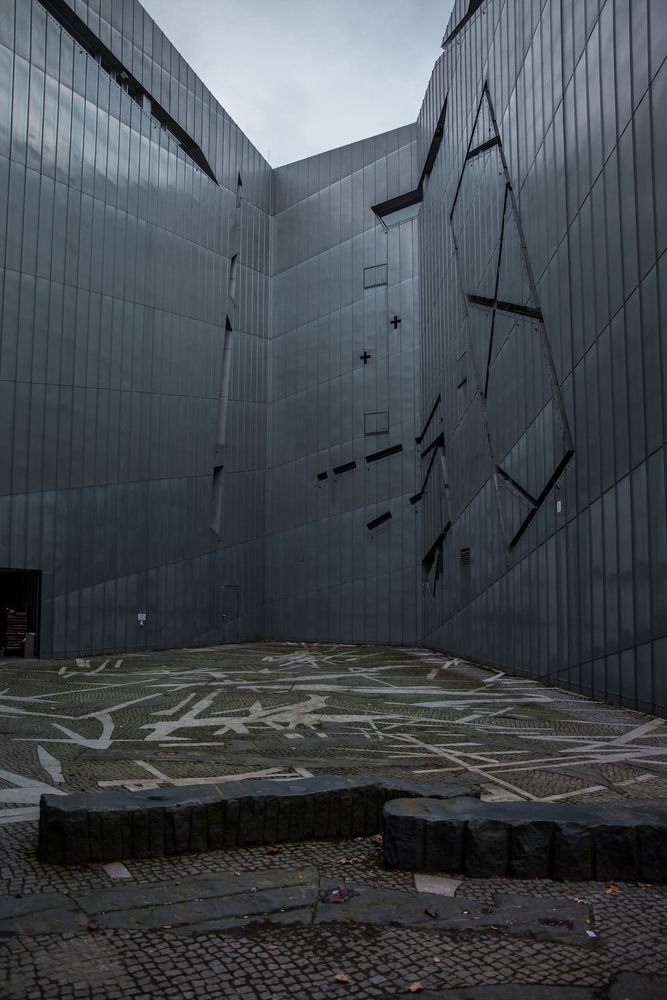 A pathway in the Jewish Museum in Berlin that reflects the Holocaust. (source)


A pathway in the Jewish Museum in Berlin that reflects the Holocaust. (source)
Libeskind played with the spatial dimensions of the museum to allow us to feel what it is like walking through the gas chamber and the camps. He designs sporadic and unfamiliar spatial dimensions that people suddenly enter a spacious room after walking in narrow corridors. Some irregular fenestrations and balconies increasingly monotonize our perception of the place. Libeskind artistically portrayed the socio-cultural and political narratives of the Jews as a tragic and dark one. The death of Jewish people echoes in the museum design.
There are two ways to tell a story of architecture. One example is where we can establish a narrative and build a design around that narrative. Architects and designers focus on the audience community and the everyday events that they could engage. The narrative helps architects and designers to establish the architectural identity. The other method of architecture storytelling is where the audience community becomes a part of the plot and learns about it as they progress.
For example, architects design the spaces and objects placed in the museum unveiling the story as they toured the place. Architects and designers used spatial dimensions and configuration to let the audience experience the feeling and essence of history. When we learn the stories by architecture, we can associate that each architectural structure is an object to tell any passerby a story. Architects design the space that enables us to hear and learn tales from spatial or design elements.

Pavilion for architecture competition at the Museo Experimental el Eco in Mexico City. (source)
The rise of emotional design
In 1953, German-born Mexican architect Mathias Goeritz wrote a manuscript that entails the Museo Experimental: El Eco in Mexico City. Goeritz's work consists of strange combinations of architecture and sculpture that emphasized stimulating feelings or recognition by taking a history to form it. Mathias Goeritz explained the characteristics of a place's charismatic ugliness in the manuscript. In Museo del Eco, there is a lone tall wall in the corner patio that people feel elevates them.
Mathias Goeritz coined the term emotional architecture first, but the concept is already long-standing in our history, like labyrinths, castles, and celestial vaults. In recent years, architects are adopting the philosophy of emotional architecture in their designs. Beijing-based Ma Yangsong, the founder of MAD Architects, said that a house is not a machine for living in. His Harbin Opera House has a frosty-looking lobby that evokes the feeling of coldness as reflected in its gentle decadence of natural light and crystalline glass curtain walls and pyramids. Yangsong designed the opera house to allow us to feel the winter environment.
French lighting designer Hervé Descottes employed the Doppler effects to achieve the sensation of being on a theater in the lobby of Conrad New York hotel through orb-shaped LED lights. There was a revolution in architecture where should be technology-driven, but Darrel Long, design director at Hirsch Bedner Associates (HBA), argues that this mindset shifted to simplicity. It is because people emotionally respond well with simplistic views and relatable things. Architects and designers should adapt stones and slate in the design; hence we feel better with them.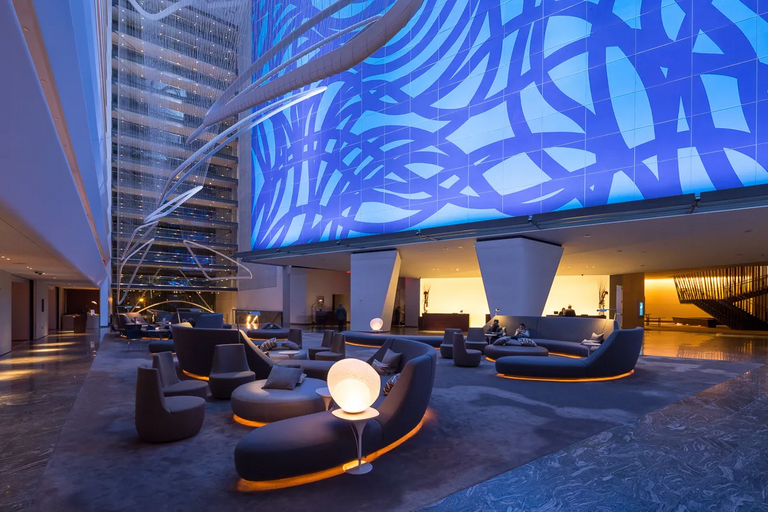 The lobby of the Conrad New York. (source)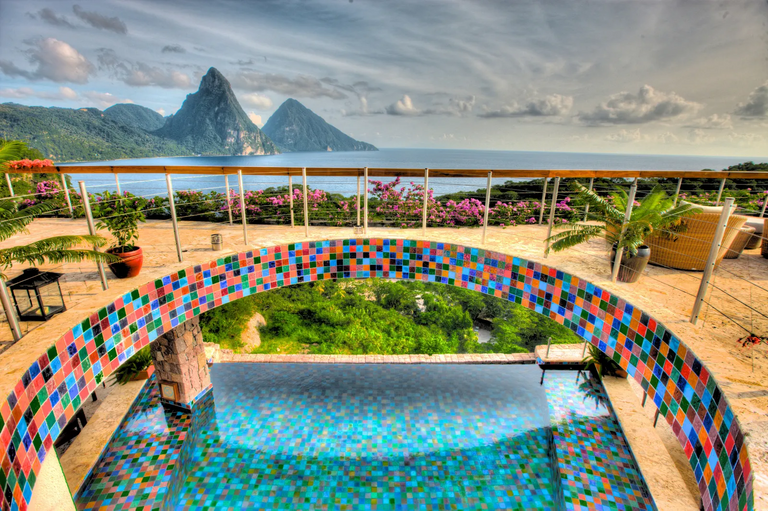 Jade Mountain on Saint Lucia. (source)
Color can spark emotional dialogue, and that is why architects should consider a better color palette in their designs. Designer Nick Troubetzkoy chose colorful prismatic glass tiles with textured iridescent surfaces, which surround the infinity pool in Jade Mountain, Santa Monica. It gives Rubik cube-like effect in the infinity pool. The color theme extends to the rooms to tie up the design and feel.
The 9/11 Memorial & Museum is one of the finest examples of architecture that expresses emotion. Visitors can feel the lost souls of the 9/11 event; hence the memorial design honors the location of the twin tower that people can easily remember. People can sense the emptiness with hollow space at the exact location of the Twin Tower in the memorial. They become engulfed in their own emotions. It is left as it was after the destruction and only minor changes to preserve the identity of the space that connects the people, which triggers different emotions.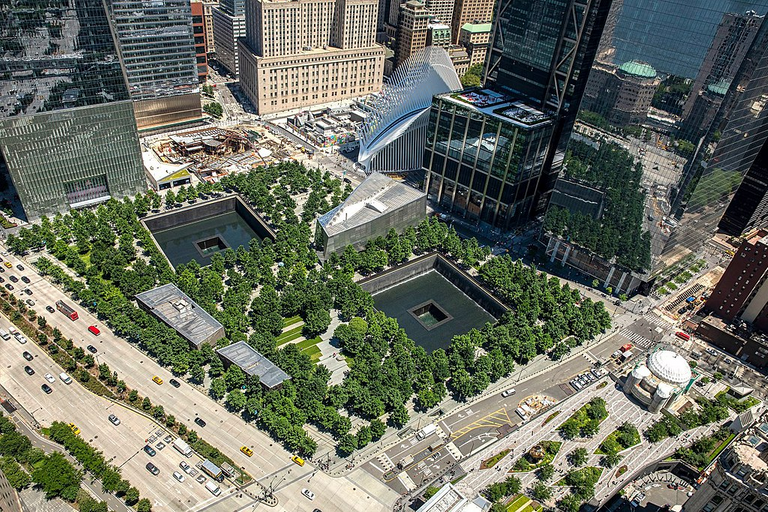 National September 11 Memorial & Museum, and base of the World Trade Center complex. (source)
Simplicity draws more emotion.
Different spaces elicit different emotions depending on a person's age, gender, sexual orientation, and ability. Children will love brightly colored rooms with natural ventilation, and they will feel at ease and energetic. The elderly hate too much bright color space; hence they require a place with soothing light colors to relax. People with disabilities will not be happy with too many stairs, and they will feel alienated. It shows how architecture and the design of space affect us and how someone feels.
Simple design choices have more impact on human emotions than sophisticated ones. The architect carefully chooses every element in the design to maximize the sense of place. It is peculiar that even the most neutral architecture can be very aggressive. Again, our emotions can be trigger by architecture. Memorials can give us a sense of pride, sorrow, and gratitude. We need to understand that how we design spaces can elicit an emotional reaction.
Often, the neutral architecture is most aggressive and impactful to us. Emotion in architecture is not a question of whether a building makes us feel good or bad. It's about how it moved us. Architecture should give us a sense of place, and if it does, we will be emotionally affected. Architects and designers should remember architectural personality elicits empathy in the people living within it.
---
Readings