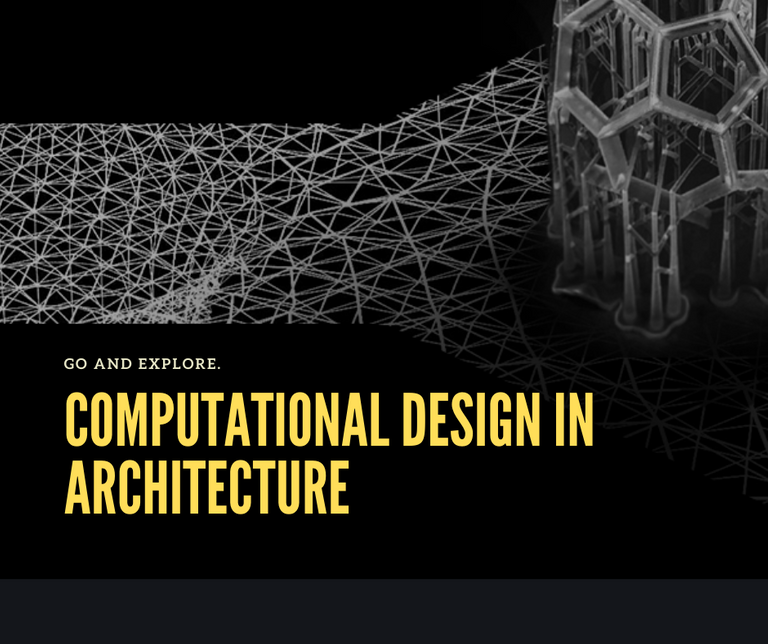 Our development has been spectacular. We have technology that enables us to communicate in the most remote corners of the world. We have medicine that cures diseases previously considered incurable before. We are breaking into new heights and changing the current landscape. We are continuing our efforts to curve our carbon emissions. Fortunately, the architecture and design community is not behind.
Architects utilize computers to design spaces and communicate with others. There is a relevant increase in our use of algorithms and scripting in the design processes of a few forward-thinking practices around the world. Computation design has emerged in the last decades and rapidly became popular among architects and other designers.
When we apply computational techniques to the design workflow, we can change how we construct and design spaces. It allows us to try out designs that we never see and we think impossible before. The computational design merges design techniques and computational technologies. To date, it becomes unusual for architects and designers to design architecture without computers.
---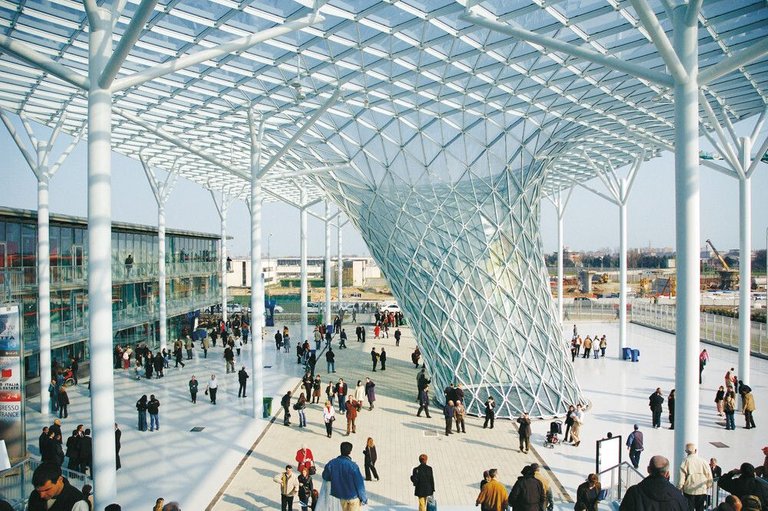 Trade Fair Milan by Studio Fuksas | Photo Credit: Archdaily
---
The computational design gives a new perspective.
At the end of the 1960s, computational design emerges as modernist thinking and technological explorations. To date, the use of computational design processes in architecture is a widespread practice, thanks to computer science theories developed in the 1950s across research facilities in the United States and the United Kingdom. Computational design in architecture started in the 1970s.
Computational design is more than just a digital representation of traditional tools. It gives us a completely new paradigm for how we operate and design spaces and structures. There are various tools for 3D modeling and rendering that have been around for some time. Generative design is not a new notion in architecture.
The generative design systems are devices capable of creating viable solutions, as defined by Mitchell defined in the late 1970s. It is a principle of creating complicated forms and patterns from a simple specification and addressing complex design challenges that we rarely discover in standard problem-solving methodologies. The computational design overcomes the shortcomings of our traditional design process by harnessing the power of computers and algorithms.
---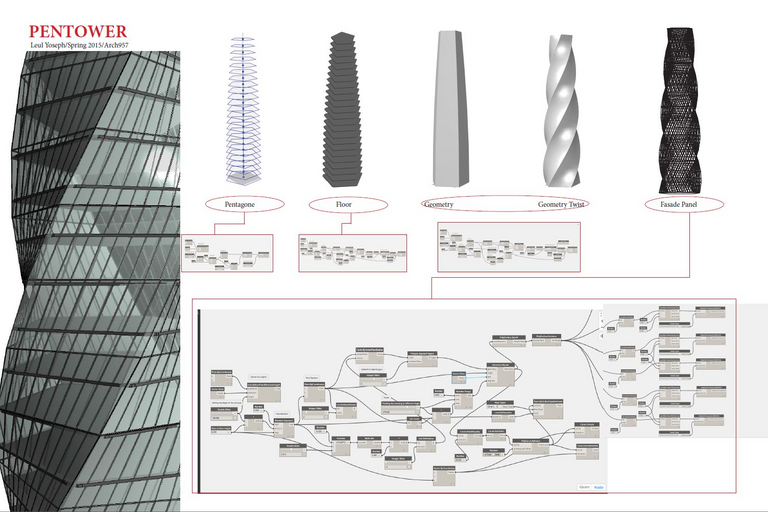 Computational Design using Dynamo and Revit from University of Nebraska | Phot Credit: Leul Yoseph
---
When designing a building with digital software, the architect must describe the variables, parameters, and limitations so that the computer can generate what the architect envisions. 3D rendering tools assist architects in visualizing the outcome of the parametric approach. At its most advanced, BIM software might one day combine blueprints, renderings, construction documentation, structural analysis, and a library of the editable 3D model.
There are several computational design tools such as Rhino, Revit, and Microstation. The oldest computational tools are Generative Components, which were launched in 2007 and are compatible with Microstation software. Grasshopper is a popular computational design tool due to its ease of use in producing high-quality buildings. We generally used Grasshopper to create generative algorithms, parametric modeling for architecture and fabrication, lighting performance analysis for eco-friendly architecture, and energy usage in buildings.
Dynamo is a graphical programming interface that allows you to tailor the workflow of your building information. We used it together with Revit models to write scripts that automate repetitive processes, investigate complex design issues, and streamline BIM workflows. Marionette is one of Vectorworks' excellent Computational Design tools that provides an algorithmic method for orchestrating and dictating design forms and adaptations without the need for a coder.
---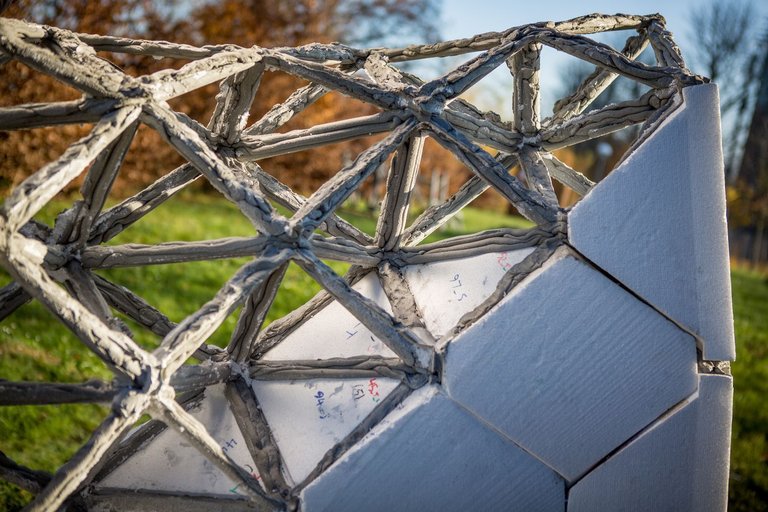 Mortar space truss wall with robotic extrusion. | Photo Credit: Archdaily
---
Computational design changes the design work.
Computational design enables the modeling and testing of more design choices in less time. It allows us to broaden the area of inquiry and provide designers with a quick yet trustworthy. It is critical throughout the design conceptualization and preliminary design phases when we want to propose new designs that have never been seen or tried before. Computational design can substantially aid in thinking and simplifying the initially seeming complexity of the design challenge at hand.
We can generate hundreds, if not thousands, of possibilities by embedding design rules in a computational framework. We can select the optimum solution out of each design choice in particular criteria. With the computational design, we can build twisting skyscrapers or peculiar geometries. What we always see in computational design are complex geometries, but it is more capable than that.
Designers frequently need to have a clear mind to allow creative juices to flow. We knew that for an architectural masterpiece to be born, architects and designers needs countless repetition. It is time-consuming, and the repetitive process is taxing. Computational design helps automate the process with few lines of code. The most computational design allows automation of laborious chores such as renaming or copying parts or views.
---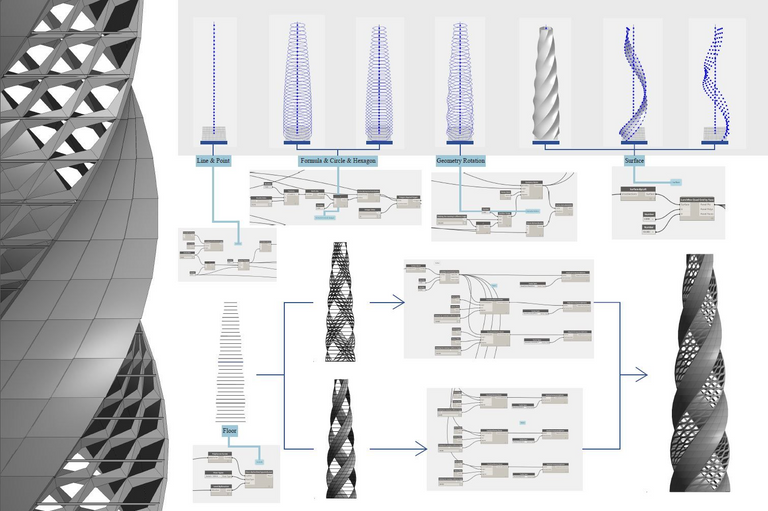 Computational Design using Dynamo and Revit from University of Nebraska | Phot Credit: Xiaoyu Wu
---
Computational design technologies allow the simulation of building performance during the design phase. We can test the design without waiting for the actual building. It enables us to alter the design solutions with fewer expenses. Simulation data may not substitute for real-life data, but we can get insights to evaluate the effectiveness of the design. We can quickly find out what designs works and point out a solution that optimizes design.
Computational design techniques enable architects and designers to break down the process into workflows. It allows them to incorporate the restrictions and opportunities that we can associate with implementing the design solution. Besides, the computational design facilitates better communication channels across design and fabrication phases for architects, engineers, and construction. Hence there is better communication in the design process; computational design allows agile collaboration among different professionals.
---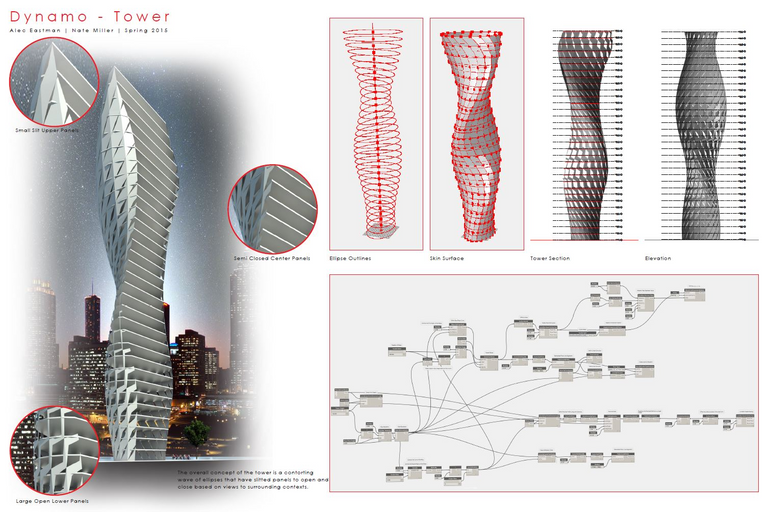 Computational Design using Dynamo and Revit from University of Nebraska |
Phot Credit: Alec Eastman
---
Computational design necessitates logical and step-by-step thinking. To address challenges, most architects traditionally rely on intuition and imagination. It is not always compatible with the rational design approach. Architects and designer's intuition mixed with the algorithmic procedures of computational design leads to better design solutions. As stated earlier, we cut the process into workflows. It allows us to have an intuition of the design and evaluate it logically.
Most computational design platforms rely on visual programming. Visual programming allows us to assemble programs graphically and undoubtedly influences the growth of computational designers. Architects and designers can focus on what they genuinely enjoy designing without being sidetracked into heavy programming. Again, the computational design allows us to explore additional choices, automate time-consuming and arduous activities, collaborate, and minimize seeming complexity overall.
Conclusion
Architects and designers can design efficiently with the use of computational design. Computational design tools make it simple to use computation in the design process without learning how to code. Architects and designers can use these tools to construct models and optimized each model to fit the parametric criteria of the project.
With computational design tools, we can carry out analysis and applications in a more realistic manner. The availability of computational design tools makes it easier for designers or architects to generate designs based on more exact instructions. The computational design allows designers to evaluate design with intuition to identify hurdles or fresh ideas to create higher-quality designs. Again, the computational design enables us to explore different design options, automate repetitive activities, collaborate at ease, and minimize seeming complexity overall.
Readings