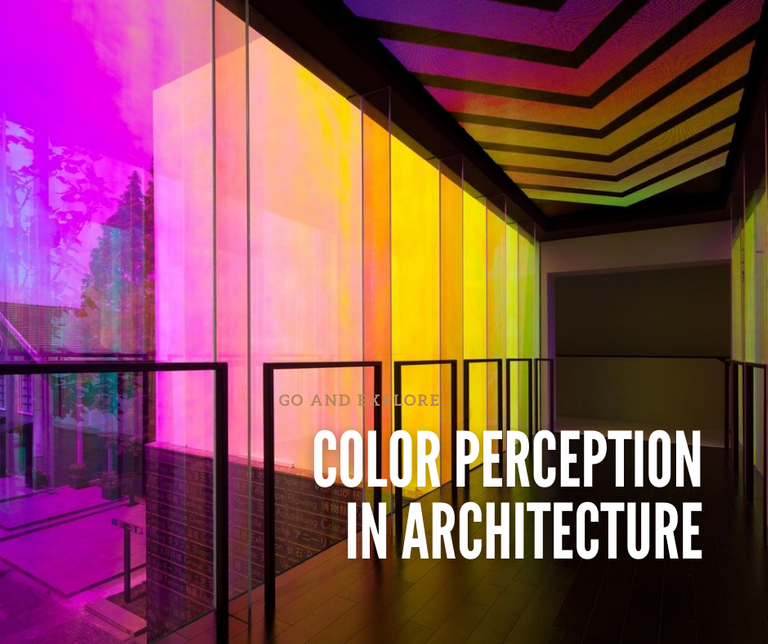 We regard color as an inherent component of our environment, reflects the living species of the natural environment and the habitat that we build. Colors played a significant role in human evolution, from cave dwellings to massive megacities. Colors have a psychological influence on how we perceive and objects or space. That is why color design is not limited to decorations on the architectural setting, but it helps set the mood of the living space.
We can say that color is a sense of experience. It is similar to our sensory perception. It can either be symbolic, associative or maybe emotional, which prove by recent studies. The designer used the colors to bring order and sanity to a living space to protects our psychological and physiological well-being. The designer must understand visual perception to invoke and processes a connection with color.
Our perception of color causes a slew of conscious and subconscious stimuli in our psycho-spatial interaction. The architectural objects applied with the right color give us a better experience of the space. We can get or experience the color sensation from shades of light that reflect through the material or shadows that define the depth of space. We can associate symbolism and even mysticism to colors that designers and artists expressed that it has multiple meanings, which could be cultural and historical.
---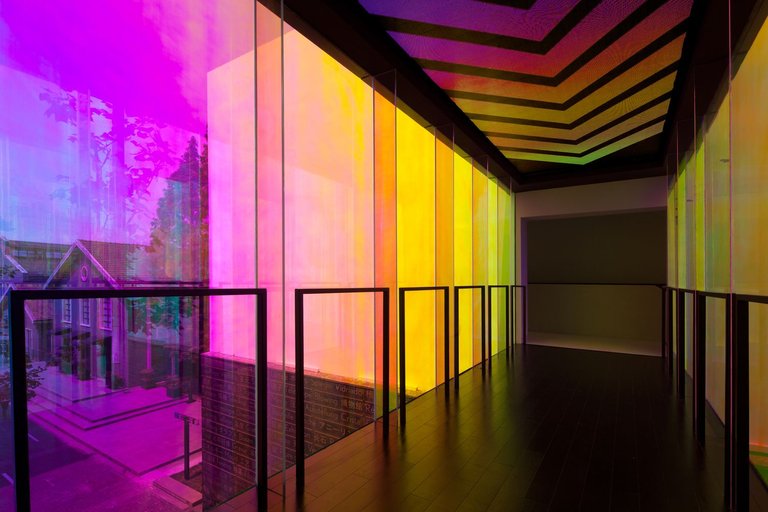 Design Wing, Coordination Asia.
Photo Credit: Archdaily
---
Colors and Our Brain and Eyes
Our brain processes visual information over 60,000 times faster than text, and 90% of the information received by the brain is visual. Colors are a vital element of how perceived visual information. That is why we use color psychology in marketing and branding. The psychological atmosphere or atmosphere that supports the operation of space influenced our perception of space by the impression of a hue and the message it communicates to us. For example, a classroom serves a different purpose than a hospital patient room. Color defines the boundary of how we can associate space with what it is.
Researchers said that monotony gives out weak environmental cues and overstimulating and confused messages to our brain. When we exposed ourselves to an understimulated environment, we could be restless and irritated. Besides, we experience excessive emotional response and perceptual abnormalities that caused us to have difficulty focusing. On the other hand, our breathing and pulse rate increase when we experience overstimulation. Besides, it may trigger muscular tension and mental lapses or medical repercussions such as cardiovascular disease and ulcer.
---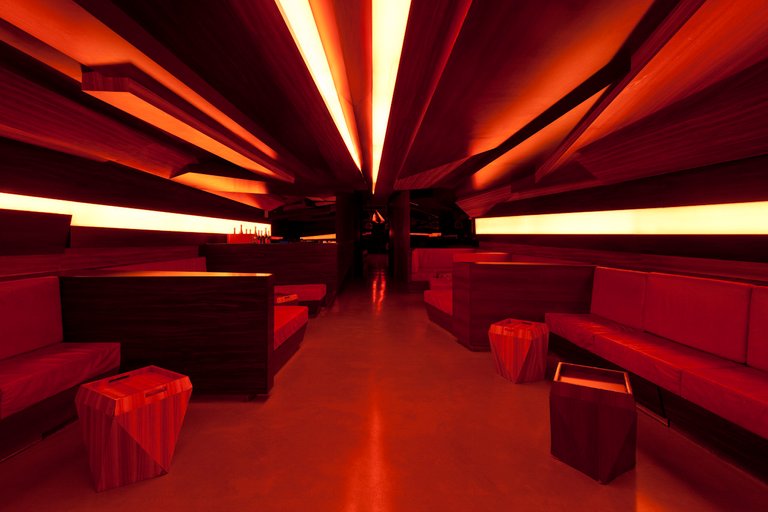 Edge by Muti Randolph + Marcelo Pontes + Zemel + Chalababi Arquitetos.
Photo Credit: Archdaily
---
Designers and architects who use intense color intensity and complex color harmonies and color patterns may have an overstimulated environment. In contrast, a design with weak color intensities and monochromatic harmony is an understimulated environment. Designers take into account the visual ergonomics and color. They design the space safeguarding our visual comfort. We need to understand the degree of illumination that our eyes can adapt to it. Designers must consider the luminous density that our floors, walls, and furniture reflect that is pleasing to our eyes. Our pupils dilate when there is a lower light reflectance while in reverse at higher reflectance.
Designers must carefully select materials for floors and the lighting of the space. The floor must have a 20% reflectance of the light while 25-40% for furniture and 40-60% for walls. At 60%, a yellow wall becomes a tan. When we raised our walls reflectance to 75%, we must proportionately adjust our furniture and floor reflectance to ensure good contrasts. The design rule is that white walls are not desirable and only ceilings with 80-90% reflectance.
---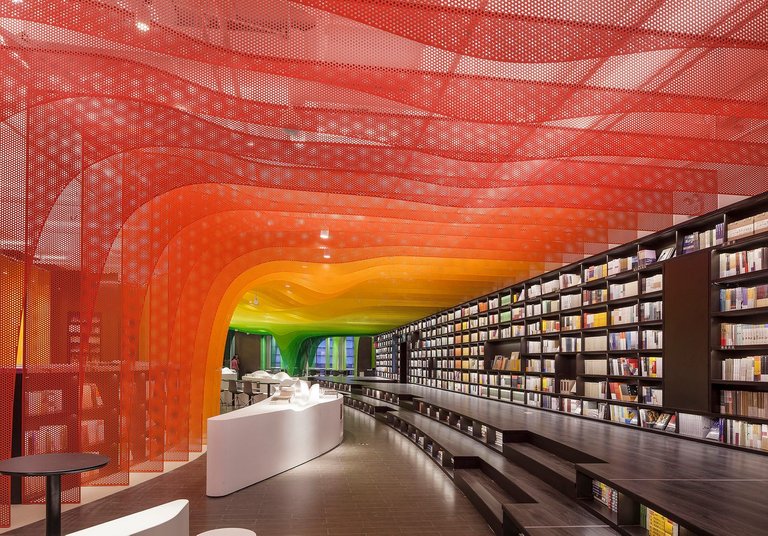 Petal Rainbow, Zhongshu Bookstore by Wutupia Lab.
Photo Credit: Archdaily
---
Perception of Color in Architecture
When we see an abstract painting or a photograph, it changes our mood. It is the same with how we perceive and experience color in a building or room. For example, blue light reduces our melatonin synthesis that is why we are awake even at night. Again, we can associate the feeling we get from each color due to symbolism and our lived experience. For example, we can associate the color red with frightening experiences due to its blood connection.
When we design living space with walls, floors, and neutral ceilings, we obtain diverse sensory experiences when we apply different colors to the surfaces. For example, we can create a sense of a lower space when we paint a darker hue to our ceiling or create a spatial illusion that space is shortening by applying color at the middle of the wall. However, we can perceive a stretch-out living space when we painted it on all walls.
When we painted only the lateral walls, we get to feel the environment appears to shrink. Space expands when we paint the center wall with the same color. We can create an illusion of the low height by painting it with darker tones at the observer's attention. Red can evoke passion, enthusiasm, or warmth, but it may also evoke dread or danger. Darker, maroon colors may appear sensuous and alluring, whereas bright, neon reds are welcoming and eye-catching. The accent of red may also be effective in directing people's attention to objects or aspects.
The architectural use of the color orange is unique and may produce peaceful, light, and welcoming environments, which less flashy than red areas, yet they are still bright and cheerful. On the other hand, yellow is dependably brilliant and bright. It suits well children's places such as daycares and kindergartens. It gives off a welcoming and whimsical experience.
---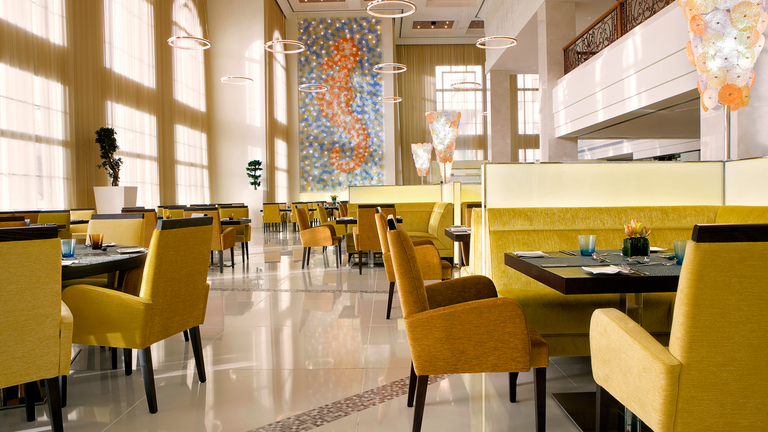 Blue Orange Restaurant, Dubai.
Photo Credit: The Westin Dubai
---
Red, orange, and yellow are food stimulants, which interior design in most restaurants used such colors. We can associate red with energy-dense, sugar-laden fruits or vegetables. When we see yellow, our brain secretes serotonin in anticipation of our food. Orange gives us a sensory perception of having a full table.
Green is an odd choice for architecture, which gives a peaceful vibe. When we utilized it incorrectly, yellow-green can appear weirdly clinical, especially when paired with white. Externally, we can sense sustainability and warmth from green walls and green roofs. Individual blue objects, such as columns or furnishings, are among the most prevalent applications in architecture, connoting the heavenly. Blue lights are among the effective architectural installation in outdoor spaces.
---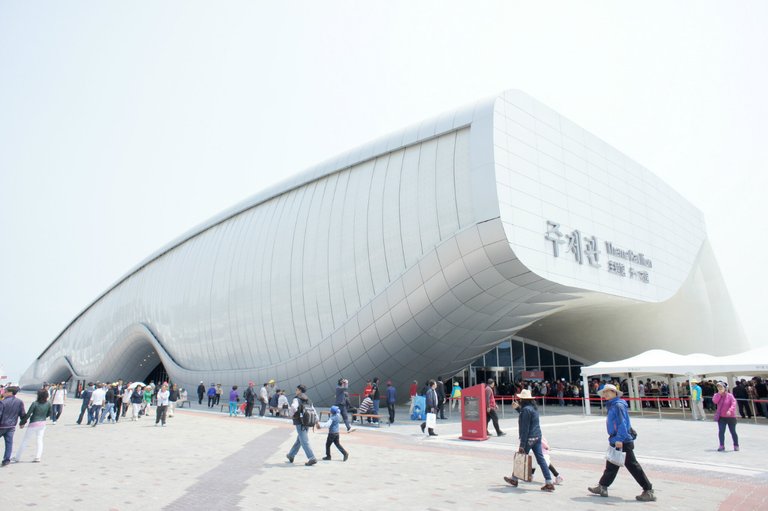 One Ocean, Thematic Pavilion.
Photo Credit: Archdaily
---
White walls are common in modern architecture, favorable to dramatic shadows and flat, clean facades on outside walls, while inside white walls can make people feel peaceful but attentive. White ceilings and walls also aid in the diffusion of light, making interior areas appear brighter. Black structures seem cool and modern. It may look rustic and isolated, but black metal detailing is generally elegant and futuristic.
We know that color has a huge emotional impact on both architectural interiors and exteriors. When architects and designers work with color, they carefully planned out the lighting, material, and design. Above all, colors do not exist without the presence of light. Hence each color has several emotions associated with it; we need a coherent and holistic design. It must not understimulate or overstimulate.
---
Readings